Identification of novel candidate target genes in amplicons of Glioblastoma multiforme tumors detected by expression and CGH microarray profiling
Received: 08 September 2006
Accepted: 26 September 2006
Published: 26 September 2006
Abstract
Background
Conventional cytogenetic and comparative genomic hybridization (CGH) studies in brain malignancies have shown that glioblastoma multiforme (GBM) is characterized by complex structural and numerical alterations. However, the limited resolution of these techniques has precluded the precise identification of detailed specific gene copy number alterations.
Results
We performed a genome-wide survey of gene copy number changes in 20 primary GBMs by CGH on cDNA microarrays. A novel amplicon at 4p15, and previously uncharacterized amplicons at 13q32-34 and 1q32 were detected and are analyzed here. These amplicons contained amplified genes not previously reported. Other amplified regions containg well-known oncogenes in GBMs were also detected at 7p12 (EGFR), 7q21 (CDK6), 4q12 (PDGFRA), and 12q13-15 (MDM2 and CDK4). In order to identify the putative target genes of the amplifications, and to determine the changes in gene expression levels associated with copy number change events, we carried out parallel gene expression profiling analyses using the same cDNA microarrays. We detected overexpression of the novel amplified genes SLA/LP and STIM2 (4p15), and TNFSF13B and COL4A2 (13q32-34). Some of the candidate target genes of amplification (EGFR, CDK6, MDM2, CDK4, and TNFSF13B) were tested in an independent set of 111 primary GBMs by using FISH and immunohistological assays. The novel candidate 13q-amplification target TNFSF13B was amplified in 8% of the tumors, and showed protein expression in 20% of the GBMs.
Conclusion
This high-resolution analysis allowed us to propose novel candidate target genes such as STIM2 at 4p15, and TNFSF13B or COL4A2 at 13q32-34 that could potentially contribute to the pathogenesis of these tumors and which would require futher investigations. We showed that overexpression of the amplified genes could be attributable to gene dosage and speculate that deregulation of those genes could be important in the development and progression of GBM. Our findings highlight the important influence in GBM of signaling pathways such as the PI3K/AKT, consistent with the invasive features of this tumor.
Keywords
Epidermal Growth Factor ReceptorComparative Genomic HybridizationCopy Number ChangeCandidate Target GeneMicroarray Comparative Genomic Hybridization
Background
Glioblastoma multiforme (GBM) is the commonest and most malignant of the primary central nervous system tumors in the human adult. Mean survival of GBM patients treated with the current standard therapy is approximately one year [1].
Glioblastomas, like other solid tumors, are characterized by changes in the expression of oncogenes and tumor suppressor genes, often as a consequence of numerical chromosomal abnormalities (genomic amplifications, gains, and losses) that occur during the tumoral process. Conventional and molecular cytogenetic techniques, such as comparative genomic hybridization (CGH), have led to the identification of recurrent genomic copy number changes that play an important role in the malignancy of GBM. Aberrations that occur with high frequency include gains of chromosomes 7, 19, and 20, and losses of chromosomes 6q, 9p, 10, 13q, and 14q [2, 3]. Nevertheless, the low resolution of these techniques, which is restricted to the chromosome level, together with the large number of genes located within these regions, makes difficult the identification of candidate genes.
High-level DNA copy number changes in tumors are restricted to chromosome regions that show more than 5- to 10-fold copy number increases (regions of amplification, or amplicons). Some of these amplicons contain well-known oncogenes that are also overexpressed. While this is the case for oncogenes associated with the development of GBM, such as Epidermal Growth Factor Receptor (EGFR) (7p12), Cyclin-Dependent Kinase 4 (CDK4) (12q14), and the human homolog of the Mouse Double Minute 2 (MDM2) (12q15) [2–4], other regions of amplification and/or other relevant genes located within these or other regions remain unknown or incompletely described.
New high-throughput genomic technologies, such as cDNA microarray CGH [5], use conventional cDNA microarrays that are normally used in expression profiling, to examine genomic copy number imbalances. In this way, thousands of genes can be reviewed in a high-resolution analysis to define amplicons and identify candidate genes showing recurrent genomic copy number changes. Parallel expression profiling experiments then allows the identification of relevant target genes whose aberrant expression could suggest its involvement in the pathogenesis of the tumors [6–10].
The objective of our study was to define at high resolution regions of amplification in GBMs, and through integration of copy number and gene expression data, to identify possible candidate target genes that could give insights into the pathology of GBM. In addition, we also aimed to analyze in detail the gene copy number changes associated with these tumors, since this is not feasible using classic chromosomal CGH.
For that purpose, we surveyed for changes in DNA copy number and expression levels throughout the genomes of 20 primary GBMs by using cDNA microarray CGH and expression profiling experiments. The most significant alterations found were validated in additional series of primary GBMs using locus-specific fluorescence in situ hybridization (FISH), and immunohistochemical analyses.
Results
Impact of copy number alteration on gene expression
The gene frequencies of gain and loss of genetic material found in the 20 primary GBMs were calculated, and plotted relative to the position along the chromosome (Figure
1
). Chromosomes 7, 19, and 20 most frequently showed gains in copy number, while chromosomes 10 and 13 most frequently had losses (Table
3
).

Table 3
Frequent copy number and expression altered genes1.
GAINED AND OVEREXPRESSED GENES

SYMBOL

GENE DESCRIPTION

%

MEDIAN

LOCATION

ATP2B4

ATPase, Ca++ transporting, plasma membrane 4

20.00

1.17

1q25-q32

LOC153222

Adult retina protein

25.00

1.32

5

GBAS

Glioblastoma amplified sequence

20.00

1.61

7p12

GUSB

Glucuronidase, beta

20.00

1.42

7q21.11

RFC2

Replication factor C (activator 1) 2, 40kDa

26.32

1.06

7q11.23

MCM7

MCM7 minichromosome maintenance deficient 7 (S. cerevisiae)

35.29

1.02

7q21.3-q22.1

GIMAP6

GTPase, IMAP family member 6

20.00

1.29

LR8

LR8 protein

21.05

2.34

7q36.1

APOE

Apolipoprotein E

22.22

1.48

19q13.2

EMP3

Epithelial membrane protein 3

33.33

1.36

19q13.3

FPR1

Formyl peptide receptor 1

25.00

1.94

19q13.4

LOST AND UNDEREXPRESSED GENES

SYMBOL

GENE DESCRIPTION

%

MEDIAN

LOCATION

CYP1B1

Cytochrome P450, family 1, subfamily B, polypeptide 1

21.05

-2.87

2p21

TDE2

Tumor differentially expressed 2

23.53

-1.86

6q22.32

OPTN

Optineurin

41.18

-1.86

10p14

DNAJC12

DnaJ (Hsp40) homolog, subfamily C, member 12

25.00

-1.16

10

SIRT1

Sirtuin (silent mating type information regulation 2 homolog) 1

27.27

-1.27

10q22.1

PPP3CB

Protein phosphatase 3 (formerly 2B), catalytic subunit, beta isoform

35.00

-2.08

10q21-q22

GHITM

Growth hormone inducible transmembrane protein

37.50

-1.55

10q23.2

CYP26A1

Cytochrome P450, family 26, subfamily A, polypeptide 1

21.05

-1.08

10q23-q24

LGI1

Leucine-rich, glioma inactivated 1

45.00

-1.32

10q24

SLK

STE20-like kinase (yeast)

26.32

-1.11

10q25.1

ADD3

Adducin 3 (gamma)

68.42

-1.04

10q24.2-q24.3

MXI1

MAX interactor 1

40.00

-1.11

10q24-q25

ATRNL1

Attractin-like 1

30.77

-1.65

10

KIAA1598

KIAA1598

21.05

-1.83

10q26.12

NDFIP2

Nedd4 family interacting protein 2

33.33

-1.22

13q22.2

MAP2K4

Mitogen-activated protein kinase kinase 4

23.53

-1.30

17p11.2

DSG2

Desmoglein 2

31.25

-1.94

18q12.1

TPTE

Transmembrane phosphatase with tensin homology

22.22

-1.67

21p11
The global effect of copy number alterations on gene expression was evaluated in 17 of the primary tumors. Up to 33% of gained genes (>2.5-fold change in copy number), or up to 56% with >4-fold, were overexpressed. Nevertheless, 8% of the genes with normal copy numbers were overexpressed (Figure
2A
). Conversely, approximately 8% of the transcripts with high-level expression (>10-fold) showed amplification (Figure
2B
).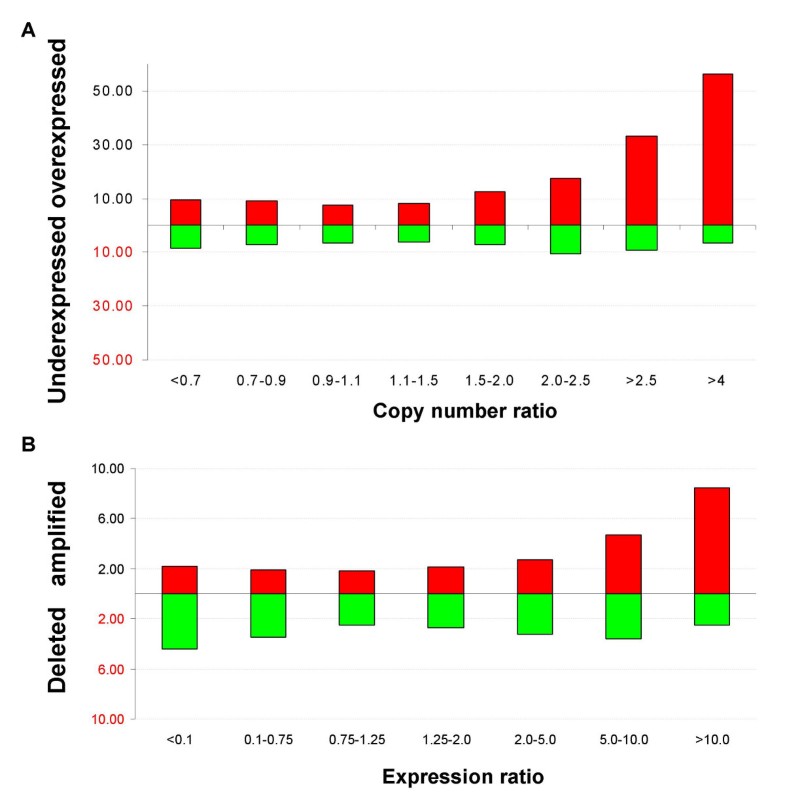 Gene amplifications in primary GBMs
Amplicons were identified on chromosomes 1, 4, 7, 12, and 13 due to the presence of more than four contiguous amplified genes. EGFR (7p12) was the most commonly amplified gene (7p12), showing amplification by microarray CGH in 50% (10/20) of the GBMs (Table 1).
The amplicon detected on chromosome 13 in tumor 39 (Figure
3A
) contained contiguous amplified clones covering a region of about 2.5 Mb at 13q32-34 that included
TNFSF13B
(a ligand of the tumor necrosis factor superfamily), and collagen type IV genes (
COL4A1
and
COL4A2
). Among the amplified genes or ESTs, the most important fold-changes in expression levels were those of
TNFSF13B
,
COL4A2
and
FLJ10769
. In addition, two other tumors had centromeric-amplified clones including ESTs AA706834, AA994053, and AI093016. However, these ESTs were not overexpressed.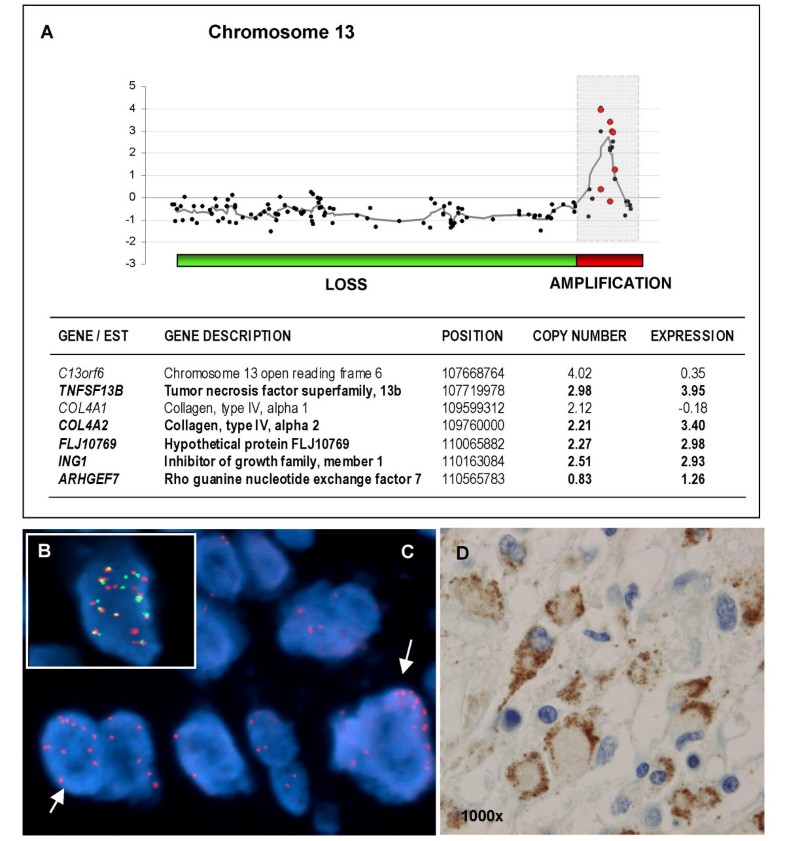 To determine the frequency of 13q amplification in a larger series of tumors, we carried out FISH assays in an independent set of 111 GBM samples. We found 8,5% of tumors (6/70) showing amplification (Figure 3B, 3C). In this same series, we examined the protein expression of TNFSF13B as one of the putative target genes of the 13q amplification. We detected TNFSF13B immunostaining positivity in 20,6% of the samples (20/97). Half of the 13q-amplified tumors (3/6) showed TNFSF13B positive expression, and 7 out of 59 (11,8%) non 13q-amplified tumors showed TNFSF13B positivity (Figure 3D).
Amplicons were also detected on 1q, 4p, 4q, 7q, and 12q. Chromosome 4 had two separated regions of amplification (Figure
4A
), one of about 6 Mb at 4p15, and the other of approximately 2.2 Mb at 4q12. The 4p15 amplicon is described here for the first time and contained several genes and ESTs not previously reported as being amplified in GBMs. The amplicon at 4q12 contained
PDGFRA
, whose amplification in GBMs is already well known. Among the amplified genes,
SLA/LP
,
LOC389203
,
STIM2
,
SGCB
,
RASL11B
,
and PDGFRA
seem to respond to gene dosage, presenting high fold-changes in expression levels (Figure
4A
). Likewise, amplification of several contiguous clones on chromosome 1q32 included
ATP2B4
,
KIAA0663
,
KISS1
,
PPP1R15B
,
PIK3C2B
, and
MDM4
. Among them,
ATP2B4, KIAA0663, PPP1R15B, PIK3C2B
were overexpressed in the expression analyses (Figure
4B
).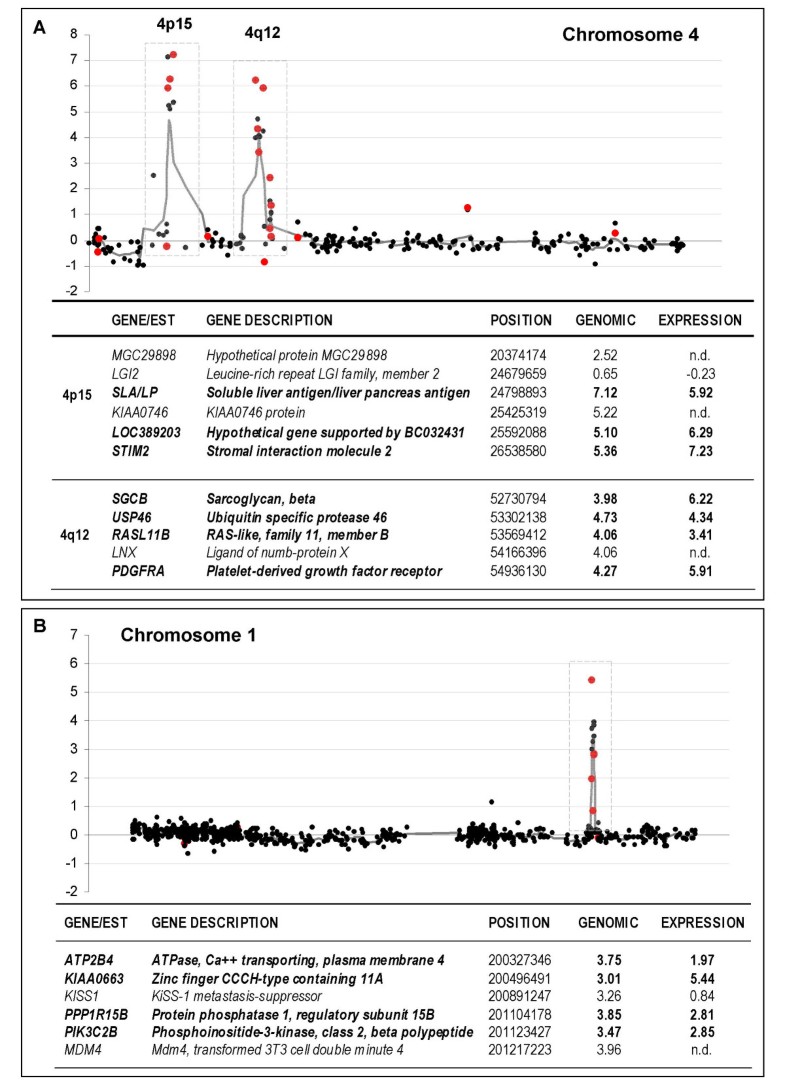 Chromosome 12 showed two regions of amplification at 12q13-15 (Table
4
), one of about 180 Kb at 12q13 containing
CDK4
(10%, 2/19) and another one of about 700 Kb containing
MDM2
(15%, 3/20) at 12q14.3-q15. These results were validated by FISH analyses with specific probes containing
CDK4
or
MDM2
and immunohistochemical analyses for MDM2 onto paraffin sections of the samples in a set of 111 primary GBMs, allowing confirmation of the microarray results (Table
1
). We found alterations (either amplification or overexpression) of MDM2 and CDK4 in 11% of the tumors for which data were available (11/98 and 7/66, respectively). Except for one tumor, the two regions were not amplified simultaneously. These results suggest that
MDM2
and
CDK4
may be independently amplified in most GBM tumors and confirm those of other authors [
19
]. Finally, amplification at 7q included
PEX1
, and
CDK6
(7q21) as overexpressed putative amplification targets (Table
5
).
| | SYMBOL | GENE NAME | POSITION | MEDIAN* GENOMIC | MEDIAN* EXPRESSION |
| --- | --- | --- | --- | --- | --- |
| AMPLICON 1 | SLC26A10 | Solute carrier family 26, member 10 | 56290368 | 0.49 | 0.44 |
| | GALGT | UDP-N-acetyl-alpha-D-galactosamine | 56305945 | 1.73 | 0.33 |
| | SAS | Sarcoma amplified sequence | 56425051 | 0.49 | 2.92 |
| | CDK4 | Cyclin-dependent kinase 4 | 56428272 | 2.44 | 4.12 |
| | CYP27B1 | Cytochrome P450, family 27, subfamily B, polypeptide 1 | 56442389 | 2.35 | 1.93 |
| | TSFM | Ts translation elongation factor, mitochondrial | 56462849 | 1.02 | -0.26 |
| | AVIL | Advillin | 56477704 | 1.84 | 0.53 |
| AMPLICON 2 | GNS | Glucosamine (N-acetyl)-6-sulfatase | 63393491 | 0.48 | 0.47 |
| | CGI-119 | CGI-119 protein | 64817459 | 0.94 | 5.38 |
| | IFNG | Interferon, gamma | 66834816 | 0.76 | -0.02 |
| | MDM2 | Mdm2, transformed 3T3 cell double minute 2 | 67488247 | 2.72 | 1.64 |
| SYMBOL | GENE DESCRIPTION | POSITION | GENOMIC | EXPRESSION |
| --- | --- | --- | --- | --- |
| PFTK1 | PFTAIRE protein kinase 1 | 89870462 | 1.68 | -0.58 |
| FZD1 | Frizzled homolog 1 (Drosophila) | 90538434 | 3.05 | 2.91 |
| PEX1 | Peroxisome biogenesis factor 1 | 91760991 | 3.13 | 4.04 |
| CDK6 | Cyclin-dependent kinase 6 | 91878888 | 1.53 | 0.43 |
Discussion
The overall impact of copy number on gene expression analyzed in GBMs reflects the importance of recurrent gene copy number changes in the development and progression of these brain tumors. Our results in GBMs extend previous studies in breast and prostate cancers [10, 20, 21], and confirm that the effects of gene copy number on expression levels were more relevant for high-level amplifications on a gene-by-gene analysis (56% of highly-gained genes were overexpressed).
Gene amplification is regarded to reflect genetic instabilities in solid tumor cells [22]. It has been proposed that activation of proto-oncogenes by amplification plays an important role in the development of many human solid tumors. Therefore, detection of specific gene amplifications in tumor cells can lead to the identification of genes putatively involved in growth control and tumorigenesis.
While only a few candidate genes could be investigated at a time in previous studies [4, 23, 24] we have used cDNA microarray technology to search the whole genome for gene copy number alterations in GBMs. Our results from the approximately 10,000 genes and ESTs related to the tumoral process that could be analyzed in this study, confirm the previous conclusion that EGFR is the principal oncogene amplified in GBMs. However, in this study several other chromosomal regions showing gene amplification have also been detected in GBMs at 1q, 4p, 4q, 7q, 12q, and 13q. Amplification at 13q32-34 has been reported before from chromosomal CGH studies in malignant gliomas, cell lung carcinoma, head and neck squamous carcinoma, and systemic lymphomas [20, 25–29]. Here we have used microarray CGH to study this region at higher resolution (gene level) and have narrowed down the region to 2.5 Mb, showing that this amplification could affect a small fraction of GBMs (8%). Several known genes and uncharacterized ESTs are contained in the 13q amplicon. Among these, COL4A2 has also been found to be overexpressed in our study and in other microarray expression-profiling studies of GBM biopsies and GBM cell lines [30–32]. We speculate that this overexpression may have been caused by amplification of COL4A2, which may be a putative target of the amplicon. In agreement with this hypothesis, very recently, Tso and coworkers [33] have shown that COL4A2 is one of 15 highly expressed genes that is shared between primary and secondary GBMs. In addition, this gene was found to be involved in glioma progression and associated with vascular proliferation. However, immunohistochemical analyses revealed that collagen IV is mainly expressed in association with the tumor blood vessels and not from the tumor cells [32], suggesting that the COL4A2 overexpression detected in GBMs may not be as a result of gene amplification in tumoral cells. This may point out to TNFSF13B as a likely candidate for the target of amplification. Immunohistochemical analyses of 111 primary GBMs revealed that TNFSF13B could be affected in about 20% of the tumors. The TNFSF13B ligand (or BAFF) is a member of the TNF cytokine family that activates nuclear factor (NF)-κB, phosphatidylinositol-3 kinase (PI3K)/AKT, and mitogen-activated protein kinase (MAPK) pathways in myeloma multiple cells, and induce strong up-regulation of Mcl-1 and Bcl-2 antiapoptotic proteins [34].
On another hand, the gene IRS2 (which codes a cytoplasmic adaptor protein that facilitates intracellular signal transduction) is also located within the amplified region close to COL4A2 and TNFSF13B. Although we have no data available for this gene, one study suggests that IRS2 is a novel but rare amplification target at 13q34 in GBMs [35]. Thus, we propose here that genes such as COL4A2 or TNFSF13B could be additional putative targets for the 13q amplicon, and therefore would warrant further detailed analyses in GBMs.
It is of particular note that two of the tumors showing this amplification in the telomeric region of chromosome 13 had loss of the rest of the chromosome (Figure 3A), as was also described by Weber and coworkers in the cases in which amplification was revealed by chromosomal CGH [36]. This finding is consistent with the finding that gene amplification may be accompanied by loss of genetic material in the proximity of the amplification site [37].
Chromosome 4 has two amplicons, located close together. One contains PDGFRA as the putative target of the amplicon, and the other contains SLA/LP, STIM2, and two ESTs. To our knowledge, this is the first report of amplification of SLA/LP and STIM2 genes, which are both overexpressed. However, further analyses are required to identify the amplification gene target(s) and to determine the relevance of this novel amplification in GBM. STIM2 codes for a transmembrane phosphoprotein whose structure is unrelated to that of any other known protein [38] and whose biological function has not been thoroughly studied. STIM1 is the other member of this family of proteins and it is thought to regulate cell growth control and function within a signaling cascade, although the precise pathway is not known [38].
There is controversy concerning the amplification on chromosome 1, as to whether 1q32 has two independent amplification targets or a single one affecting both MDM4 and CNTN2 genes [39–41]. We observed amplification covering a small region of about 800 Kb that excluded CNTN2. Thus, our results support the proposal of Riemenschneider and coworkers that MDM4 is the main amplification target gene at 1q32 [40]. However, other genes among those contained in the amplicon, such as PIK3C2B, which encodes a catalytic subunit of the PI3K, could be of importance in GBMs. This gene was also found amplified and overexpressed in GBMs by others [32, 41] and has a crucial role in the PI3K/AKT signaling pathway, which regulates a number of cellular processes such as cell growth and proliferation, apoptosis, migration and invasion, and angiogenesis [39]. Thus, our study excludes CNTN2 and shows that other interesting candidate genes together with MDM4 may be important gene targets for this 1q32 amplification.
Chromosome 7 was the most frequently gained chromosome in GBMs, as already known. Our results showed a large number of overexpressed gained-chromosome 7 genes which may suggest the importance of the complete gain of this chromosome in primary GBMs. Further studies, however, should be carried out to assess the importance of chromosome 7-candidate genes, other than EGFR, in the pathogenesis of GBM. Likewise, chromosome 10 was the most frequently lost chromosome in GBMs. The most frequently lost and underexpressed genes mapped at 10q and involved candidate genes in gliomas such as ADD3, between others. Downregulation of ADD3 expression was associated with increased migratory activity of human glioma cells in vitro [42], and decreased expression of ADD3 has been described in astrocytomas [43]. Chromosome 19 also showed frequent gene gains, mainly located on 19q. One of the possible candidates located in this chromosome could be FPR1 due to this gene is expressed in malignant glioma and appears to mediate motility, growth, and angiogenesis of GBM [44].
Conclusion
In summary, our results show that the cDNA microarray CGH technique in parallel with expression profiling allows the comprehensive, rapid and reliable analysis of the whole genome in GBM tumors and enables the refined and detailed study of amplicons and regions of recurrent copy number change. This approach makes it possible to identify putative glioma oncogenes/tumor-suppressor genes that may deserve further investigation. Our findings highlight the important influence in GBM of signaling pathways such as the PI3K/AKT, consistent with the invasive features of this tumor. In this context, we identify candidate target genes of amplification that may help to direct therapeutics for the treatment of GBM.
Declarations
Acknowledgements
We would like to acknowledge the assistance of Lydia Sanchez (CNIO) with the immunohistochemical studies. Some of the BAC clones were generously provided by Dr. Mariano Rocchi (University of Bari, Italy).
This work was partially supported by grants from the Fondo de Investigaciones Sanitarias FIS 02/3006 and FIS 03/0727, and from the Consejería de Sanidad Junta de Comunidades de Castilla-La Mancha SESCAM GC3011 and SESCAM 04032.
Authors' Affiliations
(1)
Genetics Department, Hospital Virgen de la Salud, Toledo, Spain
(2)
Department of Pathology, Hospital Virgen de la Salud, Toledo, Spain
(3)
Department of Pathology, Hospital Clinic, Barcelona, Barcelona, Spain
(4)
Department of Pathology, Complejo Hospitalario Xeral-Cies, Vigo, Spain
(5)
Banco de Tumores, Spanish National Cancer Centre (CNIO), Madrid, Spain
(6)
Neurosurgery, Hospital Virgen de la Salud, Toledo, Spain
Copyright
© Ruano et al; licensee BioMed Central Ltd. 2006
This article is published under license to BioMed Central Ltd. This is an Open Access article distributed under the terms of the Creative Commons Attribution License (http://creativecommons.org/licenses/by/2.0), which permits unrestricted use, distribution, and reproduction in any medium, provided the original work is properly cited.