Improvement of different vaccine delivery systems for cancer therapy
Received: 1 July 2010
Accepted: 7 January 2011
Published: 7 January 2011
Abstract
Cancer vaccines are the promising tools in the hands of the clinical oncologist. Many tumor-associated antigens are excellent targets for immune therapy and vaccine design. Optimally designed cancer vaccines should combine the best tumor antigens with the most effective immunotherapy agents and/or delivery strategies to achieve positive clinical results. Various vaccine delivery systems such as different routes of immunization and physical/chemical delivery methods have been used in cancer therapy with the goal to induce immunity against tumor-associated antigens. Two basic delivery approaches including physical delivery to achieve higher levels of antigen production and formulation with microparticles to target antigen-presenting cells (APCs) have demonstrated to be effective in animal models. New developments in vaccine delivery systems will improve the efficiency of clinical trials in the near future. Among them, nanoparticles (NPs) such as dendrimers, polymeric NPs, metallic NPs, magnetic NPs and quantum dots have emerged as effective vaccine adjuvants for infectious diseases and cancer therapy. Furthermore, cell-penetrating peptides (CPP) have been known as attractive carrier having applications in drug delivery, gene transfer and DNA vaccination. This review will focus on the utilization of different vaccine delivery systems for prevention or treatment of cancer. We will discuss their clinical applications and the future prospects for cancer vaccine development.
Keywords
Cancer VaccineAntigen DeliveryVaccine Delivery SystemChimeric VLPs
Introduction
Cancer is a major cause of death in worldwide. Novel diagnostic technologies and screening methods as well as the effective therapeutic agents have diminished mortality for several cancers [
1
]. The field of vaccinology provides excellent promises to control different infectious and non-infectious diseases. The term of cancer vaccine refers to a vaccine that prevents either infections with cancer-causing viruses or the development of cancer in certain high risk individuals (known as prophylactic cancer vaccine) and treats existing cancer (known as therapeutic cancer vaccine). Generally, several vaccination types are available against different disorders (e.g. cancer). They include recombinant live vector vaccines (viral and/or bacterial vector vaccines), nucleic acid vaccines (DNA and/or RNA replicon vaccines), protein and peptide vaccines, viral-like particles (VLP) vaccines, whole cell vaccines (dendritic cell-based and tumor cell-based vaccines), edible vaccines and combined approaches (e.g. prime-boost vaccination) [
2
,
3
]. Figure
1
shows the general vaccine modalities.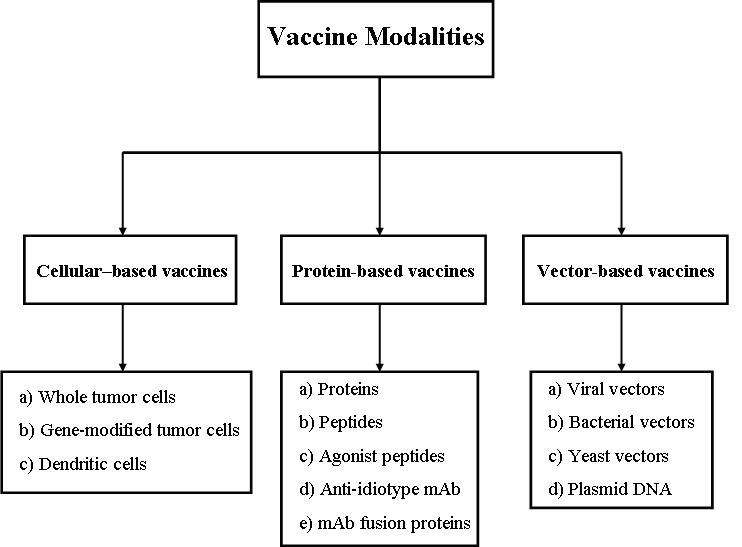 The presence of antigens on the surface of tumor cells recognized by cytotoxic and T-helper lymphocytes is essential for effective immune responses and for the development of specific cancer vaccines. In order to augment the immune response, several strategies have been involved such as a) identification of tumor antigens that should be targeted, b) determination of the desired immune response for optimal vaccine design and c) utilization of efficient vaccine delivery [1, 3].
Different studies have identified a large number of cancer-associated antigens, which some are now being used as cancer treatment vaccines both in basic research and clinical trials [4]. Nowadays, an important advance is the development of techniques for identifying antigens that are recognized by tumor-specific T lymphocytes. Tumor antigens have been classified into two broad categories: tumor-specific shared antigens and tumor-specific unique antigens. Shared antigens or tumor-associated antigens (TAAs) are expressed by more than one type of tumor cells. A number of TAA are also expressed on normal tissues, albeit in different amounts [4]. As reported in the official National Cancer Institute website (NCI), representative examples of such shared antigens are the cancer-testis antigens, human epidermal growth factor receptor 2 (HER2/neu protein) and carcinoembryonic antigen (CEA). Unique tumor antigens result from mutations induced through physical or chemical carcinogens; they are therefore expressed only by individual tumors [4]. Tumor-specific unique antigens encompass melanocyte/melanoma differentiation antigens, such as tyrosinase, MART1 and gp100, prostate-specific antigen (PSA) and Idiotype (Id) antibodies. Both tumor-specific shared and unique antigens are applied as a basis for the new cancer vaccines. Optimally designed cancer vaccines should combine the best tumor antigens with the most effective immunotherapy agents and/or delivery strategies to achieve positive clinical results [4]. Therefore, selection of an adequate vaccine-delivery system is fundamental in the design of immune strategies for cancer therapy.
In this review, we discuss the current delivery methods that are assisting in future vaccine success especially DNA-based vaccines. DNA vaccination is a promising approach for inducing both humoral and cellular immune responses. DNA vaccines have emerged as an attractive approach for antigen-specific T cell-mediated immunotherapy to combat cancers. T cell-mediated immunity is critical for cancer immunotherapy and vaccine development. Tumor antigens that are recognized by T cells are likely to be the major inducer of tumor immunity and most promising candidates for tumor vaccines [5]. Clearly, the current approach to immunotherapy mainly relies on the role of CD8+ cytotoxic T lymphocytes (CTL).
Generally, various strategies have been developed to enhance the potency of DNA vaccines such as a) increasing the number of antigen-expressing dendritic cells (DCs) or antigen-loaded DCs, b) improving antigen expression, processing and presentation in DCs and c) enhancing DC and T cell interaction [6, 7]. Therefore, at first we will further analyze various DNA delivery systems as a powerful research tool for elucidating effective anti-tumor immune responses. Finally, in this review, we will have a brief overview on delivery of proteins and peptides.
Conclusion
The major aim in gene therapy is to develop efficient, non-toxic gene carriers that can encapsulate and deliver foreign genetic materials into specific cell types including cancerous cells. Both viral and non-viral vectors were developed and evaluated for delivering therapeutic genes into cancer cells. Many viruses such as retroviru s, adenovirus, herpes simplex virus, adeno-associated virus and pox virus have been modified to eliminate their toxicity and maintain their high gene transfer capability. Due to the limitations correlated to viral vectors, non-viral vectors have been further focused as an alternative in delivery systems. Non-viral vectors include cationic polymers such as polyethylenimine (PEI), polylysine (PLL), cationic peptides and cationic liposomes. Currently, many modifications to the current delivery systems and novel carrier systems have been developed to optimize the transfection efficiency. Furthermore, the route of immunization can influence the outcome of the immune response through altering the interaction between the vaccine and different APCs at the site of injection. Hence, the routes of administration and formulation of DNA clearly affect the therapeutic response by altering immune pathway. Among the commonly used methods of DNA vaccination, the highest efficacy was achieved after in vivo electroporation and gene gun delivery. However, it is critical to further analyze the results of ongoing clinical trials, specifically, in the aspect of their success or failure of certain delivery methodologies for DNA vaccines.
Declarations
Acknowledgements
Authors acknowledge the financial support by Iran National Science Foundation for experimental works.
Authors' Affiliations
(1)
Molecular Immunology and Vaccine Research Laboratory, Pasteur Institute of Iran, Tehran, Iran
Copyright
© Bolhassani et al; licensee BioMed Central Ltd. 2011
This article is published under license to BioMed Central Ltd. This is an Open Access article distributed under the terms of the Creative Commons Attribution License (http://creativecommons.org/licenses/by/2.0), which permits unrestricted use, distribution, and reproduction in any medium, provided the original work is properly cited.