Epithelial-mesenchymal transition: focus on metastatic cascade, alternative splicing, non-coding RNAs and modulating compounds
Molecular Cancer
2013
12:107
Received: 10 April 2013
Accepted: 16 September 2013
Published: 23 September 2013
Abstract
Epithelial-mesenchymal transition (EMT) is a key process in embryonic development and metastases formation during malignant progression. This review focuses on transcriptional regulation, non-coding RNAs, alternative splicing events and cell adhesion molecules regulation during EMT. Additionally, we summarize the knowledge with regard to the small potentially druggable molecules capable of modulating EMT for cancer therapy.
Keywords
Alternative splicingCell adhesion moleculesEpithelial-mesenchymal transitionMetastatic cascadeNon-coding RNAsSmall molecule compoundsTranscription factors
Introduction
Epithelial-mesenchymal transition (EMT) is a multi-step morphogenetic process during which epithelial cells downregulate their epithelial properties and upregulate mesenchymal characteristics (Figure
1
). Namely, static epithelial cells lose cell to cell junctions and as a consequence they lose apico-basal polarity to become migratory mesenchymal-like cells. This process of down-regulation of the epithelial phenotype mimics the normal developmental process of gastrulation, in which cells from the epithelial sheet of the ectoderm start to form the third germinal layer, the mesoderm, whose migratory cells are called mesenchymal cells. This process is therefore aptly called the epithelial-mesenchymal transition, which is currently classified into three subtypes[
1
].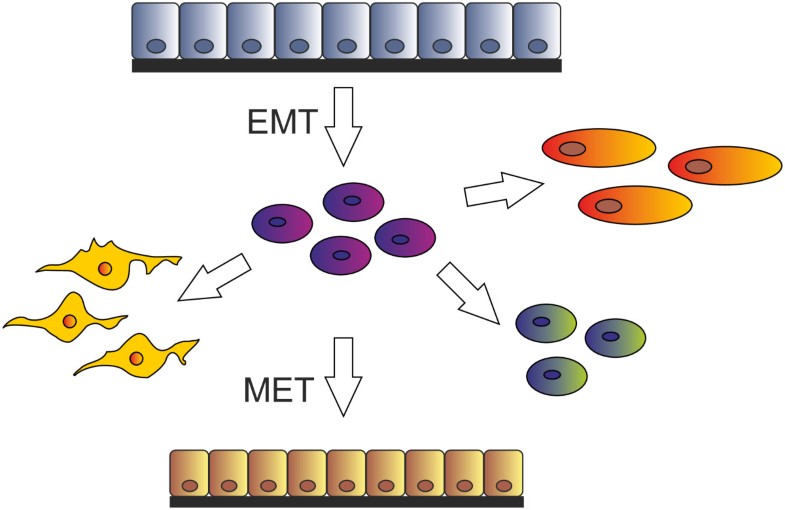 Type 1 EMT is associated with the original embryonic development and also occurs during postnatal growth. The steps of this EMT type are specific and well-defined. Epithelial cells are cuboidal to cylindrical in shape and are in contact with each other via adherent and tight junctions. Primary migratory mesenchymal cells generated this way may potentially go through a reverse step to become epithelia again. This step is called the mesenchymal-epithelial transition (MET) and generates secondary epithelia in the developing embryo[2]. Differentiated cells in almost all organs in adults developed as a result of EMT-MET.
Type 2 EMT is initiated by injury and results in generation of fibroblasts to rebuild wounded tissues[3]. During inflammation fibroblasts and immune cells release cytokines and other pro-inflammatory factors as well as extracellular matrix proteins which results in stimulation of cells to undergo EMT. If inflammation pathologically persists, continuous EMT of normal epithelial cells can result in fibrosis and organ damage[4].
Oncogenic type 3 EMT enables epithelial cells to acquire invasive mesenchymal phenotype characteristics which are essential in metastatic spread[5]. Typical developmental EMT features are recapitulated in oncogenic EMT[6], however, they are less ordered and coordinated. As a result of this disordered EMT, hybrid phenotypes can often arise having the properties of both epithelial and mesenchymal cell types[7].
Conclusions
Epithelial-mesenchymal transition remains in the focus of a large number of researchers today due to its fundamental nature and important clinical implications. Non-coding RNAs and alternative splicing switches discussed in this review play important roles in EMT and cancer progression and can serve as markers for distinct epithelial or mesenchymal states of cells. Also, there are a growing number of discovered small molecules, belonging mostly to kinase inhibitors, which modulate EMT and have anti-cancer effect.
Abbreviations
EMT:

Epithelial-mesenchymal transition
MET:

Mesenchymal-epithelial transition
TGFβ:

Transforming growth factor β
CAM:

Cell adhesion molecule
CTC:

Circulating tumor cell
miRNA:

MicroRNA
lncRNA:

Long non-coding RNA.
Declarations
Acknowledgements
We would like to thank Dr D. Maltseva for the help with preparation of the tables and Ms E. Grundy for the carefully correcting our manuscript. This work was supported by funds from the Bundesministerium für Bildung und Forschung (BMBF No. RUS 10/022) and Russian Ministry of Science Contracts (No. 14.512.11.0024 and 14.512.11.0083).
Authors' Affiliations
(1)
SRC Bioclinicum, Moscow, Russia
(2)
The Institute of General Pathology and Pathophysiology, Russian Academy of Medical Sciences, Moscow, Russia
(3)
P.A. Hertsen Moscow Research Oncology Institute, Moscow, Russia
(4)
Department of Anatomy and Experimental Morphology, University Cancer Center, University Medical Center Hamburg-Eppendorf, Hamburg, Germany
Copyright
© Samatov et al.; licensee BioMed Central Ltd. 2013
This article is published under license to BioMed Central Ltd. This is an Open Access article distributed under the terms of the Creative Commons Attribution License (http://creativecommons.org/licenses/by/2.0), which permits unrestricted use, distribution, and reproduction in any medium, provided the original work is properly cited.