Molecular features in arsenic-induced lung tumors
Molecular Cancer
2013
12:20
Received: 17 November 2012
Accepted: 7 March 2013
Published: 19 March 2013
Abstract
Arsenic is a well-known human carcinogen, which potentially affects ~160 million people worldwide via exposure to unsafe levels in drinking water. Lungs are one of the main target organs for arsenic-related carcinogenesis. These tumors exhibit particular features, such as squamous cell-type specificity and high incidence among never smokers. Arsenic-induced malignant transformation is mainly related to the biotransformation process intended for the metabolic clearing of the carcinogen, which results in specific genetic and epigenetic alterations that ultimately affect key pathways in lung carcinogenesis. Based on this, lung tumors induced by arsenic exposure could be considered an additional subtype of lung cancer, especially in the case of never-smokers, where arsenic is a known etiological agent. In this article, we review the current knowledge on the various mechanisms of arsenic carcinogenicity and the specific roles of this metalloid in signaling pathways leading to lung cancer.
Keywords
ArsenicArseniteLung cancerEpigeneticReactive oxygen speciesEpidermal growth factor receptorPhosphatidylinositol 3-kinasesNFE2-related factor 2
Introduction
Arsenic is a well-known human carcinogen [
1
]. This metalloid is widely distributed throughout the Earth's crust and arsenical species tend to remain in solution even at high concentrations (tens of μg/L) at near-neutral pH [
2
]. As a result, arsenic exposure through drinking water is considered the cause of the largest mass poisoning worldwide. In Bangladesh, more than 70 million people are at risk of long term exposure to high levels of arsenic through groundwater [
3
]. On the other hand, chronic exposure to low-levels of arsenic in drinking water is an emerging risk across different parts of the world, including North America (Figure 
1
) [
4
–
7
]. Paradoxically, arsenic (as arsenic trioxide, A
2
O
3
) is also used as therapeutic agent in the treatment of acute promyelocytic leukemia [
8
,
9
].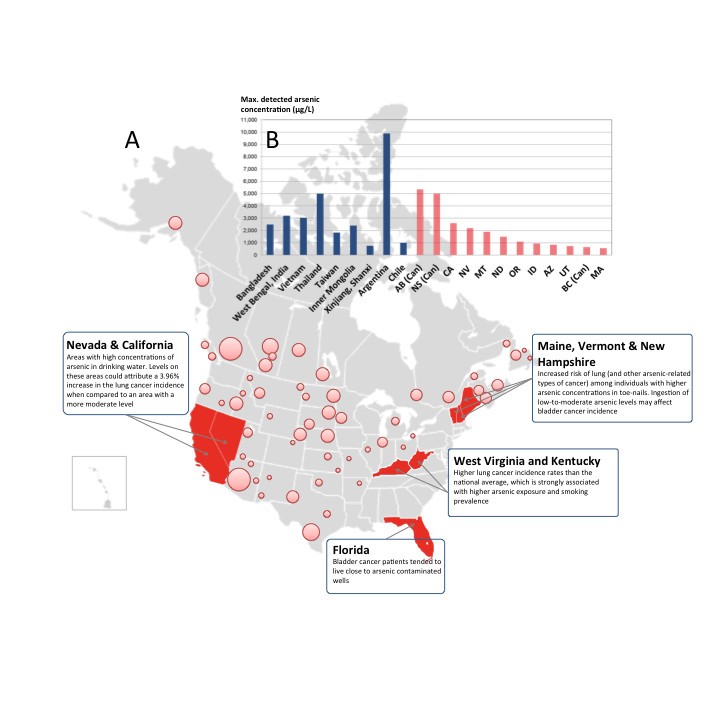 Common types of tumors associated with arsenic exposure are found in skin, bladder, liver and lung. Following arsenic exposure, lung cancer has proven to be amongst the most deadly cancer types [13, 14]. Lung adenocarcinoma is the most common type of lung cancer worldwide, however, the most frequent histological subtypes observed in arsenic-induced lung tumors - among both smokers and non-smokers - are squamous cell carcinomas (SqCC) and small cell carcinomas (SCC) [15]. Lung tumors derived from individuals exposed to arsenic also exhibit differential genetic and epigenetic changes when compared to histologically matched tumors derived from an arsenic-free environment. The differential molecular alterations seen in arsenic-induced tumors may not arise from inorganic arsenic, but instead from more damaging arsenic species generated through its metabolism [16]. In this article, we discuss mechanisms that enhance the carcinogenic potential of arsenic, such as its biotransformation, as well as the impact of this carcinogen and its derivatives at a molecular pathway level.
Conclusion and future directions
Lung cancer is the leading cause of cancer-related deaths in North America, affecting over 200,000 men and women each year [122]. Arsenic poisoning through contaminated drinking water leading to arsenic-induced lung cancer is a major public health concern; consequently, the mechanisms underlying the carcinogenic effects of arsenic in lung cancer has become an important avenue of research.
Undoubtedly, the biotransformation of AsV into AsIII and its methylated conjugates plays a crucial role in arsenic carcinogenicity at both genetic and epigenetic levels. Genetic changes are acquired mainly through the induction of ROS during the biotransformation process, while the competition for methyl groups between AsV detoxification enzymes and DMT's contribute to epigenetic abnormalities.
Arsenic species directly modulate several oncogenic pathways - most notably the EGFR, PI3K/AKT and the NRF2/KEAP1 pathways - and these specific pathways possess actionable targets for therapy in lung cancer. A greater understanding of the molecular mechanisms governing arsenic-related lung tumorigenesis may therefore yield promising translatable findings. Deep characterization of arsenic-related tumors and/or cell models at both the genetic and epigenetic levels, and the comparison of arsenic-related and unrelated SqCC tumors may provide such insights. On the other hand, mechanisms associated with anti-tumoral effects of As2O3 in the treatment of APL (not discussed in this review) should also be considered in order to increase the understanding of the molecular effects of arsenic in the human body.
In conclusion, arsenic can induce specific alterations affecting pathways that drive malignant transformation in lung cells. Current evidence suggests that arsenic-induced lung tumors represent a unique class of lung cancer, based on histology and underlying molecular characteristics. Further characterization of the mechanisms by which arsenic affects its targets will certainly give support to preventing and/or reducing the effects of arsenic toxicity, especially among those populations chronically exposed to arsenic.
Abbreviations
AsIII:

Arsenite
AsV:

Arsenate
EGFR:

Epidermal Growth Factor
HBEC:

Human Bronchial Epithelial Cells
MMAIII:

Monomethylarsonous Acid
NRF2:

NFE2-Related Factor 2
PIK3:

Phosphatidylinositol 3-kinase
ROS:

Reactive Oxygen Species
RTK:

Receptor Tyrosine Kinase
SAM:

S-Adenosyl Methionine
SCC:

Small Cell Carcinomas
SqCC:

Squamous Cell Carcinomas.
Declarations
Acknowledgements
This work was supported by grants from the Canadian Institutes for Health Research (CIHR), NIH/NCI 1R01CA164783-01 and Department of Defence (CDMRP W81XWH-10-1-0634). D.D.B.S. and K.S.S.E. are supported by scholarships from the University of British Columbia and CIHR.
Authors' Affiliations
(1)
British Columbia Cancer Research Centre, Vancouver, Canada
Copyright
© Hubaux et al.; licensee BioMed Central Ltd. 2013
This article is published under license to BioMed Central Ltd. This is an Open Access article distributed under the terms of the Creative Commons Attribution License (http://creativecommons.org/licenses/by/2.0), which permits unrestricted use, distribution, and reproduction in any medium, provided the original work is properly cited.