Apoptosis: Targets in Pancreatic Cancer
Received: 5 December 2002
Accepted: 7 January 2003
Published: 7 January 2003
Abstract
Pancreatic adenocarcinoma is characterized by poor prognosis, because of late diagnosis and lack of response to chemo- and/or radiation therapies. Resistance to apoptosis mainly causes this insensitivity to conventional therapies. Apoptosis or programmed cell death is a central regulator of tissue homeostasis. Certain genetic disturbances of apoptotic signaling pathways have been found in carcinomas leading to tumor development and progression. In the past few years, the knowledge about the complex pathways of apoptosis has strongly increased and new therapeutic approaches based on this knowledge are being developed. This review will focus on the role of apoptotic proteins contributing to pancreatic cancer development and progression and will demonstrate possible targets to influence this deadly disease.
Keywords
apoptosispancreatic canceroncologic therapies
Review
Pancreatic cancer is one of the most malignant tumors with a very poor prognosis. Although pancreatic cancer has an incidence of about 10 cases/100,000 persons it is still the fourth male and fifth female leading cause of cancer-related death in the Western world [1]. Most of the newly diagnosed patients present with an already unresectable tumor stage. The 5-year survival rate of patients with pancreatic cancer receiving surgery and chemotherapy ranges from 1%–2% [2]. One of the reasons for this low survival rate is the insensitivity of pancreatic cancer to most oncologic therapies like chemotherapy, radiotherapy and immunotherapy [3–10]. Tumor development and progression as well as resistance to most oncologic therapies result mainly from lacking response to apoptotic stimuli.
Apoptosis or programmed cell death is a central regulator of tissue homeostasis [reviewed in [11]]. Multicellular organisms eliminate redundant, damaged or infected cells by apoptosis. Because chemotherapy and radiotherapy act primarily by inducing apoptosis, defects in the apoptotic pathway can cause cancer cell resistance [12, 13]. Tumor cells utilize multiple pathways to down-modulate apoptosis [14].
Apoptosis mediated by death receptors belonging to the tumor-necrosis factor (TNF) receptor superfamily is the best-studied pathway in cells (Figure
1
) [
15
,
16
]. Members of the TNF receptor family, TNF, Fas (Apo-1, CD95) and TRAIL (TNF-related apoptosis-inducing ligand)-R [
16
] share a common internal domain, the so-called death domain [
17
]. These receptors are activated by their natural ligands TNFα, FasL, and TRAIL, respectively. The interaction between receptor and ligand causes trimerization of receptor followed by recruitment of FADD (Fas-associated death domain protein) and procaspase-8 to the death domain forming the DISC (death-inducing signaling complex) [
18
]. At the DISC, cleavage of procaspase-8 yields the active form of this protease [
18
]. In type I cells, the amount of activated caspase-8 is sufficient to initiate apoptosis via direct activation of the central effector caspase, caspase-3. In type II cells, the signal enhancing-effect of mitochondria is needed to induce apoptosis [
19
]. The Bcl-2 family member BID mediates activation of mitochondria in response to death receptor activation. BID is cleaved by active caspase-8 producing tBID, which is translocated to the mitochondria [
19
]. tBID becomes integrated into the mitochondria membrane and induces release of cytochrome c and other apoptogenic factors from the intermembranous space of mitochondria [
20
,
21
]. In the cytoplasm, cytochrome c forms a complex with Apaf-1 (apoptotic protease activating factor-1), ATP and procaspase-9 termed the apoptosome. Like caspase-8, caspase-9 can be considered an initiator caspase, which is activated by cleavage at the apoptosome and activates in turn executioner caspases, mainly caspase-3, -6 and -7 [
22
]. Cleavage of death substrates, DNA fragmentation, and cleavage of cytoskeletal proteins finally lead to cell death [
22
].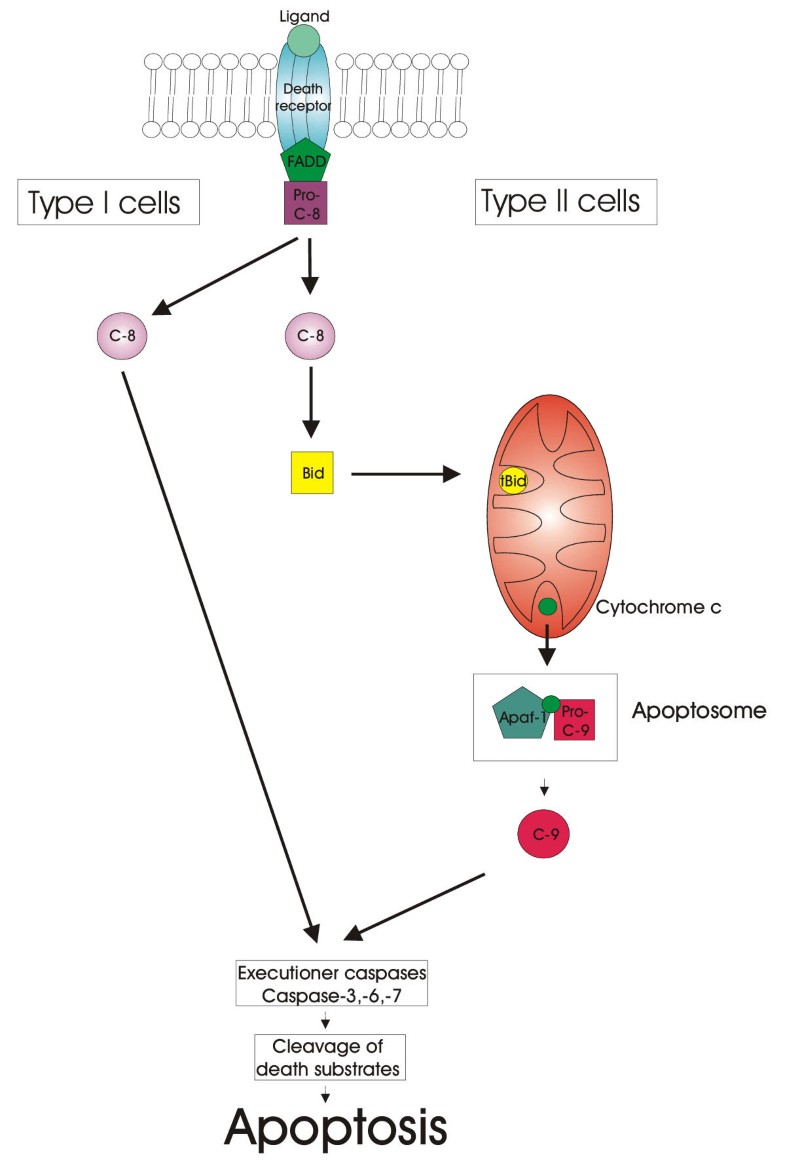 This complex pathway is controlled and influenced by a variety of different pro- and anti-apoptotic factors. The balance of these effectors is important to ensure tissue homeostasis. Activation or downregulation of pro- and anti-apoptotic genes influence cancer cell viability, cancer cell sensitivity to chemotherapy and radiotherapy, and tumor development and progression (Figure
2
).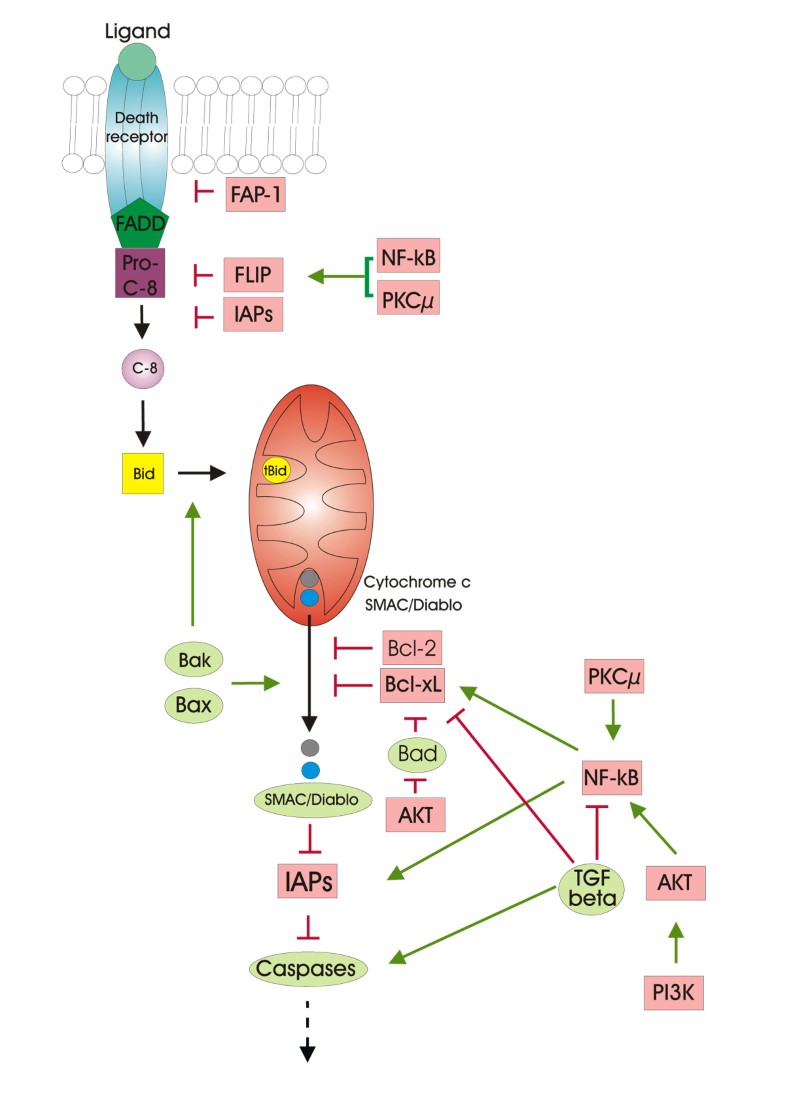 This review will focus on the knowledge about deregulation of apoptotic proteins and pathways in pancreatic cancer and possible therapeutic approaches based on these findings.
Conclusion
In the past, many efforts were made to cure patients from pancreatic cancer. Changes of expression and mutations of apoptotic proteins are common in pancreatic cancer cells and contribute to tumor development and progression. Consequently, pancreatic cancer has developed multiple resistance mechanisms to apoptosis. Many efforts to restore apoptosis and thereby reducing tumor growth were made with considerable success at least under preclinical conditions (Figure
3
). Future therapies have to translate this knowledge into the clinic. They need to combine various therapeutic strategies and have to modulate selectively the sensitivity of pancreatic cancer cells to apoptosis without affecting normal cells.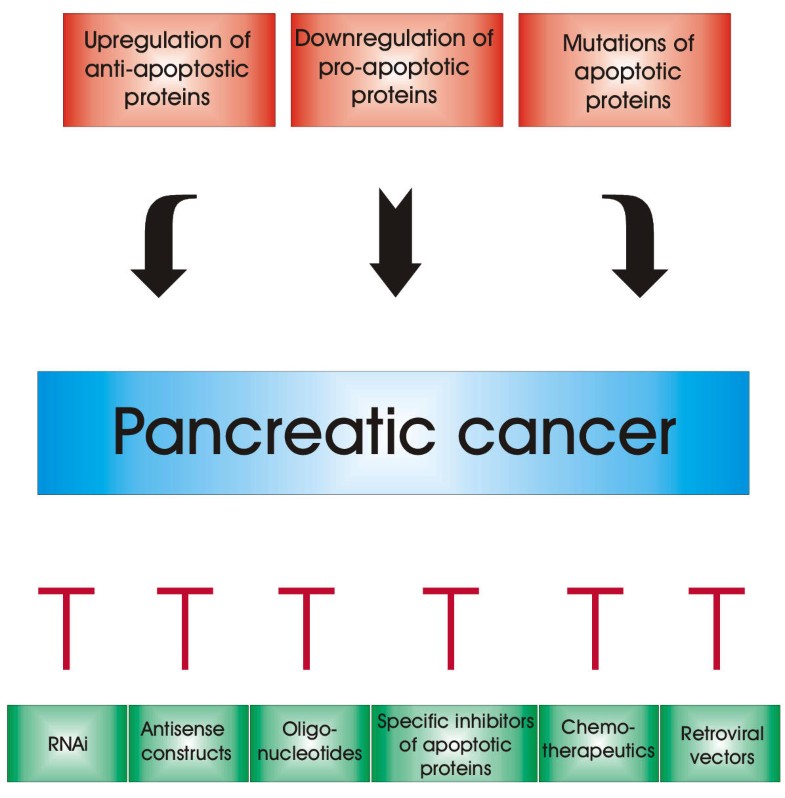 Declarations
Acknowledgments
This work was supported by grants of DFG (SFB 415/A 3) and IZKF/C 6. We thank A. Trauzold and H. Ungefroren for carefully reading this manuscript.
Authors' Affiliations
(1)
Molecular Oncology, Clinic for General and Thoracic Surgery, University of Kiel, Kiel, Germany
Copyright
© Westphal and Kalthoff; licensee BioMed Central Ltd. 2003
This article is published under license to BioMed Central Ltd. This is an Open Access article: verbatim copying and redistribution of this article are permitted in all media for any purpose, provided this notice is preserved along with the article's original URL.