Application of cytology and molecular biology in diagnosing premalignant or malignant oral lesions
Received: 15 August 2005
Accepted: 23 March 2006
Published: 23 March 2006
The Retraction Note to this article has been published in Molecular Cancer 2012 11:57
Abstract
Early detection of a premalignant or cancerous oral lesion promises to improve the survival and the morbidity of patients suffering from these conditions. Cytological study of oral cells is a non-aggressive technique that is well accepted by the patient, and is therefore an attractive option for the early diagnosis of oral cancer, including epithelial atypia and squamous cell carcinoma. However its usage has been limited so far due to poor sensitivity and specificity in diagnosing oral malignancies. Lately it has re-emerged due to improved methods and it's application in oral precancer and cancer as a diagnostic and predictive method as well as for monitoring patients. Newer diagnostic techniques such as "brush biopsy" and molecular studies have been developed. Recent advances in cytological techniques and novel aspects of applications of scraped or exfoliative cytology for detecting these lesions and predicting their progression or recurrence are reviewed here.
Keywords
Oral Cavity
Oral Cancer
Oral Squamous Cell Carcinoma
Oral Squamous Cell Carcinoma
Lichen Planus
Introduction
Oral cancer is the most common cancer and constitutes a major health problem in developing countries, representing the leading cause of death. Although representing 2–4% of the malignancies in the West, this carcinoma accounts for almost 40% of all cancers in the Indian subcontinent [1]. A key factor in the lack of improvement in prognosis over the years is the fact that a significant proportion of oral squamous cell carcinoma (OSCC) are not diagnosed or treated until they reach an advanced stage. This diagnostic delay may be caused by either patients (who may not report unusual oral features) or by health care workers (who may not investigate observed lesions thoroughly) and it is presumed that such delays are longer for asymptomatic lesions. The prognosis for patients with OSCC that is treated early is much better, with 5-year survival rates as high as 80%. In addition, the quality of life improves after early treatment, because cure can be achieved with less complex and less aggressive treatment than is necessary for advanced lesions.
A significant proportion of oral squamous cell carcinomas (OSCC) develop from premalignant lesions such as leukoplakia and oral submucous fibrosis (Fig.
1
). Adjuncts for detection of lesions and selection of biopsy sites include vital tissue staining (with Toluidine blue Fig.
2
) and exfoliative cytology. Unfortunately, sensitivity of cytological diagnosis in a meta-analysis of 1306 cases from 14 studies showed an average of only 87.4% (ranging from 73.8 to 100%)[
2
]. Histological examination of tissue remains the gold standard for diagnosis and identification of malignant oral lesions. Biopsy is an invasive technique with surgical implications, technique limitations for professionals and psychological implications for most patients. It also presents limitations when the lesions are large and in these cases it is important to select the most appropriate site of biopsy. Furthermore, even though the biopsy study is fundamental, it is a diagnostic method with limited sensitivity where one of the most important features is the subjective interpretation of the examining pathologist. These issues underline the importance of discovering and developing new diagnostic methods, improving the existing ones and discovering new therapeutics targets for oral neoplastic diseases [
3
–
6
]. In recent decades, we have seen a dramatic switch from histopathological to molecular methods of disease diagnosis and exfoliative cytology has gained importance as a rapid and simple method for obtaining DNA samples. Changes occur at the molecular level before they are seen under the microscope and before clinical changes occur. Identification of high-risk oral premalignant lesions and intervention at premalignant stages could constitute one of the keys to reducing the mortality, morbidity and cost of treatment associated with OSCC. In addition, certain patients are known to be at high risk for head and neck cancer, specifically those who use tobacco or alcohol and those over 45 years of age. Such patients can be screened by physical examination, and early-stage disease, if detected, is curable. Just as visual inspection of the uterine cervix has been shown to be an unreliable means of identifying precancer and cancer, clinical inspection of the oral cavity has been shown to be equally unreliable in identifying precursor lesions and early cancers. [
7
,
8
]. In a recent study of 647 lesions interpreted by academicians to be innocuous on clinical inspection, 29 (4.5%) were confirmed to be dysplasia or carcinoma [
9
].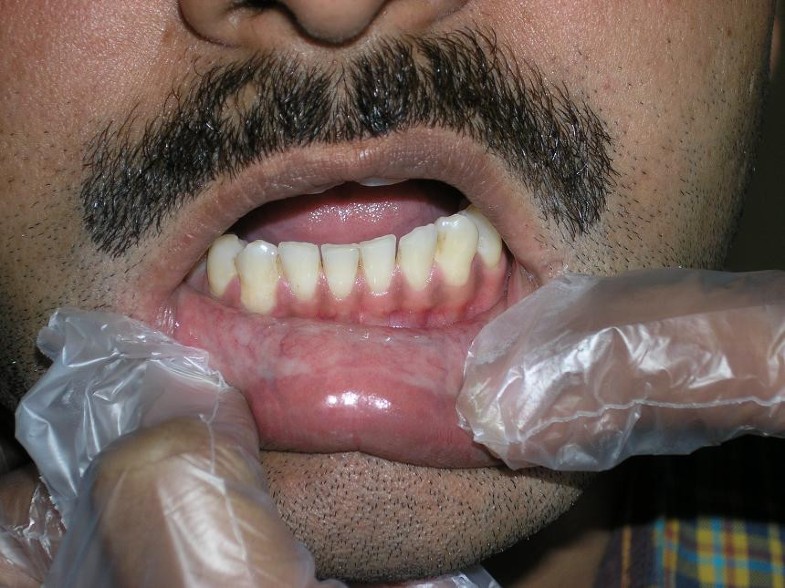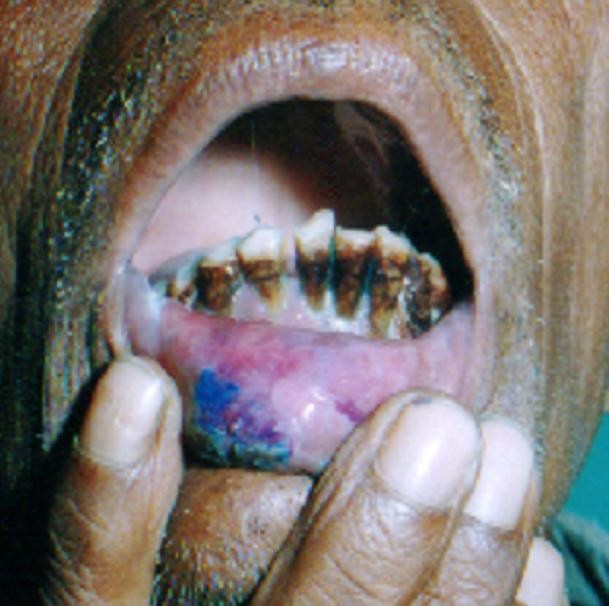 Cytological techniques
Oral brush biopsy
Oral cells can be obtained by different physical systems of scraping the surface of the mucosa, by rinsing the oral cavity or even by taking a sample of saliva from the patients. The reliability of the different instruments used in oral exfoliative cytology has been reviewed in different studies [
10
,
11
]. The ideal instrument used for making a good cytological smear should be easy to use in any location, cause minimum trauma and provide an adequate and representative number of epithelial cells [
11
]. It has been shown that a brush is an adequate instrument due to its ease in sampling and to the quality of the oral cytologic sample (Fig.
3
). Brush biopsy is a simple, relatively inexpensive, high sensitive, risk-free method of screening for cancer and serves as an aid to the clinical examination (Fig.
6
,
7
,
8
). The improved accuracy is attributed to the ease in obtaining full transepithelial cellular samples and the evaluation of smears with an image analysis system that has been adapted specifically to detect oral epithelial abnormalities by some workers [
12
]. Full-thickness sampling (indicated by pinpoint bleeding during procedure Fig.
4
) is essential if histomorphological, evaluation of the collected cells is to yield representative findings. For example, many dysplastic lesions are first identified in the basal epithelial layers, and the diagnostic histomorphological findings may be lost as the cells mature and parakeratin and keratin are produced (Fig.
5
). To the classical applications of the oral cytologic studies, such as oral candidiasis, others have been added, such as studying the epithelial infection due to Epstein-Barr virus in oral lesions of hairy leukoplakia, widening its possibilities [
13
]. The importance of brush biopsy has been recently emphasized in a multicenter study where nearly 5% of clinically benign-appearing mucosal lesions were sampled by this technique and later confirmed by typical scalpel biopsy to represent dysplastic epithelial changes or invasive cancer. [
18
] Other authors have also demonstrated the ability of the brush biopsy to uncover similar type lesions that were not clinically suspicious for carcinoma or preinvasive disease [
14
]. There are controversies related to the real value of this technique in the early detection of OSCC. The existence of false positives has been pointed out showing high sensitivity (90%) and low specificity (3%) [
15
]. Nevertheless, these data have been discussed previously [
16
]. In a recent study by Potter et al., four false negatives of a total 115 analysed cases were found. Although the number of false positive cases is small it is important to emphasize that the mean delay time in diagnosing a carcinoma in these cases was of 117.25 days [
17
]. However, more independent studies analysing its true validity and reliability as well as its applicability and its comparison with other techniques are necessary. Multiple studies with different results have been carried out, analysing the application of the cytology in the detection of dysplastic lesions. In a study from Sudan, oral scrape smear cytological analysis has been proposed as a useful early diagnostic method for epithelial atypia and therefore also for malignant oral lesions [
18
]. Despite the improvements in the methods used for collecting oral cytological material this methodology still presents problems in diagnosing oral cancer. Problems are mainly due to the existence of false negatives obtained as a result of a non representative sample as well as the subjectivity of the cytologic evaluation [
19
].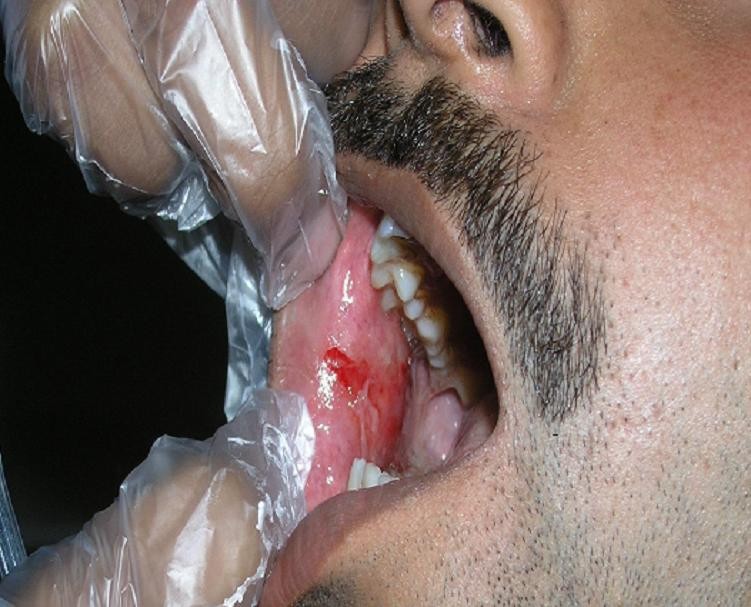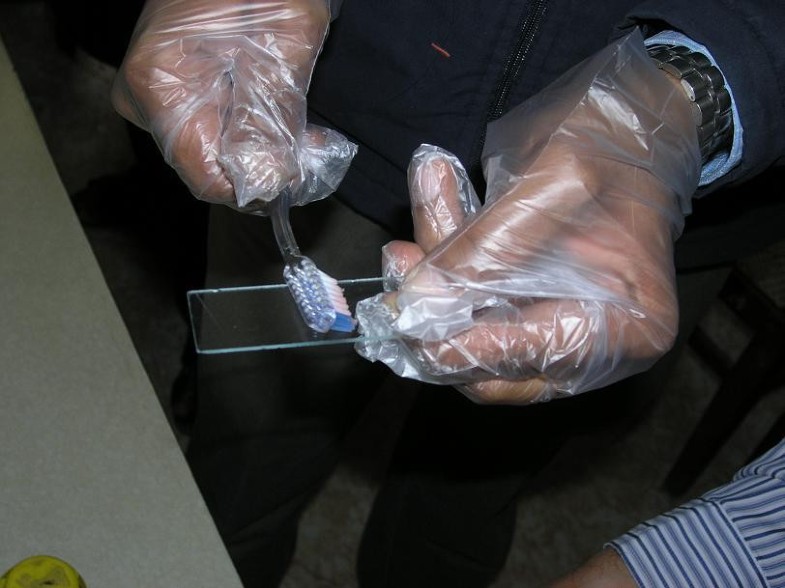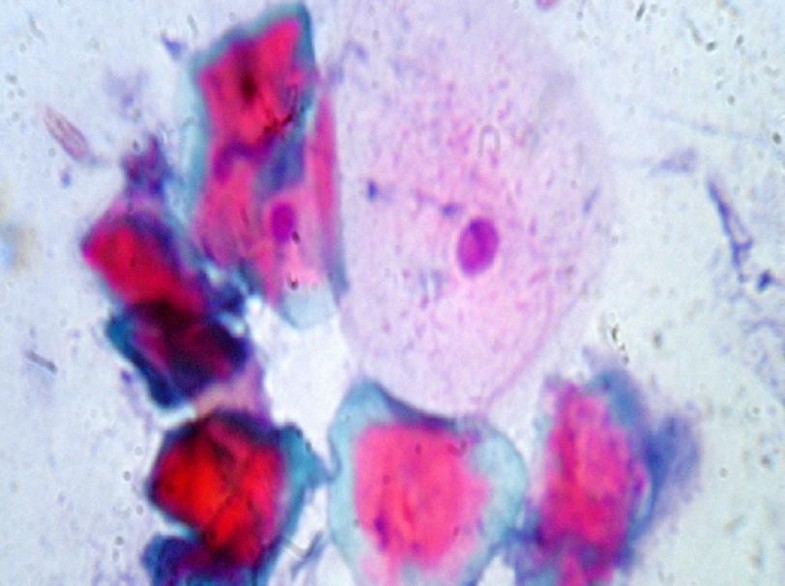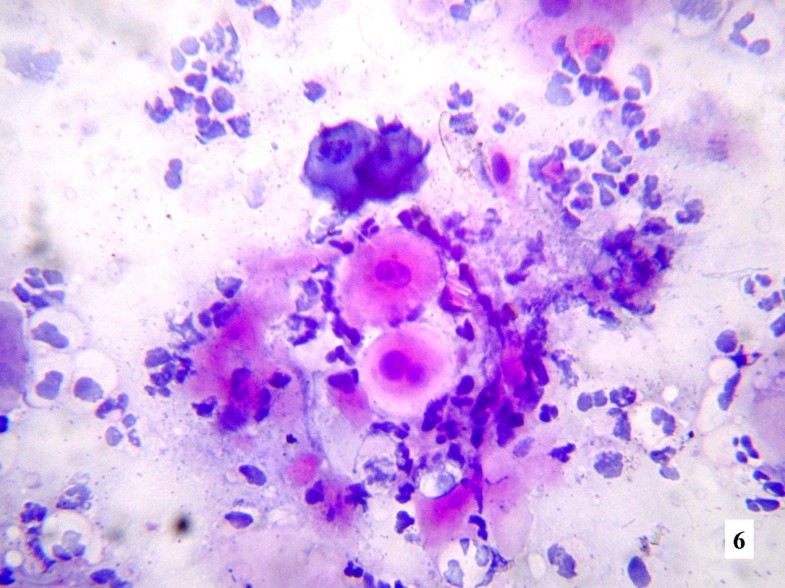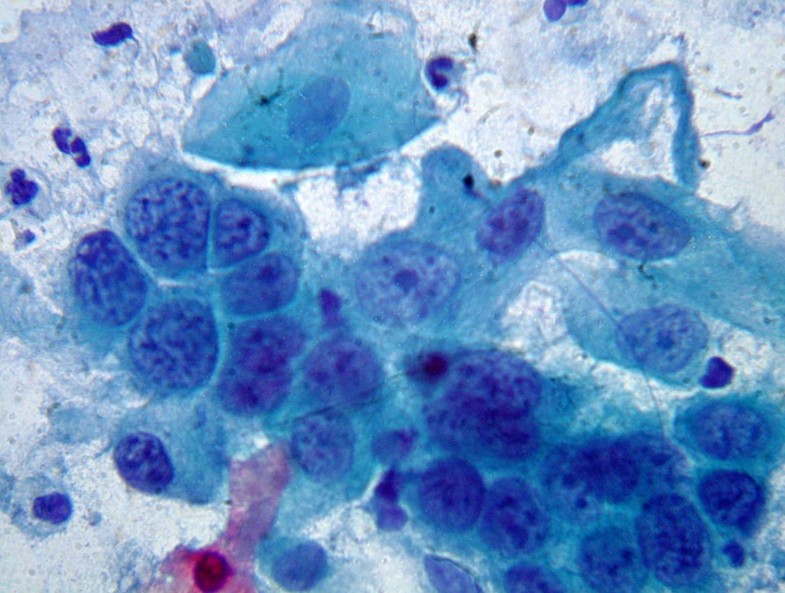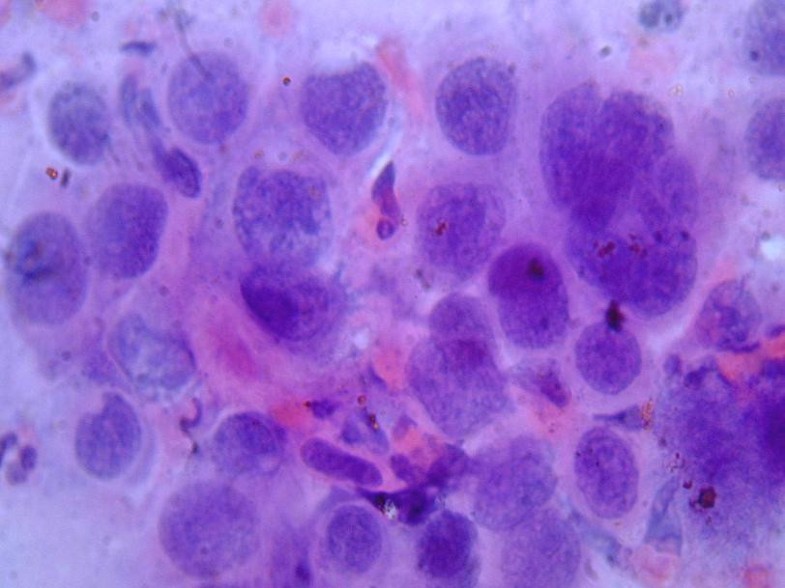 Liquid based cytology
Since liquid-based cytology was developed in the 1990s various comparative studies have shown that it can offer significant advantages over conventional exfoliative cytology. Results obtained from uterine cervix examination, for example, have shown that the liquid-based preparations reduce the problems related to sampling error, poor transfer and fixation of the cellular sample [20–24]. In cervical uterine cancer screening, the liquid-based preparations have also demonstrated a significant reduction in false-negative rates as compared with those of conventional smears [20–23, 25]. In a recent study from Brazil [26] the liquid-based preparations resulted in higher specimen resolution as well as presenting a better cytological morphology for pemphigus vulgaris, squamous cell carcinomas, HSV lesions and fungus infections. For HSV lesions, in particular, the observation of the cytopathological features indicative of viral infections (binucleation, multinucleated cells) greatly improved with the liquid-based technique [26].
Application of techniques
Molecular analyses
While the classic oral cytologic evaluation is labour intensive and requires a high degree of expertise for identifying and evaluating cells with suspicious morphology the analysis of molecular alterations is objective and tries to identify specific genetic anomalies [6]. The possibility of extracting RNA from cells obtained by scraping has recently been demonstrated emphasizing its usefulness in the early diagnosis of oral premalignant and cancerous lesions [44].
Conclusion
Oral cytology is becoming increasingly important in the early diagnosis of oral cancers, as a procedure for obtaining cell samples that can then be analysed by sophisticated diagnostic techniques such as cytomorphometry, DNA cytometry, and molecular analyses. The advent of techniques like Toluidine blue staining, brush biopsy and application of sophisticated computer programs has changed the scenario and made the interpretation of findings far more reliable. than earlier. The cytological study of oral cavity cells is simple and rapid, non-aggressive and relatively painless: it is thus well accepted by patients and suitable for routine application in population screening programmes, for early analysis of suspect lesions, and for pre-and post-treatment monitoring of confirmed malignant lesions.
Authors' Affiliations
(1)
Associate Professor Department of Pathology, Moti Lal Nehru Medical College, Allahabad, India
(2)
Postgraduate Student Department of Pathology, Moti Lal Nehru Medical College, Allahabad, India
(3)
Professor and Head Department of Pathology, Moti Lal Nehru Medical College, Allahabad, India
(4)
Research Fellow Department of Pathology, Moti Lal Nehru Medical College, Allahabad, India
Copyright
© Mehrotra et al; licensee BioMed Central Ltd. 2006
This article is published under license to BioMed Central Ltd. This is an Open Access article distributed under the terms of the Creative Commons Attribution License (http://creativecommons.org/licenses/by/2.0), which permits unrestricted use, distribution, and reproduction in any medium, provided the original work is properly cited.