Antimicrobial peptaibols, novel suppressors of tumor cells, targeted calcium-mediated apoptosis and autophagy in human hepatocellular carcinoma cells
Received: 29 July 2009
Accepted: 2 February 2010
Published: 2 February 2010
Abstract
Background
Hepatocellular carcinoma (HCC) is one of the most common cancers in the world which is highly chemoresistant to currently available chemotherapeutic agents. Thus, novel therapeutic targets are needed to be sought for the successful treatment of HCC. Peptaibols, a family of peptides synthesized non-ribosomally by the Trichoderma species and other fungi, exhibit antibiotic activities against bacteria and fungi. Few studies recently showed that peptaibols exerted cytotoxicity toward human lung epithelial and breast carcinoma cells. However, the mechanism involved in peptaibol-induced cell death remains poorly understood.
Results
Here, we showed that Trichokonin VI (TK VI), a peptaibol from Trichoderma pseudokoningii SMF2, induced growth inhibition of HCC cells in a dose-dependent manner. It did not obviously impair the viability of normal liver cells at lower concentration. Moreover, the suppression of cell viability resulted from the programmed cell death (PCD) with characteristics of apoptosis and autophagy. An influx of Ca2+ triggered the activation of μ-calpain and proceeded to the translocation of Bax to mitochondria and subsequent promotion of apoptosis. On the other hand, typically morphological characteristics consistent with autophagy were also observed by punctate distribution of MDC staining and the induction of LC3-II, including extensive autophagic vacuolization and enclosure of cell organelles by these autophagosomes. More significantly, specific depletion of Bak expression by small RNA interfering (siRNA) could partly attenuate TK VI-induced autophagy. However, siRNA against Bax led to increased autophagy.
Conclusion
Taken together, these findings showed for the first time that peptaibols were novel regulators involved in both apoptosis and autophagy, suggesting that the class of peptaibols might serve as potential suppressors of tumor cells.
Keywords
HepG2 CellAcridine OrangeBAPTAAutophagic Cell DeathNormal Liver Cell
Background
Hepatocellular carcinoma is the fifth most common solid tumor worldwide and the fourth leading cause of cancer-related death. Although the majority of tumors initially respond to chemotherapy, hepatocellular carcinoma is well known for its expression of the multidrug resistance gene and its poor response to currently available chemotherapeutic agents [1, 2]. Therefore, it is necessary to intensify our efforts to understand better and develop novel treatment for hepatocellular carcinoma. Promoting PCD is a strategy for cancer drug discovery. Thus there is still a significant need to explore novel antitumor agents targeted for cancer therapy and to identify mechanism-based regulators potentially useful in future clinical applications [3, 4]. Peptaibols, a large family of antibiotic peptides, have been identified mainly from fungi of the genera Trichoderma and Gliocladium [5]. At present, the sequences of 309 peptaibols are known, 184 sequences of which are from the genus Trichoderma http://www.cryst.bbk.ac.uk/peptaibol/home.shtml[6, 7]. The most common researches on peptaibols emphasize the biosynthetic pathway, conformational properties, determination of amino acid sequences and biological activities. However, there are few reports about the effects of peptaibols on human cells or cancer cells [8, 9]. Peltola [10] reported that the peptaibols from Trichoderma harzianum suppressed the growth of A549 cells and dissipated the mitochondrial membrane potential (ΔΨm). However, the precise mechanism and the basic components in cellular death pathway involved in peptaibol are currently unknown.
Under physiological and pathological settings, PCD can be classified into several morphological and biochemical subtypes. Among them, the most prominent types are type-1 cell death (apoptosis) and type-2 cell death (autophagic cell death, ACD). Recent reviews have described the relationship of autophagy and apoptosis signaling during cancer therapy. While the molecular mechanisms leading to apoptosis have been dissected to some extent during the past 15 years, ACD is not well characterized at the molecular level yet [11]. Autophagy has recently gained much attention for its especial roles in cell survival and cell death, particularly in the pathogenesis as well as the treatment of cancer. Not surprisingly, there is an intricate relationship between autophagy and apoptosis. Early studies showed that autophagy took over when apoptosis was blocked in cancer cells. A more recent report demonstrated that autophagy and apoptosis might interact or occur independently of each other [12, 13]. Therefore, the interplay between autophagy and apoptosis is unclear. A debate issue is whether crosstalk between these two pathways exists and how cell death declines to one or the other subroutine.
Previous studies have indicated that the elevation of [Ca2+] i was a sufficient signal to induce apoptosis in several model systems [14]. It is important to elucidate whether cells undergo apoptosis, autophagy, or both, in the response to calcium elevation [15]. Calpain is an intracellular cysteine protease that modulates Ca2+-dependent apoptosis through a variety of mechanisms. The best-characterized calpains are two ubiquitously expressed isozymes, μ-calpain and m-calpain, sharing homology in their protease domains. To become active, calpains require an elevation in [Ca2+] i , and the autoproteolytic cleavage to further enhance their activity. Recent studies have indicated that calpains may play a central role in the execution of calcium-triggered cell death upstream of caspases. Moreover, calpain has been implicated in the translocation of Bax to the mitochondria. In addition, calpain has been reported to cleave Bid, a BH3-only Bcl-2 family protein, resulting in the cytochrome c (Cyto-c) release from mitochondria [16–18]. It has also been suggested that Bcl-2 family members (Bax/Bak and Bcl-2/Bcl-xL) could promote or inhibit the apoptosis and autophagy presumably through an alternate mechanism [15, 19]. It is not well known that a cell decide whether to undergo apoptosis, autophagy, or both, in the response to calcium elevation and the role of Bcl-2 family members in regulating calcium signals and proceeding of autophagy.
Trichokonins (TKs) secreted by T. koningii are peptaibols which are composed of 20 amino acids. Three TKs, TK VI, TK VII and TK VIII, have been isolated from Trichoderma spp. SMF2, and their sequences have been identified [20–22]. Strain SMF2 was described as T. koningii in our previous reports [22]. However, through analyses of its colony, conidiophore morphology, 18S rDNA and ITS sequences (Gene Bank accession number FJ605099), strain SMF2 was recently identified as T. pseudokoningii (see Additional file 1). Like other peptaibols, TKs have been shown to have antibacterial and antifungal properties. In this paper, we identified TK VI as a novel cell death regulator by studying its cytotoxic effects on cancer cells and HCC cells (HepG2 cells). Our results first provided molecular evidence to demonstrate a novel finding that TK VI induced two types of cell death, including calcium-calpain-Bax-mediated apoptosis and calcium-Bak-mediated autophagy in HepG2 cells.
Discussion
Peptaibols are a family of antibiotic peptides isolated from soil fungi that exhibit anti-bacterial and anti-fungal properties [32]. Few studies show they have the capacity to induce cell death in human cancer cells [10, 33, 34]. In this report, we first used HepG2, BGC-823 and A549 cell lines as models for MTT assay and found that TK VI inhibited the growth of the three cell lines in vitro. Most significantly, HepG2 cells were more sensitive to TK VI than normal liver cells with lower concentration of TK VI (from 10 to 20 μM) (Figure 1), indicating that peptaibol might be a potentially novel anticancer agent. Furthermore, TK VI induced a form of apoptotic and autophagic cell death in HepG2 cells, which was characterized by extensive vacuolization, surface exposure of PS, and loss of mitochondrial membrane. Moreover, the apoptotic process was caspase-dependent. In addition, cell death induced by TK VI was mainly characteristic of apoptosis in HepG2 cells, whereas small interfering RNAs against Bax led to increased autophagy. Interestingly, the kinetics of Ca2+ influx correlated well with the onset of apoptosis and autophagy, suggesting that Ca2+ might play a direct role in these processes. Calcium caused a significant activation of Bak and thus promoted authphagic pathway in TK VI-treated cells.
Changes in intracellular Ca2+ have been reported to occur at the beginning of cell death, induced by pore-forming toxins or peptides from bacteria, animals and plants. The fact that peptaibols formed ion channels in phospholipid bilayers [7] prompted us to investigate the effect of TK VI treatment on intracellular Ca2+ levels. Our results suggested that TK VI initially induced an increase in [Ca2+] c in HepG2 cells, which originated from an influx of extracellular Ca2+ (Figure 3). Peptaibols are fungal peptides rich in non-coded α-aminoisobutyric acids (Aib). The structure, sequence and amphipathic property of peptaibols play major roles in its cell-killing mechanism [35, 36]. The long sequence peptaibols with 18-20 amino acid residues, exemplified by alamethicins [37], were used to explore the channel formation of these peptides on cells in the "barrel-stave" model [7, 8, 37]. Fonteriz reported [38] that alamethicin seemed to form ionic channels in chromaffin cells, which were permeable to Ca2+. Interestingly, in the view of Qing Hua [39], trichokonin VI was a potent agonist of L-type Ca2+ channel. Our results demonstrated that elevation of [Ca2+] c attributed to TK VI and it played a crucial role not only in the apoptosis but also in the autophagy induced by TK VI. More importantly, we report for the first time that TK VI exhibited its cytotoxicity via autophagy through Ca2+-Bak signaling. We observed that BAPTA abolished calcium influx and significantly reduced TK VI-induced autophagy and apoptosis (Figure 5D and Figure 6A). Consistent with our results, vitamin D, ATP, ionomycin, and photodynamic therapy were known to induce calcium-mediated autophagy [40]. The involvement of the calpain, a key calcium-dependent protein, in apoptosis was suggested by previous studies involving different cellular systems [26]. Remarkably, the inhibitors of calpain abrogated the activation of Bax and further protected HepG2 cells against apoptosis induced by TK VI. It is noteworthy that calpain inhibitors conferred only a partial protection against apoptosis (Figure 4C and Figure 6A). Consistent with this observation, other effective molecules, in addition to calpains, might be involved in this apoptotic pathway. Although Bak was not an effector of calpain, but the influx of Ca2+ contributed to its activation (Figure 4B). The results suggested calpain was one of the major factors in TK VI-mediated apoptosis.
The relationship of autophagy and apoptosis is complex and controversial. It varies with cell and stress distinction. Depending on the cellular context and stimulus, autophagy may be indispensable for apoptosis by turning on apoptosis. In other cellular settings, autophagy may rather antagonize or delay apoptosis, and inhibition of autophagy may increase the sensitivity of the cells to apoptotic signals. In some cell systems, two processes can occur independently [11, 12, 41]. In this study, apoptosis and autophagy were independent pathways in presences of Bax, which was triggered by TK VI. But apoptosis played a crucial role in the process. Plenty of signaling pathways overlaps are found between autophagy and apoptosis, including various kinases such as PI3K, PKB/Akt, Bcl-2 family members, PTEN, c-Myc, Ras and others [15, 42]. Apoptosis was regulated by the Bcl-2 family (Bak, Bax and Bcl-xL) which conveyed the death message to mitochondria [26]. A report [10] demonstrated that T. harzianum peptaibols dissipated the mitochondrial membrane potential of human lung epithelial carcinoma cells, which accorded with our results (Figure 6C). In our study, ultrastructural characteristics might reveal that mitochondria lost membrane potential via a vacuolated manner, whereas, in typical apoptosis, the mitochondria maintained its shape and volume (Figure 5E). This was consistent with the report [24] that upon autophagic stimulation, depolarized mitochondria could promote sequestration and turnover of the damaged mitochondria in degradative vacuoles or autophagosomes. Our results showed that blockage of Bak would abrogate part of vacuolization effect induced by TK VI (Figure 5E, c). Cui Q [43] showed that physiological role Bak might be the suppression of autophagy. In contrast to previous studies, our results described a different activity of Bak during autophagy in TK VI-treated cells. The discovery heralded a new regulator involved in the induction of autophagy by calcium in response to TK VI. However, the mechanism of TK VI-induced vacuole formation still required further study. In HepG2 cells treated with TK VI, activated calpain induced subsequent translocation of Bax from cytosol to mitochondria. Then activated Bax predisposed to the release of cytochrome c and Smac, as well as clevage of caspase-3 and PARP. On the other hand, Buytaert and other researcher [44, 45] demonstrated Bax proceeded to cell killing through apoptosis in its presence or via an autophagic pathway in its absence, which was similar to our results. Previous study [46] showed that moderate expression of Bcl-2 or Bcl-xL delayed apoptosis but did not prevent the rapid induction of autophagy. Our results exhibited changes in the ΔΨm were retarded by overexpression of Bcl-xL, which resulted in a marked delay in the kinetics of PCD, whereas, the overexpression of Bcl-xL had no significant effect on autophagy.
Based on our results, a novel cell death pathway triggered by antibiotic peptaibol TK VI in HepG2 cells was proposed. TK VI-induced cell death might represent an intertwined type of autophagy and apoptosis, which was previously unknown. TK VI initially acted on the cell membrane, and then resulted in a Ca
2+
influx from extracellular medium. It both triggered the activation of Bak, which mainly involved in autophagy, as well as induced μ-calpain activation. Upon activation of Bax by calpain, Bax, in turn, translocated to the mitochondria, where it promoted loss of ΔΨ
m
and the release of cytochrome
c
and Smac/DIABLO. Finally, caspase-3, and PARP were activated, leading to apoptosis. Specific depletion of Bak expression could partly attenuate TK VI-induced autophagy. However, blockage of Bax led to increased autophagy (Figure
8
). Antimicrobial peptides have been receiving increasing attention for their cytotoxic activity toward cancer cells that parallels their antimicrobial activity [
47
,
48
]. Our data suggested that peptaibols might be a new class of candidates for anti-tumor agents.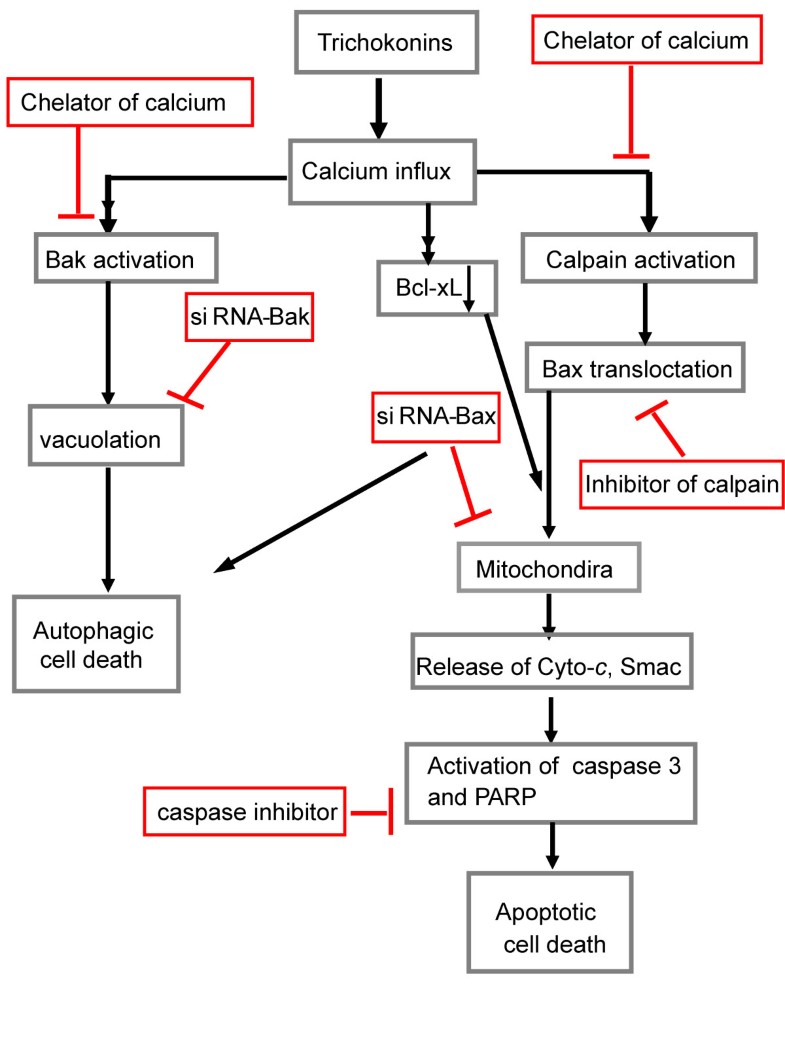 Conclusions
In conclusion, this work demonstrated that TK VI induced growth inhibition of hepatocellular carcinoma cells (HCC cells) in a dose-dependent manner. However, at lower concentration, TK VI did not obviously impair the viability of normal liver cells. In our case, the targets of TK VI were related to Bax-apoptosis and Bak-autophagy pathway activation. Nevertheless, the validation of potential use of TK VI required further investigation on in vivo hepatocellular carcinoma models.
Methods
Reagents
Fluo-3 acetoxymethyl ester (Fluo-3 AM), acridine orange, 3-methyladenine (3-MA), anti-caspase-3, anti-PARP, anti-calpain, anti-Bax, anti-Smac, anti-Cyc-c and anti-Bcl-xl monoclonal antibodies were all purchased from Sigma (Sigma-Aldrich, St Louis, MO). The antibodies for detection of activated Bak were purchased from Millipore (Charlottesville, VA). DMEM and bovine calf serum were obtained from Gibco BRL (Grand Island, NY). benzyloxycarbonyl-Val-Ala-Asp-(OMe) fluoromethyl ketone (z-VAD-fmk) was obtained from Oncogene Research Products (San Diego, CA). The secondary antibody (goat anti-rabbit or rabbit anti-mouse Alexa 488) and 1, 2-Bis (O-aminophenoxy) ethane-N, N, N-, N-tetraacetic acid (BAPTA) acetoxymethyl ester were purchased from Molecular Probes, Inc. (Eugene, OR).
Purification of Trichokonins T. pseudokoningii
SMF2 was fermented by solid-state fermentation and TK VI was purified using the methods as previously described [19, 20]. The purified TK VI was dissolved in PBS.
Cell culture, treatment and establishment of HepG2 cells stably expressing Bcl-xL
BGC-823, A549 and HepG2 cells were obtained from the Institute of Biochemistry and Cell Biology (Shanghai, China). They were grown in DMEM supplemented with 10% fetal calf serum under an atmosphere of 5% CO2. In this study, HepG2 cells were pretreated with the following compounds: the calpain inhibitor SJA6017 (100 μM), the caspase inhibitor z-VAD-fmk (200 μM), 3-MA (2 mM), and BAPTA (10 mM).
HepG2 cells were transfected with a pcDNA3.1 vector (Invitrogen, San Diego, CA) containing the coding sequence for Bcl-xL (pcDNA3.1/Bcl-xL), or with a control neomycin-resistant expression vector pcDNA3.1, using Lipofectin reagent (Invitrogen) according to the manufacturer's instructions.
Assessment of apoptosis and autophagy
The MTT tetrazolium assay was performed as previously described to measure the density of viable cells [17].
Phosphatidylserine (PS) exposure was evaluated by using the Annexin V-FITC apoptosis detection kit (BioVision, Mountain View, CA) following the manufacturer's instructions. Annexin V binding was analyzed equipped with a FITC signal detector FL1 (Ex = 488 nm, Green) and PI staining with a phycoerythrin emission signal detector FL2 (Ex = 585 nm, Red) using the FACScan cytometer (Becton Dickinson, San Jose, CA). Percentage of apoptotic cells of the total (106 cells) was calculated using FlowJo 4.5.2 software.
DNA fragmentation assay was performed for the detection of DNA strand breaks. The detection was carried out according to the instructions for 3' end labeling of DNA in situ (Oncogene Research Products, San Diego, CA). Percentage of apoptotic cells of the total (106 cells) was calculated using FACScan cytometer. Additionally, cells were analyzed using NIKON ECLIPSE TE2000-E fluorescence microscope.
For the determination of DNA fragmentation in oligonucleosomal fragments (DNA laddering), total cellular DNA was extracted from 5 × 106 cells using the Easy-DNA kit (Invitrogen) following the instructions provided by the manufacturer. The obtained DNA was analyzed by electrophoresis on a 1.5% agarose gel.
MitoCapture™ (Biocarta, Hamburg, Germany) was used to evaluate changes in mitochondrial membrane potential (ΔΨm). Cell suspensions (5 × 105) were incubated at 37°C for 15 min in 1 ml PBS containing 1 mM rhodamine 123, and subsequently analyzed with a FACSCalibur flow cytometer.
The analysis of autophagy was undergone by MDC as described previously [21]. The percentage of autophagic cell death was analyzed using flow cytometry with acridine orange dyeing. The fluorescence emission of green (510~530 nm) and red (650 nm) from 1 × 106 cells was measured with a flow cytometer using CellQuest software. Moreover, the cells were exposed to 20 μM TK VI for 16 h and localization of LC3-II was detected as described by Herman [22].
Cell morphological changes detected by electron microscopy
Ultrastructural change was detected using transmission electron microscopy with the method as described by Herman [22] and examined with a JEM-1230 transmission electron microscope (JEOL, Japan).
Measurement of cytoplasmic calcium level
The changes in cytosolic calcium level ([Ca2+] c ) were measured by using the cell-permeable Ca2+-sensitive fluorescent dye Fluo-3 acetoxymethyl ester (Fluo-3 AM). The cultures were treated for the designated time with the indicated concentrations of TK VI diluted in PBS alone or containing 2 mM CaCl2. After rinsing two times in HEPES-buffered saline, the live cells were placed in an open chamber (Molecular Probes, Inc., Eugene, OR) with 500 ml of HEPES solution and positioned on the stage of a Zeiss LSM 510 confocal laser scanning microscope equipped with an Argon laser. The raw fluorescence intensities (fluo-3) of user-selected areas were used for data analyses.
RNA interference
For Bak, the sense and antisense strands of siRNA were, beginning at nucleotide 310, 5'-UGCCUACGAACUCUUCACCdTdT-3' (sense) and 5'-GGUGAAGAGUUCU AGGCAdTdT-3' (antisense). For Bax, the sense and antisense strands of siRNA were, beginning at nucleotide 217, 5'-UAUGGAGCUGCAGAGGAUGdTdT-3' (sense) and 5'-CAUCCUCUGCAGC UCCAUAdTdT-3' (antisense). Non-specific control siRNA (target 5'-GCATTGTATGCGATCGCAGAC-3') was served as a control. The transfection of siRNA oligonucleotides was performed with Lipofectamine 2000 (Invitrogen) according to the manufacturer's recommendations. After 48 h, the cells were treated with TK VI for the indicated times. At the end of treatment, cells were harvested for experiments.
Western blot
Proteins in mitochondrial and cytosolic fractions were extracted using cytochrome c releasing apoptosis detection kit (Biovision, Mountain View, CA). Protein concentration was determined using a BCA protein assay kit (Bioteke). Equal amount of proteins (20 μg) was loaded onto SDS-PAGE gels and the proteins were electrically transferred to a PVDF film (Amersham, Ayesbury, UK). Immunoblots were analyzed using specific primary antibodies against Bcl-xl, calpain, Bax, Bak, LC3, caspase-3, PARP, Smac, Cyc-c and β-actin, and proteins were visualized using an advanced chemiluminescence detection kit (Amersham, Ayesbury, UK). β-actin was used for internal control to confirm that the amount of protein was equal.
Immunohistochemical studies
HepG2 cells (5 × 104) were seeded in 12-well plates. After being washed with PBS, cells were incubated with 100 nM MitoTracker for 30 min and fixed with ice-cold 4% paraformaldehyde. The fixed cells were subsequently incubated with the primary antibody rabbit anti-Bak and Smac (1:500) or mouse anti-Bax and cytochrome c (1:200) in blocking solution (1.5% bovine serum albumin in TBST) for 1 h at room temperature, and then stained with FITC-conjugated anti-mouse and anti-rabbit IgG, respectively. Cells were examined under a Zeiss LSM 510 confocal laser scanning microscope. Data was representative of at least three independent experiments.
Statistical analysis
All results were expressed as mean ± SD. P < 0.05 was considered statistically significant. All statistical analyses were performed using SPSS 11.5 for Windows.
Declarations
Acknowledgements
The work was supported by National Natural Science Foundation of China (30870047), Hi-Tech Research, Development program of China (2007AA091504), and Specialized Research Fund for the Doctoral Program of Higher Education (20060422053).
Authors' Affiliations
(1)
State Key Lab of Microbial Technology, Shandong University, Jinan, PR China
Copyright
© Shi et al; licensee BioMed Central Ltd. 2010
This article is published under license to BioMed Central Ltd. This is an Open Access article distributed under the terms of the Creative Commons Attribution License (http://creativecommons.org/licenses/by/2.0), which permits unrestricted use, distribution, and reproduction in any medium, provided the original work is properly cited.