Osteoprotegerin in breast cancer: beyond bone remodeling
Michael Weichhaus

1,

Stephanie Tsang Mui Chung

2 and

Linda Connelly

2

Email author
Molecular Cancer
2015
14:117
Received: 26 March 2015
Accepted: 20 May 2015
Published: 10 June 2015
Abstract
Osteoprotegerin (OPG) is a secreted protein and member of the Tumor Necrosis Factor (TNF) Receptor superfamily. OPG has been well characterized as a regulator of bone metabolism which acts by blocking osteoclast maturation and preventing bone breakdown. Given this role, early studies on OPG in breast cancer focused on the administration of OPG in order to prevent the osteolysis observed with bone metastases. However OPG is also produced by the breast tumor cells themselves. Research focusing on OPG produced by breast tumor cells has revealed actions of OPG which promote tumor progression. In vitro studies into the role of OPG produced by breast tumor cells have demonstrated that OPG can block TNF-related apoptosis inducing ligand (TRAIL)-mediated apoptosis. Furthermore, in vivo studies show that OPG expression by breast tumors can promote tumor growth and metastasis. In addition it has been shown that OPG stimulates endothelial cell survival and tube formation thus it may indirectly promote breast tumor progression through impacting angiogenesis. This article will present a summary of the data concerning the tumor-promoting effects of OPG in breast cancer.
Keywords
OsteoprotegerinBoneTNF-related apoptosis inducing ligand (TRAIL)ApoptosisAngiogenesisMetastasis
Introduction
Osteoprotegerin (OPG) is a secreted protein that acts in the bone to block the maturation of bone resorbing osteoclast cells and thus prevent bone breakdown [1, 2]. This physiological role led to investigation of the use of recombinant OPG as a treatment to prevent the bone breakdown that can be initiated when breast cancers metastasize and grow in the bone. However primary breast tumors also express OPG indicating the potential for OPG to have additional roles in breast tumorigenesis [3, 4]. Significant evidence has now accumulated from cell culture and animal model studies indicating that OPG can promote breast tumor growth and spread. This review will present current work illustrating the tumor promoting effects of OPG in breast cancer. These studies demonstrate that OPG should be considered in a dual light in breast cancer having actions that can both promote breast tumor progression as well as prevent bone destruction.
Conclusions
Since its initial discovery and characterization, evidence has been accumulating that OPG plays a role in breast tumorigenesis. The reported actions of OPG in breast cancer are summarized in Fig.
1
. It appears that the effects of OPG in breast cancer may vary depending on site of action. OPG is present in the bone during breast tumor metastasis and OPG is also expressed by breast tumor cells and endothelial cells within breast tumors. In the bone microenvironment OPG's interaction with bone cells can prevent the osteolysis (bone breakdown) associated with breast cancer metastases. However the interaction of OPG with breast cancer cells themselves can lead to tumor growth and spread. This may occur via the ability of OPG to block the induction of apoptosis by TRAIL or through other novel mechanisms. Furthermore, the interaction between RANKL and OPG remains to be investigated in the context of the primary breast tumor. OPG further extends its impact in the breast tumor microenvironment via stimulating growth of endothelial cells and promotion of tubule formation. The effects of OPG may be related to source of OPG with different outcomes resulting from exogenous addition versus production by breast cancer cells themselves. Differing effects have also been observed with truncated OPG versus full length OPG suggesting that the different domains within the protein mediate multiple types of actions within the breast tumor.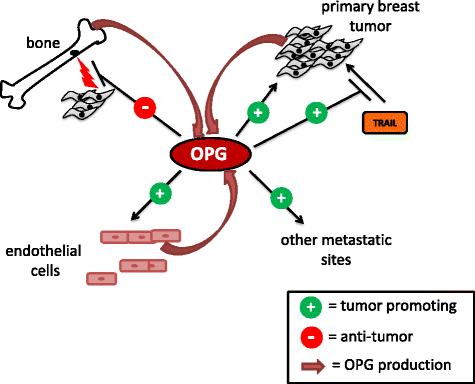 While OPG clearly has potential to modulate breast tumor growth and progression, further investigation is required to fully determine the mechanism of effect and overall outcomes of the different types of interactions. The data available currently would suggest that OPG can no longer be considered solely in the bone microenvironment in breast cancer and caution must be exercised in the development of systemic treatment strategies aimed at increasing OPG levels. Localized delivery of OPG to the bone may be more appropriate to prevent osteolysis associated with metastatic breast cancer. Additional studies are required to determine whether strategies to block OPG signaling would be effective in blocking the growth and progression of primary breast tumors.
Abbreviations
OPG:

Osteoprotegerin
TNF:

Tumor Necrosis Factor
TRAIL:

TNF-related apoptosis inducing ligand
RANKL:

Receptor Activator of NF-kappaB ligand
ER:

Estrogen Receptor
ERRα:

Estrogen-Related-Receptor-Alpha
HUVECs:

Human umbilical vein endothelial cells
HuDMECs:

Human Dermal Microvascular Endothelial cells
FAK:

Focal Adhesion Kinase
SNPs:

Single nucleotide polymorphisms
Declarations
Acknowledgements
Funding - NIH/NCI- 1R15CA161486 and Hawaii Community Foundation Ingeborg v.F. McKee Fund (both to L. Connelly).
Authors' Affiliations
(1)
Division of Natural Science and Mathematics, Chaminade University of Honolulu, Honolulu, USA
(2)
Department of Pharmaceutical Sciences, Daniel K. Inouye College of Pharmacy, University of Hawaii at Hilo, Hilo, USA
Copyright
© Weichhaus et al. 2015
This is an Open Access article distributed under the terms of the Creative Commons Attribution License (http://creativecommons.org/licenses/by/4.0), which permits unrestricted use, distribution, and reproduction in any medium, provided the original work is properly credited. The Creative Commons Public Domain Dedication waiver (http://creativecommons.org/publicdomain/zero/1.0/) applies to the data made available in this article, unless otherwise stated.