Correction to: KIF5B-RET fusion kinase promotes cell growth by multilevel activation of STAT3 in lung cancer
Molecular Cancer volume 18, Article number: 164 (2019)
Correction to: Molecular Cancer (2014) 13:176.
http://www.molecular-cancer.com/content/13/1/176
After the publication of this work [1], the authors noticed errors in Fig. 4. The GAPDH data in panels A and C were mistakenly cut out. The incorrect band of t-ERK was included in Fig. 4B. The p-RET and t-RET panels C and D were mistakenly switched. The corrected panels for Fig. 4 are below. We apologize for any inconvenience caused, but the errors do not change the conclusion or discussion of our article.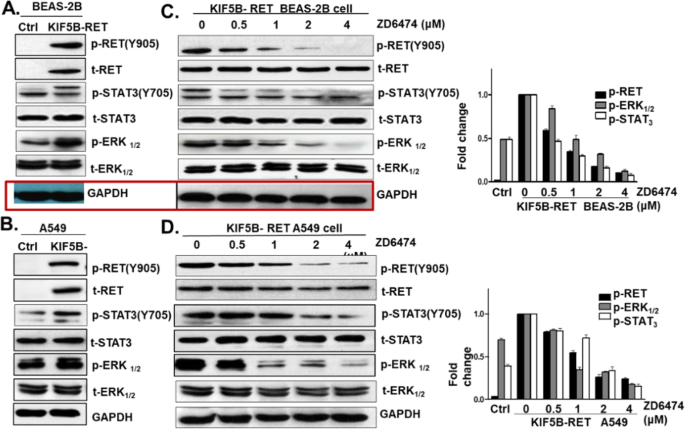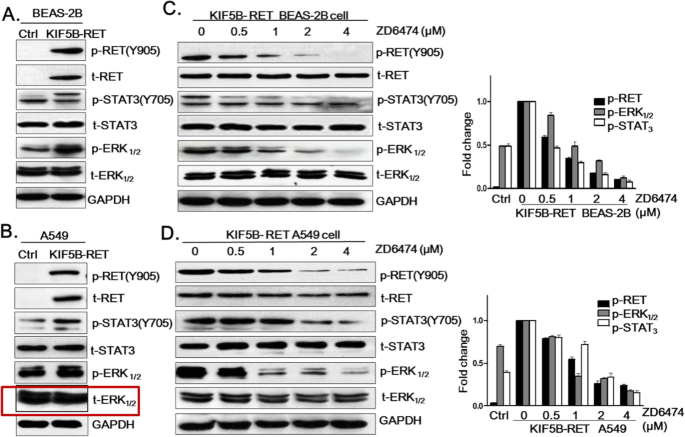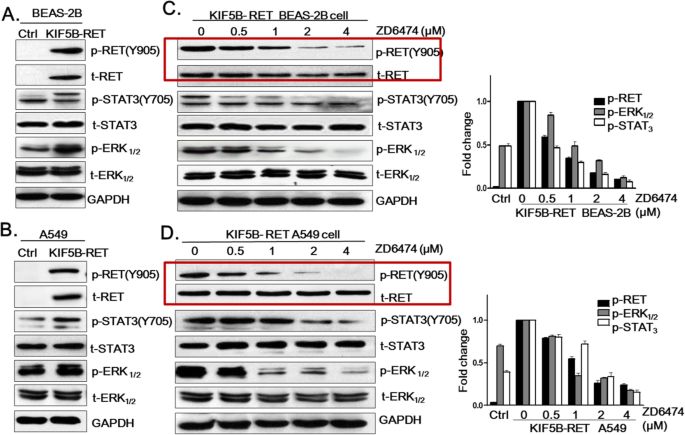 Reference
YingYing Qian, Shoujie Chai, Zuyu Liang, Yongfang Wang, You Zhou, Xia Xu, Chenchen Zhang, Min Zhang, Jingxing Si, Feiteng Huang, Zhangdan Huang, Wei Hong and Kai Wang. (2014). KIF5B-RET fusion kinase promotes cell growth by multilevel activation of STAT3 in lung cancer. Molecular Cancer 2014, 13:176. http://www.molecular-cancer.com/content/13/1/176.
Rights and permissions
Open Access This article is distributed under the terms of the Creative Commons Attribution 4.0 International License (http://creativecommons.org/licenses/by/4.0/), which permits unrestricted use, distribution, and reproduction in any medium, provided you give appropriate credit to the original author(s) and the source, provide a link to the Creative Commons license, and indicate if changes were made. The Creative Commons Public Domain Dedication waiver (http://creativecommons.org/publicdomain/zero/1.0/) applies to the data made available in this article, unless otherwise stated.
About this article
Cite this article
Qian, Y., Chai, S., Liang, Z. et al. Correction to: KIF5B-RET fusion kinase promotes cell growth by multilevel activation of STAT3 in lung cancer. Mol Cancer 18, 164 (2019). https://doi.org/10.1186/s12943-019-1093-0
Published:

DOI: https://doi.org/10.1186/s12943-019-1093-0