MicroRNAs in rhabdomyosarcoma: pathogenetic implications and translational potentiality
Molecular Cancer
2011
10:120
Received: 4 April 2011
Accepted: 24 September 2011
Published: 24 September 2011
Abstract
There is growing evidence that interconnections among molecular pathways governing tissue differentiation are nodal points for malignant transformation. In this scenario, microRNAs appear as crucial players. This class of non-coding small regulatory RNA molecules controls developmental programs by modulating gene expression through post-transcriptional silencing of target mRNAs. During myogenesis, muscle-specific and ubiquitously-expressed microRNAs tightly control muscle tissue differentiation. In recent years, microRNAs have emerged as prominent players in cancer as well. Rhabdomyosarcoma is a pediatric skeletal muscle-derived soft-tissue sarcoma that originates from myogenic precursors arrested at different stages of differentiation and that continue to proliferate indefinitely. MicroRNAs involved in muscle cell fate determination appear down-regulated in rhabdomyosarcoma primary tumors and cell lines compared to their normal counterparts. More importantly, they behave as tumor suppressors in this malignancy, as their re-expression is sufficient to restore the differentiation capability of tumor cells and to prevent tumor growth in vivo. In addition, up-regulation of pro-oncogenic microRNAs has also been recently detected in rhabdomyosarcoma.
In this review, we provide an overview of current knowledge on microRNAs de-regulation in rhabdomyosarcoma. Additionally, we examine the potential of microRNAs as prognostic and diagnostic markers in this soft-tissue sarcoma, and discuss possible therapeutic applications and challenges of a "microRNA therapy".
Keywords
Skeletal Muscle DifferentiationMyogenic PrecursorTumor Suppressor miRNAsTop2 InhibitorOncogenic Fusion Protein
Introduction
Since the discovery of the function of lin-4, the first discovered canonical microRNA (miRNA) in Caenorhabditis elegans[1–3], more than 1400 miRNAs have been identified in mammals (miRBASE, http://www.mirbase.org), most of which with unknown functions.
Mature miRNAs are a class of non-coding ~ 19-25 nucleotide (nt) single-strand RNAs highly conserved across species. They act by binding complementary sequences in the 3'-untranslated regions (UTRs) of a messenger RNA (mRNA) through their "seed" sequence (nt 2-8 at the 5' end), with either incomplete or complete base-pairing. This leads to either translational repression or transcriptional degradation of target mRNAs [4]. The end result is post-transcriptional silencing of selected genes that provides an additional layer of gene expression control and enhances the flexibility of gene regulation. A relatively low stringency requirement for base pairing between a particular miRNA and its target 3'UTR sequences results in the capacity of each miRNA to silence several mRNAs [5]. Consequently, small changes in miRNAs expression can have significant effects on cellular phenotype. Conversely, the same mRNA can be targeted by several miRNAs.
Genes encoding for miRNAs are evolutionarily conserved and the majority of these are located in intergenic regions or in antisense orientation, suggesting that they behave as independent transcription units. Other miRNAs can be present in intronic regions and transcribed as part of annotated genes. miRNAs can form clusters transcribed as polycistronic transcripts by RNA polymerase II and/or III [
6
,
7
], which undergo sequential steps of maturation (Figure
1
) [
4
,
8
]. The first step is catalyzed within the nucleus by RNase III Drosha that generates pre-miRNAs molecules of ~ 70 nt. After shuttling to the cytoplasm, pre-miRNAs are further processed by RNase III Dicer. The result is a 19 to 25-nt double-strand RNA. Of the 2 RNA strands the less stable one is the mature miRNA, which is incorporated into the RNA-induced silencing complex (RISC). The RISC is necessary for the annealing of miRNAs to the 3'UTR regions of target mRNAs [
4
,
9
]. The complementary strand, which is generally indicated with an asterisk, is released and generally, though not always, degraded [
10
]. The expression of mature miRNAs is subjected to stringent transcriptional and post-transcriptional regulation.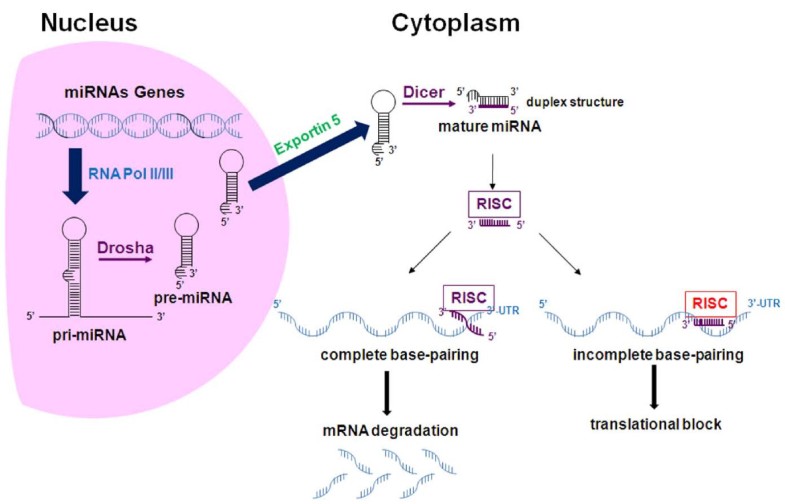 A connection between miRNAs and differentiative processes emerged initially from studies on worms and Drosophila, where miRNAs play fundamental roles in developmental timing and tissue differentiation [3, 11]. Subsequent loss-of-function studies on miRNAs, or on proteins responsible for miRNA maturation, confirmed that these small RNAs are crucial regulators of development, stem cell fate and maintenance of tissue identity in vertebrates as well [12–16].
In mammals, miRNAs participate in the organization of tissue and organ diversity during the embryonal life. Physiologically, the majority of miRNAs function in a tissue-specific manner, by preventing the expression of genes that should not be expressed in a particular tissue context and the inappropriate expansion of tissue precursors. To date, miRNAs have been involved in a considerable number of physiologic and pathologic processes such as aging, cancer, metastasis, angiogenesis and immune regulation [17–19]. De-regulation of miRNAs expression in cancer was first reported for chronic lymphocytic leukemia [20]. Although some miRNAs can act as oncogenes, miRNAs identified as de-regulated in cancer are more commonly tumor suppressors. These tumor suppressor miRNAs are globally down-regulated by several mechanisms involving rearrangements of unstable chromosomal regions, mutations or epigenetic silencing [21–23]. Several studies have suggested that normalization of miRNAs expression could be used as a differentiation therapy in cancer [24–29].
Rhabdomyosarcoma (RMS), the most common soft-tissue sarcoma of childhood, is an attractive target for differentiation therapy [30]. RMS is a skeletal muscle-derived tumor widely thought to be originated from myogenic precursors unable to differentiate [31]. It consistently expresses muscle-specific transcription factors such as Myo genic D ifferentiation (MyoD) and myogenin but shows no sign of terminal muscle differentiation [32]. Therefore, strategies aimed at restoring the myogenic program reverse RMS cell malignant behavior and are a conceptually acceptable therapeutic intervention.
RMS accounts for approximately 6-8% of all pediatric tumors; it includes two major histological subtypes, namely embryonal and alveolar RMS [33, 34]. The former has a better prognosis, the 5-year overall survival rate of patients with this histological variant being 70% or even more. Alveolar RMS accounts for about 25% of RMS but predicts a poorer outcome. In around 75-80% of cases, alveolar RMS is characterized by recurrent chromosomal translocations. The more common are the t(2;13) or t(1;13) that result in the expression of the oncogenic fusion proteins PAX3-FKHR or PAX7-FKHR [35–38]. The remaining 20-25% of alveolar RMS forms are considered fusion-negative, i.e., they do not express any known fusion protein. Clinical-pathological risk factors have been largely used for patient risk stratification at diagnosis. In particular, alveolar histology and metastasis represent the most important poor-prognosis variables, predicting a dismal outcome. The detection of oncogenic fusion proteins, and especially PAX3-FKHR, in alveolar RMS have a clear prognostic value, as they characterize a distinctly aggressive subgroup frequently unresponsive to conventional therapies and with a high risk of recurrence [36, 39]. The correlation between the presence of oncogenic fusion proteins and poor prognosis has been recently corroborated by gene expression profiling studies indicating that fusion-positivity is a risk factor independent from histology [40, 41]. Indeed, the same studies showed that fusion-negative alveolar tumors have gene expression patterns similar to that of embryonal RMSs. Previously published studies on gene expression and immunohistochemical analyses suggested that alveolar fusion-positive and the majority of embryonal RMS are two distinct groups also according to the level of expression of two specific sets of genes [37, 42]. One of these studies also demonstrated that fusion-negative alveolar and a small portion of embryonal tumors were characterized by intermediate expression levels of specific genes and were difficult to be clearly distinguished from each other [42]. Since about 50% of RMSs, including the majority of alveolar fusion-negative tumors, are intermediate-risk forms, a clearer sub-classification of these tumors may greatly improve clinical management [43]. In this regard, atypical chromosomal translocations have been recently reported in fusion-negative alveolar tumors. These previously undetected cytogenetic anomalies could, at least partly, explain the molecular and clinical heterogeneity found in RMS [44].
Recently, some miRNAs acting as key regulators of skeletal muscle cell fate determination have been shown to be de-regulated in both alveolar and embryonal RMS. Gain-of-function experiments have demonstrated that re-expression of selected "tumor-suppressor" miRNAs impairs the tumorigenic behavior of RMS cells. Moreover, miRNA expression profiling appears to be a promising strategy for discriminating specific variants among RMS subsets and for providing useful prognostic information, especially for what concerns fusion-negative alveolar and embryonal forms [45]. These observations suggest that miRNA de-regulation may be involved in the pathogenesis of RMS. Additionally, the expression of miRNAs with pro-oncogenic properties has been reported in RMS.
In this article, we review our current knowledge on de-regulation of miRNAs in RMS. We also examine the potentiality of these small RNAs as diagnostic and/or prognostic biomarkers. Finally, we discuss the implications and challenges of a potential "miRNA therapy" in RMS.
Authors' informations
RR is a PhD and the Head of the Laboratory of Angiogenesis with experience in mechanisms that regulate gene expression and cell growth in pediatric cancers. RC is a PhD working on transcriptional regulation in cancer in the Laboratory of Angiogenesis directed by RR. FL is an MD and Full Professor of Pediatrics and the Head of the Oncohematology Department with a long standing experience in preclinical research and clinical management of pediatric tumor patients. LM is an MD and the Director of Cancer Centre and Professor of Medicine and Pharmacology at the University of Mississippi Medical Center in Jackson, MS, who has a long experience in preclinical and clinical research targeting developmental and cell fate pathways in solid tumors, particularly breast cancer. AG is an MD and Full Professor in Pathology with long lasting experience in the study of gene expression and cell cycle regulation in cancer.
Declarations
Acknowledgements
The present work was supported by grants from Ministero della Sanità Italia (Ricerca Corrente), Associazione Italiana per la Ricerca sul Cancro (AIRC Project 10338) and Istituto Superiore di Sanità (ISS Project 70BF/8) to RR and by grants from Ministero della Salute, Italia (Ricerca Corrente) and AIRC (Special Project 5 × mille) to FL.
Authors' Affiliations
(1)
Department of Oncohematology, Ospedale Pediatrico Bambino Gesù, IRCCS, Roma, Italy
(2)
Sbarro Institute for Cancer Research and Molecular Medicine and Center of Biotechnology, Temple University, Philadelphia, USA
(3)
Department of Human Pathology and Oncology, Università di Siena, Siena, Italy
(4)
Cancer Institute, University of Mississippi Medical Center, Jackson, USA
(5)
Dipartimento di Scienze Pediatriche, Università di Pavia, Pavia, Italy
Copyright
© Rota et al; licensee BioMed Central Ltd. 2011
This article is published under license to BioMed Central Ltd. This is an Open Access article distributed under the terms of the Creative Commons Attribution License (http://creativecommons.org/licenses/by/2.0), which permits unrestricted use, distribution, and reproduction in any medium, provided the original work is properly cited.