The functional role of long non-coding RNA in human carcinomas
Molecular Cancer
2011
10:38
Received: 13 January 2011
Accepted: 13 April 2011
Published: 13 April 2011
Abstract
Long non-coding RNAs (lncRNAs) are emerging as new players in the cancer paradigm demonstrating potential roles in both oncogenic and tumor suppressive pathways. These novel genes are frequently aberrantly expressed in a variety of human cancers, however the biological functions of the vast majority remain unknown. Recently, evidence has begun to accumulate describing the molecular mechanisms by which these RNA species function, providing insight into the functional roles they may play in tumorigenesis. In this review, we highlight the emerging functional role of lncRNAs in human cancer.
Keywords
cAMP Response Element BindinglncRNA ExpressionlncRNA GeneXIST ExpressionmiRNA Sponge
Introduction
One of modern biology's great surprises was the discovery that the human genome encodes only ~20,000 protein-coding genes, representing <2% of the total genome sequence [1, 2]. However, with the advent of tiling resolution genomic microarrays and whole genome and transcriptome sequencing technologies it was determined that at least 90% of the genome is actively transcribed [3, 4]. The human transcriptome was found to be more complex than a collection of protein-coding genes and their splice variants; showing extensive antisense, overlapping and non-coding RNA (ncRNA) expression [5–10]. Although initially argued to be spurious transcriptional noise, recent evidence suggests that the proverbial "dark matter" of the genome may play a major biological role in cellular development and metabolism [11–17]. One such player, the newly discovered long non-coding RNA (lncRNA) genes, demonstrate developmental and tissue specific expression patterns, and aberrant regulation in a variety of diseases, including cancer [18–27].
NcRNAs are loosely grouped into two major classes based on transcript size; small ncRNAs and lncRNAs (Table
1
) [
28
–
30
]. Small ncRNAs are represented by a broad range of known and newly discovered RNA species, with many being associated with 5' or 3' regions of genes [
4
,
31
,
32
]. This class includes the well-documented miRNAs, RNAs ~22 nucleotides (nt) long involved in the specific regulation of both protein-coding, and putatively non-coding genes, by post-transcriptional silencing or infrequently by activation [
33
–
35
]. miRNAs serve as major regulators of gene expression and as intricate components of the cellular gene expression network [
33
–
38
]. Another newly described subclass are the transcription initiation RNAs (tiRNAs), which are the smallest functional RNAs at only 18 nt in length [
39
,
40
]. While a number of small ncRNAs classes, including miRNAs, have established roles in tumorigenesis, an intriguing association between the aberrant expression of ncRNA satellite repeats and cancer has been recently demonstrated [
41
–
46
].
Table 1
Types of human non-coding RNAs
| Type | Subclasses | Symbol | References |
| --- | --- | --- | --- |
| | Transfer RNAs | tRNAs | [222] |
| | MicroRNAs | miRNAs | |
| | Ribosomal 5S and 5.8S RNAs | rRNAs | |
| | Piwi interacting RNAs | piRNAs | |
| | Tiny transcription initiation RNAs | tiRNAs | |
| | Small interfering RNAs | siRNA | [32] |
| | Promoter-associated short RNAs | PASRs | |
| | Termini-associated short RNAs | TASRs | |
| | Antisense termini associated short RNAs | aTASRs | [226] |
| Small ncRNA (18 to 200 nt in size) | Small nucleolar RNAs | snoRNAs | |
| | Transcription start site antisense RNAs | TSSa-RNAs | [229] |
| | Small nuclear RNAs | snRNAs | [230] |
| | Retrotransposon-derived RNAs | RE-RNAs | |
| | 3'UTR-derived RNAs | uaRNAs | [145] |
| | x-ncRNA | x-ncRNA | [233] |
| | Human Y RNA | hY RNA | [234] |
| | Unusually small RNAs | usRNAs | [235] |
| | Small NF90-associated RNAs | snaRs | |
| | Vault RNAs | vtRNAs | [238] |
| | Ribosomal 18S and 28S RNAs | rRNAs | |
| | Long or large intergenic ncRNAs | lincRNAs | |
| | Transcribed ultraconserved regions | T-UCRs | [85] |
| | Pseudogenes | none | |
| | GAA-repeat containing RNAs | GRC-RNAs | [241] |
| Long ncRNA (lncRNAs, 200 nt to >100 kb in size) | Long intronic ncRNAs | none | |
| | Antisense RNAs | aRNAs | [244] |
| | Promoter-associated long RNAs | PALRs | |
| | Promoter upstream transcripts | PROMPTs | [245] |
| | Stable excised intron RNAs | none | [56] |
| | Long stress-induced non-coding transcripts | LSINCTs | [25] |
In contrast to miRNAs, lncRNAs, the focus of this article, are mRNA-like transcripts ranging in length from 200 nt to ~100 kilobases (kb) lacking significant open reading frames. Many identified lncRNAs are transcribed by RNA polymerase II (RNA pol II) and are polyadenylated, but this is not a fast rule [47, 48]. There are examples of lncRNAs, such as the antisense asOct4-pg5 or the brain-associated BC200, which are functional, but not polyadenylated [49–51]. Generally, lncRNA expression levels appear to be lower than protein-coding genes [52–55], and some lncRNAs are preferentially expressed in specific tissues [21]. However, recent findings have suggested novel lncRNAs may contribute a significant portion of the aforementioned 'dark matter' of the human transcriptome [56, 57]. In an exciting report by Kapranov et.al., it was revealed the bulk of the relative mass of RNA in a human cell, exclusive of the ribosomal and mitochondrial RNA, is represented by non-coding transcripts with no known function [57].
Like miRNAs and protein-coding genes, some transcriptionally active lncRNA genes display histone H3K4 trimethylation at their 5'-end and histone H3K36 trimethylation in the body of the gene [
8
,
58
,
59
]. The small number of characterized human lncRNAs have been associated with a spectrum of biological processes, for example, epigenetics, alternative splicing, nuclear import, as structural components, as precursors to small RNAs and even as regulators of mRNA decay [
4
,
60
–
70
]. Furthermore, accumulating reports of misregulated lncRNA expression across numerous cancer types suggest that aberrant lncRNA expression may be a major contributor to tumorigenesis [
71
]. This surge in publications reflects the increasing attention to this subject (Figure
1
) and a number of useful lncRNA databases have been created (Table
2
). In this review we highlight the emerging functional role of aberrant lncRNA expression, including transcribed ultraconserved regions (T-UCRs), within human carcinomas.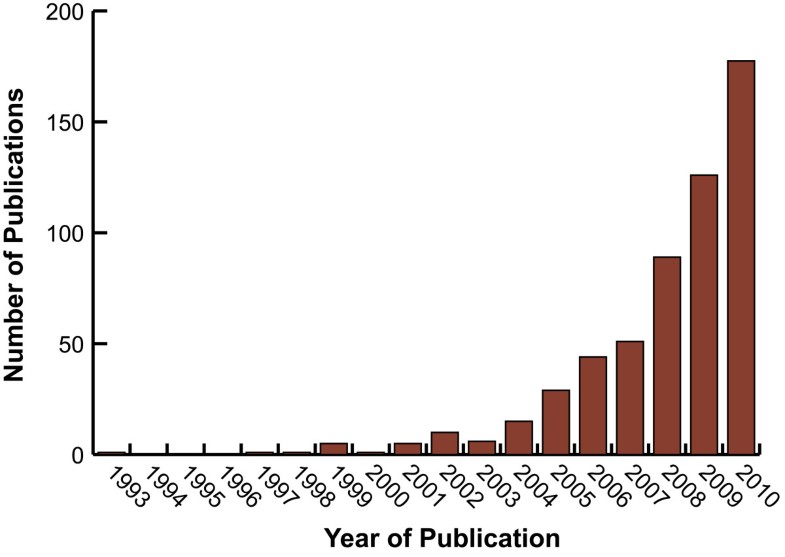 Table 2
Publically available long non-coding RNA online databases
| Database Name | Website | Reference |
| --- | --- | --- |
| ncRNAimprint | | [246] |
| ncRNAdb | | [247] |
| Functional RNAdb | | [248] |
| NONCODE | | [249] |
| lncRNA db | | [250] |
| Rfam | | [251] |
| NRED | | [252] |
| Ncode (Invitrogen) | | N/A |
| NcRNA Database | | [253] |
| T-UCRs | | [202] |
| NPInter | | [254] |
Background on Long Non-Coding RNA
Conclusions
Differential expression of lncRNAs is becoming recognized as a hallmark feature in cancer, however the functional role for the vast majority of these unique genes is still in question. In this review, we highlight characterized lncRNAs described to play a functional role in cancer-associated processes, such as metastasis and loss of imprinting. Aberrant lncRNA expression participates in carcinogenesis by disrupting major biological processes, such as redirecting chromatin remodeling complexes or inactivating major tumor suppressor genes. We also describe the potential role of dysregulated T-UCRs in cancer, and place these unique RNAs in the lncRNA category. Finally, we note the potential utility of lncRNAs in cancer as diagnostic and prognostic markers, as well as the potential of developing lncRNA mediated therapy.
Authors' information
EAG is a research fellow at the BC Cancer Agency Research Centre, specializing in non-coding RNA gene structure and function. CJB is a professor of Medical Genetics at the University of British Columbia. Her research focuses on human X chromosome inactivation, in particular the role of XIST, a gene she first described during postdoctoral studies in the Willard lab. WLL is a professor of Pathology and Laboratory Medicine at the University of British Columbia. His team invented tiling path array technologies for whole genome and methylome analyses.
Abbreviations
ANRIL :

Antisense Non-coding RNA in the INK4 Locus
AR:

androgen receptor
CREB:

cAMP response element binding protein
DD3 :

Differential Display Code 3
HBV:

hepatitis B virus
HCC:

hepatocellular carcinoma cell lines
HOTAIR :

HOX Antisense Intergenic RNA
HULC :

Highly Upregulated in Liver Cancer
IGF2:

Insulin-Like Growth Factor 2
kb:

kilobase
lincRNA:

long or large intergenic non-coding RNA
lncRNA:

long non-coding RNA
LTR:

long terminal repeat
MALAT1 :

Metastatis-Associated Lung Adenocarcinoma Transcript 1
MEG3 :

Maternally Expressed Gene 3
miRNA:

microRNA
ncRNA:

non-coding RNA
nt:

nucleotide
PCNCR1 :

Prostate Cancer Non-Coding RNA 1
PEI:

polyethylenimine
PRC:

polycomb repressive complex
PTEN :

phosphatase and tensin homolog
PTENP1 :

phosphatase and tensin homolog pseudogene 1
RNase:

ribonuclease
RNA pol II:

RNA polymerase II
RNA pol III:

RNA polymerase III
RNAi:

RNA interference
SR:

serine-arginine rich splicing proteins
TGS:

transcriptional gene silencing
tiRNA:

transcription initiation RNAs
T-UCR:

transcribed ultraconserved region
UTR:

untranslated region
XIST :

X-Inactive-Specific Transcript.
Declarations
Acknowledgements
We would like to thank Chad Malloff and Gavin Wilson for their insightful comments. This work was supported by funds from the Canadian Institutes for Health Research (MOP 86731, MOP 77903 to WLL and MOP 13690 to CJB), Canadian Cancer Society (CCS20485), NCI Early Detection Research Network (5U01 CA84971-10) and Department of Defense (CDMRP W81XWH-10-1-0634).
Authors' Affiliations
(1)
British Columbia Cancer Agency Research Centre, Vancouver, Canada
(2)
Department of Medical Genetics, University of British Columbia, Vancouver, Canada
(3)
Department of Pathology and Laboratory Medicine, University of British Columbia, Vancouver, Canada
Copyright
© Gibb et al; licensee BioMed Central Ltd. 2011
This article is published under license to BioMed Central Ltd. This is an Open Access article distributed under the terms of the Creative Commons Attribution License (http://creativecommons.org/licenses/by/2.0), which permits unrestricted use, distribution, and reproduction in any medium, provided the original work is properly cited.