Short communication

Open Access
Pseudomonas aeruginosa NfsB and nitro-CBI-DEI – a promising enzyme/prodrug combination for gene directed enzyme prodrug therapy
Molecular Cancer
2013
12:58
Received: 8 April 2013
Accepted: 5 June 2013
Published: 10 June 2013
Abstract
Background
The nitro-chloromethylbenzindoline prodrug nitro-CBI-DEI appears a promising candidate for the anti-cancer strategy gene-directed enzyme prodrug therapy, based on its ability to be converted to a highly cytotoxic cell-permeable derivative by the nitroreductase NfsB from Escherichia coli. However, relative to some other nitroaromatic prodrugs, nitro-CBI-DEI is a poor substrate for E. coli NfsB. To address this limitation we evaluated other nitroreductase candidates from E. coli and Pseudomonas aeruginosa.
Findings
Initial screens of candidate genes in the E. coli reporter strain SOS-R2 identified two additional nitroreductases, E. coli NfsA and P. aeruginosa NfsB, as being more effective activators of nitro-CBI-DEI than E. coli NfsB. In monolayer cytotoxicity assays, human colon carcinoma (HCT-116) cells transfected with P. aeruginosa NfsB were >4.5-fold more sensitive to nitro-CBI-DEI than cells expressing either E. coli enzyme, and 23.5-fold more sensitive than untransfected HCT-116. In three dimensional mixed cell cultures, not only were the P. aeruginosa NfsB expressing cells 540-fold more sensitive to nitro-CBI-DEI than pure cultures of untransfected HCT-116, the activated drug that they generated also displayed an unprecedented local bystander effect.
Conclusion
We posit that the discrepancy in the fold-sensitivity to nitro-CBI-DEI between the two and three dimensional cytotoxicity assays stems from loss of activated drug into the media in the monolayer cultures. This emphasises the importance of evaluating high-bystander GDEPT prodrugs in three dimensional models. The high cytotoxicity and bystander effect exhibited by the NfsB_Pa/nitro-CBI-DEI combination suggest that further preclinical development of this GDEPT pairing is warranted.
Keywords
Gene therapyGDEPTNitroaromatic prodrugNitroreductaseNitro-CBI-DEICB1954SOS chromotestBystander effect
Background
In gene-directed enzyme prodrug therapy (GDEPT) tumour cells are sensitised, via selective transgene delivery and/or expression, to a systemically administered prodrug. A key aspect of GDEPT is the bystander effect, the ability of activated prodrugs to transport either passively or actively out of the cell of origin and into neighbouring non-transfected cells, which provides an elegant solution to the unavoidable issue of low cell transfection rates [1]. Studies employing prodrugs with high bystander effects have demonstrated that significant tumour reduction can occur when less than 0.1% of the tumour population expresses the activating enzyme [2].
Bacterial type I nitroreductase enzymes, which catalyse the simultaneous two-electron bioreductive activation of nitroaromatic prodrug substrates, hold great potential for GDEPT. To date, the majority of nitroreductase GDEPT studies have focused on the prodrug CB1954 [5-(aziridin-1-yl)-2,4-dinitrobenzamide] (Figure
1
B, structure inset), which exhibits only a modest bystander effect upon activation [
3
]. However, the intrinsically oxygen insensitive nature of the two-electron reduction mechanism enables nitroaromatic prodrugs that were originally designed to target tumour hypoxia (i.e. by exploiting the oxygen-sensitive one-electron reduction mechanism of endogenous human reductases), to potentially be re-purposed for nitroreductase GDEPT [
1
]. The main class of hypoxia-activated prodrugs to have been considered in this context is the dinitrobenzamide mustards (DNBMs) e.g. [
4
–
6
]; not only are these substantially more cytotoxic and generally better tolerated than CB1954, they also typically exert a greater bystander effect [
3
,
4
,
7
].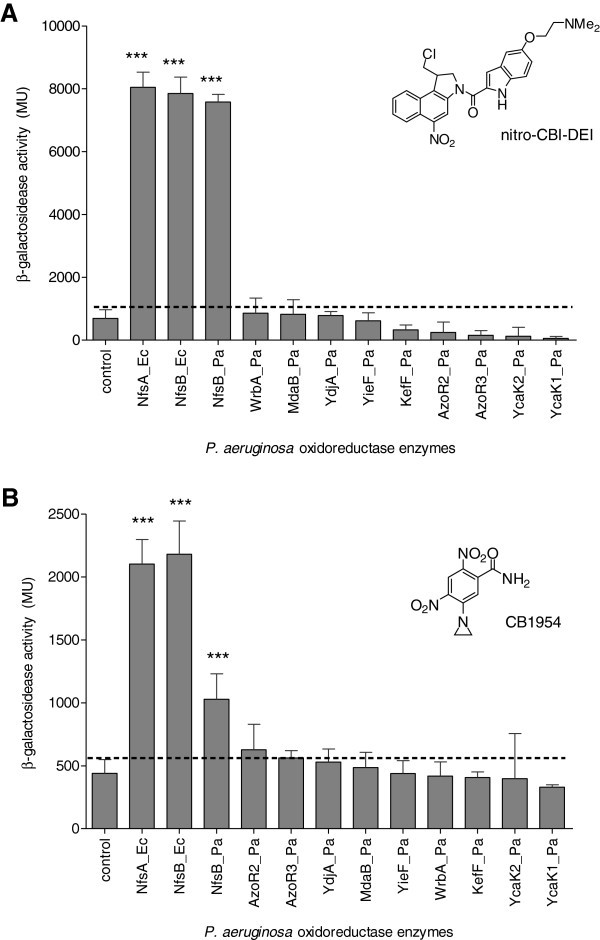 Also promising for GDEPT are the nitro-chloromethylbenzindolines (nitro-CBIs), originally designed to be hypoxia-activated prodrugs [9] of amino analogues of the cyclopropylindoline anti-tumour antibiotics, exemplified by CC-1065 and duocarmycin SA [10, 11]. It has been shown that the Escherichia coli nitroreductase NfsB (NfsB_Ec) can reduce nitro-CBIs in an oxygen-independent fashion, generating highly cytotoxic metabolites that alkylate the N3 of adenine in the minor groove of DNA [12]. However, it was inferred that the lead nitro-CBI prodrug in that study, nitro-CBI-5-[(dimethylamino)ethoxy]indole (nitro-CBI-DEI; Figure 1A, structure inset) is a poor substrate for NfsB_Ec relative to CB1954 or the DNBMs [12]. In this work we sought to identify more active nitroreductases for metabolism of nitro-CBI-DEI, reasoning that superior enzymes will be required to extend the therapeutic index of nitro-CBI prodrugs in GDEPT.
Findings
The disparity between killing of NfsB_Pa transfected HCT-116 cells due to nitro-CBI-DEI activation in the in vitro IC50 proliferation assay and the 3D mixed cell cultures highlights the importance of evaluating potential GDEPT enzyme-prodrug partnerships in a 3D bystander model, as low cell density may dramatically underestimate cytotoxic potential. We surmise that the cytotoxic potential of nitro-CBI-DEI may be dramatically underestimated in low cell density proliferation assays due to washout and loss in the media, as suggested for other high-bystander prodrugs [3].
The unprecedented level of bystander killing, coupled with the substantial superiority of NfsB_Pa over NfsB_Ec in sensitising 3D cultures of nitroreductase-expressing HCT-116 cells to nitro-CBI-DEI, suggests that the NfsB_Pa/nitro-CBI-DEI combination is worthy of further evaluation in preclinical GDEPT models. Should it prove necessary to further enhance enzyme activity via directed evolution or targeted mutagenesis studies, our demonstration that nitro-CBI-DEI induces the E. coli SOS response upon activation indicates that it should be possible to recover improved NfsB_Pa variants by SOS screening, as previously used to generate superior CB1954 activating variants of the Vibrio fischeri nitroreductase FRaseI [8].
Declarations
Acknowledgements
This research was supported by the Health Research Council of New Zealand (project contract 06/229 to DFA and programme contract 11/1103 to AVP, JBS, CPG and DFA), and the Royal Society of New Zealand Marsden Fund (contract VUW0704 to DFA, AVP, MPH and JBS). We thank Dr Moana Tercel for valuable comments on this manuscript and for providing nitro-CBI-DEI to our prodrug collection.
Authors' Affiliations
(1)
School of Biological Sciences, Victoria University of Wellington, Wellington, New Zealand
(2)
Auckland Cancer Society Research Centre, University of Auckland, Auckland, New Zealand
(3)
Maurice Wilkins Centre for Molecular Biodiscovery, School of Biological Sciences, University of Auckland, Auckland, New Zealand
(4)
Centre for Biodiscovery, School of Biological Sciences, Victoria University of Wellington, Wellington, New Zealand
Copyright
© Green et al.; licensee BioMed Central Ltd. 2013
This article is published under license to BioMed Central Ltd. This is an Open Access article distributed under the terms of the Creative Commons Attribution License (http://creativecommons.org/licenses/by/2.0), which permits unrestricted use, distribution, and reproduction in any medium, provided the original work is properly cited.