The complexity of NF-κB signaling in inflammation and cancer
Molecular Cancer
2013
12:86
Received: 10 May 2013
Accepted: 30 July 2013
Published: 2 August 2013
Abstract
The NF-κB family of transcription factors has an essential role in inflammation and innate immunity. Furthermore, NF-κB is increasingly recognized as a crucial player in many steps of cancer initiation and progression. During these latter processes NF-κB cooperates with multiple other signaling molecules and pathways. Prominent nodes of crosstalk are mediated by other transcription factors such as STAT3 and p53 or the ETS related gene ERG. These transcription factors either directly interact with NF-κB subunits or affect NF-κB target genes. Crosstalk can also occur through different kinases, such as GSK3-β, p38, or PI3K, which modulate NF-κB transcriptional activity or affect upstream signaling pathways. Other classes of molecules that act as nodes of crosstalk are reactive oxygen species and miRNAs. In this review, we provide an overview of the most relevant modes of crosstalk and cooperativity between NF-κB and other signaling molecules during inflammation and cancer.
Keywords
NF-kappa B signalingCancerInflammationCooperativityCrosstalk
Introduction
The transcription factor NF-κB was discovered in 1986 as a nuclear factor that binds to the enhancer element of the immunoglobulin kappa light-chain of activated B cells (thereby coining the abbreviation NF-κB) [
1
]. Soon afterwards it became clear that proteins, which harbor this specific DNA binding activity are expressed in nearly all cell types and regulate many target genes with a whole variety of functions [
2
]. In total, five members of this transcription factor family have been identified, designated as p65 (RelA), RelB, c-Rel, NF-κB1 and NF-κB2 (Figure
1
A). In contrast to the other family members, NF-κB1 and NF-κB2 are synthesized as pro-forms (p105 and p100) and are proteolytically processed to p50 and p52 (Figure
1
A, black arrows), respectively [
3
]. All five members of this protein family form homo- or heterodimers and share some structural features, including a Rel homology domain (RHD), which is essential for dimerization as well as binding to cognate DNA elements [
4
]. In most quiescent cells these dimers are bound to inhibitory molecules of the IκB family of proteins (inhibitors of NF-κB) (Figure
1
B). These inhibitors are characterized by ankyrin repeats, which associate with the DNA-binding domains of the transcription factors thereby making them transcriptionally inactive. Interestingly, p105 and p100, the precursors of p50 and p52, also contain ankyrin repeats, which are cleaved upon maturation - thus comprising their own internal inhibitors. In contrast to the other members of the NF-κB family these two proteins do not contain a transactivation domain [
5
]. As a consequence, dimers of p50 and p52, which bind to NF-κB elements of gene promoters, act as transcriptional repressors [
6
]. However, when p50 or p52 are bound to a member containing a transactivation domain, such as p65 or RelB, they constitute a transcriptional activator. Another interesting aspect is that one member of the IκB family, Bcl-3, also contains transactivation domains (Figure
1
B) and can bind to dimers of p50 and p52 rendering the complex transcriptionally active [
7
–
9
]. The complexity of this transcriptional regulation system is also augmented by the fact that different NF-κB dimers have differential preferences for variations of the DNA-binding sequence [
10
]. Thus different target genes are differentially induced by distinct NF-κB dimers. Furthermore, NF-κB subunits also contain sites for phosphorylations and other post-translational modifications which are important for activation and crosstalk with other signaling pathways [
11
]. Binding of NF-κB dimers to IκB molecules does not only prevent binding to DNA, but also shifts the steady-state localization of the complex to the cytosol. Nevertheless, shuttling between cytosol and nucleus does occur [
12
,
13
], which might be a basis for a low basal transcriptional activity of NF-κB given that the IκB/NF-κB complex is subject to dissociation and re-association processes.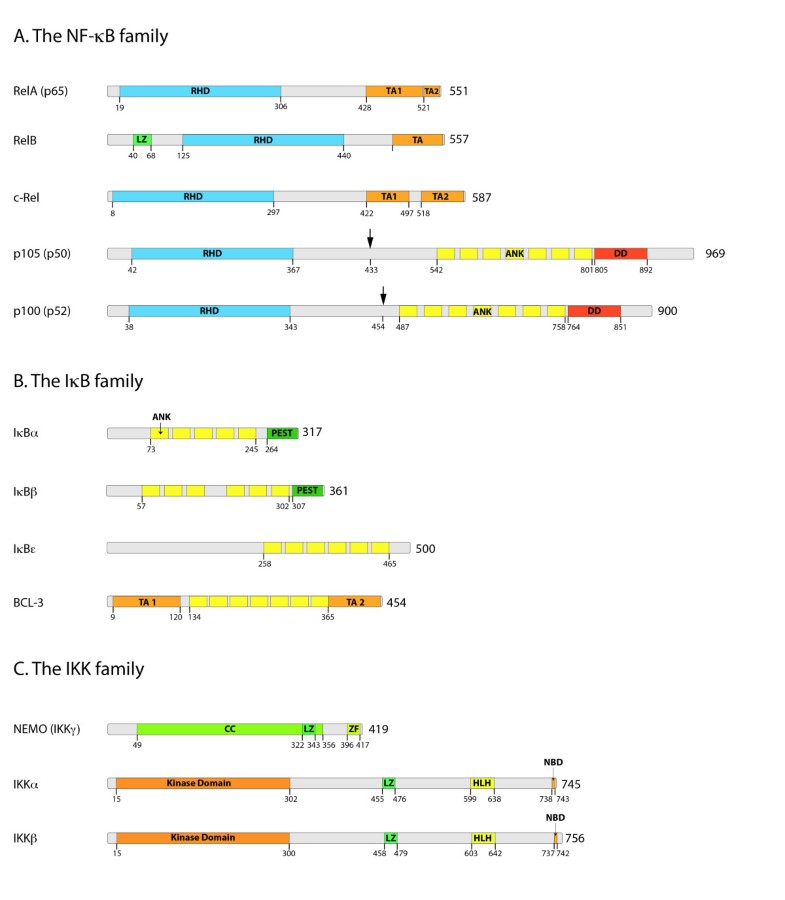 Conclusion
NF-κB represents a central factor in inflammation, stress response, cell differentiation or proliferation as well as cell death. It can be activated by a great variety of stimuli and a complex network of signaling pathways, which can also influence each other. Furthermore, it regulates a huge variety of target genes generating sophisticated feedback circuits that comprise all elements of cellular regulators such as cytokines, growth factors, adhesion molecules, intracellular signaling molecules, transcription factors as well as miRNAs. Thus NF-κB and members of its signaling network have essential roles in the complete flux of biological information from transcription to regulation of RNA-function and turnover, the synthesis of proteins, their functions and their degradation.
Authors' information
BH is a postdoctoral fellow at the Medical University Vienna, Austria. His research focuses on crosstalk and cooperativity of NF-κB signaling with other signaling pathways with an emphasis on prostate cancer. JS is associate professor at the Medical University Vienna, Austria. His research focuses on aspects of inflammation with a focus on NF-κB signaling and the crosstalk with other signaling pathways.
Abbreviations
3′UTR:

3′ untranslated region
ANK:

Ankyrin
ATF:

Activating transcription factor
ATM:

Ataxia telangiectasia mutated
BAFFR:

B-cell activation factor
BCL:

B-cell lymphoma
BIRC:

Baculoviral IAP repeat-containing proteins
CaMKIV:

Calmodulin-dependent protein kinase
CBP:

CREB-Binding Protein
CC:

coiled-coil domain
CHK1:

Checkpoint kinase 1
CKII:

Casein kinase II
CSC:

Cancer stem cell
CXCL:

Chemokine ligand
CXR:

Chemokine receptor
CYLD:

Cylindromatosis
DD:

Death domain
DEN:

Diethylnitrosamine
DUB:

De-ubiquitinase
EGFR:

Epidermal growth factor receptor
ERG:

Ets Related Gene
GSK:

Glycogen synthase kinase
HDAC:

Histone deacytlase
HLH:

Helix-loop-helix domain
ICAM:

Intercellular cell adhesion molecule 1
IKK:

IκB kinase
IL:

Interleukin
IL-1R:

Interleukin-1 receptor
IL-1β:

Interleukin-1 β
IκB:

Nuclear factor of kappa light polypeptide gene enhancer in B-cells inhibitor
JNK:

Jun-N-terminal kinase
LPS:

Lipopolysaccharides
LTβR:

Lymphtoxin β-receptor
LZ:

Leucin-zipper-like motif
MAPK:

Mitogen-activated protein kinase
miRNA:

MicroRNA
MMP:

Matrix metalloproteinase
MSK1:

Mitogen- and stress-activated protein kinase
NBD:

NEMO-binding domain
NEMO:

NF-κB Essential Modulator
NF-κB:

Nuclear factor 'kappa-light-chain-enhancer' of activated B-cells
NIK:

NF-κB inducing kinase
PI3K:

Phosphatidyl-inositol-3-kinase
PIM1:

Proto-oncogene serine/threonine-protein kinase PIM1
PK:

Protein kinase
PKAc:

Protein kinase A catalytic subunit
PKCζ:

Protein kinase Cζ
RANK:

Receptor activator for nuclear factor kappa B
RHD:

Rel homology domain
RNS:

Reactive nitrogen species
ROS:

Reactive oxygen species
RSK1:

Ribosomal s6 kinase
STAT:

Signal transducer and activator of transcription
TA:

Transactivation domain
TAK:

TGF- β–activating kinase
TAM:

Tumor-associated macrophage
TBK1:

TANK-binding kinase 1
TLR:

Toll-like receptor
TMPRSS2:

Transmembrane protease, serine 2
TNFR:

Tumor necrosis factor receptor
TNFα:

Tumor necrosis factor α
TNPO1:

Transportin 1
TRAF:

TNF receptor associated factors
VCAM:

Vascular cell adhesion molecule
VEGF:

Vascular endothelial growth factor
XIAP:

X-linked inhibitor of apoptosis protein
ZF:

Zinc-finger domain.
Declarations
Acknowledgments
This work was supported by Austrian Science Fund (FWF), grant P 23690.
Authors' Affiliations
(1)
Department of Vascular Biology and Thrombosis Research, Center for Physiology and Pharmacology, Medical University Vienna, Vienna, Austria
Copyright
© Hoesel and Schmid; licensee BioMed Central Ltd. 2013
This article is published under license to BioMed Central Ltd. This is an Open Access article distributed under the terms of the Creative Commons Attribution License (http://creativecommons.org/licenses/by/2.0), which permits unrestricted use, distribution, and reproduction in any medium, provided the original work is properly cited.