Senescence induction; a possible cancer therapy
Received: 09 December 2008
Accepted: 08 January 2009
Published: 08 January 2009
Abstract
Cellular immortalization is a crucial step during the development of human cancer. Primary mammalian cells reach replicative exhaustion after several passages in vitro, a process called replicative senescence. During such a state of permanent growth arrest, senescent cells are refractory to physiological proliferation stimuli: they have altered cell morphology and gene expression patterns, although they remain viable with preserved metabolic activity. Interestingly, senescent cells have also been detected in vivo in human tumors, particularly in benign lesions. Senescence is a mechanism that limits cellular lifespan and constitutes a barrier against cellular immortalization. During immortalization, cells acquire genetic alterations that override senescence. Tumor suppressor genes and oncogenes are closely involved in senescence, as their knockdown and ectopic expression confer immortality and senescence induction, respectively. By using high throughput genetic screening to search for genes involved in senescence, several candidate oncogenes and putative tumor suppressor genes have been recently isolated, including subtypes of micro-RNAs. These findings offer new perspectives in the modulation of senescence and open new approaches for cancer therapy.
Keywords
Tumor Suppressor GeneCellular SenescenceSenescent CellDecitabineReplicative Senescence
Background
Primary mammalian cells reach proliferative exhaustion after serial passage in culture, resulting in a permanent and irreversible cell-cycle arrest [
1
]. This process, termed replicative senescence, is characterized by a drastic phenotypic change in the cells, compared to their proliferating counterparts [
2
]. The precise number of replicative doublings exhibited by cultured cells before they reach senescence depends on the species from which the cells are derived, the tissue of origin, and the age of the donor organism. Senescent cells are characterized by expression of β-galactosidase, PAI-1 overexpression (plasminogen activator protein 1) and altered cell morphology characterized by giant cell size, increased cytoplasmic granularity and a single large nucleus (Figure
1
). Senescent cells, arrested in G1 phase of the cell cycle, remain viable and metabolically active and possess a characteristic transcriptional prolife that distinguishes them from quiescent cells [
3
]. In order to form tumors, incipient cancer cells must breach this senescence barrier that normally limits their proliferative potential.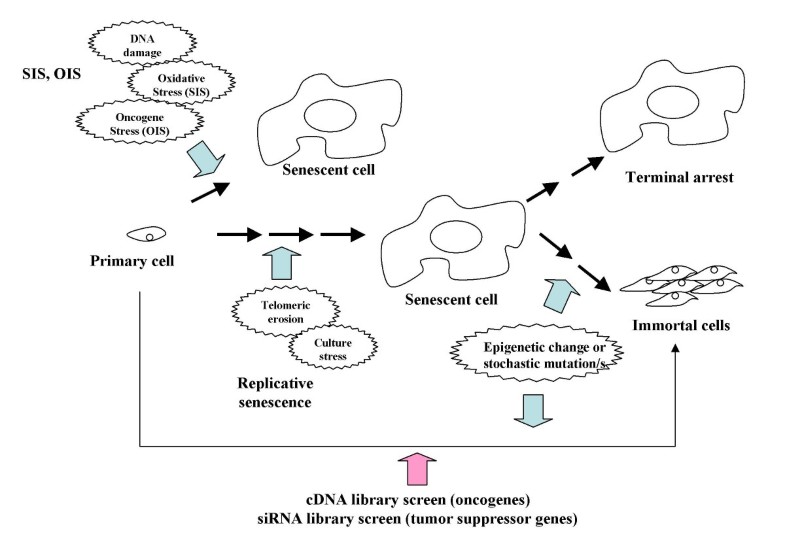 Approximately one-fourth of people in the developed world experience cancer during their life time. Cancer cells display several hallmarks that can be distinguished from those of normal counterparts. These include immortalization or bypass of senescence, evasion of apoptosis and anti-growth signals, growth factor independence, enhanced glycolysis, anchorage-independence, resistance to contact inhibition, angiogenesis, degradation of matrix components, invasion, migration, etc. These properties may provide good targets for anti-cancer drugs, such as DNA damaging, anti-angiogenic, differentiation-inducing, or apoptosis-inducing agents. It is likely that senescent cells will ultimately be cleared by phagocytosis, although it has not beeen clearly demonstrated for the senescent state [4]. For example, senescent neutrophils might face phagocytosis through an unknown mechanism [5] and focal enrichment of lysosome-related β-galactosidase activity at autodigestive vacuoles showed that aged human fibroblast arrested in replicative senescence might eliminate themselves by autophagy [6].
Interestingly, senescent cells have recently been detected during tumorigenesis in mouse models and in human tumors, particularly in benign lesions [7, 8], and their appearance is possibly relevant to tumor progression. There are examples of in vivo senescent cells that may reside for years in tissue, such as the senescent melanocytes of moles of nervi. Other senescent cells can be rapidly removed as tumors progress, for example in the case of liver carcinomas [9, 10].
The cellular senescence observed in tissue culture might constitute a good model for understanding the significance of senescence in vivo. Recent attempts at screening cells for the ability to bypass senescence have identified several putative novel oncogenes and tumor suppressor genes. Genes whose ectopic expression results in replicative senescence are considered potential oncogenes [11] and are overexpressed in some types of cancer [12, 13]. On the other hand, genes whose inactivation results in cellular immortalization are potential tumor suppressor genes [14, 15] and are found to be downregulated in tumor-resident tissues [16, 17]. Therefore, senescence is considered an anti-tumorigenic mechanism for avoiding indefinite cell proliferation when a genetic alteration has occurred. An important issue to consider in a senescence-based therapy is the fact that the ultimate destiny of a senescence cell is its terminal arrest (Figure 1). In this regard a metabolically arrested cell is not responsive to mitogenic signals and it is quite unlikely that it resumes proliferation. If senescent cells are able to reside for years in tissue, an epigenetic change could lead to escape from senescence. Therefore future research should also focus on discovering senescence markers that can be used for monitoring in vivo the presence/absence of senescent cells. Recent progress in the biology of cellular senescence provides another clue to understanding the mechanism of cancer progression, as well as to development of new anti-cancer drugs. This fact suggests that senescence-inducing mechanisms might be applicable as cancer therapies in the future.
Conclusion
Cellular senescence has become an attractive therapeutic concept because mimics programmed cell death by excluding cells from active progression through the cell cycle. As an intact apoptotic machinery is unavailable in most established malignancies, a senescence-induced mechanism emerges as a back-up program to substitute for or to reinforce an insufficient apoptotic response. Importantly, the therapeutic potential of senescence induction strongly relies on the irreversibility of this process. Although, it has not been formally tested whether drug-inducible senescence is a complete reversible process, the acquisition of spontaneous mutations that disable p53 or pRB in a resting cell without DNA replication seems rather unlikely. Thereby it would be very interesting for preclinical investigations to explore future therapies which directly prompt a clear senescence response as those observed
in vitro
(Figure
3
). It would be tempting to speculate that the combination of a senescence induced therapy and a conventional therapy might cooperate to entirely abolish cancer.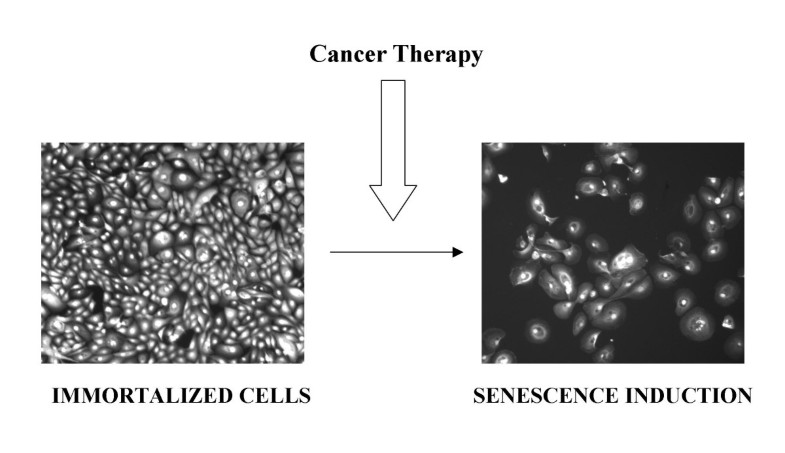 Abbreviations
HMEC:

human mammalian epithelial cells
MEF:

mouse embryonic fibroblast
SIS:

stress induced senescence
OIS:

oncogene induced senescence
Declarations
Acknowledgements
We thank to J.A. Leal for providing informatics support. This study was supported by a FIS project 04/0530 and Marato TV3 project 052130. M.E.LL is an FIS investigator (CP03/00101).
Authors' Affiliations
(1)
Pathology Department, Fundació Institut de Recerca Hospital Vall d'Hebron, Barcelona, Spain
(2)
Department of Geriatric Medicine, Graduate School of Medicine, Kyoto University, Kyoto, Japan
Copyright
© LLeonart et al; licensee BioMed Central Ltd. 2009
This article is published under license to BioMed Central Ltd. This is an Open Access article distributed under the terms of the Creative Commons Attribution License (http://creativecommons.org/licenses/by/2.0), which permits unrestricted use, distribution, and reproduction in any medium, provided the original work is properly cited.