Survival signalling and apoptosis resistance in glioblastomas: opportunities for targeted therapeutics
Molecular Cancer
2010
9:135
Received: 2 March 2010
Accepted: 1 June 2010
Published: 1 June 2010
Abstract
Glioblastoma multiforme (GBM) is the most common primary brain tumour in adults and one of the most aggressive cancers in man. Despite technological advances in surgical management, combined regimens of radiotherapy with new generation chemotherapy, the median survival for these patients is 14.6 months. This is largely due to a highly deregulated tumour genome with opportunistic deletion of tumour suppressor genes, amplification and/or mutational hyper-activation of receptor tyrosine kinase receptors. The net result of these genetic changes is augmented survival pathways and systematic defects in the apoptosis signalling machinery. The only randomised, controlled phase II trial conducted targeting the epidermal growth factor receptor (EGFR) signalling with the small molecule inhibitor, erlotinib, has showed no therapeutic benefit. Survival signalling and apoptosis resistance in GBMs can be viewed as two sides of the same coin. Targeting increased survival is unlikely to be efficacious without at the same time targeting apoptosis resistance. We have critically reviewed the literature regarding survival and apoptosis signalling in GBM, and highlighted experimental, preclinical and recent clinical trials attempting to target these pathways. Combined therapies simultaneously targeting apoptosis and survival signalling defects might shift the balance from tumour growth stasis to cytotoxic therapeutic responses that might be associated with greater therapeutic benefits.
Keywords
Epidermal Growth Factor ReceptorGefitinibErlotinibGossypolTemozolomide
Background
The process by which a normal cell transforms and develops into a malignant tumour requires several cellular alterations [1]. Evasion of apoptosis is a hallmark of most, if not all cancers, because defects in its regulators invariably accompany tumourigenesis and sustain malignant progression. Many anticancer agents aim to induce apoptosis, and so its disruption during tumour evolution can promote drug resistance and subsequent therapy failure. Survival signalling is distinct from apoptosis resistance and rescues cancer cells from death following otherwise lethal DNA damage. Since both apoptosis resistance and increased survival signalling are major regulators of cancer cell survival, targeting only one of these compartments may not be sufficient to obtain therapeutic effects.
Glioblastoma multiforme (GBM) is the most common and malignant subset of brain tumours, classified as grade IV astrocytoma by the World Health Organisation (WHO) [2]. Standard first line treatment for glioblastoma patients includes surgery followed by focal fractionated radiotherapy with concomitant and adjuvant administration of the alkylating chemotherapy, temozolomide [3]. The addition of temozolomide significantly improves the median, 2- and 5-year survival compared to radiotherapy alone in patients with newly diagnosed glioblastoma [4, 5]. Nevertheless, glioblastoma patients have a poor prognosis with a median survival of 14.6 months [5]. A recognized predictor for tumour response to temozolomide is the epigenetic silencing of the O6-methylguanine-DNA-methyltransferase (MGMT) gene promoter by methylation [6]. The ubiquitous DNA repair protein MGMT counteracts chemotherapy-induced DNA damage by restoring the structural integrity of O6-alkylated bases. Around half of all glioblastoma patients harbour an unmethylated MGMT promoter, and these seem to respond poorly to temozolomide chemotherapy [7]. To date there is no alternative treatment for this group. Thus, understanding the mechanisms mediating cellular survival and apoptosis resistance will enable us to exploit the key players to design smarter drug combinations in targeted cancer therapies.
Genetic characteristics of GBMs
GBMs are characterised by high inter- and intra-tumoural morphological and lineage heterogeneity, hence the moniker "multiforme". They have been traditionally defined as two clinically and cytogenetically distinct diseases, the primary or de novo versus the secondary GBMs. The latter classically afflict younger persons (median age ~45 years) and evolve from the slow progression (mean, 4-5 years) of a low-grade glioma and possesses aberrations in platelet derived growth factor receptor (PDGFR) and TP53 genes. Recently, mutations in the active site of isocitrate dehydrogenase 1 (IDH1) gene was identified in a large fraction of young patients as well as those with secondary GBMs, and correlated with increased overall survival [8, 9]. In contrast, primary GBMs present acutely (with a clinical history less than 6 months) as a high-grade disease that most frequently affects the elderly (median age ~60 years) and typically harbours mutations in epidermal growth factor receptor (EGFR), cyclin-dependent kinase inhibitor 2A (CDKN2A) and loss of heterozygosity (LOH) on chromosome 10q23, which houses the phosphatase and tensin homolog (PTEN) gene. LOH on chromosome 10 is the most frequent genetic alteration in primary GBMs, occurring in 60-80% of cases [10]. However, this distinction of mutually exclusive GBM subtypes based on TP53 mutation and EGFR amplification [11–13] has been challenged [14]. A recent integrated genome analysis performed in 22 GBM and verified in 83 patient GBMs revealed that amongst the most frequently altered genes were TP53 (40%); EGFR (37%); PTEN (30%) [8]. However, the initial screen of 22 GBMs included only 7 primary human biopsies, while 15 had been passaged in nude mice as xenografts. Other studies have cited that between 40-60% of GBMs show EGFR amplification and protein overexpression and that approximately 40% of GBMs with EGFR amplification also harbour EGFR mutations [15]. These display a mutant EGFR variant with loss of the extracellular, ligand-binding domain, coded for by genes in exons 2-7 (EGFRvIII). This mutation results in ligand independent constitutive tyrosine kinase activity that activates persistent downstream RAS/RAF/MAPK growth and PI3K survival signalling [15]. However, the prognostic value of either TP53 mutations or EGFR alterations has been elusive [16, 17]. Indeed, in a study of 67 GBM patient biopsies, no association between EGFR and PDGFR amplification nor TP53 mutation and patient survival was observed [18]. Despite the differing cytogenetic aberrations, the resulting histopathological lesion is one that culminates in GBM as the common phenotypic endpoint with similar resistance patterns and survival outcome.
Survival signalling in glioblastomas
Phosphtaidylionositol-3-kinase signalling -Receptor Tyrosine Kinase cross talk
Survival signalling allows the cell to overcome stressful or deleterious environments by inducing expression or availability of survival factors. The class IA phosphtaidylionositol-3-kinase (PI3Ks) are activated by receptor tyrosine kinases (RTKs) and are highly implicated in cancer cell survival [
19
]. EGFRs and PDGFRs are the most common RTKs with intrinsic tyrosine kinase activity that are aberrantly expressed in GBMs. PI3K is translocated to the plasma membrane through binding to phosphotyrosine residues on RTKs. Activated PI3K produce phosphatidylinositol-3,4,5 triphosphate (PIP
3
) from the substrate phosphatidylionositol-3,4 diphosphate (PIP
2
), see Figure
1
. Accumulation of PIP
3
recruits phosphoinositide-dependent kinase 1 (PDK1) and AKT to the plasma membrane. AKT is activated through phosphorylation at two key regulatory sites, Thr
308
(by PDK1) and Ser
473
(by mTOR complex 2). Activated AKT subsequently promotes survival by facilitating nuclear translocation of nuclear factor κB (NFκB) which then transcriptionally activates multiple genes that mediate cell survival and drive proliferation [
20
]. An immunohistochemistry study of 70 GBMs on a tissue micro-array reported that 91.3% of the GBMs samples possessed activated NFκB that was highly correlated with activated AKT levels [
21
].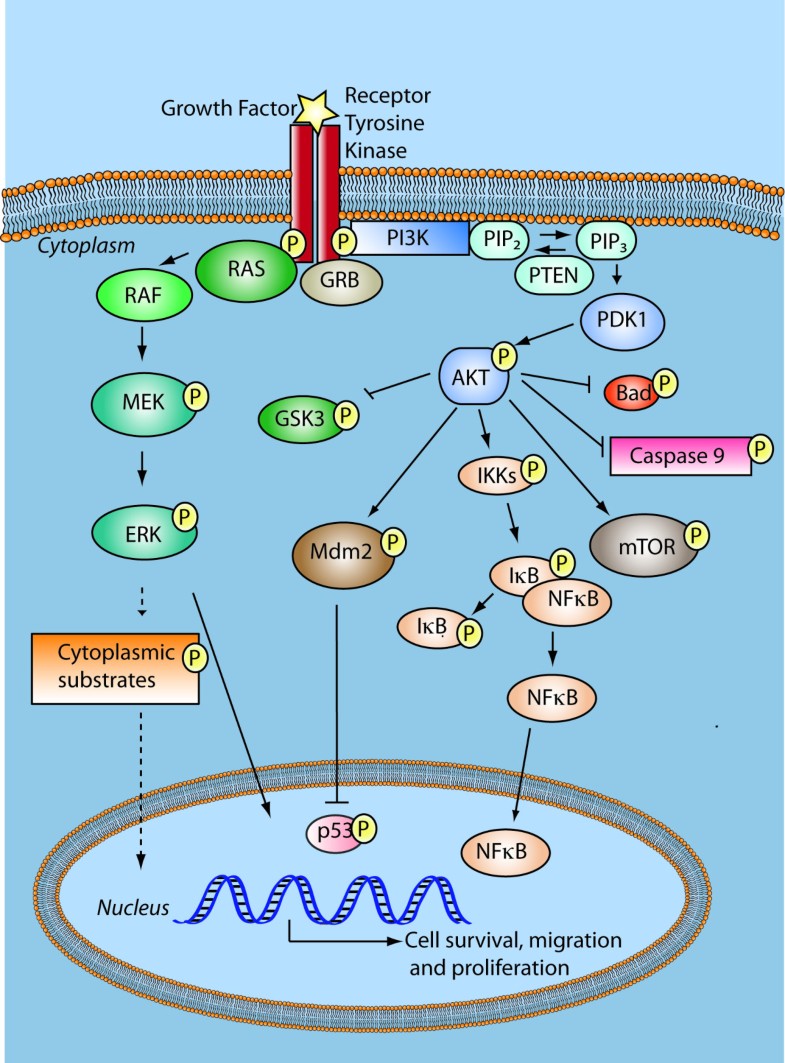 PTEN functions as a tumour suppressor that negatively regulates PI3K activity by dephosphorylating PIP3 to PIP2 and thereby terminating PI3K signalling [22], Figure 1. Mutations of the PTEN gene in GBMs result in elevated levels of PIP3, through which PI3K hyperphosphorylates PDK1/AKT [23]. The p110α subunit of PI3K is encoded by PIK3CA gene, and somatic nucleotide substitutions in this gene were detected in 6 of the 91 GBM samples sequenced. Some of these deletions imposed spatial constraints that might result in PI3K constitutive activation [24]. The regulatory p85α subunit of PI3K is encoded by PIK3R1 gene. Constitutive activating mutations in this subunit were identified in 9 of 91 GBMs [24]. Interestingly, in these GBMs it appears that PIK3CA and PIK3R1 mutations were mutually exclusive, suggesting a functional redundancy of these mutations as they both activate PI3K. PIK3CA and PIK3R1 genes were independently reported altered in 8-10% of GBM cases [8]. A somatic mutation in the coding sequence of the AKT1 gene previously identified in breast, ovarian and colon cancers could not be identified in a panel of 109 GBM samples and 9 high-grade astrocytoma cell lines [25], indicating that AKT activation in GBMs was not mediated by this activating mutation. While the prognostic value of genetic changes in the PI3K subunits is not elucidated, studies have shown that losses on chromosome 10, i.e. loss of the PTEN locus, or enhanced PI3K signalling are associated with poor outcome in GBM [26]. The median survival of GBM patients with activated PI3K (n = 42/56) and AKT (37/56) was 11 months compared to 40 months in patients with lower activation levels of PI3K and AKT [26]. Despite receiving only partial surgical resection, and adjuvant radiotherapy, the patients with diminished PI3K and AKT activation had an astonishingly high median survival of 40 months.
PI3K-mTOR crosstalk
Activated AKT phosphorylates and inactivates tuberous sclerosis 2 (TSC2), a GTPase-activating protein for Ras homologue enriched in brain (RHEB), see Figure
2
. Inactivation of TSC2 allows RHEB to accumulate in the GTP-bound state and thus activate the seine-threonine kinase mTORC1. mTORC1 is a complex of mTOR with Raptor, LST8 and AKT1 substrate. mTORC1 phosphorylates p70S6kinase and 4E-binding protein 1 (4EBP1), 4EBP2 and 4EBP3 and leads to translation of mRNAs that encode many cell cycle regulators such as MYC, cyclin D1, hypoxia inducible factor alpha (HIF1α), subsequently leading to proliferation and angiogenesis. Levels of p70S6kinase have been shown to predispose to poor outcomes in GBM patients [
26
], where the median survival was 10 months compared to 40 months in patients with attenuated p70S6kinase levels. Increased activity of mTOR has been detected in GBMs with constitutively active EGFR and low PTEN activity. mTORC1 complex is effectively inhibited by rapamycin and its analogues.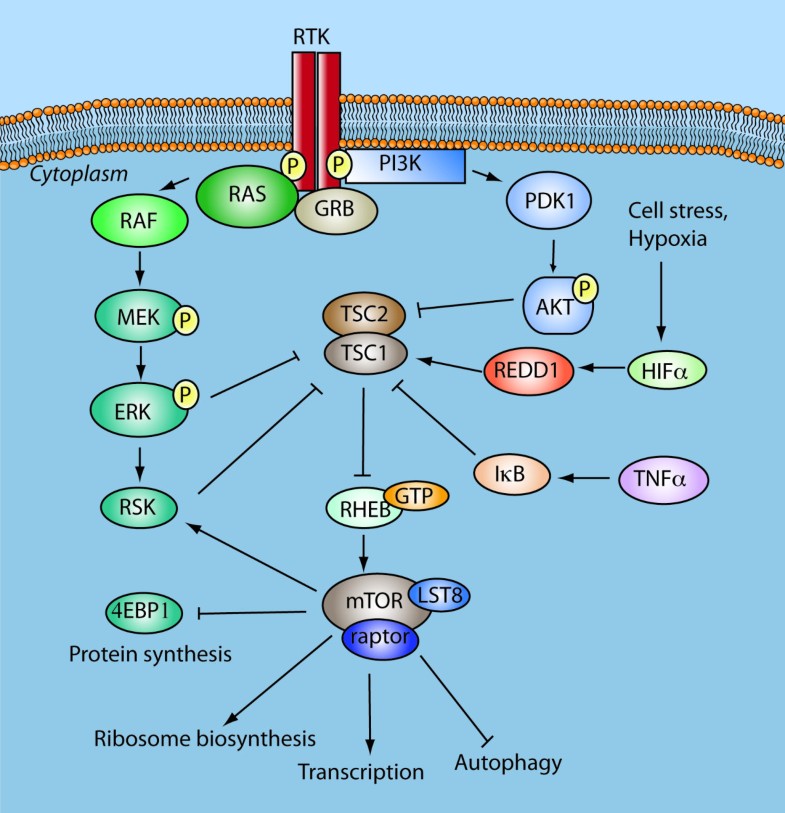 PI3K-Ras crosstalk
The PI3K/AKT signalling cascade crosstalks with the mitogen activated protein-kinase (MAPK) via Ras, a membrane bound G-protein that initiates signalling downstream from activated RTKs such as EGFR or PDGFR. Receptor induced Ras activation is a common feature of GBMs [27]. Constitutive activation or ligand-binding of EGF or PDGF to these receptors leads to auto-phosphorylation of intracellular tyrosine residues and activation of Ras via interaction with adaptor proteins [28]. Activation of Ras recruits Raf to the cell membrane [29] and subsequent phosphorylation of tyrosine or serine/threonine residues by Src kinases or PKC, respectively [30], Figure 1. This initiates a signalling cascade downstream via the MAPKs and ERK-1 and 2 kinases, which then activate cytoplasmic targets such as p90RSK. This serine/threonine kinase [31] translocates to the nucleus where it activates transcription factors including IκB/NFκB and cyclic AMP response element binding protein (CREB) that regulate glioma cell survival and proliferation [32], respectively [33]. PI3K/AKT and Ras/MAPK are thus important cellular survival and growth signalling pathways that are constitutively activated in tumours harbouring mutations in PTEN and genetic aberrations in growth factor receptors.
Targeting PI3K/AKT signalling in GBM
Regulation of apoptosis in glioblastomas
Although much is known about the diverse genotypes causing the heterogeneous histological phenotypes of GBMs and how they impact on survival signalling, there is still no therapy that induces tumour cell apoptosis beyond that of the standard treatment. Apoptosis is a process whereby cells undergo programmed death and is a counterbalance to proliferation. It is morphologically distinct from necrosis and involves shrinkage and fragmentation of both the nucleus and the cell without rupture of the cellular membrane. This prevents inflammation of the surrounding tissue. Apoptosis relies on activation of distinct signalling pathways that are often deregulated in cancer. Thus, our ability to exploit these pathways to design more effective and non-toxic therapies for GBMs is dependent on our understanding of the mechanisms for this deregulation.
The extrinsic pathway
The TNFR family is a large family consisting of 29 transmembrane receptor proteins, organized in homotrimers and activated by binding of the respective ligand(s), Figure
3
. There are 19 members of the TNF ligand family [
69
,
70
] and binding may result in a number of responses, including proliferation, inflammation and apoptosis, depending on the adaptor proteins associated with the activated receptor. The receptors that mediate apoptosis are TNF-R1, FAS and DR4/DR5, and bind TNFα, CD95 and Tumour necrosis factor-related apoptosis-inducing ligand (TRAIL), respectively. Receptor trimerisation results in recruitment of several death domains (DD) and eventually recruitment and activation of caspase-8 and caspase-10. TNFR may also stimulate pro inflammatory pathways leading to activation of NFκB, via recruitment of RIP. Activation of the caspase cascade results in the cleavage of target substrates by effector caspases [
71
] and activation of the intrinsic signalling pathway, thereby linking this to the extrinsic pathway. Activation of caspase-8 may be prevented by FLICE inhibitory protein (FLIP).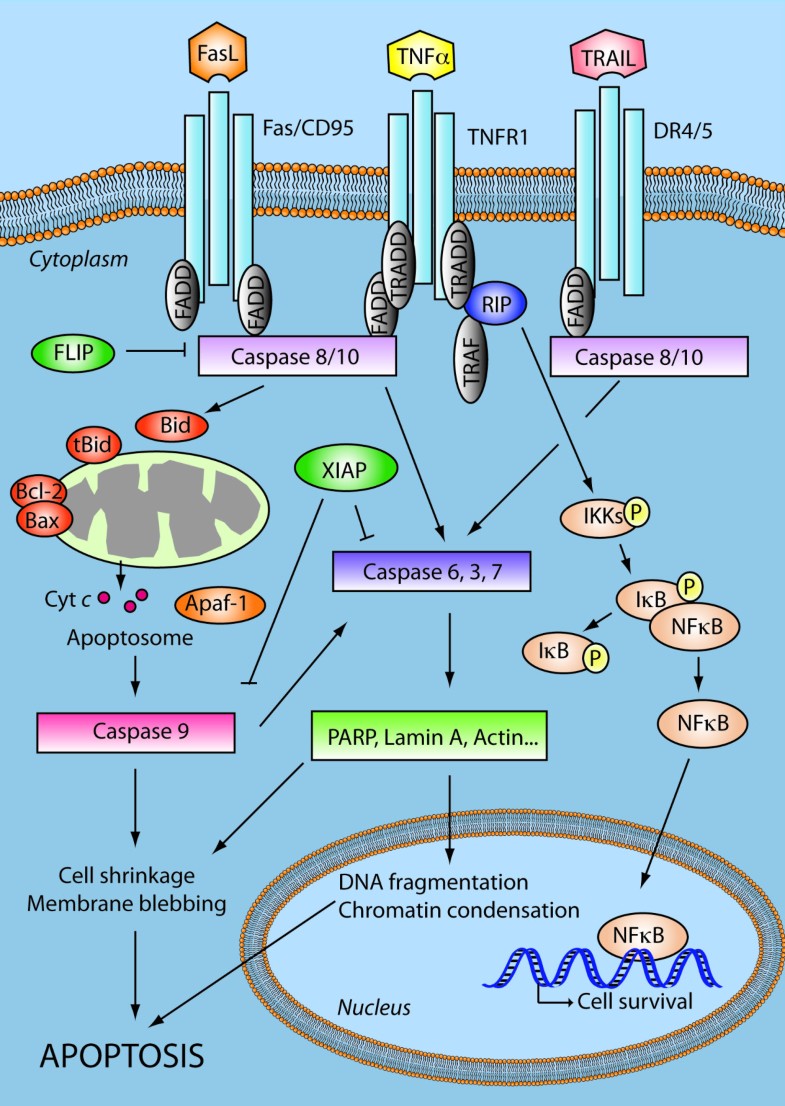 The intrinsic pathway
The intrinsic pathway is triggered by signals such as DNA damage, oxidative stress or growth factor deprivation. Upon activation by death signals, the pro-apoptotic B-cell lymphoma 2 (BCL-2) members BAX and BAK undergo conformational change and insert into the outer mitochondrial membrane. This increases the membrane permeability by forming and/or regulating membrane channels that allow release of cytochrome c[72]. Cytoplasmic cytochrome c binds Apaf-1 and facilitates the recruitment of caspase-9 and assembly into an apoptosome along with ATP. This results in caspase-9 auto-activation and subsequent activation of caspase-3 and downstream cascades.
Under conditions that favour cell survival, anti-apoptotic BCL-2 family members, such as BCL-2 and BCL-XL bind and inhibit pro-apoptotic BCL-2 proteins BAX and BAK, thereby inhibiting the intrinsic apoptosis pathway. BCL-2 family proteins share BCL-2 homology domains (BH1-4) and form homo- and heterodimers. The expression level of BCL-2 proteins is controlled by transcriptional activation by several factors, including P53. The level of pro- versus anti-apoptotic BCL-2 proteins plays a critical role in regulating the apoptotic process [73]. Up-regulation of the pro-survival proteins BCL-2 and BCL-XL, but down-regulation of BAX has been described in recurrent GBMs independent of treatment [74]. This indicates that untreated GBMs are subjected to pressure for development of apoptosis resistance and that this might be a natural course of the disease. Not surprisingly, in a microarray study of 20 patient GBM biopsies, Ruano et al found that several apoptosis related genes were dysregulated. The authors also investigated the significance of expression-levels of the pro-apoptotic protein BAX and found that negative expression of BAX correlated with an adverse clinical outcome [75]. Overexpression of BCL-2 or BCL-XL not only leads to resistance to apoptosis but has also been linked to increased tumour cell motility [76].
The anti-apoptotic protein BCL-2L12 is a multifunctional protein that is overexpressed in nearly all GBMs [77]. Overexpression leads to disregulation of apoptosis at the post-mitochondrial level through inhibition of caspase activation [78]. In their system, BCL-2L12 overexpression resulted in expression of αB-crystallin, which directly binds and inhibits caspase-3. Blocking the BCL-2L12/αB-crystallin action on effector caspases might enhance GBM responsiveness to pro-apoptotic agents such as chemo- and radiation therapy.
Targeting the apoptotic machinery in GBMs
Human glioma cell lines express both pro- and anti-apoptotic BCL-2 proteins [79], members of the TNFR super family and their ligands, such as TNFR and TNFα [80], FasR and CD95/FasL [81], DR5 and TRAIL [82]. Manipulation of these has been shown to affect the cells ability to undergo apoptosis. However, much of our knowledge on apoptosis deregulation in GBM relies on studies using in vitro cell cultures. The relevance of the findings has been debated since long-term cell lines do not represent the heterogeneous nature of the disease. In addition, GBMs in vivo are subjected to different selection pressures compared to cells in culture, resulting in both different genotypes and phenotypes. Nevertheless, our increasing knowledge on apoptosis signalling in general might provide new strategies to improve treatment of GBM.
The biophysical challenges to the successful treatment of GBM
Diffuse invasion, chaotic and stagnant blood flow
GBMs are denoted by diffuse invasion of the brain parenchyma by single cells trans corpus callosum to form the characteristic "butterfly" GBM. Invading glioma cells transiently arrest from mitosis [125, 126] and may thus be refractory from DNA damaging agents such as chemotherapy and radiotherapy. Nevertheless, the morbidity and mortality from GBM stems from local invasion that invariably limits complete surgical resection. This results in recurrence within 2 cm of the original surgical margin in 80-90% of GBM patients [127]. Thus, in addition to achieving local control, novel therapies must act on cells disseminated into the normal brain. The cells invading the relatively normal parenchyma are often protected by an intact BBB. The passage of therapeutic agents from the circulation through the BBB favours small, uncharged lipid soluble molecules. Although GBMs are highly vascular, the BBB of the gross tumour is variably disrupted, exhibiting breaks in tight junctions, increased pinocytosis, fenestrations, permeability (partially due to upregulated VEGF and aquaporin-4) and decreased pericyte coverage [128]. The leaky vessels give rise to stagnant blood flow, oedema, high interstitial fluid pressure gradients that result in capillary and venous collapse that further forms obstacles for drug penetration. Convection enhanced delivery (CED) has emerged as the drug-delivery method of choice for effective delivery of large and small substances to the brain where the therapeutic agent is infused at high pressure and is dependent on bulk flow [129].
GBM cancer stem cells
Cancer stem cells (CSCs) have been described within solid tumours, including GBMs [130] as small populations of cells possessing neural stem cell markers, limited differentiation capacity and the ability to clonally self-renew into neurospheres and secondary tumours that retain the histological features of the primary tumours. Several studies proclaimed that brain tumours enriched in CSCs were preferentially resistant to ionising radiation and chemotherapy due to altered checkpoint and DNA repair pathways compared to conventional tumour cells [131–133]. Others have claimed that these cells are associated with increased reactive oxygen species [134] and that this is an additional mechanism for radiation resistance [135]. It has also been shown that brain CSCs may be preferentially sensitive to AKT inhibitors [136]. The question has thus been raised whether the current therapeutic strategies are targeting the right tumour cell populations. Protocols that target rapidly dividing cells will invariably target the bulk tumour cells, leaving behind the slow cycling, resistant CSC clones capable of repopulating the tumour.
Conclusion
Despite the great excitement over potential benefits of targeting the PI3K pathway alone or in combination with inhibitors of the EGFR or mTOR pathways, the likelihood of achieving long-lasting therapeutic benefits for patients with recurrent GBM remains uncertain. So far targeting this survival signalling circuitry has mainly resulted in tumour growth stasis and limited cellular cytotoxicity. In addition to targeting key members of the survival signalling machinery, combination therapies should perhaps include members of the apoptosis network that might execute the death signal. However, to date, very few clinical trials exploit our knowledge on apoptosis signalling in regard to treatment of GBM patients. This is possibly due to the complex heterogeneity that exists within GBMs, issues with blood brain barrier penetrance, and economic constraints. With an incidence of 6-7/100 000 new cases, GBMs belong to a group of orphan diseases that may provide little financial incentive to the pharmaceutical companies. The future direction is to optimise surgical management for maximal tumour de-bulking and design of synergistic multi-target drug combinations. They should include chemotherapy, radiotherapy, targeting the apoptosis and cell survival regulatory machinery. The only challenge is that with all the possible target combinations, we may not have time to test all potential candidates by the sequential phase I, II and III trial design. In addition, the plethora of possible combinations might be insurmountable and exhibit unknown toxicity profiles. However, making multiple small advances in the management of these lethal cancers will ultimately result in big progress.
Declarations
Acknowledgements
We thank Dr Tor-Christian Johannessen and Dr Per Øyvind Enger for useful discussions and critically reading our manuscript. We thank The Norwegian Cancer Society (PK01-2008-0093) and The Norwegian Research Council (NFR-165042/V40) for supporting our research.
Authors' Affiliations
(1)
Translational Signalling Research Group, Department of Biomedicine, University of Bergen, Bergen, Norway
(2)
Department of Clinical Medicine, University of Bergen, Bergen, Norway
(3)
Translational Cancer Research Group, Department of Biomedicine, University of Bergen, Bergen, Norway
Copyright
© Krakstad and Chekenya; licensee BioMed Central Ltd. 2010
This article is published under license to BioMed Central Ltd. This is an Open Access article distributed under the terms of the Creative Commons Attribution License (http://creativecommons.org/licenses/by/2.0), which permits unrestricted use, distribution, and reproduction in any medium, provided the original work is properly cited.