MicroRNA roles in beta-catenin pathway
Molecular Cancer
2010
9:252
Received: 6 May 2010
Accepted: 21 September 2010
Published: 21 September 2010
Abstract
β-catenin, a key factor in the Wnt signaling pathway, has essential functions in the regulation of cell growth and differentiation. Aberrant β-catenin signaling has been linked to various disease pathologies, including an important role in tumorigenesis. Here, we review the regulation of the Wnt signaling pathway as it relates to β-catenin signaling in tumorigenesis, with particular focus on the role of microRNAs. Finally, we discuss the potential of β-catenin targeted therapeutics for cancer treatment.
Keywords
Promote Tumor Cell Invasion
Complex Transcriptional Activity
Tcf4 Interaction
Complex Target Gene
Introduction
Altered function of components of the canonical Wnt/β-catenin signaling pathway is associated with cancer, as multiple Wnt/β-catenin target genes are regulators of cell proliferation, metastatic potential and tumorigenesis [1, 2]. In the absence of Wnt, cytoplasmic β-catenin dissociated from the E-cadherin/β-catenin/α-catenin complex [3] is rapidly phosphorylated by activated glycogen synthase kinase 3β (GSK3β) at Ser33, Ser37, and Thr41[4] and phosphorylated by casein kinase Iα (CK Iα) at Ser45 [5]. These phophorylations prevent the nuclear accumulation of β-catenin, leading to its ubiquitination and subsequent degradation by the ubiquitin/proteasome system [6, 7]. Upon binding of Wnt to the transmembrane receptor Frizzled (FZD), in complex with co-receptors Low-density-lipoprotein receptor-related proteins 5 and 6 (LRP5/6) [8], the Wnt-FZD-LRP-5/6 complex phosphorylates and activates Disheveled (Dsh) [9]. Dsh activation inhibits GSK3β, subsequently decreases β-catenin degradation by the ubiquitination and proteasomal pathways. In turn, β-catenin accumulates in the cytoplasm and nucleus, where it interacts with coregulators of transcription including T cell factor/lymphocyte enhancer factor (Tcf/Lef) to form a β-catenin/Lef/Tcf complex [10]. This complex regulates transcription of multiple genes involved in cellular proliferation, differentiation, survival and apoptosis, including c-myc and cyclin D [11, 12]. Recent reports suggest that nuclear GSK3β can additionally inhibit β-catenin transcription indirectly, via binding and phosphorylation of Axin and then reducing the transcriptional activity of the β-catenin/Tcf/Lef complex [13]. Hyperactivation of β-catenin caused by the overexpression of Wnt or mutation of CTNNB1 (the gene which encodes β-catenin), GSK3β, Axin or APC is a common cause of carcinoma [14, 15]. Specifically, the mutation of APC is a leading cause of colorectal carcinomas [16], and the relative mRNA and protein expression of β-catenin positively correlates with histological malignancy in astrocytoma [17, 18].
Up to now, there have been more than ten thousands of β-catenin related publications in MEDLINE (Pubmed with: beta catenin). Over the last 10 years, the number of new entries about β-catenin in MEDLINE has grown at a 9.3% compounded annual growth rate, and the number of new entries in MEDLINE each year has grown at a compounded annual growth rate of 3.1% [
19
]. Furthermore, we queried Pubmed with: (catenin or CTNNB or CTNNB1) and ("1980/01/01"[PDAT]: "2009/05/24"[PDAT]), and identified 10018 articles describing putative interactions between β-catenin and other genes (543 genes) by text mining. 213 genes (including Tcf4 and Lef, ect.) interact with β-catenin (interaction relations is associate, bind, etc.) and a β-catenin interaction network was constructed (Fig
1
). Therefore, great progress in biological function and molecular mechanism of β-catenin has been made, and new highlights for β-catenin pathway are deserved to summary. In this review, we focus on modulators of the Wnt/β-catenin signaling pathway, describing new findings of upstream regulators (Fig.
2
), coregulators (Fig.
3
) and downstream targets, with special focus on the function of microRNAs (Table
1
). Finally, we aim to emphasize the importance of the Wnt/β-catenin signaling pathway in cancer, describing β-catenin-targeted reagents that hold promise as chemotherapeutics.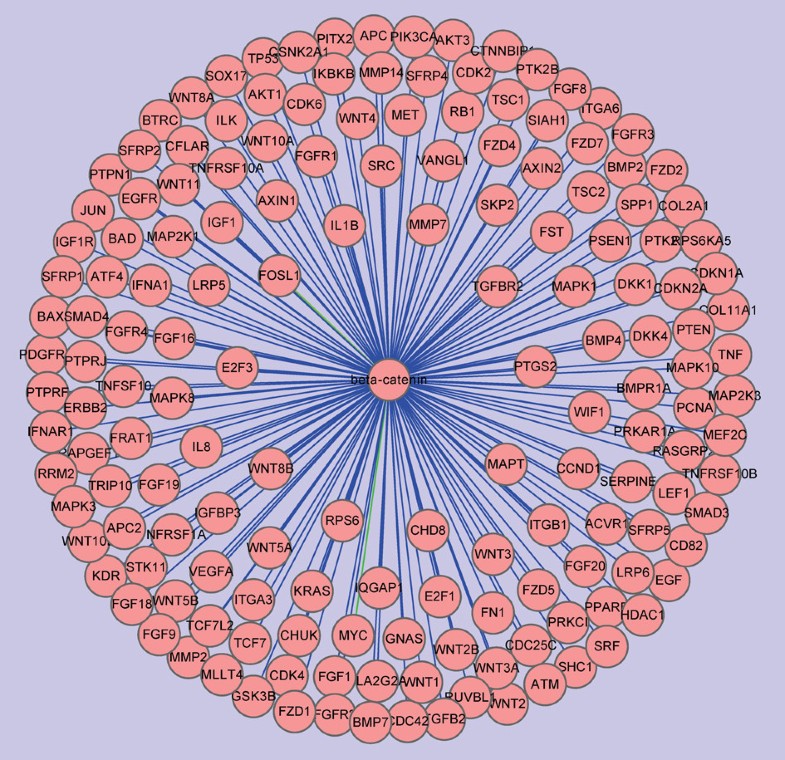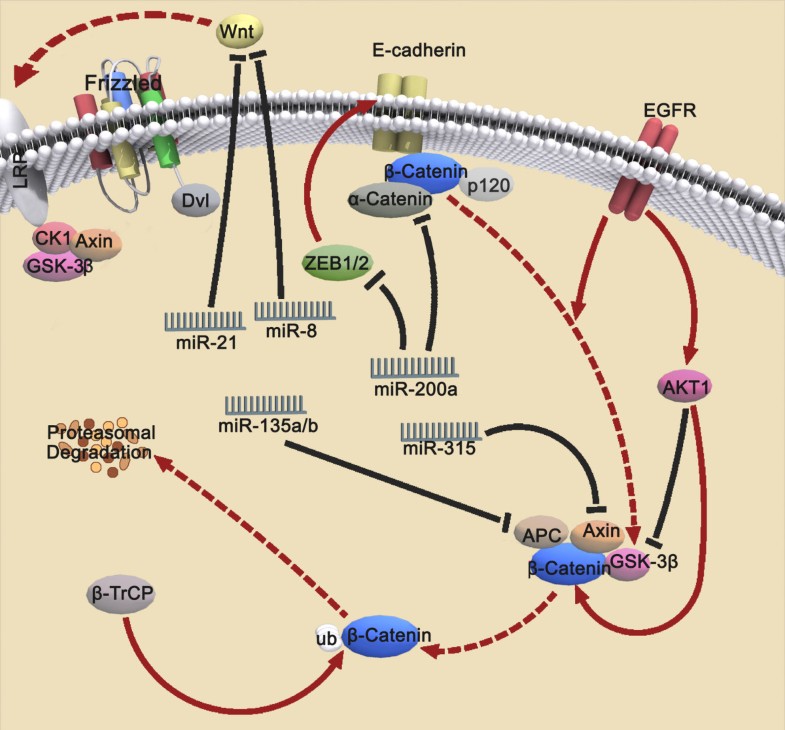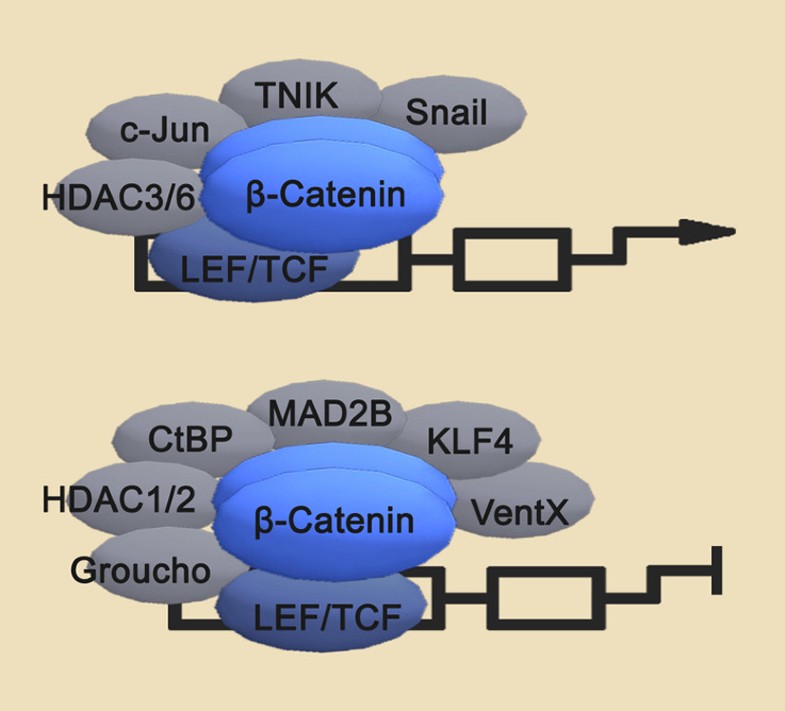 Table 1
Novel modulators of Wnt/β-catenin signaling pathway
| upstream regulators | function | coregulators | function | downstream targets | transcription |
| --- | --- | --- | --- | --- | --- |
| | ↑ | CtBP [53] | ↓ | AKT1 [77] | → |
| | ↑ | Groucho [52] | ↓ | | → |
| miR-135a/b [50] | ↑ | | ↓ | Gbx2 [82] | → |
| miR-315 [51] | ↑ | KLF4 [72] | ↓ | MMP1 [20] | → |
| | ↑ or ↓ | MAD2B [73] | ↓ | Foxc1 [84] | → |
| | ↓ | VentX [74] | ↓ | StarD7 [85] | → |
| miR-21 [43] | ↓ | | ↑ | E2F1 [87] | ← |
| miR-203 [48] | ↓ | c-Jun [66] | ↑ | p16INK4a [83] | ← |
| miR-8 [49] | ↓ | TNIK [70] | ↑ | miR-15/16 [93] | ← |
| | | Snail [71] | ↑ | miR-122a [94] | ← |
| | | | | miR-375 [95] | ← |
Conclusion and Perspectives
Although Wnt/β-catenin transcriptional activity has been studied over the past several years, molecular regulation of Wnt/β-catenin pathway is complex and summarized in Fig.
5
. Regulation of the expression of components of the Wnt/β-catenin pathway by microRNAs, newly discovered RNA sequences that modify gene expression profiles, has not only revealed increased complexity of β-catenin but enabled identification of increased crosstalk between Wnt/β-catenin signaling and other pathways. Accumulating data of microRNAs will likely identify even greater complexities. In conclusion, we believe that an improved understanding of the basic genetics and biology of β-catenin signaling will provide insights into the development of novel chemopreventive and therapeutic strategies for human cancers.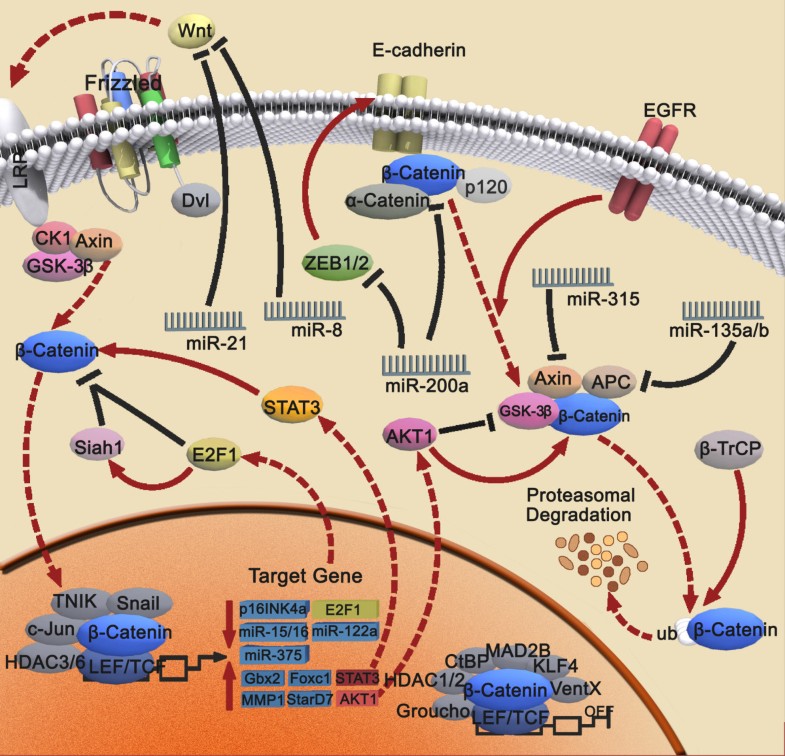 Declarations
Acknowledgements
This work was supported by the China National Natural Scientific Fund (30971136, 30872657), the Tianjin Science and Technology Committee (09JCZDJC17600), a Program for New Century Excellent Talents in University (NCET-07-0615). The authors wish to express the gratitude to Shanghai Sensichip Co Ltd for bioinformatics analysis, and Dr. Jie Li (Department of Pathology, Yale University School of Medicine) and Jin-Quan Cheng (Departments of Molecular Oncology, H. Lee Moffitt Cancer Center and Research Institute) for critical review and helpful discussion with the manuscript.
Authors' Affiliations
(1)
Department of Neurosurgery, Tianjin Medical University General Hospital, Tianjin, China
(2)
Laboratory of Neuro-Oncology, Tianjin Neurological Institute, Tianjin, China
(3)
Key Laboratory of Neurotrauma, Variation and Regeneration, Ministry of Education and Tianjin Municipal Government, Tianjin, China
(4)
Department of Neurosurgery, The First Affiliated Hospital of Nanjing Medical University, Nanjing, China
(5)
Department of Neurosurgery, Tiantan Hospital, Capital Medical University, Beijing, China
Copyright
© Huang et al; licensee BioMed Central Ltd. 2010
This article is published under license to BioMed Central Ltd. This is an Open Access article distributed under the terms of the Creative Commons Attribution License (http://creativecommons.org/licenses/by/2.0), which permits unrestricted use, distribution, and reproduction in any medium, provided the original work is properly cited.