Synthetic lethality in lung cancer and translation to clinical therapies
Molecular Cancer
2016
15:61
Received: 23 June 2016
Accepted: 21 September 2016
Published: 29 September 2016
Abstract
Lung cancer is a heterogeneous disease consisting of multiple histological subtypes each driven by unique genetic alterations. Despite the development of targeted therapies that inhibit the oncogenic mutations driving a subset of lung cancer cases, there is a paucity of effective treatments for the majority of lung cancer patients and new strategies are urgently needed. In recent years, the concept of synthetic lethality has been established as an effective approach for discovering novel cancer-specific targets as well as a method to improve the efficacy of existing drugs which provide partial but insufficient benefits for patients. In this review, we discuss the concept of synthetic lethality, the various types of synthetic lethal interactions in the context of oncology and the approaches used to identify these interactions, including recent advances that have transformed the ability to discover novel synthetic lethal combinations on a global scale. Lastly, we describe the specific synthetic lethal interactions identified in lung cancer to date and explore the pharmacological challenges and considerations in translating these discoveries to the clinic.
Keywords
Lung cancerSynthetic lethalityCombination treatmentsSynergyDrug-drug interactions
Background: lung cancer – a need for new treatment strategies
Lung cancer is the leading cause of cancer mortality worldwide suffering from a late stage of disease at the time of diagnosis and a lack of effective therapeutic strategies available to treat lung tumours [1]. Lung cancer is comprised of two main subtypes: Small Cell Lung Cancer (SCLC) and Non-Small Cell Lung Cancer (NSCLC), which correspond to ~20 % and ~80 % of cases, respectively [2]. Lung adenocarcinoma (LAC) is the most common type of NSCLC, responsible for ~40 % of all lung cancer cases and, unlike other subtypes, is associated with both smokers and never smokers [2, 3]. Squamous Cell Carcinoma (SqCC) is the other major NSCLC subtype and, along with SCLC, is characterized by its development in the central airways and close association with smoking [2]. The different lung cancer subtypes develop from unique cells of origin, involve the deregulation of specific oncogenic pathways and have diverse responses to conventional chemotherapies, demonstrating the importance of considering histology in the clinical management of this disease [4].
Recently, large-scale genomics studies have revealed the genetic changes driving the development of lung cancer subtypes. Activating mutations in EGFR and KRAS as well as translocations involving ALK and RET are common in LAC while SqCC contain frequent mutations in PIK3CA and amplification of FGFR1 [5]. Meanwhile, SCLCs are characterized by the dual inactivation of the tumour suppressor genes RB and TP53 and, less frequently PTEN [6]. With this increasing understanding of lung cancer biology has come the advent of targeted therapies to combat this devastating disease. These therapies target mutated components of key cellular pathways on which tumours cells have become dependent on for survival, a phenomena known as oncogene addiction [7]. For example, tyrosine kinase inhibitors (TKIs) targeting LACs driven by mutant EGFR or ALK rearrangements have been clinically successful, highlighting the potential of designing drugs to specifically target the molecular mechanisms driving cancer development, a concept often described as "personalized medicine" [7–9]. However, despite these encouraging developments, significant problems remain. First, the majority of LAC patients are not candidates for these therapies as they have tumours without mutations in targetable genes, owing either to the lack of an identified driver or mutation in drivers such as mutant KRAS for which the development of inhibitors have proven elusive. Second, all patients eventually develop resistance to treatment with these targeted agents, either through secondary mutation of the target gene or downstream activation of their signalling pathways that sustain tumour growth. Furthermore, although targeted therapies have been successfully employed in the treatment of LAC, advances have lagged in SCLC and SqCC. In SCLC, the causative genetic changes involve inactivation of tumour suppressor genes - which are notoriously difficult to exploit therapeutically - while in SqCC, FGFR1 inhibitors have demonstrated mixed success, likely due to additional genetic determinants regulating response or the presence of alterative oncogene targets attributed to the amplified chromosome region [10]. In addition to the traditional targeted therapies described above, the recent efficacy and approval of inhibitors targeting the PD-1 (Programmed T cell death 1)/PD-L1 immune checkpoint in subsets of NSCLC patients has highlighted the promise of using immunotherapeutics for lung cancer treatment. However, as with kinase inhibitors, many patients do not respond to these treatments and those that do often develop resistance and efforts are already being made to understand the mechanisms regulating sustained response [11]. Thus, while undoubtedly a major advancement in improving lung cancer patient outcomes, current therapeutic approaches have failed to achieve the major goal of increasing long-term survival rates and new strategies to treat lung cancers –perhaps combining kinase inhibitors and immunotherapies - are urgently needed.
Conclusions
Perspectives: translating synthetic lethality for clinical applications
Although numerous synthetic lethal interactions have been discovered through genetic and chemical screening approaches, many have yet to translate into clinical successes. Translating synthetic lethal/sick discoveries to the clinic can be challenging depending on a host of factors ranging from tumor biology to the ability to access proprietary drugs own by different pharmaceutical companies. This is further complicated by the current clinical trial paradigms that typically require new treatments to be tested in patient populations that have failed standard of care therapies. An example of the latter concern is highlighted by our screen looking for cisplatin sensitizers; a screen that relies on use of lung cancer cell lines that were derived from patients that were chemo-naive. The rationale was based on the believe that optimal treatment outcomes with a combination of cisplatin and a targeted agent known to be a sensitizer would only be achieved in the first line setting. This, however, would be a clinically challenging study to complete.
Below, we have identified several factors that should be considered when translating synthetic lethal interactions to therapeutic strategies and have included pharmacological considerations that may be important when trying to achieve synthetic lethality interactions targeting tumours in cancer patients. These factors are summarized in Figs.
3
and
4
.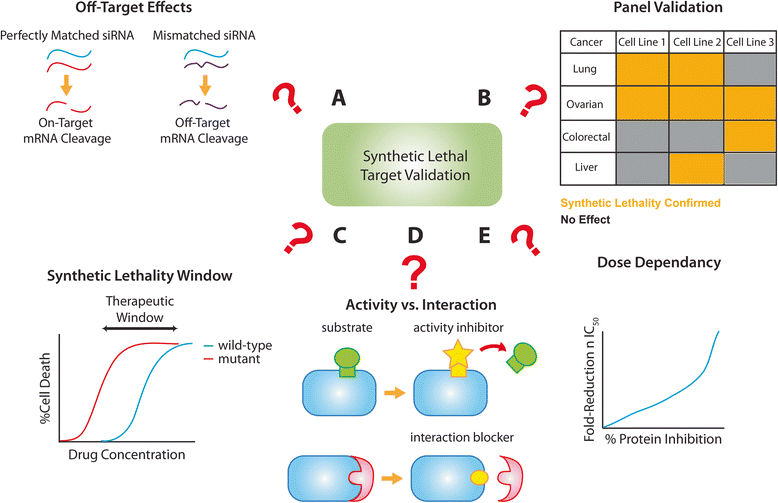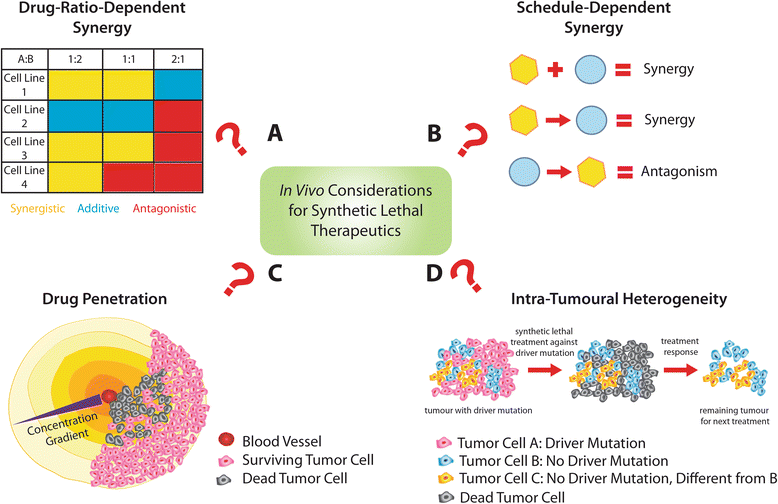 Considerations for translating synthetic lethal interactions to therapeutic strategies
When validating hits from RNAi screens, it is important to ensure that the phenotypic observations from gene-knockdown are not due to off-target effects (Fig. 3a). While mRNA sequences that perfectly match the siRNA guide strand are cleaved by the RNAi machinery, off-target silencing could also occur where the mRNA has slight mismatches with the siRNA template, particularly when the siRNA targets the 3'-UTR regions, giving rise to false positives due to unintended microRNA-like activities. These off-target effects could be minimized through strategies such as chemical modification of the siRNA duplexes and utilization of pooled sequences [106]. Validation of the on-target effects is also necessary through the use of multiple RNAi sequences to eliminate sequence-specific effects and "rescue" experiments using cDNAs. The cDNA used should lack siRNA-binding sites so that the putative target can be exogenously expressed in the presence of endogenous gene knockdown. Once the on-target effects are confirmed, it is crucial to test for synthetic lethality in a range of cell lines and relevant disease models (Fig. 3b). The goal of these validation studies is to assess the potential of synthetic lethal interaction in different contexts represented by tumour subtypes, tumours of different origin and different genetic backgrounds. It is just as important to assess the therapeutic window associated with the synthetic lethal interaction. For example, in cases where the synthetic lethal interaction is specific to an oncogenic or loss-of-function genetic background, it would be ideal that treatment causes little or no effect on cells expressing the wild-type version of the gene. The BRCA and PARP interaction highlights this point; PARP inhibitors are particularly effective against BRCA2-deficient tumours as demonstrated by Bryant et al. [42]. However, tumours harbouring wild-type BRCA2 or BRCA2-deficient tumours with BRCA2 overexpression did not respond to the treatment.
Widening of the synthetic lethality window (Fig. 3c) should also be carefully examined when validating chemo-sensitizing targets where a genetic deficiency is introduced globally to enhance the activity of another drug. Ideally, gene knockdown alone should not be deleterious to the viability of normal cells. Further, chemosensitization should be selective for only cancer cells. As an example, the target that we recently identified (PAPSS1) was found to enhance the activity of various DNA damaging agents in NSCLC cells [55] when PAPSS1 was depleted. We demonstrated that knockdown of the gene did not sensitize normal bronchial epithelial cells to cisplatin treatment while there was a > five-fold reduction in the cisplatin IC50 achieved when PAPSS1 was depleted in NSCLC cells.
When developing small molecules based on the findings from an RNAi screen, it is important to understand the specific function of the gene product (Fig. 3d) involved in the synthetic lethal interaction. Since transcription factors and other non-enzyme targets are generally considered "undruggable", candidates with enzymatic activities such as kinases are prioritized for target development with the assumption that the enzymatic activity is responsible for the synthetic lethality observed in an RNAi screen. However, it is a possibility that the effect is the result of interactions between proteins rather than enzymatic function. In 2009, Scholl et al. discovered from an RNAi screen that KRAS-driven cancers are dependent on a gene that encodes for a serine/threonine protein kinase STK33 [58]. In 2012, Luo et al. developed a potent and selective kinase inhibitor for STK33 which failed to reproduce the synthetic lethality observed in the original screen [107]. It can be argued that this is due to the fact that STK33 has other non-kinase functions that are critical to the viability of KRAS-driven cancer cells, for example protein scaffolding. Such protein-protein interactions could be explored through co-immunoprecipitation studies or through more sophisticated approaches such as tandem affinity purification during target validation [108]. While small molecule inhibitors may be developed to inhibit the enzymatic activity of a candidate target, peptides or peptide mimetics could be developed to inhibit specific protein-protein interactions important for synthetic lethality [109]. This rather novel therapeutic area also opens up opportunities for targeting the traditionally "undruggable" hits from synthetic lethal screens.
It should be noted that synthetic lethal targets discovered in yeast studies are based on complete gene knockouts, therefore these interaction are "definitive." In contrast, RNAi screens utilizing siRNA or shRNA rarely eliminate the gene product completely and therefore the amount of depletion achieved may be critical to defining the interaction. For this reason, it is important to determine the minimal level of protein depletion necessary to achieve the desired synthetic lethal/sick effect. For instance, our studies on PAPSS1 showed that sensitization to cisplatin treatment occurred in a siRNA dose-dependent manner [91]. At the protein level, at least 80 % inhibition relative to scramble controls was necessary to achieve a meaningful improvement in cisplatin activity. While the extent to which the protein activity/interaction is inhibited can be determined in vitro and perhaps adjusted through a medicinal chemistry campaign. This dose dependency (Fig. 3e) will, however, be more challenging to address in vivo, as discussed in the following section.
Optimizing multidrug combinations to induce synthetic lethality
As indicated previously, the success of multidrug combinations is largely dependent on ensuring, in vivo, that the combinatorial effect is maintained at the site where the cancer resides. The factors influencing synergistic or synthetic sick interactions can be better understood through carefully designed in vitro studies that consider drug concentrations, exposure time, sequence and dosing parameters (e.g. drug/drug ratio). However, in the context of achieving a synthetic lethal interaction in vivo, one must have an excellent understanding of the drug pharmacokinetics and biodistribution attributes. Traditionally, drug combinations were given at maximally tolerated doses to achieve the greatest therapeutic effects. However, studies in the last decade have found that drug combinations display drug-ratio-dependent synergy (Fig. 4a) [110]. For instance, the combination of cisplatin and irinotecan, which is an approved combination for the treatment of lung cancer, was screened by Tardi et al. in a panel of 20 cell lines over a range of drug ratios [111]. Their study indicated that an antagonistic region (irinotecan/cisplatin molar ratios 1:2 to 4:1) was consistently detected in these cell lines. Importantly, the regions where synergy was observed (<1:2 and >4:1) were conserved in vivo. These results raise an important consideration that some drug combinations may need to be administered in a manner that can maintain an optimal synergistic ratio. This, however, can be challenging as different drugs exhibit different adsorption, distribution, and metabolism profiles. One approach to address this has been through the use of drug delivery technology. By co-encapsulating the two drugs at the optimally synergistic ratio into nanocarriers such as liposomes, the pharmacokinetic profile of both drugs can be controlled to maintain the drug ratio in vivo [110]. As an example, VYXEOS (CPX-351) is a liposomal formulation comprising cytarabine and daunorubicin (5:1 molar ratio) that was developed using the Combiplex® technology for the treatment of acute myeloid leukemia (AML) [97, 112, 96]. The Phase III clinical trial with VYXEOS has recently been completed and the results indicated that this formulation comprising two drugs was more effective than the standard of care 7 + 3 cytarabine/daunorubicin treatment [113].
While drug-drug ratios can be optimized when drug combinations are given concurrently, if the drug interactions are schedule-dependent (Fig. 4b), then one may have to optimize how treatments are sequenced. For instance, in a study conducted by Li et al., combinations of pemetrexed and erlotinib where synergistic when the two drugs concurrently and also when permetrexed was administered first followed by erlotinib [114]. However, the same two drug combination was antagonistic when erlotinib was given before pemetrexed. In another previous study, the use of the liposomal irinotecan formulation Irinophore C™ in combination with 5-FU concurrently resulted in high levels of toxicity. However this toxicity was reduced substantially when 5-FU was administered sequentially following Irinophore C™ in colorectal cancer models [115, 97]. Similarly, a phase III node-positive breast cancer trial demonstrated significantly better overall survival when patients were given doxorubicin and docetaxel sequentially relative to concurrent chemotherapy [116]. Although these examples represent classic drug-drug combinations, it is very likely that combinations arising from synthetic lethal/sick screens will be influenced by the similar factors.
Finally, when translating synthetic lethality to therapeutic strategies, it is imperative to consider intra- and inter-tumoural heterogeneity as well as the tumour microenvironment. The tumour microenvironment has long been known to significantly limit drug penetration (Fig. 4c). Tumor cells are exposed to sub-lethal doses of drug and this contributes to treatment failures [117]. Due to the poorly organized vasculature in tumours, drug treatment with small molecules create concentration gradients that lead to reduced drug exposure at certain regions of the tumour. While screening strategies have been used to identify synthetic lethal gene partners that can be inhibited to enhance the cytotoxic effects of low-dose chemotherapeutics, these therapeutic strategies may again be limited by the same drug penetration issues, the level of hypoxia, as well as the nutritional status of the target cells. If, as indicated earlier, a minimal level of target inhibition/depletion is needed to achieve a desired synthetic lethal or synthetic sick effect, then this must be achieved throughout the tumour. Further it will be important to validate that the interaction still occurs under conditions where cells may be stressed due to lack of oxygen or nutrients. In the context of the target identified in our studies, PAPSS1, a significant challenge associated with the future development of gene, peptide, or small molecule therapy against this target would be the need to achieve 80 % PAPSS1 knockdown in all regions of tumours that are exposed to low-dose cisplatin. Although there will always be a drug concentration gradient, the effects could potentially be mitigated through the use of drug delivery systems. As an example, liposomal formulations of doxorubicin, which are clinically approved, have shown to be efficacious through increased circulation lifetime leading to increased drug accumulation at the tumour site [118, 120]. Although concentration gradients would still be generated in that case, a greater amount of drug would be available even at hypoxic or nutrient-deprived regions due to greater overall exposure to the therapeutic agent.
In terms of future perspectives, synthetic lethality is a promising approach at the cellular level and even at the population level if the tumour population is clonal. In reality, however, intra-tumoural heterogeneity (Fig. 4d) contributes tremendously to the challenge of curing cancer. By use of chemotherapy and/or targeted agents, one treatment regimen could potentially eradicate a large population of tumour cells. At the same time, this treatment may remove selective pressures against existing dormant tumour cells. Even in the context of tumours with driver mutations, which could potentially be targeted using synthetic lethal strategies, not all tumour cells would harbour the specific driver mutation simply due to the countless mutations acquired through numerous generations. Nonetheless, we believe that treatments arising out of the principles of synthetic lethality, if applied early, should extend patient survival. With the use of other advanced technologies, such as post-treatment sequencing of tumour biopsies, continuous applications of synthetic lethal strategies will allow the disease to be managed for a longer period of time, ultimately making aggressive and difficult to treat cancers, such as lung cancer, a chronic disease instead of a terminal, illness.
Abbreviations
AML:

Acute myeloid leukemia
DDR:

DNA damage response
GBM:

Glioblastoma multiforme
GOF:

Gain-of-function
HR:

Homologous recombination
LAC:

Lung adenocarcinoma
LOF:

Loss-of-function
NHEJ:

Non-homologous end joining
NSCLC:

Non-small cell lung cancer
SCLC:

Small cell lung cancer
SqCC:

Squamous cell carcinoma
TKI:

Tyrosine kinase inhibitors
Declarations
Funding
The authors thank the Canadian Institutes for Health Research (CIHR, MOPs 89938 and 142313) and British Columbia Cancer Foundation for their financial support. AL received financial support from the CIHR (Vanier Canada Graduate Scholarship) and the University of British Columbia (Four-Year Doctoral Fellowship). WWL is supported by Michael Smith Foundation for Health Research Scholar and CIHR New Investigator Awards.
Availability of data and materials
Yes.
Authors' contributions
AWYL and WWL were major contributors in writing the manuscript. TDS was involved in the design and the research in lung cancer-related synthetic lethal interactions. MBB made substantial contributions to the design of the manuscript and revised it critically for important intellectual content. All authors read and approved the final manuscript.
Competing interests
The authors declare that they have no competing interests.
Consent for publication
N/A.
Ethics approval and consent to participate
N/A.
Open AccessThis article is distributed under the terms of the Creative Commons Attribution 4.0 International License (http://creativecommons.org/licenses/by/4.0/), which permits unrestricted use, distribution, and reproduction in any medium, provided you give appropriate credit to the original author(s) and the source, provide a link to the Creative Commons license, and indicate if changes were made. The Creative Commons Public Domain Dedication waiver (http://creativecommons.org/publicdomain/zero/1.0/) applies to the data made available in this article, unless otherwise stated.
Authors' Affiliations
(1)
Experimental Therapeutics, BC Cancer Research Centre, Vancouver, Canada
(2)
Department of Pathology and Laboratory Medicine, University of British Columbia, Vancouver, Canada
(3)
Integrative Oncology, BC Cancer Research Centre, Vancouver, Canada
(4)
Faculty of Pharmaceutical Sciences, University of British Columbia, Vancouver, Canada
(5)
Centre for Drug Research and Development, Vancouver, Canada