Role of Non Receptor Tyrosine Kinases in Hematological Malignances and its Targeting by Natural Products
Molecular Cancer
2018
17:31
Received: 12 October 2017
Accepted: 1 February 2018
Published: 19 February 2018
Abstract
Tyrosine kinases belong to a family of enzymes that mediate the movement of the phosphate group to tyrosine residues of target protein, thus transmitting signals from the cell surface to cytoplasmic proteins and the nucleus to regulate physiological processes. Non-receptor tyrosine kinases (NRTK) are a sub-group of tyrosine kinases, which can relay intracellular signals originating from extracellular receptor. NRTKs can regulate a huge array of cellular functions such as cell survival, division/propagation and adhesion, gene expression, immune response, etc. NRTKs exhibit considerable variability in their structural make up, having a shared kinase domain and commonly possessing many other domains such as SH2, SH3 which are protein-protein interacting domains. Recent studies show that NRTKs are mutated in several hematological malignancies, including lymphomas, leukemias and myelomas, leading to aberrant activation. It can be due to point mutations which are intragenic changes or by fusion of genes leading to chromosome translocation. Mutations that lead to constitutive kinase activity result in the formation of oncogenes, such as Abl, Fes, Src, etc. Therefore, specific kinase inhibitors have been sought after to target mutated kinases. A number of compounds have since been discovered, which have shown to inhibit the activity of NRTKs, which are remarkably well tolerated. This review covers the role of various NRTKs in the development of hematological cancers, including their deregulation, genetic alterations, aberrant activation and associated mutations. In addition, it also looks at the recent advances in the development of novel natural compounds that can target NRTKs and perhaps in combination with other forms of therapy can show great promise for the treatment of hematological malignancies.
Keywords
Non receptor tyrosine kinaseshematological malignancysignaling pathwaysnatural products
Background
Tyrosine Kinases (TKs) are a group of around 90 enzymes responsible for catalyzing the transfer of ATP phosphate group to the target protein's tyrosine residues [1]. This substrate phosphorylation is a mechanism in which activating signals are transmitted from the cell surface to cytoplasmic proteins and the nucleus [2]. In response to external and internal stimuli, TKs have a major role in cell proliferation, survival, differentiation, and metabolism [3, 4]. Recent advancements have identified TKs role in the pathophysiology of cancer, including hematological malignancies [2, 5, 6]. Constitutive or unregulated activity and oncogenic activation in cancer cells is a common pathologic feature and can be blocked by selective TK inhibitors [4–8]. This is therefore considered to be a promising approach for targeted therapeutic development.
The two main classes of kinase are TKs and serine–threonine kinases (STKs) [9]. TKs are further subclassified into receptor and non-receptor proteins. Receptor tyrosine kinases (RTKs) include Platelet-derived growth factor receptors (PDGFR), Fibroblast growth factor receptor (FGFR), Epidermal growth factor receptor (EGFR), and Insulin receptor (IR). RTKs transduce extracellular signals to the cytoplasm and contain a domain that is extracellular ligand-binding, another domain that is intracellular catalytic and responsible for TK activity and regulation, as well as a disulphide bond containing transmembrane domain that connects both the ligand-binding and catalytic regions [9]. RTKs have been shown to be associated with cell division, migration and survival functions, e.g. via the phosphorylation of RAS, initiating RAF-MEK-ERK phosphorylation, consequently resulting in altered gene expression [10].
Non-receptor TKs (NRTKs) are intracellular cytoplasmic proteins that relay intracellular signals [9, 11] and can either be bound to the cell membrane or are nuclear-specific [9]. NRTKs display a broad role in cell signaling. This includes the regulation of gene expression e.g. via IL-6 mediated phosphorylation of the membrane-bound TK (Janus kinase) activating the signal transducer and activator of transcription (STAT) [12]. In addition, inhibition of cell growth e.g. via the stimulation of nuclear TKs (such as Abl) resulting in transcription factor Rb activation [13]. NRTK, such as focal adhesion kinase (FAK), can also regulate cell adhesion and proliferation [14] and are important components of signal transduction pathways, including Fyn [15] and Acks [16]. Furthermore, Acks play a vital role in cell growth via the induction of Janus kinase (JAK) and SRC machinery [17]. Tec family kinases are also associated with intracellular signaling mechanisms [18], as well as SYK which are involved in executing immune response between cell receptors and intracellular signaling [19–21]. Moreover, NRTKs exhibit considerable variability in their structural make up, due to a kinase domain and possession of some protein-protein interacting domains (e.g. SH2, SH3, and PH domain) [4, 22] and additional signaling. Although RTK are activated by ligand-binding, activation of NRTK involves a much more complex mode of action, incorporating heterologous protein-protein interaction, enabling transphosphorylation [23].
STKs however, similar to TKs, can be membrane-bound and nuclear. Additionally, TKs can be transmembrane receptors whereas STKs can also be cytoplasmic [9]. STKs are responsible for the phosphorylation of diverse groups of target substrates, consisting of transcription factors, regulators of the cell cycle, and cytoplasmic and nuclear effector molecules [24]. Certain growth factors, cytokines and physical or chemical induced stress collectively and/or independently act as specific triggers which regulate STK activity [25]. For instance, cytoplasmic STKs (e.g. JNK/MAPK signaling pathway) can be activated by extracellular stimuli resulting in phosphorylated JNK to be translocated to the nucleus stimulating apoptosis through JUN transcription factor [10, 26].
Research now shows that NRTKs, or members of their signaling pathways, show mutations in many forms of hematological malignant cells, which may be in fact dependent on aberrant kinase signaling for their prolonged viability and overall survival. Mutations that lead to constitutive kinase activity however have been found to result in the formation of oncogenes, including ABL, FES, Src, etc. which have been associated in the development of hematopoiesis and their function [2]. Although numerous NRTK oncogenes display differences in their structure, functionality, and subcellular localization, many exploit the same molecular pathways to enhance proliferation and viability [2].
Oncogenic NRTK mutations can be of two types, those due to point mutations, duplications or deletions and insertions, and those involving the development of a fusion gene resulting from a chromosomal rearrangement (e.g. most famously BCR-ABL). NRTK aberrant activation caused by either of these two ways is importance huge cause in the development of many hematological malignancies. Consequently, signal transduction therapy [3] and kinase inhibitors [27] have been sought after to target mutated kinases including those found to be deregulated in various hematological diseases, including lymphomas, leukemias and myelomas. A number of compounds have since been discovered which have been shown to inhibit the activity of NRTKs, which are remarkably well tolerated, considering these compounds typically target a number of kinases, including those both normal and mutant [3].
This review covers the role of various NRTKs in the development of hematological cancers, including their deregulation, genetic alterations, aberrant activation and associated mutations which give rise to such altered expression. This review further aims to showcase how the development of novel natural compounds are able to target kinases and perhaps in combination with other forms of therapy show great promise for the treatment of hematological malignancies. With particular interest in disease states associated with aggressive phenotype and the development of resistance to conventional chemotherapy, we highlight in vivo studies and clinical trials carried out targeting NRTKs with the use of natural products.
Non receptor tyrosine kinase families
Non receptor tyrosine kinases are categorized into 9 subfamilies based on sequence similarities, primarily within the kinase domains. These includes Abl, FES, JAK, ACK, SYK, TEC, FAK, Src, and CSK family of kinases (Fig.
1
).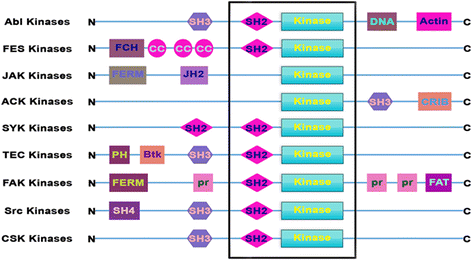 Targeting NRTKs using Natural products
Past few years have seen tremendous improvement in the area of drug discovery in field of cancer. Although many new entities are available in market for therapeutic treatment but association of adverse events like acute/chronic organ damage, suppression of bone marrow, and potential toxicities like hepatic, renal, gastrointestinal etc., with these drugs limits its use [171–174] continuing quest for search of newer and effective molecule.
Nowadays targeted therapy are gaining high importance due to its ability to directly act on specific molecule and signaling pathway. Tyrosine kinases compete with ATP binding site of the catalytic domain of oncogenic tyrosine kinases and modulate signaling pathway [175]. Thus it becomes very important to target such kinases by using specific drugs that aims directly at kinases.
Inhibitors like IFN-alpha regulates T-cells however, due to patient non-compliance and side effects produced thereby limited its use. Second generation tyrosine kinase inhibitors like dasatinib, nilotinib, bosutinib along with imatinib mesylate have gained tremendous respect as a conventional chemotherapeutic agent for treatment in CML patients. Despite of great achievements in the therapeutic treatments of CML, search for newer effective and potent agent toward resistant mutants such as T315I is continued. Drugs like aurora kinases, ponatinib were effective against resistant mutant but due to cardiac toxicity and maximum tolerated dose for ponatinib being 45 mg their use were limited [5, 175–181]. Natural products are now considered as an alternative for synthetic drugs.
Secondary metabolite/s present in natural products is known to possess diverse biological effects. These natural products are present in numerous sources like plants, micro-organism, fungi etc. Besides being non-toxic in nature they are considered to less expensive. In 2013, US FDA approved 1453 new chemical entities from which 40% comprised of natural products or analogs of natural compounds [
182
,
183
]. Natural products alone or in combination have been able to induce apoptosis as well chemosensitised those cell lines that were resistant to conventional drugs. Below we have discussed compounds (Fig.
2
) that hold a high potential to be developed as a lead molecule as a tyrokinase inhibitor. Some of these natural compounds has in vivo (Table
1
) data and some has progressed through clinical trials (Table
2
).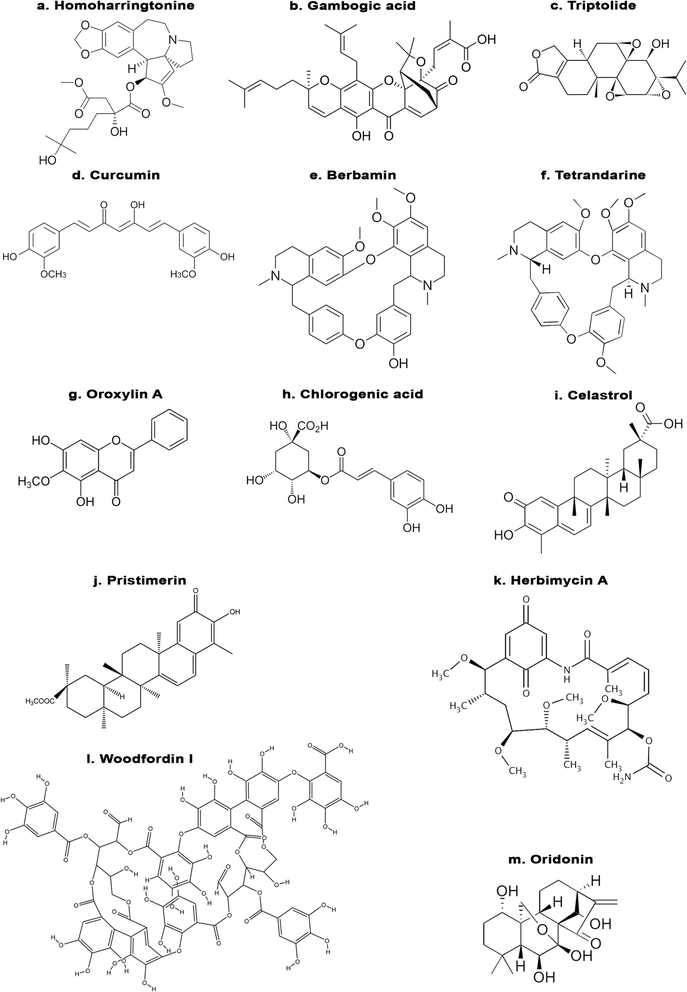 Table 1
In vivo studies of natural products against hematological malignancies
| | | | | |
| --- | --- | --- | --- | --- |
| HSS(Haishengsu) | Nude mice | 450,900,1800 mg/kg bw, intravenous | ↓Bcr-Abl | [213] |
| Triptolide | Nu/nu BALB/c mice | 0.15 mg/kg Bw, subcutaneous | ↓Bcr-Abl | [214] |
| curcumin | Balb/c mice | 40 mg/kg bw, intraperitonial | ↓c-ABL | [216] |
| Berbamine(BBM) | Balb/c | 60 mg/kg bw, intravenously | ↓p-gp protein | [220] |
| 4-Chlorobenzoyl berbamine(BBD9) | NU−/− | 15 and 30 mg/kg BW, | ↓P-BCR-ABL | [223] |
| Tetrandrine citrate | Nu−/− | 100 mg/kg BW, orally | ↓BCR-ABL | [225] |
| homoharringtonine | BABL/c mice | 0.5–1 mg/kg BW, intraperitonial | ↓Bcr-Abl | [186] |
| Oroxylin A | SCID | 80MG/KG BW, intravenously | ↓STAT3,p-gp | [227] |
| chlorogenic acid | Nude mice | 25-150 mg/kg bw, intraperitonial | ↓Bcr-Abl | [228] |
| Celastrol | Nu/nu BalB/c Mice | 1 mg/kg BW, intraperitonial | ↓Bcr-Abl | [229] |
| Pristimerin | nu/nu BALB/c mice | 1 mg/kg Bw, intratumoral | ↓Bcr-Abl | [230] |
| Herbimycin A | Balb/c nude mice | 15 μg,intraperitonial | ↓abl | [232] |
Table 2
Natural products against hematogical malignancies in clinical trials
| NATURAL PRODUCTS | CANCER TYPE | STATUS | STUDY PHASE | Clinical trials.gov number |
| --- | --- | --- | --- | --- |
| Homoharringtonine | CML | COMPLETED | PHASE 2 | NCT00375219 (a) |
| Tanespimycin (17-AAG) | AML | COMPLETED | PHASE 1 | NCT00098423 (b) |
Conclusion and Future Perspectives
Non receptor tyrosine kinase are involved in multiple signaling pathways that regulate vital functions such as cell proliferation and differentiation, and plays a role in human neoplasms, inflammatory and autoimmune diseases. Clinical use of highly successful tyrosine kinase inhibitors (such as imatinib Mesylate, Herceptin and Gefitinib) endorse the potential of targeted cancer therapy using specific NRTK inhibitors. Targeted therapy has the advantages of being less toxic than traditional cytotoxic chemotherapy due to specificity for cancer cells. The best example is imatinib mesylate, a maximum limit of dose could not be identified during the phase 1 clinical trials. Unfortunately, even targeted therapy with the FDA approved small molecule NRTK inhibitor, omacetaxin mepesuccinate, have hematological side effects and other drawbacks. Some of these side effects may be due to the inhibition of other related tyrosine kinases present in normal cells and therefore extremely difficult to avoid completely. Nevertheless, additional knowledge of the side effects will make possible to develop better targeted drugs that are able to avoid these limitations.
In the case of general TK inhibitors like imatinib mesylate, development of resistance (due to point mutations or gene amplification) has become the major challenge. Similarly, resistance towards NRTK inhibitors could also develop in patients. A long term strategy to design rapid and efficient biochemical and cell based high throughput assay for screening of novel kinase inhibitors is needed. Implementation of bioinformatics based methodologies (structure based drug design, based on the current knowledge of the three dimensional structures of target kinases, mathematical quantitative modeling of cancer progression and drug response, etc) can hasten the process of screening several natural compounds through the drug discovery process.
Although several natural compounds have proven their efficacy in in vitro and in vivo models as potent tyrokinase inhibitors, in-detail research is still required to establish natural compounds as lead molecules for clinical trial. Till date only one single natural compound, Homoharringtonine, has been able to successfully finish clinical trials and receive an FDA approval. A key obstacle in the development of a specific inhibitor is the variation in efficacy observed in the cell line based experiments and rodent models during drug discovery phase leading to the final efficacy in patients. NRTK inhibitors may well add invaluable contribution to treatments in combination with conventional chemotherapy.
Abbreviations
ALL:

Acute lymphoblastic leukemia
AML:

Acute myeloid leukemia
ara-C:

Cytarabine
CML:

Chronic myeloid leukemia
CRIB:

Cdc42/Rac-interactive domain
CSK:

C-terminal Src kinase
EGFR:

Epidermal growth factor receptor
FAK:

Focal adhesion kinase
F-BAR:

FCH-Bin–Amphiphysin–Rvs domain
F-BD:

Filamentous actin binding domain
FCH:

Fes/Fer/Cdc-42-interacting protein homology
HHT:

Homoharingtonine
IFN:

Interferon
JAK:

Janus kinase
JMML:

Juvenile myelomonocytic leukemia
NRTK:

Non receptor tyrosine kinase
PDGFR:

Platelet-derived growth factor receptor
Ph:

Philadelphia chromosome
PH:

Pleckstrin homology
RTK:

Receptor tyrosine kinase
SFK:

Src family of tyrosine kinase
STAT:

Signal transducer and activator of transcription
STK:

Serine-threonine kinase
TK:

Tyrosine Kinase
TKI:

Tyrosine kinase inhibitor
Declarations
Acknowledgements
The authors would like to thank the editors and anonymous reviewers.
Funding
The study was supported by grant from the Medical Research Center (to SU) (Grant # 16354/16), Hamad Medical Corporation, Doha, State of Qatar.
Availability of data and materials
Please contact author for data requests.
Authors' contributions
KSS, KSP, IWA, SK, AQK, and MM performed literature review, compiled the data and write the manuscript. SD and SU made extensive contributions to the design of the manuscript and revised it critically for important intellectual content. All authors read and approved the final manuscript.
Ethics approval and consent to participate
Not applicable.
Consent for publication
Not applicable.
Competing interests
The authors declare that they have no competing interests.
Publisher's Note
Springer Nature remains neutral with regard to jurisdictional claims in published maps and institutional affiliations.
Open AccessThis article is distributed under the terms of the Creative Commons Attribution 4.0 International License (http://creativecommons.org/licenses/by/4.0/), which permits unrestricted use, distribution, and reproduction in any medium, provided you give appropriate credit to the original author(s) and the source, provide a link to the Creative Commons license, and indicate if changes were made. The Creative Commons Public Domain Dedication waiver (http://creativecommons.org/publicdomain/zero/1.0/) applies to the data made available in this article, unless otherwise stated.
Authors' Affiliations
(1)
Translational Research Institute, Academic Health System, Hamad Medical Corporation, Doha, State of Qatar
(2)
Medical Research Center, Hamad Medical Corporation, Doha, State of Qatar
(3)
Translational Cancer Research Facility, National Center for Cancer Care and Research, Hamad Medical Corporation, Doha, State of Qatar