EGFR-TKIs resistance via EGFR-independent signaling pathways
Molecular Cancer
2018
17:53
Received: 13 October 2017
Accepted: 1 February 2018
Published: 19 February 2018
Abstract
Tyrosine kinase inhibitors (TKIs)-treatments bring significant benefit for patients harboring epidermal growth factor receptor (EGFR) mutations, especially for those with lung cancer. Unfortunately, the majority of these patients ultimately develop to the acquired resistance after a period of treatment. Two central mechanisms are involved in the resistant process: EGFR secondary mutations and bypass signaling activations. In an EGFR-dependent manner, acquired mutations, such as T790 M, interferes the interaction between TKIs and the kinase domain of EGFR. While in an EGFR-independent manner, dysregulation of other receptor tyrosine kinases (RTKs) or abnormal activation of downstream compounds both have compensatory functions against the inhibition of EGFR through triggering phosphatidylinositol 3-kinase (PI3K)/Akt and mitogen-activated protein kinase (MAPK) signaling axes. Nowadays, many clinical trials aiming to overcome and prevent TKIs resistance in various cancers are ongoing or completed. EGFR-TKIs in accompany with the targeted agents for resistance-related factors afford a promising first-line strategy to further clinical application.
Keywords
EGFRTKIsRTKsErbBDrug resistanceBypass signalingsDownstream compounds
Background
EGFR is a transmembrane glycoprotein belonging to the ErbB family of RTKs which includes ErbB-1 (EGFR), ErbB-2 (HER2/neu), ErbB-3 (HER3), and ErbB-4 (HER4) [1, 2]. Upon binding with ligands, EGFR is activated and leads to the excitation of subsequent intracellular signaling pathways, such as the PI3K/Akt and MAPK, which are involved in the proliferation, differentiation, migration, and apoptosis of certain cells [3–5]. Consequently, overactivation of EGFR signaling pathways is detected in various malignant tumors, including non-small cell lung cancer (NSCLC), breast cancer, head and neck cancer, colon cancer, ovarian cancer, and the like [6–8].
To attenuate the effects that EGFR pathways take on cancers, EGFR TKIs that bind the tyrosine kinase domain of EGFR specifically and inhibit its activity are widely administrated for clinical application. For instance, erlotinib and gefitinib (small molecular EGFR-TKIs) are used to treat patients with EGFR-mutant NSCLC and show significant efficacy [
9
]. Nevertheless, cancer cells gradually acquire resistance to these drugs, resulting in progression and relapse [
10
]. Besides the transformation from NSCLC into small cell lung cancer (SCLC) and the process of epithelial to mesenchymal transition (EMT) [
11
], there are the other two main mechanisms involving in the process of resistance. Firstly, the genetically secondary EGFR mutations could get rid of the inhibition of respective TKIs [
12
,
13
]. Secondly, activation of bypass survival tracks via other RTKs or alternative downstream compounds also account for the acquired resistance [
14
] (Fig.
1
and Fig.
2
). In this review, we mainly focus on the latter mechanism and summarize the existing bypass tracks contributing to TKI resistance via EGFR-independent manners.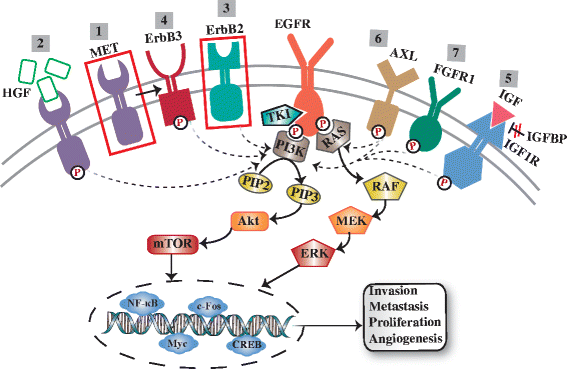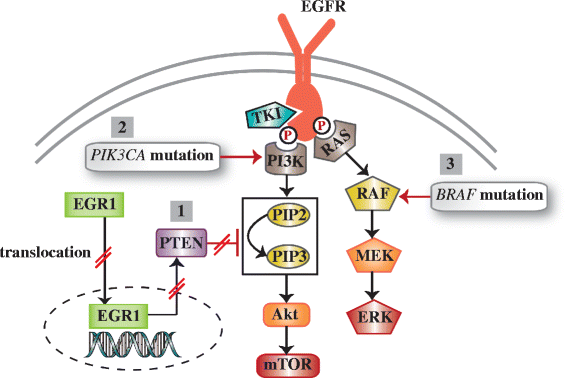 EGFR-triggered signaling pathways in cancers
RTKs are a kind of receptor for various growth factors, cytokines, and hormones. RTKs have a similar molecular structure: an extracellular ligand-binding region, a single hydrophobic transmembrane domain, and a cytoplasmic protein tyrosine kinase region plus additional carboxy terminal and juxtamembrane regulatory regions [3]. The RTK family mainly consists of ErbBs, fibroblast growth factor receptors (FGFRs), insulin-like growth factor receptors (IGFRs), vascular endothelial growth factor receptors (VEGFRs), and hepatocyte growth factor receptors (HGFRs) [3]. Thereinto, EGFR is a paradigm and its intracellular signaling pathways are relevant to the emergence and progression of various cancers, especially NSCLC. Binding with a specific set of ligands, such as epidermal growth factor (EGF), transforming growth factor-alpha (TGF-α), amphiregulin, betacellulin, or epiregulin, EGFR would form a homodimer by itself or form a heterodimer with other ErbB family members. Subsequently, the dimerization of EGFR would activate its cytoplasmic tyrosine kinases domain and then trigger a series of signal transduction [6, 15].
Two primary downstream signaling pathways of EGFR are the PI3K/Akt/PTEN/mTOR and the RAS/RAF/MEK/ERK (Fig. 1). Phosphorylated tyrosine kinase of EGFR acts as a docking site for PI3K which can stimulate the generation of phosphatidylinositol-3,4,5-triphosphate (PIP-3) and promote the activation of Akt [16]. Subsequently, the mammalian target of rapamycin (mTOR), a downstream target of Akt, is activated and provokes the expression of associated proteins needed for the cell cycle progression from the G1 to the S phase [17]. Accordingly, overactivation of this pathway suppresses apoptosis and stimulates tumor growth [18, 19]. Moreover, ligands-EGFR binding drives the MAPK signaling cascade. The dimerization of EGFR activates RAS leading to the phosphorylation of RAF-kinases which in turn phosphorylates MEK. And motivated MEK could impel the activation of ERK inducing to the production of subsequent cell cycle-associated transcription factors (Myc, c-Fos, CREB, NF-κB). And those functional transcription factors ultimately stimulate the cumulation of cyclin D catalyzing the division of cells [20].
EGFR-independent signaling pathways involved in TKIs resistance
Secondary RTKs-induced TKIs resistance
Abnormal activation of downstream compounds
Phosphatase and tensin homolog (PTEN) loss
PTEN, acting as a tumor inhibitor, negatively regulates the PI3K/Akt signaling cascade by converting PIP-3 back to PIP-2 [77, 78]. The loss of PTEN decreased erlotinib-induced apoptosis and induced erlotinib-resistance in EGFR-mutant cells via reactivation of Akt and EGFR [79, 80]. In the gefitinib-resistant PC-9 cell line model, reduced PTEN expression was relevant with increased Akt phosphorylation [81]. On the other hand, along with the high PTEN expression, the therapeutic efficacy of gefitinib and erlotinib was restored in the gefitinib-sensitive NSCLC PC-9 cell line. And knockdown of PTEN with siRNA in PC-9 cells contributed to acquired resistance to gefitinib and erlotinib [81]. Retrieval of PTEN expression also enhanced the sensitivity of prostate cancer cells to EGFR inhibition [82]. Furthermore, low expression of PTEN was detected in metastases samples from gefitinib-refractory NSCLC patients [81].
Mechanically, the transcription factor, EGR1, is responsible to the abnormal expression of PTEN. By a nuclear translocation manner, EGR1 played a positive role in regulating PTEN expression [83]. However, this manner was found to be suppressed in resistant cell models and be recovered in the revertant models [81]. It is clear that the expression of PTEN can be controlled by downregulated EGR1 at a transcriptional level.
PIK3CA and BRAF mutations
Mutational activation of the downstream signaling components, such as PI3K/Akt or MEK/ERK, which was independent on the EGFR was identified as a novel mechanism of TKIs resistance [84, 85]. PIK3CA gene encodes the catalytic subunit of PI3K and has occasionally mutation in lung cancer [84]. In a vitro study, PIK3CA mutation which led to sustained PI3K/Akt signaling conferred the resistance of EGFR-mutant HCC827 cells to gefitinib [86]. Whereafter, Sequist, LV et al. firstly demonstrated PIK3CA mutations in 5% EGFR-mutant patients with acquired resistance to EGFR-TKIs [84]. Combining TKI and PI3K inhibitor has been introduced to therapeutic intervention in cancers harboring PIK3CA mutations.
Additionally, BRAF, known as a member of RAS signaling pathway genes, was reported to be involved in pro-mitogenic activity and acquired resistance to EGFR TKIs in lung cancer and colorectal cancer through activating the MAPK signaling axis [87, 88]. BRAF mutations were generally existed in malignant melanoma (30%–40%), whereas it only accounted for approximately 1% of NSCLC [85]. Nevertheless, the small proportion of BRAF mutations resulted in negative results (poor prognosis) and provided cognition about mechanisms of acquired resistance to EGFR-TKIs in lung cancer [85].
Mechanisms of resistance to third generation EGFR-TKIs
Nowadays, the third generation EGFR-TKIs, including osimertinib, rociletinib (CO-1686), HM61713 (BI 1482694), ASP8273, EGF816, and PF-06747775, were widely introduced to replace the first generation EGFR-TKIs to overcome the status of drug resistance [89–92]. A recent clinical trial (NCT02151981) showed that AZD9291 significantly improved objective response rate (ORR) and PFS in T790 M-mutant NSCLC patients who had disease progression on first-line EGFR-TKIs [93]. Subsequently, patients were also resistant to these TKIs after 10 months of treatment, suggesting that additional mechanisms may reduce the efficacy of these inhibitors [13]. In vitro experiment identified three major mutants of EGFR (L718Q, L844 V, and C797S) in resistant cell clones. Among them, C797S mutation was a key factor conferring resistance to the third-generation inhibitors in the existence of del 19 [13].
Moreover, bypass tracts including amplifications of other tyrosine kinases or abnormal activation of downstream compound also mediated the resistance to third-generation TKIs. HER2 and MET amplifications led to poor response to CO-1686 and were detected in patients who had disease progression on CO-1686 or osimertinib treatment [94, 95]. Besides, in an AURA trial, re-biopsy tissues of 4 NSCLC patients with acquired resistance to osimertinib showed different mechanisms of resistance, including FGFR1 amplification, PTEN deletion, MAPK1 and Akt3 overexpression, and SCLC transition [96]. KRAS alteration resulting in increased RAS signaling existed in relapsed biopsy tissues and mutant KRAS transduced cells which were both less sensitive to third generation TKIs [95, 97]. Blocking alternative pathways may provide a promising strategy for improving the drug sensitivity and overcoming the resistance to third generation TKIs.
Conclusions and perspectives
Currently, the mechanism study on the resistance to EGFR-TKIs has attracted broad attention. There are two major ways involving the initiation and development of resistance to TKI. One is the secondary mutations of EGFR which alter the drug target site of EGFR so that prevent effective interaction with TKIs [9, 98]. Another is activation of bypass tracts via an EGFR-independent manner, such as motivating other RTKs or dysregulating downstream signaling components.
Based on the recognition of above resistant mechanisms, new clinical trials covering phase I-IV are emerging to provide therapeutic interventions adapting for patients with refractory or recurring cancers by inhibiting the alternative pathways [
99
–
101
] (Table
1
). Some of these trials had favorable results and now are available for clinical application. Moreover, new generation of TKIs are on their way to evade the resistance and enhance the therapeutic efficiency. Further clinical evaluation is required to offer individualized treatments for those specific patients.
Table 1
The EGFR-independent mechanisms of EGFR-TKIs resistance and relevant clinical trials
Mechanism

Frequency

Agents

Clinical Trials

Phase

Status

Reference

Secondary RTKs

MET amplification

5%–22%

Crizotinib

NCT02737501 (NSCLC)

NCT00932893 (NSCLC)

III

III

Ongoing

Has results

Tivantinib (ARQ197)

NCT01244191 (NSCLC)

NCT01575522 (breast cancer)

III

II

Completed

Has results

Cabozantinib (XL184)

NCT00596648 (NSCLC)

NCT01834651 (prostate cancer)

I/II

II

Completed

Has results

Capmatinib (INC280)

NCT01870726 (glioblastoma)

NCT03040973 (solid tumors)

I/II

IV

Completed

Recruiting

Onartuzumab (METMab)

NCT01456325 (NSCLC)

III

Completed

LY2875358

NCT01874938 (gastric cancer)

II

Completed

MSC2156119J

NCT01014936 (solid tumors)

I

Has results

HGF overexpression

29%–61%

Rilotumumab (AMG102)

NCT01233687 (NSCLC)

I/II

Has results

ErbB2 amplification

12%–37%

Afatinib

NCT02044380 (NSCLC)

III

Has results

Lapatinib

NCT00320385 (breast cancer)

III

Has results

Trastuzumab

NCT01419197 (breast cancer)

NCT00004883 (NSCLC)

III

II

Has results

Completed

ErbB3 activation

17%–52%

MM-121

NCT00994123 (NSCLC)

I/II

Has results

IGF1R activation

39–84%

Linsitinib (OSI-906)

NCT01533181 (SCLC)

II

Has results

Figitumumab

NCT00673049 (NSCLC)

III

Has results

AXL activation

20%

TP-0903

NCT02729298 (solid tumors)

I

Recruiting

[70]

FGFR activation

10%–20%

BGJ398

NCT01928459 (solid tumors)

I

Completed

Alternative downstream components

PTEN loss

9%

Ipatasertib

NCT02301988 (breast cancer)

II

Completed

[109]

PIK3CA mutation

5%

BYL719

NCT01708161 (solid tumors)

I/II

Completed

[84]

BRAF mutation

1%

Dabrafenib

NCT01619774 (melanoma)

II

Has results
Abbreviations
EGF:

Epidermal growth factor
EGFR:

Epidermal growth factor receptor
EMT:

Epithelial-mesenchymal transition
FGFRs:

Fibroblast growth factor receptors
HGF:

Hepatocyte growth factor
HGFRs:

Hepatocyte growth factor receptors
HRG:

Heregulin
IGFBP-3:

IGF binding proteins-3
IGFRs:

Insulin-like growth factor receptors
MAPK:

Mitogen-activated protein kinase
mTOR:

Mammalian target of rapamycin
NRG1:

Neuregulin 1
NSCLC:

Non-small cell lung cancer
ORR:

Objective response rate
PI3K:

Phosphatidylinositol 3-kinase
PIP-3:

Phosphatidylinositol-3,4,5-triphosphate
PTEN:

Phosphatase and tensin homolog
RTKs:

Receptor tyrosine kinases
SCLC:

Small cell lung cancer
shRNA:

Short hairpin RNA
siRNA:

Small interfering RNA
TGF-α:

Transforming growth factor-alpha
TKIs:

Tyrosine kinase inhibitors;
VEGFRs:

Vascular endothelial growth factor receptors
Declarations
Acknowledgements
Not applicable.
Funding
This review was supported by National Natural Science Foundation of China (Grant No. 81572608 and 81672984) and National Major Scientific Instruments and Equipments Development Project (2013YQ030923).
Availability of data and materials
The material supporting the conclusion of this review has been included within the article.
Authors' contributions
QL wrote the manuscript. SY,WZ, and SQ discussed and revised the manuscript. QC and KW designed the manuscript. All authors had read and approved the final manuscript.
Ethics approval and consent to participate
Not applicable.
Consent for publication
Not applicable.
Competing interests
The authors declare that they have no competing interests.
Publisher's Note
Springer Nature remains neutral with regard to jurisdictional claims in published maps and institutional affiliations.
Open AccessThis article is distributed under the terms of the Creative Commons Attribution 4.0 International License (http://creativecommons.org/licenses/by/4.0/), which permits unrestricted use, distribution, and reproduction in any medium, provided you give appropriate credit to the original author(s) and the source, provide a link to the Creative Commons license, and indicate if changes were made. The Creative Commons Public Domain Dedication waiver (http://creativecommons.org/publicdomain/zero/1.0/) applies to the data made available in this article, unless otherwise stated.
Authors' Affiliations
(1)
Department of Oncology, Tongji Hospital of Tongji Medical College, Huazhong University of Science and Technology, Wuhan, China