Advances in studies of tyrosine kinase inhibitors and their acquired resistance
Molecular Cancer
2018
17:36
Received: 15 October 2017
Accepted: 1 February 2018
Published: 19 February 2018
Abstract
Protein tyrosine kinase (PTK) is one of the major signaling enzymes in the process of cell signal transduction, which catalyzes the transfer of ATP-γ-phosphate to the tyrosine residues of the substrate protein, making it phosphorylation, regulating cell growth, differentiation, death and a series of physiological and biochemical processes. Abnormal expression of PTK usually leads to cell proliferation disorders, and is closely related to tumor invasion, metastasis and tumor angiogenesis. At present, a variety of PTKs have been used as targets in the screening of anti-tumor drugs. Tyrosine kinase inhibitors (TKIs) compete with ATP for the ATP binding site of PTK and reduce tyrosine kinase phosphorylation, thereby inhibiting cancer cell proliferation. TKI has made great progress in the treatment of cancer, but the attendant acquired acquired resistance is still inevitable, restricting the treatment of cancer. In this paper, we summarize the role of PTK in cancer, TKI treatment of tumor pathways and TKI acquired resistance mechanisms, which provide some reference for further research on TKI treatment of tumors.
Keywords
CancerProtein tyrosine kinaseTyrosine kinase inhibitorsAcquired resistance
Background
Malignant tumors have always been a serious threat to human life. Although the diagnostic and therapeutic levels have improved, many kinds of tumor survival rates have remained low. Anti-tumor research remains a challenging and significant field in the life sciences today. At present, the commonly used anti-tumor drugs are cytotoxic drugs. Cytotoxic cancer drugs are usually of high acute toxicity, which have the disadvantages of poor selectivity, strong side effects and easy to produce drug resistance [1]. In recent years, with the rapid progress of life science research, signal transduction in tumor cells, cell cycle regulation, induction of apoptosis, angiogenesis, the interaction of cells and extracellular matrix and other basic processes are being gradually clarified [2]. In addition, it is pointed out that these drugs may be very specific to certain cellular targets (e.g. DNA, tubulin) present in cancer as well as in normal cells. Using the key enzymes of cell signal transduction pathway associated with tumor cell differentiation and proliferation as drug screening targets, and developing high efficiency, low toxicity and specificity of new anticancer drugs acting on specific targets have become important direction of research and development of antitumor drugs today [3].
Protein tyrosine kinase (PTK) is a class of proteins with tyrosine kinase activity that catalyzes the transfer of phosphate groups on ATP to the tyrosine residues of many important proteins, making proteins phosphorylation, then transferring signal to regulate cell growth, differentiation, death and a series of physiological and biochemical processes [4]. PTK disorders can cause a series of diseases in the body. Previous studies have shown that more than 50% of the proto-oncogene and oncogene products have PTK activities, their abnormal expression will lead to cell proliferation regulation disorders, causing tumorigenesis finally [5]. In addition, PTK abnormal expression is also associated with tumor invasion and metastasis, tumor neovascularization and tumor chemotherapy resistance [6]. Therefore, PTK as a target for drug research and development has become a hot spot for anti-tumor drug research.
By the end of the century, so-called targeted cancer therapy with reduced side effects was made possible by advances such as specific monoclonal antibodies that bound to unique epitopes on the surface of cancerous cells and by small molecules. International major research institutions, pharmaceutical groups have attached great importance to PTK as the target drug research, such as selective tyrosine kinase inhibitors (TKI) that affected specific molecular pathways up-regulated in certain cancers [
1
]. The pro-spective molecular profiling of cancers to find such 'driver' abnormalities became feasible in clinical practice, allowing for routine genotype-directed rather than empiric therapy. In 2001, the first TKI drug imatinib was quickly approved by the FDA and opened up new ideas for cancer treatment. Until 2018 or beyond, a total of more than 20 kinds of TKI approved by the FDA [
7
–
13
], drug-related information as listed in Table
1
. These drugs have high selectivity, high efficacy, low side effects, ease of preparation, and have superiority in the treatment of chronic myeloid leukemia(CML), non-small cell lung cancer(NSCLC), renal cell carcinoma(RCC) than traditional cytotoxic antineoplastic agents [
14
], some have become the first-line drug for the treatment of cancer.
Table 1
TKI launched on market
| TKI | Time to market | Development company | Target | Application of disease |
| --- | --- | --- | --- | --- |
| Imatinib | 2001 | Novartis | Abl, PDGFR, SCFR | CML, GIST |
| Gefitinib | 2003 | AstraZeneca | EGFR | NSCLC |
| Nilotinib | 2004 | Novartis | Bcr-Abl, PDGFR | CML |
| Sorafenib | 2005 | Bayer | Raf, VEGFR, PDGER | Advanced RCC |
| Sunitinib | 2006 | Pfizer | PDGFR, VEGFR, | GIST, Advanced RCC |
| Dasatinib | 2006 | Bristol-Myers Squibb | Bcr-Abl, SRC, PDGFR | CML |
| Lapatinib | 2007 | GlaxoSmithKline | EGFR | Breast cancer |
| Pazopanib | 2009 | GlaxoSmithKline | VEGFR, PDGFR, FGFR | Advanced RCC,STS,NSCLC |
| Crizotinib | 2011 | Pfizer | ALK | NSCLC |
| Ruxolitinib | 2011 | Novartis | JAK1, JAK2 | myelofibrosis |
| vandetanib | 2011 | AstraZeneca | VEGFR, EGFR | Advanced Thyroid cancer |
| Axitinib | 2012 | Pfizer | VEGFR | Advanced RCC |
| Bosutinib | 2012 | Wyeth | Abl, SRC | CML |
| Afatinib | 2013 | Boehringer Ingelheim | EGFR | NSCLC |
| Erlotinib | 2013 | Roche | EGFR | NSCLC |
| Ceritinib | 2014 | Novartis | ALK | NSCLC |
| Osimertinib | 2015 | AstraZeneca | EGFR | NSCLC |
| Lenvatinib | 2015 | Eisai | VEGFR | DTC |
| Alectinib | 2015 | Roche | ALK | NSCLC |
| Regorafenib | 2017 | Bayer | VEGFR, EGFR | HCC, CRC,GIST |
| Neratinib | 2017 | Puma | HER2 | Breast cancer |
| Brigatinib | 2017 | Ariad | ALK | NSCLC |
Although TKI has made great strides in the treatment of cancer, it still faces some challenges. Because even in highly sensitive patients with TKI, tumor cells can always be self-adjusting, looking for a way out, to avoid TKI target, acquired resistance and the progress of the disease is still inevitable [15]. The median effective time for TKI therapy was only 5 to 9 months [16]. With our increased understanding of the spectrum of acquired resistance to TKI, major changes in how we conduct clinical research in this setting are now underway. In order to fight against resistance to TKI, the investigators should further study the mechanisms of their resistance and suggest a regimen that prevents or treats their resistance.
PTK and tumor
PTK is only found in multicellular animals and is an enzyme that activates and regulates cell proliferation signaling pathways. According to its structure, it can be divided into two categories: Receptor PTK (RTK) and Non-receptor PTK (NRTK). These two types of PTK can be further divided according to their structural homology multiple enzymes. Analysis of human genome data shows that there are 518 kinase genes in the human body, of which 90 have been identified PTK, including RTK 58 species and NRTK 32 species [17].
RTK includes epidermal growth factor receptor (EGFR), platelet-derived growth factor receptor (PDGFR), vascular endothelial growth factor receptor (VEGFR) and insulin receptor (InsR) family and so on. They usually have an extracellular domain that binds to a specific ligand, a transmembrane region, and an intracellular kinase domain that selectively binds to and phosphorylates the substrate [
18
]. RTK can bind to ligands and phosphorylate tyrosine residues of target proteins and transmit information through PI3K/AKT/mTOR; RAS/RAF/MEK/ERK; PLCγ/PKC and other signaling pathways to activate a series of biochemical reactions; or different information combined to cause a comprehensive cellular response (such as cell proliferation) (Fig.
1
) [
19
]. Clinical studies in cancer have shown that these receptors and their ligands are important in many tumors, and many cancers have over-expressed growth factors that cause excessive tyrosine phosphorylation signal into cells [
20
].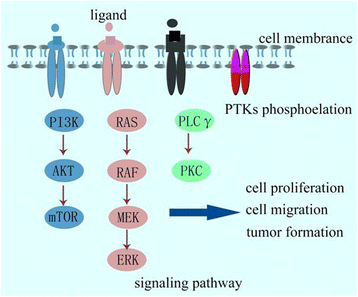 NRTKs generally have no extracellular structure. They are usually coupled to the cell membrane or present in the cytoplasm, including Abl kinase, Src kinase family and so on [21, 22]. NRTK performs signal transduction primarily through cytokine receptors, T-cell receptors and other signaling pathways. T lymphocyte receptors, B lymphocyte receptors, immunoglobulin receptors and so on can recruit NRTK, and then through tyrosine phosphorylation to form signal transduction complex, and then activate the downstream signal transduction, promote cells proliferation, lead to the formation of tumors [23].
Overexpression of the PTK gene enhances the activity of PTK and changes its downstream signaling pathways, causing cell proliferation disorders and eventually leading to tumor formation [5]; mutations in tumor tissue may cause PTK to spontaneously activate in the absence of a stimulus source or appear abnormal growth rate [24]; clinical studies have shown that PTK overexpression or decreased expression can show the biological characteristics of the tumor or predict the response to treatment and survival [25].
TKIs biology
TKI can compete ATP binding site of tyrosine kinase with ATP, reduce tyrosine kinase phosphorylation, thereby inhibiting cancer cell proliferation. It has the characteristics of high selectivity, small adverse reaction and convenient oral administration [64]. According to the main targets of different, these TKI can be divided into EGFR inhibitors, VEGFR inhibitors, anaplastic lymphoma kinase (ALK) inhibitors and Bcr-Abl inhibitors. The anti-tumor mechanism of TKI can be achieved by inhibiting the repair of tumor cells, blocking the cell division in G1 phase, inducing and maintaining apoptosis, anti-angiogenesis and so on [65–67].
TKI acquired resistance
Most cancer patients can relieve disease after using TKI, but acquired resistance remains a bottleneck in cancer targeted therapy [105]. TKI has a variety of mechanisms for drug resistance, the current researchers in the acquired resistance mechanism and its treatment strategy research has made great progress.
Conclusions
The mechanism of tumor drug resistance is complicated, and the new emerging mechanism remains to be further studied. On one hand, tumor has a multi-drug resistance mechanism or a escape pathway, combined treatment is possible to block the signal path. In clinical practice, we often need combined application of a number of different drugs to affect the tumor growth [154]. On the other hand, gene therapy technology can inhibit the expression of drug resistance gene mRNA, with a broad clinical application prospects [155, 156]. As the researchers on the tumor resistance mechanism continuously deepening and related treatment technology continuously develop, human can improve the effect of clinical chemotherapy, reverse the resistance of cancer. The potential to truly transform some types of metastatic oncogene-addicted cancers into chronic diseases may now lie within our reach.
Abbreviations
ALK:

Anaplastic lymphoma kinase
CML:

Chronic myeloid leukemia
CRC:

Colon and rectum carcinoma
CSF1R:

Colonial stimulating factor-1 receptor
DTC:

Differential thyroid carcinoma
EGFR:

Epidermal growth factor receptor
EML4-ALK:

Echinoderm microtubule associated protein-like 4-anaplastic lymphoma kinase
EMT:

Epithelial-mesenchymal transition
GIST:

Gastrointestinal stromal tumor
HCC:

Hepatic cellular carcinoma
HGFR:

Hepatocyte growth factor receptor
InsR:

Insulin receptor
NRTK:

Non-receptor PTK
NSCLC:

Non-small cell lung cancer
PDGFR:

Platelet-derived growth factor receptor
PTK:

Protein tyrosine kinase
RCC:

Renal cell carcinoma
RTK:

Receptor PTK
SCGFR:

Stem cell growth factor receptor
STS:

Soft tissue sarcoma
TKI:

Tyrosine kinase inhibitor
VEGFR:

Vascular endothelial growth factor receptor
Declarations
Acknowledgements
Not applicable.
Funding
This work was supported by the China Post doctoral International Exchange Program2015, National Natural Science Foundation of China (no. 81402193), Postdoctoral Innovation Project of Shandong Province (no. 147751), and Postdoctoral Science Foundation of China (no. 2015 M570597) to Y. Wang; by National Natural Science Foundation of China (no. 81500029), Natural Science Foundation of Shandong Province (no. BS2015YY05) to Q. Wang.
Availability of data and materials
The material supporting the conclusion of this review has been included within the article.
Authors' contributions
QLJ, QW, YSW designed and drafted the manuscript. LB, YDR, SLS discussed and revised the manuscript. All authors read and approved the final manuscript.
Ethics approval and consent to participate
This is not applicable for this review.
Consent for publication
This is not applicable for this review.
Competing interests
The authors declare that they have no competing interests.
Publisher's Note
Springer Nature remains neutral with regard to jurisdictional claims in published maps and institutional affiliations.
Open AccessThis article is distributed under the terms of the Creative Commons Attribution 4.0 International License (http://creativecommons.org/licenses/by/4.0/), which permits unrestricted use, distribution, and reproduction in any medium, provided you give appropriate credit to the original author(s) and the source, provide a link to the Creative Commons license, and indicate if changes were made. The Creative Commons Public Domain Dedication waiver (http://creativecommons.org/publicdomain/zero/1.0/) applies to the data made available in this article, unless otherwise stated.
Authors' Affiliations
(1)
International Biotechnology R&D Center, Shandong University School of Ocean, Weihai, China
(2)
School of Preclinical Medicine, Nanjing University of Chinese Medicine, Nanjing, China
(3)
Department of Anesthesiology, Qilu Hospital, Shandong University, Jinan, China