Biological functions of casein kinase 1 isoforms and putative roles in tumorigenesis
Molecular Cancer
2014
13:231
Received: 16 May 2014
Accepted: 26 September 2014
Published: 11 October 2014
Abstract
Isoforms of the casein kinase 1 (CK1) family have been shown to phosphorylate key regulatory molecules involved in cell cycle, transcription and translation, the structure of the cytoskeleton, cell-cell adhesion and receptor-coupled signal transduction. They regulate key signaling pathways known to be critically involved in tumor progression. Recent results point to an altered expression or activity of different CK1 isoforms in tumor cells. This review summarizes the expression and biological function of CK1 family members in normal and malignant cells and the evidence obtained so far about their role in tumorigenesis.
Keywords
Casein kinase 1TumorCancerMelanomaβ-cateninp53
Introduction
Protein kinases represent an important therapeutic target for drug development since they play a central role in signal transduction. By reversible phosphorylation of their substrate proteins, kinases exert influence on substrate activity, localization and function and thus play an essential role in almost all cellular processes. The casein kinases (CK) belong to the serine/threonine kinases and can be subdivided further into either casein kinase 1 (CK1) or casein kinase 2 (CK2) families due to their high homology in their catalytic domains [1]. This review focuses on the isoforms of the CK1 family, which have non-redundant and essential functions in cell survival and tumorigenesis [2].
In vertebrates, seven CK1 isoforms (α, β, γ1, γ2, γ3, δ and ϵ) and several splice variants for CK1α, δ, ϵ and γ3 have been identified [
1
,
3
]. The CK1β-isoform has only been found in cows. They differ in length and sequence of the N-terminal (9–76 amino acids) and especially the C-terminal (24–200 amino acids) non-catalytic domain (Figure
1
). By this, the molecular weight of the various CK1 isoforms ranges from 37 kD (CK1α) up to 51 kD (CK1γ3). The C-terminal domain plays a crucial role in substrate specificity and in the regulation of kinase activity [
1
,
3
–
5
]. The isoforms show a high homology, i.e. CK1δ and CK1ϵ are 98% identical in their kinase domain and 53% identical in their C-terminal regulatory domain [
6
]. Therefore, there is some redundancy with respect to substrate phosphorylation - however, there are also examples of distinct biological roles for the different CK1 isoforms.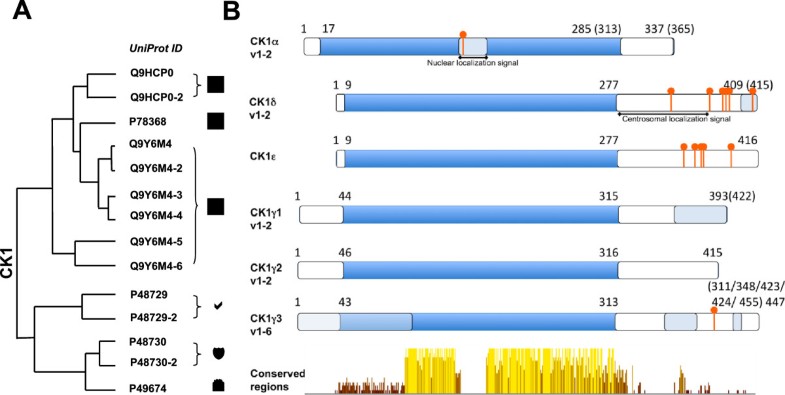 Conclusions
CK1 isoforms can influence the development and progression of tumor cells, although they seem to have different effects depending on the tumor types. Their ability to regulate several important signaling molecules is modulated in different types of tumors. This suggests that CK1 isoforms might be suitable targets for clinical intervention. Especially their ability to regulate p53 and Wnt-signaling, cell cycle progression and apoptosis induction makes them attractive targets in tumor therapy. Since the CK1 isoforms seems to have sometimes opposing roles in different tumor types it will be essential in future to validate the effect of specific CK1 isoforms in defined tumor types on cell cycle progression and signal transduction. Since several kinase inhibitors are in pre-clinical development there is hope that, among these, some of the most effective inhibitors could delay or inhibit tumor progression.
Declarations
Acknowledgements
This work was supported by the Deutsche Krebshilfe (110210) and the intramural funding program of the medical faculty of the University of Tübingen (fortüne 2198-0-0).
Authors' Affiliations
(1)
Department of Dermatology, Division of Dermatooncology, University of Tübingen, Tübingen, Germany
Copyright
© Schittek and Sinnberg; licensee BioMed Central Ltd. 2014
This article is published under license to BioMed Central Ltd. This is an Open Access article distributed under the terms of the Creative Commons Attribution License (http://creativecommons.org/licenses/by/4.0), which permits unrestricted use, distribution, and reproduction in any medium, provided the original work is properly credited. The Creative Commons Public Domain Dedication waiver (http://creativecommons.org/publicdomain/zero/1.0/) applies to the data made available in this article, unless otherwise stated.