Bright/ARID3A contributes to chromatin accessibility of the immunoglobulin heavy chain enhancer
Received: 12 February 2007
Accepted: 26 March 2007
Published: 26 March 2007
Abstract
Bright/ARID3A is a nuclear matrix-associated transcription factor that stimulates immunoglobulin heavy chain (IgH) expression and Cyclin E1/E2F-dependent cell cycle progression. Bright positively activates IgH transcriptional initiation by binding to ATC-rich P sites within nuclear matrix attachment regions (MARs) flanking the IgH intronic enhancer (Eμ). Over-expression of Bright in cultured B cells was shown to correlate with DNase hypersensitivity of Eμ. We report here further efforts to analyze Bright-mediated Eμ enhancer activation within the physiological constraints of chromatin. A system was established in which VH promoter-driven in vitro transcription on chromatin- reconstituted templates was responsive to Eμ. Bright assisted in blocking the general repression caused by nucleosome assembly but was incapable of stimulating transcription from prebound nucleosome arrays. In vitro transcriptional derepression by Bright was enhanced on templates in which Eμ is flanked by MARs and was inhibited by competition with high affinity Bright binding (P2) sites. DNase hypersensitivity of chromatin-reconstituted Eμ was increased when prepackaged with B cell nuclear extract supplemented with Bright. These results identify Bright as a contributor to accessibility of the IgH enhancer.
Keywords
Nuclear ExtractElectrophoretic Mobility Shift AssayNuclear MatrixChromatin AccessibilityNucleosome Array
Background
Numerous studies have demonstrated the requirement of the intronic enhancer (Eμ) in transcription of immunoglobulin heavy chains (reviewed in [1]). In vivo, Eμ is required for successful B-cell development, and in its absence, completion of antigen receptor assembly through VDJ recombination is blocked [2, 3]. Based on chromatin immunoprecipitation (ChIP) measurements of its histone modification status, Eμ assumes an accessible chromatin configuration specifically in B cells [4–6]. Conventional transcription factors may seize upon this B cell-accessible state to bind to Eμ for transactivation via VDJ-associated promoters (Fig. 1A). Transcriptional activators further exploit increasingly accessible chromatin structures to enhance their binding as B cells progress through development [7].
The Eμ core is flanked on both sides by nuclear matrix associating regions (MARs) (Fig.
1A,B
) [
8
]. As proposed for MARs in general, the Eμ MARs are thought to anchor higher order chromatin into discrete looped domains and to attach them to the nuclear matrix – a site where proteins essential for transcription might reside [
9
]. While the importance of the Eμ core is universally accepted, the role of their associated MARs remains controversial. The Eμ MARs were initially implicated in locus down-regulation [
10
–
12
], an argument strengthened by the observation that the enhancer core alone will activate gene expression in non-B cells [
12
]. Conversely, the Eμ MARs have been shown to stimulate IgH transcription in B cells (reviewed in [
13
]), perhaps by impacting chromatin structure of the enhancer [
14
–
17
]. For example, targeted
in vivo
deletion of both intronic MARs reduced IgH transcription 5–10 fold [
17
]. However, deletion of the endogenous MARs in a hybridoma cell line had modest effects, implying a redundant function for the MARs and the core enhancer in maintaining IgH expression [
18
]. Studies which examined the Eμ MARs in VDJ rearrangement have had variable outcomes, largely depending on the method used to delete the MARs and whether the endogenous locus or a transgenic locus was examined [
3
,
18
–
20
]. A requirement for MAR function
in vivo
but not in cell lines was most convincingly demonstrated by the finding that the Eμ MARs were necessary for generating long-range chromatin accessibility in ectopically integrated reporter gene constructs in transgenic mice [
16
,
17
].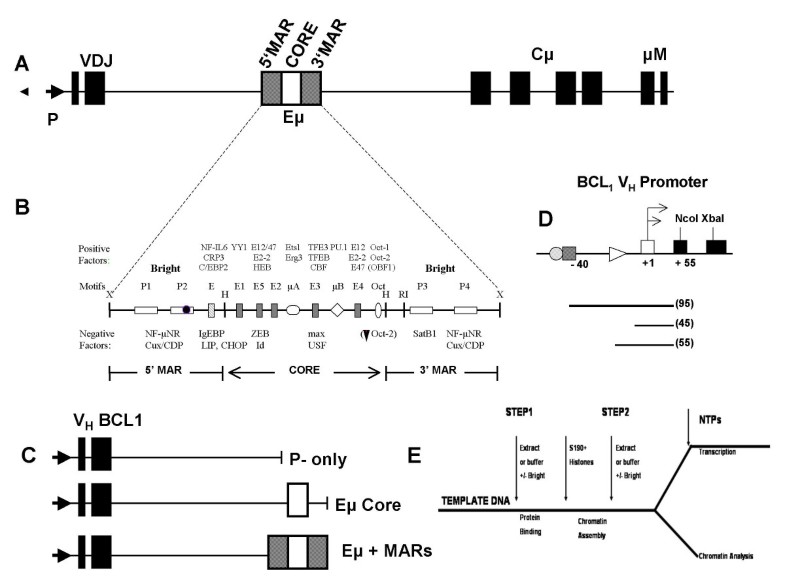 Bright, a nuclear matrix-associated, B cell-restricted r egulator of IgH t ranscription, binds with differential affinity to four ATC-rich motifs (P1–P4, Fig. 1B) within the Eμ MARs to activate transcription of IgH [21]. Bright is stage-specifically expressed in B lymphocytes, where it accumulates primarily within the cytoplasm and the nuclear matrix [22–24]. In addition to its participation in IgH transcription, a function for Bright in cell cycle regulation was suggested by the finding that a fraction of nuclear matrix-associated Bright fractionated into PML nuclear bodies [25]. Consistent with this notion, ectopic over-expression of Bright in embryonic fibroblasts leads to their immortalization via accumulation of Cyclin E and activation of E2F1 [26]. Potential relevance of these observations to B-cell malignancy is suggested by the finding that the sub-type of diffuse large B-cell lymphoma with the worst clinical prognosis has elevated levels of Bright [27, 28].
Bright is the founder of the 13-member (in humans) ARID (AT-R ich I nteraction D omain) family [29]. Bright/ARID3A and several other ARID members (or their fly or yeast orthologues) have been implicated directly or indirectly in chromatin remodeling [30–35]. As often seen with remodeling proteins, Bright has strict contextual requirements for transactivation [21, 30]. For example, Bright cannot transactivate via out-of-context, concatenated P binding sites, and transactivation is maximal on integrated substrates [21, 30]. Bright binding to its highest affinity P2 site within the Eμ 5' MAR induces severe (80–90)° bending [21, 30]. Over-expression of Bright in a mature B cell line induced DNAse I hypersensitivity extending through both Eμ MARs [30]. These results suggest that the enhancer assumes a more open chromatin configuration as a direct or indirect consequence of Bright.
To address the issue directly, we have examined Bright transcriptional activation in an Eμ-responsive chromatin-reconstituted in vitro system. Our results support a role for Bright, or a Bright complex which retains Eμ MAR binding, in chromatin remodeling of the enhancer.
Discussion
Numerous ubiquitous and B cell-specific transcription factors have been identified that transactivate the IgH enhancer (Fig. 1B; reviewed in [1]). Functional analyses underlying most characterizations have relied on transient reporter assays and have ignored to a large extent the physiological role of chromatin. Chromatin imposes an obligatory negative constraint upon enhancer accessibility. Thus, while conclusions derived from reporter approaches are valid in the context of accessible regulatory elements, they do not address many basic mechanisms of enhancer activation.
The concept of locus accessibility is at the heart of antigen receptor VDJ and class switch recombination (reviewed in [45]). However, few bonafide accessibility factors have been identified. Perhaps the best characterized Eμ accessibility factor is the ETS transcription factor family member, PU.1 [46, 47]. PU.1 functions through the interaction with another ETS protein, Ets-1, to transactivate Eμ and to stimulate enhancer accessibility in cultured cells via μB site binding (Fig. 1B) [48, 49]. Importantly, PU.1 was observed to stimulate in vitro transcription and Eμ accessibility from chromatin reconstituted templates [50]. In contrast, another essential Eμ-binding transactivator, E47, appears to function indirectly by weak binding to accessible μE5/μE2 sites (Fig. 1B) [51, 52].
We previously showed that Bright/ARID3A, when over-expressed in cultured WEHI 231 B cells, facilitated DNase I hypersensitivity of Eμ [30]. Four other members of the 13 member ARID family (including SWI1/p270 of SWI/SNF) have been directly or indirectly implicated in chromatin remodeling [31–35]. Prompted by these observations, we established a system in which transcription from in vitro assembled VH-promoter-driven templates was responsive to Eμ. We found that Bright could complement other B cell-derived factors to derepress the inhibitory effects of chromatin assembled on the enhancer. The Eμ flanking MARs were required for maximal Bright-mediated in vitro transactivation. We demonstrated that the DNase I hypersensitivity of chromatin assembled in vitro on the enhancer was increased by Bright. These data indicate a direct role for Bright and further support a role for the Eμ MARs in facilitating a fully accessible chromatin state of Eμ.
Our previous analysis [30] and unpublished MNase digestion experiments on isolated B cell nuclei suggested that Bright may function by Eμ nucleosomal disruption. The simplest mechanism to explain this effect would require that Bright reach the enhancer in the context of heterochromatin. However, the results reported here showed that Bright could alleviate chromatin-mediated repression only if it was delivered prior to chromatin assembly. That is, Bright cannot activate in vitro transcription by binding to a preformed nucleosome array. In contrast, in vitro assembled chromatin footprinting experiments revealed that PU.1 is capable of binding μB in the repressive context of chromatin [50]. The authors speculated that PU.1 might provide a platform for assembly of a "targesome", a protein complex required for a fully accessible chromatin structure [53]. Bright might participate in such a complex. However, as with PU.1 [50], our competition experiments indicated that Bright required an intact DNA binding site to mediate maximal Eμ chromatin accessibility. This suggests that Bright is recruited independently and perhaps subsequently to PU.1, through direct binding to its P site(s). Both PU.1 and Bright might function to clear out nucleosomes otherwise positioned over critical cis-acting regulatory elements within the Eμ core to provide accessibility to conventional DNA-binding transactivators.
Regulation of chromatin structure by conventional protein-DNA interactions is generally considered to act only proximal to the DNA binding site [54, 55]. MARs might offer an exception to this case. Forrester et al [16, 56] demonstrated that the Eμ MARs were required to obtain normal transcription initiation rates and to produce extended DNase I hypersensitivity across a VDJ-associated promoter over 2 kbp away. The mechanism underlying such distal accessibility induction is unknown, but it seems reasonable to speculate that a MAR-binding accessibility factor might contribute. As mentioned in the Background section, the contradictory evidence on Eμ MAR function rests to a large extent on whether the endogenous locus or a transgenic locus was investigated [3, 18–20, 34–36, 57]. For example, studies using chimeric mice with targeted deletion of the Eμ MARs reported that these elements were dispensable for VDJ recombination and transcription of the endogenous IgH locus [3]. However, while the endogenous and MAR-deleted alleles were expressed at similar levels in splenic IgM+ B cells [3], the total numbers of IgM+ B cells in mice with a MAR deletion were less than half of those observed in wild-type mice or mice with deletion of only the Eμ core. This suggests that deletions of the MAR elements may result in defects in B-cell development that have yet to be fully appreciated. The requirement for MAR function in transgenic animals, but not in cell lines or animals created from blastocyst fusions, is consistent with a MAR function in chromatin remodeling during early development or passage through the germline. This is consistent with the results of Forrester et al. [16] and those presented here.
In addition to Eμ, IgH-associated MARs often reside 5' of VH promoters [58–60]. A MAR upstream of the S107 variable region VH1 promoter was shown to contain specific Bright-binding P sites [59]. Indeed, Webb and colleagues have convincingly demonstrated that Bright can associate with both Bruton's tyrosine kinase and TFII-I to activate transcription of a S107 VH1 reporter through this proximal MAR in the absence of Eμ [61, 62]. The existence of VH and Eμ-associated MARs and the ability of Bright to form multimeric MAR binding complexes [21] offers the possibility of looping enhancers and promoters into close proximity to stimulate transcription through nuclear matrix attachment-mediated domain formation [23]. Whether the in vivo mechanisms underlying promoter-proximal (VH) and promoter-distal (Eμ) MAR-mediated transactivation by Bright are the same and can be accommodated by the looping model remain to be tested. In this context, we note that Bright levels in adult mice spike distinctly in large preB and mature B cells [22]. At the latter stage, maximal Bright expression and VH1 DNA binding are induced by mitogens and cytokines (e.g., LPS, IL-5, CD40L) that drive B lymphocytes into the cell cycle [21, 22]. Perhaps Bright might utilize quite different transactivation options and/or function through different IgH MAR-associated binding sites under circumstances in which accessibility of Eμ has already been established.
Finally, we suggest that Bright may contribute to chromatin remodeling at loci other than IgH. Bright was shown to rescue primary fibroblasts from natural replicative senescence or from premature senescence induced by oncogenic RASV12 [26]. As with several other ARID factors [31, 63], Bright binds retinoblastoma protein (Rb) (C. Schmidt and PWT, unpublished results), leading to the possibility that this tumour suppressor pathway is inactivated during senescence rescue. This hypothesis is consistent with the observation that Bright over-expression in MEFs activates E2F1 and Cyclin E1 [26]. Dean and colleagues [64] have provided a chromatin-based explanation for Rb/E2F transcriptional regulation which could accommodate a contributor with the properties of Bright.
Conclusion
We established a chromatin-reconstituted, in vitro transcription system which is responsive to the IgH enhancer. Our results support the conclusion that Bright contributes to enhancer function by increasing its accessibility through matrix attachment site binding.
Declarations
Acknowledgements
We thank Chhaya Das and Maya Ghosh for excellent technical assistance. We are grateful to Dr. James Kadonga for helpful discussions and generous sharing of reagents. We thank Dr. Daniel Peeper for Bright retroviral transduced fibroblasts, Paul Das for help with preparation of the manuscript, and members of our laboratory for critical comments. The work was supported by NIH grants 1F32CA110624-01A1 (GCI) and CA31534 (PWT) and the Marie Betzner Morrow endowment to PWT.
Authors' Affiliations
(1)
Section of Molecular Genetics and Microbiology and Institute of Cell and Molecular Biology, University of Texas at Austin, Austin, USA
Copyright
© Lin et al; licensee BioMed Central Ltd. 2007
This article is published under license to BioMed Central Ltd. This is an Open Access article distributed under the terms of the Creative Commons Attribution License (http://creativecommons.org/licenses/by/2.0), which permits unrestricted use, distribution, and reproduction in any medium, provided the original work is properly cited.