Integrin-mediated function of Rab GTPases in cancer progression
Molecular Cancer
2010
9:312
Received: 12 July 2010
Accepted: 9 December 2010
Published: 9 December 2010
Abstract
The RAS (rat sarcoma) superfamily of small GTPases is broadly subdivided into five groups: Ras, Rho, Rab, Ran, and Arf. Rab family proteins are important in regulating signal transduction and cellular processes such as differentiation, proliferation, vesicle transport, nuclear assembly, and cytoskeleton formation. However, some Rab proteins have been reported to be necessary for the adhesion and migration of cancer cells. Although Ras and Rho family members have been strongly implicated in cancer progression, knowledge of Rabs action in this regard is limited. Some reports have also linked Rab GTPases with cancer cell migration and invasiveness. This review discusses the implications of the involvement of Rabs in malignant transformation and cancer therapy through integrin-mediated signaling events, with particular emphasis on breast cancer.
Keywords
IntegrinFocal Adhesion KinaseEarly EndosomePromote Cell MigrationEps15 Homology
Introduction
Ras-associated binding (Rab)-GTPases are members of the Ras family of small GTPases. They are abnormally expressed in different cancer tissues. Almost 70 Rabs and Rab-like proteins are encoded by the human genome. Some of these are tissue-specific; most of them are ubiquitously expressed (Figure
1
). Rabs participate in receptor cargo collection during transport vesicle formation and enable motor proteins to interact with membranes to drive vesicle motility, mediating the complex events of accurate docking and fusion of transport vesicles with their targets. Protein-protein interactions are important for localization of Rabs in mammalian cells [
1
].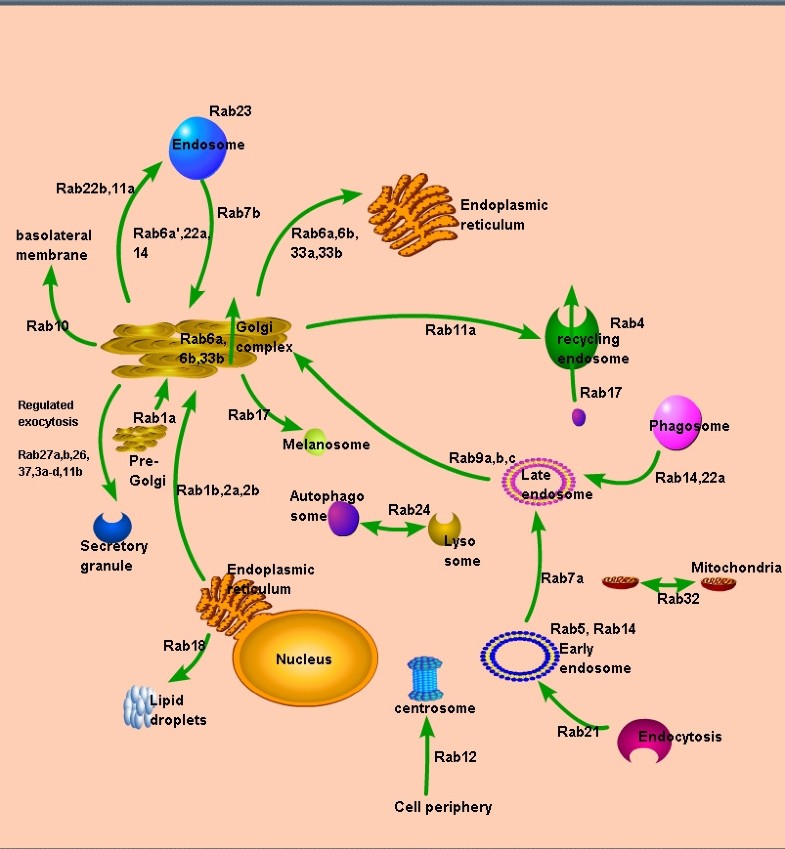 Rab GTPases mediate vesicle formation and vesicle movement along with actin and tubulin, and membrane fusion [2]. This process is involved in cell migration with lamellipodial formation. The Rab subfamily terminates in a set of cysteine-containing C-terminal motifs that allow modification of Rab GTPases to various membrane locations by geranyl-geranyl transferase II [3]. The Rab regulators promote a switch between the GDP-bound off-state and a GTP-bound on-state. The switch between GDP and GTP bound forms of Rab GTPases occurs through major conformational changes in two variable regions, Switch I and Switch II. GDP to GTP conversion is catalyzed by guanine nucleotide exchange factors (GEFs), which recognize particular residues in the switch regions and cause GDP release. The switch from GTP to the GDP bound form occurs through GTP hydrolysis, which is catalyzed by GTPase-activating proteins (GAPs) [4, 5]. At times, Rab GTPases exist in GDP bound forms. This is caused by Rab GTPase dissociation inhibitor (GDI), which prevents the release of GDP from Rab. For specific recognition, a vesicle and its target are coded by a unique compliment of Rab GTPases [6]. Thus, it is important to understand the intracellular signaling of Rab proteins in various cells to find new molecular approaches to cancer biology. We briefly summarize the functions of all major Rab proteins in vesicular trafficking; describe their function in endosomes and the importance of Rabs in cancer biology; and discuss the importance of integrins in the regulation of Rab functions.
Localization and function of Rab GTPases
A total of 51 Rab and Rab-related proteins have been functionally characterized. As shown in Figure 1, several Rabs are localized in endoplasmic reticulum (ER) and involved in transport from ER to Golgi. Some Rabs are localized in endosomes, clathrin-coated vesicles, plasma membrane, membrane ruffles, and secretory granules (Figure 1). These Rabs have a wide variety of functions that include, but not limited to, trafficking between Golgi and endosomes, phagocytosis, the assembly of adherens junctions, trafficking of sonic hedgehog signaling components, mitochondrial dynamics, and neuroendocrine secretion (Figure 1, Additional File 1). Here we briefly discuss the function of Rab and Rab-related proteins in membrane trafficking.
Rab GTPases are involved in regulating membrane trafficking between organelles through the recruitment of effector proteins. Immunodeficiencies, cancer, and neurological disorders are associated with functional impairments of Rab signaling pathways. Many important reports have linked Rab GTPases to cancer cell migration and invasiveness. The two Rab GTPases, Rab5 and Rab21, are associated with subunits of alpha-integrin, altering their endosomal traffic and subcellular localizations.
The regulated trafficking of vesicles to the cell surface is fundamental to all cells. Rab proteins are key mediators of vesicle transport. Rab GTPases are important in delivering cargos to correct destinations and control vesicle budding, as well as the uncoating and motility of vesicles. Rab GTPases, with the help of their effectors ensure the spatio-temporal regulation of vesicle traffic. Furthermore, temporal and spatial regulation of membrane trafficking events is important for membrane identity and cell polarity.
Although the exact mechanism of targeting different Rab GTPases is not clear, membrane-bound GDI displacement factors have an important function in recognizing specific Rab GDI complexes and allowing GDI release. This release helps in the association between geranyl-geranylated Rab GTPases and the appropriate membranes. An important step in intracellular trafficking is cargo selection into specific transport vesicles. Membrane curvature, lipid composition, and Rab GTPases determine the specific coat recruitment to particular intracellular membranes. Rab 9 and Rab 5 are two good examples of Rab GTPases that are involved in cargo selection [7, 8]. Rab 9 is involved in cargo specific-coat assembly for the recycling of mannose phosphate receptors from late endosomes to the trans-Golgi network. Rab 5 is important in cargo sequestration, and is crucial for the assembly of clathrin-coated pits and clathrin-mediated endocytosis of transferring receptors.
Some Rab GTPases control several crucial events in vesicle budding from donor membranes, including coat assembly, cargo selection, and physical budding. Vesicle coat complexes are important for cargo sequestration and membrane budding; however, the coat complexes interfere with membrane fusion and thus need to be shed before association with an acceptor membrane can occur. For example, Rab5, the GEF and GAP of Rab 5 are involved in uncoating events [9]. Actin filaments and microtubules regulate the direction and accuracy of vesicle delivery. Rab GTPases proofread the specific attachment of motors to vesicles. For example, Rab 27A recruits melanophilin to connect melanosomes to myosin Va [10]. Rab GTPases also mediate vesicle docking or fusion. Some Rab GTPases enhance fusion of TGN-derived vesicles with the plasma membrane. Rab5 is required for homotypic early endosome fusion and the fusion of endocytic vesicles to endosomes [11].
Several reports have indicated that Rab proteins can bind to various proteins to facilitate membrane transport [reviewed in[12]]. Active Rab proteins are also required for vesicle budding. Membrane budding to form vesicles involves interaction between several proteins. First, Rab proteins are recruited and activated at the donor membrane, where they are important in vesicle budding. Second, Rab proteins facilitate transport along the cytoskeleton. Finally, they are involved in docking and fusion. Thus, Rab proteins control several events during vesicular transport [12].
Involvement of Rab GTPases in different Cancers
Some Rab GTPases regulate tumorigenesis via trafficking mediated events and some function in a trafficking independent way (Figure
2
). In this section, we will discuss both of them.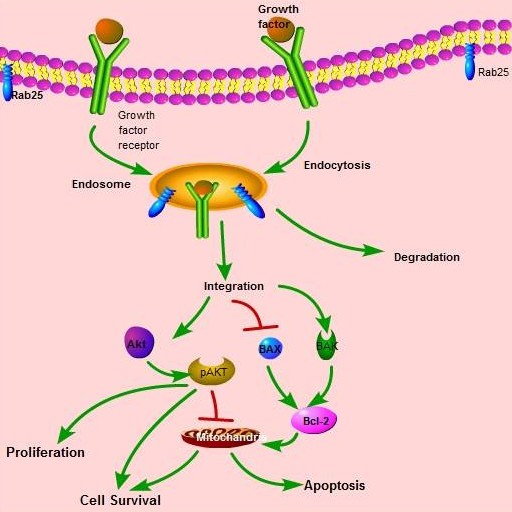 Conclusion
The involvement of Rab GTPases in regulating membrane trafficking between organelles occurs by recruitment of effector proteins. Immunodeficiencies, cancer, and neurological disorders are associated with functional impairments of Rab signaling pathways [12]. Alteration or mutation of Rab proteins and/or their effectors may cause many human diseases, including cancer.
Alterations in Rab25, Rab7, Rab5, and Rab11 have been reported to cause different types of cancers. Neuronal dysfunction is caused by abnormalities in Rab1 and Rab7; retinal degeneration is caused by abnormalities in Rab8; and both immune and pigmentation disorders are caused by abnormalities in Rab27 and Rab38 [18, 64–66]. Hence, Rab GTPases could serve as primary drug targets. Their interactive molecules may provide pathways for novel therapeutic interventions.
Declarations
Acknowledgements
This work was supported by grants from Susan G. Komen (BCTR0600278), Louisiana Board of Regents (LEQSF-RD-A-14) and National institute of Health (CA115706), and funds from the Louisiana Cancer Research Consortium to S.K.A.
Authors' Affiliations
(1)
Department of Biochemistry, Stanley S. Scott Cancer Center, New Orleans, USA
Copyright
© Subramani and Alahari; licensee BioMed Central Ltd. 2010
This article is published under license to BioMed Central Ltd. This is an Open Access article distributed under the terms of the Creative Commons Attribution License (http://creativecommons.org/licenses/by/2.0), which permits unrestricted use, distribution, and reproduction in any medium, provided the original work is properly cited.