Co-deleting Pten with Rb in retinal progenitor cells in mice results in fully penetrant bilateral retinoblastomas
Molecular Cancer
2015
14:93
Received: 15 October 2014
Accepted: 6 April 2015
Published: 24 April 2015
Abstract
Background
Rb1 is the most frequently mutated gene in the pediatric cancer retinoblastoma, and its loss causes E2F transcription factors to induce proliferation related genes. However, high E2F levels following pRB loss also induce apoptosis-promoting genes as a safeguard mechanism to suppress emergent tumors. Although p53 accumulation and apoptosis induction is believed to be a primary mechanism to eliminate cells with excess E2F activity, p53 deletion doesn't suppress RB/E2F induced apoptosis in vivo in the retina. This prompted us to test the PTEN/PI3K/AKT signaling pathway on RB/E2F apoptosis suppression in vivo, to ascertain if the PI3K pathway may provide a potential avenue for retinoblastoma therapy.
Methods
We developed a mouse model in which Rb1 and Pten were conditionally deleted from retinal progenitor cells using Chx10-Cre, whereas Rbl1 (p107) was constitutively deleted. Pathway components were also tested individually by in vivo electroporation into newborn retinas for an effect on apoptosis and tumor initiation. Mouse retinal tissues were analyzed by immunohistochemistry (IHC) for proliferation, apoptosis, and pathway activation. ShRNAs were used in vitro to assess effects on apoptosis and gene expression.
Results
Co-deleting Pten with Rb1 and Rbl1 in mouse retinal progenitor cells (RPCs) causes fully penetrant bilateral retinoblastomas by 30 days and strongly suppresses Rb/E2F-induced apoptosis. In vivo electroporation of constitutively active (ca)-Pik3ca, ca-Akt, or dominant-negative (dn)-Foxo1 into apoptosis prone newborn murine retina with deleted Rb/p107 eliminate Rb/E2F induced apoptosis and induce retinoblastoma emergence. Retinal deletion of Pten activates p-AKT and p-FOXO1 signaling in incipient retinoblastoma. An unbiased shRNA screen focusing on Akt phosphorylation targets identified FOXOs as critical mediators of Rb/E2F induced apoptosis and expression of Bim and p73 pro-apoptotic genes.
Conclusions
These data indicate that we defined a key molecular trigger involving E2F/FOXO functioning to control retinal progenitor cell homeostasis and retinoblastoma tumor initiation. We anticipate that our findings could provide contextual understanding of the proliferation of other progenitor cells, considering the high frequency of co-altered signaling from RB/E2F and PTEN/PI3K/AKT pathways in a wide variety of normal and malignant settings.
Keywords
RBE2F1RetinoblastomaPTENApoptosis
Background
Retinoblastoma is a rare pediatric cancer of the retina that is fatal if left untreated. Although success rates for retinoblastoma treatment are high (>90%) in the U.S., treatment often involves removal of one or both eyes and loss of vision. Also, many patients in developing countries refuse eye removal and die from tumor metastasis. Continued improvements in therapy are needed to reduce the need for this extreme treatment. This has prompted investigators to identify genetic pathways that control retinal development, and investigate how these pathways may provide molecular targets that contribute to retinoblastoma development so that they may be targeted therapeutically with chemical inhibitors in conjunction with standard chemotherapeutic regimens.
Retinal development demands that specific cell types are generated from RPCs in the proper numbers and positioned in the correct location [1]. Mature vertebrate retinae are comprised of seven cell types stratified into distinct layers: the outer nuclear layer (ONL), outer plexiform layer (OPL), inner nuclear layer (INL), inner plexiform layer (IPL), and ganglion cell layer (GCL). Co-deletion of the pRB and p107 pocket proteins increases the number of RPCs still present at birth and predisposes to a tumor phenotype, indicating a role for these proteins in retinal terminal differentiation [2-4].
pRB functions widely in human tumor suppression and regulates proliferation by binding to and inhibiting the E2F family of transcription factors. However, E2F1 also induces an apoptotic gene expression program, which has been postulated to suppress tumor initiation by eliminating cells that have acquired a single oncogenic mutation in the RB pathway [5]. Surprisingly, deep sequencing of human retinoblastoma tumors has uncovered an extremely low mutation rate, with only the RB1 gene itself emerging as a highly mutated gene in this cancer [6]. Thus, it is unclear exactly how apoptosis is suppressed in retinal tissue upon RB inactivation during normal development or retinoblastoma tumor initiation.
E2F1 is required for pro-apoptotic signaling following pocket protein deletion in the retina [7]. It is widely believed that the p53 tumor suppressor protein is the primary apoptotic effector of deregulated E2F activity. E2Fs can directly induce p14ARF expression, which binds and inhibits MDM2, an E3 ubiquitin-ligase for p53 [8]. A number of studies have pointed towards an indirect loss of the p53 pathway in mouse and human retinoblastomas, through alterations in levels or function of p19ARF, MDM2 or MDMX [9-12]. However, RB/E2F induced cell death is not attenuated in retinal cells deficient in Rb1/p107/Trp53 or CDKN2B (p19 ARF ) [2,9,13], although MDMX overexpression can block cell death [11]. Likewise, high MDM2 blocks cell death in Rb-deficient cone precursor cells [14].
This prompted us to test the PTEN/PI3K/AKT signaling pathway on RB/E2F apoptosis suppression in vivo, which can block RB/E2F-induced cell death in tissue culture models, to ascertain if the PI3K pathway may provide a potential avenue for retinoblastoma treatment [15,16]. The PTEN tumor suppressor gene encodes a lipid phosphatase that antagonizes phosphatidylinositol-3 kinases (PI3K) by dephosphorylating phosphatidylinositol 3,4,5-triphosphate, and both genes are frequently lost in many human cancers [17,18]. PTEN loss or PI3K activation leads to activation of AKT, a serine/threonine kinase that directly phosphorylates a wide variety of targets to control survival, protein synthesis and glucose metabolism [19]. Several genetic alterations in retinoblastoma implicate PTEN/PI3K/AKT pathway activation. First, activating mutations in PIK3CA have been detected in human retinoblastoma [20]. Second, the SYK proto-oncogene kinase, a strong activator of PI3K/AKT signaling in other cancers such as diffuse large B-cell lymphomas, is epigenetically modified and upregulated in some retinoblastomas to suppress apoptosis [6,21]. Third, the MIRC1 (miR-17-92) microRNA cluster, which can activate AKT in a variety of contexts, is amplified and linked to cell death suppression in human retinoblastoma, and its overexpression in retinal cells with Rb1 and p107 deletion promotes rapid retinoblastoma [22-24].
To better understand how RB/E2F and PTEN/PI3K/AKT pathways control RPC homeostasis and apoptosis in vivo, we co-deleted Rb1, Rbl1 (p107) and Pten, in mouse RPCs. Their co-deletion suppressed RB/E2F induced cell death, unlike p53 deletion, and promoted rapid retinoblastoma emergence. We found that the PI3KCA/AKT/FOXO1 signaling pathway mimics Pten deletion in vivo in the retina, converging with the RB/E2F pathway to control apoptosis and retinoblastoma tumor formation. FOXOs are a family of transcription factors (FoxO1, FoxO3, FoxO4, and FoxO6) present in all eukaryotes that function in cell death, cell-cycle arrest, DNA repair, cell differentiation, glucose metabolism, and protection from oxidative stress. Their phosphorylation by AKT causes their inactivation through loss of DNA binding activity or cytoplasmic relocalization [25]. It has recently been shown that the E2F1 and FoxO1 transcription factors physically associate to control expression of the pro-apoptotic Apaf1 gene in vitro, but the effects of this complex in suppressing tumor onset in vivo is completely unknown [26]. Our study reveals that the E2F1/FOXO1 complex suppresses retinoblastoma emergence by inducing cell death in the retina, in part through their combined transcriptional regulation of the retinal pro-apoptotic gene Bim. Because E2F1 and FOXO1 are not normally simultaneously functional in the nucleus, they require certain oncogenic stresses, such as loss of RB function, to trigger an apoptotic response and suppress tumor emergence. As such, E2F1/FOXO1 apoptotic and tumor suppressive functions are disabled during normal growth, and in emerging tumors, by the coordinated signaling of the PI3KCA and AKT, which directly disables FOXO1 function.
Discussion
Loss of the RB pathway in retinoblastoma and other cancers strongly activates E2F transcription factor function, which coordinates a large-scale gene expression program for the purpose of DNA replication and mitosis, but also of apoptosis and senescence as a putative safeguard mechanism. E2F1 co-deletion in ΔRb1/p107-deleted retina potently blocks apoptosis, but tumors fail to develop because proliferation is also disabled, indicating that E2F1 is required for both pro-apoptotic and pro-proliferatory signaling upon pocket protein deletion [7]. This work demonstrates that Pten deletion, activation of the PI3K/AKT pathway, or suppression of FOXO activity eliminates cell death caused by E2F1 in vivo in the retina and also induces rapid, bilateral retinoblastoma emergence.
A model integrating these observations suggests that RPCs with normal RB and PTEN function do not proliferate owing to low E2F levels (Figure
5
). Loss of RB/p107 activates E2F function to initiate proliferation; however, E2F1/FOXO apoptosis induction suppresses tumor initiation. Deleting PTEN activates p-AKT and enforces FOXO1 inactivation, thereby allowing E2Fs to continue their proliferative, but not apoptotic, target gene induction, which causes rapid bilateral retinoblastoma emergence. Because E2F1 and FOXOs are not normally simultaneously functional in the nucleus, they require certain oncogenic stresses, such as loss of RB function, to trigger an apoptotic response and suppress tumor emergence.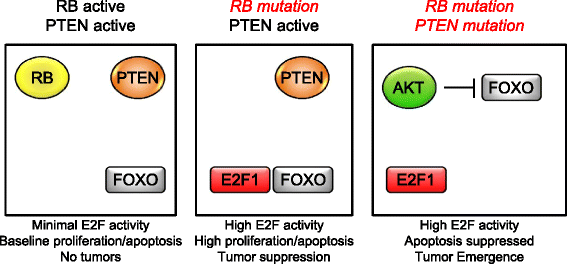 Other studies in a variety of species have also demonstrated an anti-apoptotic or pro-tumorigenic role for these pathways in the retina. Normal retinal development requires specific trophic factors, which induce differentiation concomitant with PI3K/AKT pathway activation. PI3K or AKT inactivation following growth-factor withdrawal induces expression of the FOXO target gene Bim, leading to ganglion cell death in vitro and in vivo [33]. Likewise, direct FOXO expression induces apoptosis in the retina of Xenopus laevis and Drosophila melanogaster [34,35]. PTEN overexpression in D. melanogaster eyes induces differentiating cells to undergo apoptosis, suggesting that AKT activation may be crucial for suppressing cell death during RPC exit from proliferation [36]. Transgenic activation of p65PI3K in the mouse retina promotes retinal dysplasia and mediates cell survival, particularly in the neuroblastic layer [37]. This suggests that this abnormal proliferation could also pertain to the abnormal ONL morphology and increased cell number we see in our control mice transfected with ca-Akt and dnFOXO1 (Figure 2A). These pathways also link altered cell death to other retinal diseases. Insulin depletion in vivo in mice with underlying rod cell degeneration reduces PI3K activity and causes cell death in cone photoreceptors, leading to retinitis pigmentosa [38]. Diabetic retinopathy, which can lead to blindness, is an end stage effect of excess cone cell death and is also associated with decreased PI3K/AKT signaling [39]. Together, these findings indicate that excess PI3K/AKT pathway signaling in the retina can contribute to tumorigenesis, whereas its depletion potentially causes premature retinal degeneration.
RB and PTEN deletion appear to affect RPC homeostasis. Co-deletion of Rb1 and p107 in RPCs promotes RPC cell-cycle entry and self-renewal by delaying terminal differentiation, but also induces massive cell death [4,29]. Pten deletion in the retina leads to elevated proliferation of RPCs in day 0 pups, but by day 4 the proliferation decreases to a level below that of control retina [40]. This phenotype is reminiscent of Pten deletion in hematopoietic stem cells (HSCs), where it promotes proliferation, but not self-renewal, leading to stem cell exhaustion after several days [41]. The combined deletion of Foxo1, Foxo3, and Foxo4 in HSCs comparably increases numbers of committed progenitors but decreases long-term HSC numbers, which exhibit reduced bone marrow repopulation in recipient mice [42,43]. Similar effects were observed in neural stem cells following combined Foxo deletion [44].
Conclusions
Our studies have elucidated a molecular link between the RB and PTEN tumor suppression programs in RPC stem cell homeostasis. Loss of PTEN, or inactivation of FOXOs, in the retina do not induce tumorigenesis on their own. But when combined with the self-renewal promoting capacity of ΔRB/p107, the normally associated cell death is prevented and bilateral retinoblastomas quickly emerge. This model is potentially applicable to the wide variety of cancers that co-mutate RB and PI3K/PTEN (for example breast, ovarian, glioma, prostate, and lung), and it will be interesting to determine the extent to which other cells similarly activate PI3K and Akt to inactivate FoxOs and suppress cell death during RB/E2F mediated expansion.
Abbreviations
ca:

Constitutively active
dn:

Dominant-negative
RPCs:

Retinal progenitor cells
ONL:

Outer nuclear layer
OPL:

Outer plexiform layer
INL:

Inner nuclear layer
IPL:

Inner plexiform layer
GCL:

Ganglion cell layer
DKO:

Double knockout (Chx10-Cr; Rb lox/lox; p107 −/− )
TKO:

Triple knockout (Chx10-Cre; Rb lox/lox./ ; p107 −/− ; Pten lox/lox )
IHC:

Immunohistochemistry
qPCR:

Quantitative PCR
siRNA:

Small interfering RNA
ad:

Adenovirus
Declarations
Acknowledgements
This work was funded by grants to T.H. from NIH (R01CA168622), AHA Scientist Development Grant (#11SDG5260019), March of Dimes (CON000000014282), and the Children's Cancer Research Fund, Minneapolis, MN.
Authors' Affiliations
(1)
Department of Pediatrics, University of Minnesota, Minneapolis, USA
(2)
Department of Surgery, University of Minnesota, Minneapolis, USA
(3)
Department of Laboratory Medicine and Pathology, University of Minnesota, Minneapolis, USA
(4)
BioNet, Academic Health Center, University of Minnesota, Minneapolis, USA
(5)
Department of Veterinary Population Medicine, University of Minnesota, St Paul, USA
Copyright
© Xie et al.; licensee BioMed Central. 2015
This is an Open Access article distributed under the terms of the Creative Commons Attribution License (http://creativecommons.org/licenses/by/4.0), which permits unrestricted use, distribution, and reproduction in any medium, provided the original work is properly credited. The Creative Commons Public Domain Dedication waiver (http://creativecommons.org/publicdomain/zero/1.0/) applies to the data made available in this article, unless otherwise stated.