Detection of cancer cells using SapC-DOPS nanovesicles
Molecular Cancer
2016
15:33
Received: 18 February 2016
Accepted: 3 May 2016
Published: 10 May 2016
Abstract
Unlike normal cells, cancer cells express high levels of phosphatidylserine on the extracellular leaflet of their cell membrane. Exploiting this characteristic, our lab developed a therapeutic agent that consists of the fusogenic protein, saposin C (SapC) which is embedded in dioleoylphosphatidylserine (DOPS) vesicles. These nanovesicles selectively target cancer cells and induce apoptosis. Here we review the data supporting use of SapC-DOPS to locate tumors for surgical resection or for treatment. In addition, there is important evidence suggesting that SapC-DOPS may also prove to be an effective novel cancer therapeutic reagent. Given that SapC-DOPS is easily labeled with lipophilic dyes, it has been combined with the far-red fluorescent dye, CellVue Maroon (CVM), for tumor targeting studies. We also have used contrast agents incorporated in the SapC-DOPS nanovesicles for computed tomography and magnetic resonance imaging, and review that data here. Administered intravenously, the fluorescently labeled SapC-DOPS traversed the blood–brain tumor barrier enabling identification of brain tumors. SapC-DOPS-CVM also detected a variety of other mouse tumors in vivo, rendering them observable by optical imaging using IVIS and multi-angle rotational optical imaging. Dye is detected within 30 min and remains within tumor for at least 7 days, whereas non-tumor tissues were unstained (some dye observed in the liver was transient, likely representing degradation products). Additionally, labeled SapC-DOPS ex vivo delineated tumors in human histological specimens. SapC-DOPS can also be labeled with contrast reagents for computed tomography or magnetic resonance imaging. In conclusion, labeled SapC-DOPS provides a convenient, specific, and nontoxic method for detecting tumors while concurrently offering a therapeutic benefit.
Keywords
Phosphatidylserine
Cancer
Tumor imaging
Contrast agents
Saposin C
SapC-DOPS
Background
Phosphatidylserine and cancer
Phospholipids are arranged asymmetrically in cell membranes, with neutral phospholipids on the outer leaflet and anionic phospholipids, such as phosphatidylethanolamine and phosphatidylserine (PS), located primarily on the inner leaflet of the membrane [1–3]. A translocase, the flippase complex, selective for PE and PS, is an ATP-dependent pump that catalyzes rapid inward migration of these phospholipids [1] to maintain this configuration. Collapse of this asymmetry is an early process in apoptosis that results in the translocation of PS to the exterior of the cell. In a normal cell undergoing apoptosis, the externalized PS serves as a trigger for phagocytes, particularly macrophages, to engulf the cell, minimizing inflammation [4, 5].
Although cancer cells and their associated tumor vasculature also exhibit a high level of PS on the outer leaflet [6–9], this externalized phospholipid is not associated with apoptosis. Critically, the mechanisms by which cancer cells actually resist phagocytosis remain incompletely understood [9]. Compared with non-malignant cells, expression of PS on the cell surface is a consistent marker of malignancy in both primary and metastatic cell lines [6–12]. In their study focused on difficult-to-treat primary cancers, including metastatic melanoma, glioblastoma, and metastatic lesions, Riedl et al. [11] demonstrated the specificity of abundant externalized PS for malignant tumors. While virtually all cancer cells exhibit high external PS compared with normal cells, the quantity of surface PS varies widely among different cancer cells, even of the same type [10, 12]. The increase in surface PS has led to the use of a number of proteins or peptides that bind to PS to study apoptotic and tumor cells [2, 4, 13]; among these are annexin A5 (ANXA5), an endogenous anticoagulant protein, and lactadherin (MFGE8) [2, 14], a major glycoprotein in milk that promotes cellular adhesion. Additionally, monoclonal antibodies to PS have been generated that demonstrate anti-tumor activity [6, 15]. All of these have been conjugated to a number of markers to detect the location of PS.
In this review, we discuss Saposin C-Dioleoylphosphatidylserine (SapC-DOPS), a stable nanovesicle that specifically binds PS but, importantly, also has demonstrated therapeutic properties against a variety of cancer types. Given the specificity of SapC-DOPS for cells that have undergone neoplastic transformation and the resultant enhancement seen on imaging studies owing to the externalization of PS on cancer cells, we review this new paradigm for improved diagnosis and early detection of malignancy that may overcome some of the limitations of current imaging related to the cancer's type and site or to other underlying medical conditions (e.g., diabetes and kidney disease).
SapC-DOPS
Saposin C (SapC) is a small, fusogenic glycoprotein that is remarkably heat-stable and protease-resistant [
16
–
19
]. While SapC itself is non-enzymatic, it is an activator of lysosomal enzymes, particularly acid sphingomyelinase and acid beta-glucosidase, which catalyze the breakdown of sphingomyelin and glucosylceramide into phosphocholine and ceramide, and glucose and ceramide, respectively [
20
–
22
]. Although the precise mechanism is unclear, this increase in ceramide levels may result in cell death, as ceramide has been previously implicated in apoptosis [
23
], possibly through the actions of caspases [
24
]. In order for SapC to activate these enzymes, it must bind the PS of the intracellular vesicles' membranes. In vitro, at low pH, SapC and dioleoylphosphatidylserine (DOPS) will spontaneously form nanovesicles with a mean diameter of approximately 200 nm (Fig.
1
). The amino- and carboxyl termini of SapC are amphipathic helices that insert into the lipid bilayer, while the middle region is exposed to solvent. Conformational changes of SapC induced by PS interaction suggest a reorientation of the functional helical domains [
25
]. Importantly, the cytotoxicity of SapC-DOPS positively correlates with the level of surface PS: the higher the external PS, the more effectively SapC-DOPS [
10
,
12
] will bind the cell and trigger the ceramide cascade, ultimately resulting in apoptosis (Fig.
2
)
.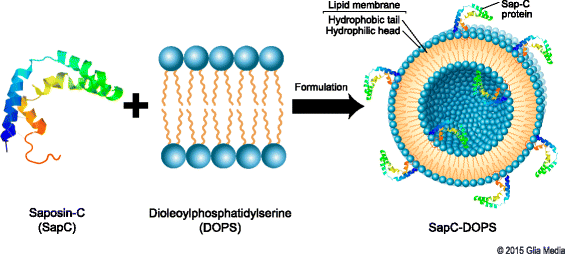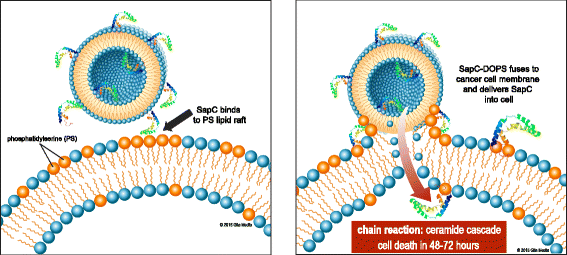 Main Text
Use of SapC-DOPS as a tumor detection agent
Conclusions
Our data indicate that the novel and PS-targeted nanovesicle, SapC-DOPS, can be used for exposure of hard to detect malignancies, whether due to size or location. Although further studies are required, our preclinical studies suggest that the tumor–selective nanovesicles may greatly contribute to improving the precision of early cancer diagnosis. In addition, SapC-DOPS may have a therapeutic benefit and be used as a "theranostic" compound. Ongoing studies are to provide support for the inclusion of SapC-DOPS in the battery of tests conducted by oncologists to enhance the accuracy and sensitivity of tumor diagnosis.
Ethics approval
The ethical approval for the animal studies described in this review are provided in the original publications.
Abbreviations
CT:

computed tomography
CVM:

CellVue Maroon
FDG:

fluorodeoxyglucose
MAROI:

multi-angle rotational optical imaging
MRI:

magnetic resonance imaging
PET:

positron emission tomography
PS:

phosphatidylserine
SapC-DOPS:

saposin C-Dioleophosphatidylserine
USPIO:

ultra-small super-paramagnetic iron oxide
Declarations
Acknowledgements
We wish to thank Mary Kemper for editorial assistance and Tonya Hines for art illustration. We thank Accixx Biomedical Consulting (www.Accixx.com) for assistance with editing and formatting.
Open AccessThis article is distributed under the terms of the Creative Commons Attribution 4.0 International License (http://creativecommons.org/licenses/by/4.0/), which permits unrestricted use, distribution, and reproduction in any medium, provided you give appropriate credit to the original author(s) and the source, provide a link to the Creative Commons license, and indicate if changes were made. The Creative Commons Public Domain Dedication waiver (http://creativecommons.org/publicdomain/zero/1.0/) applies to the data made available in this article, unless otherwise stated.
Authors' Affiliations
(1)
Division of Hematology/Oncology, Translational Medicine Laboratory, Department of Internal Medicine, University of Cincinnati College of Medicine, and Brain Tumor Center at UC Neuroscience Institute, Cincinnati, USA
(2)
Division of Human Genetics, Department of Pediatrics, Cincinnati Children's Hospital Medical Center, Cincinnati, USA