Nano-based delivery of RNAi in cancer therapy
Molecular Cancer
2017
16:134
Received: 17 February 2017
Accepted: 20 June 2017
Published: 28 July 2017
Abstract
Background
RNA interference (RNAi), a newly developed method in which RNA molecules inhibit gene expression, has recently received considerable research attention. In the development of RNAi-based therapies, nanoparticles, which have distinctive size effects along with facile modification strategies and are capable of mediating effective RNAi with targeting potential, are attracting extensive interest.
Objective
This review presents an overview of the mechanisms of RNAi molecules in gene therapy and the different nanoparticles used to deliver RNAi molecules; briefly describes the current uses of RNAi in cancer therapy along with the nano-based delivery of RNA molecules in previous studies; and highlights some other carriers that have been applied in clinical settings. Finally, we discuss the nano-based delivery of RNAi therapeutics in preclinical development, including the current status and limitations of anti-cancer treatment.
Conclusion
With the growing number of RNAi therapeutics entering the clinical phase, various nanocarriers are expected to play important roles in the delivery of RNAi molecules for cancer therapeutics.
Keywords
NanocarriersRNAisiRNAmiRNACancer therapyGene therapy
Background
Cancer is a major public health problem around the world [1], and the world-wide incidence of cancer continues to increase [2]. The world cancer rate is expected to double by 2020. The number of new cancer patients worldwide will reach 15 million a year. The primary treatments for cancer are surgery, chemotherapy and radiation therapy. Non-targeted treatments can result in negative side effects, which occur when the treatment affects healthy tissues or organs. These problematic side effects causes significant distress in patients and impede the course of cancer treatment. For this reason, a number of novel cancer treatments are currently under development, one of them being gene therapy.
During the last decade, remarkable advances have been made in genome research, revolutionizing the entire field. As a consequence, information may no longer be a bottleneck in understanding and tackling complex genetic diseases such as cancer [3], and gene therapy emerged as a method to treat cancer. RNA interference (RNAi) is one method of regulating target genes [4]. RNAi shows promise for the development of new classes of molecular therapeutic drugs that interfere with disease-causing or -promoting genes, particularly those that encode so-called "nondruggable" targets, which are not amenable to conventional therapeutics [5].
Although RNAi is thought to be more effective in treating disease compared to other methods [6], several challenges are associated with delivering small interfering RNAs (siRNAs) to diseased sites for gene therapy [7]. Two main approaches for the delivery of RNAi molecules have been developed: viral and non-viral vectors. However, nanoparticles have recently received attention for use in RNAi. The paradigm shift to the use of nanoparticles for RNAi molecules delivery is attributed to unique benefits provided by nanoparticles in comparison to other carriers.
In this review, we primarily discuss the delivery of RNAi molecules by nanoparticles in cancer therapy. We hope that this review provides useful information to help translate this novel therapy to clinical application.
Main text
Types of RNAi molecules
The different types of RNAi molecules are microRNA (miRNA), siRNA and short hairpin RNA (shRNA). In RNAi, RNAi molecules delivered into cells initiate the degradation of complementary messenger RNA (mRNA) molecules via the cells' internal machinery. This halts the production of the proteins encoded by the mRNAs, resulting in reduced gene expression (Fig.
1
) [
8
].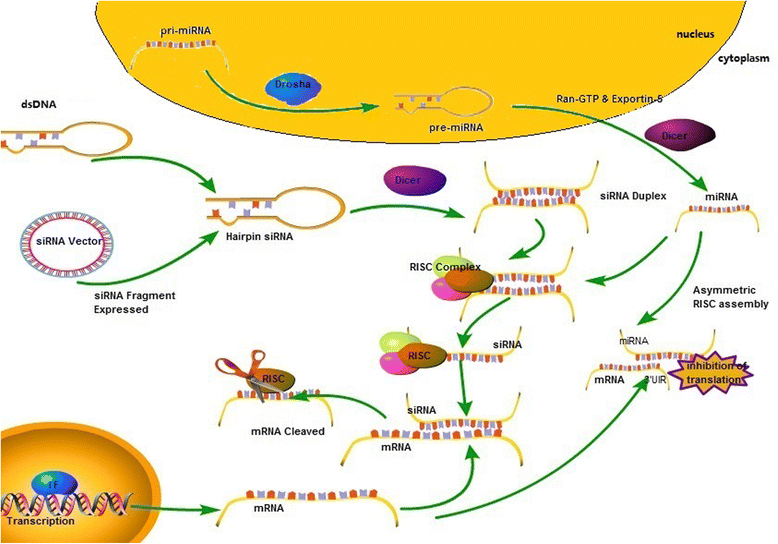 siRNAs show great potential for use in nucleic acid therapeutics because of their potent and specific RNAi-triggering activity [9]. siRNA is a chemically synthesized, double-stranded RNA (dsRNA) containing 19–23 base pairs with 2-nucleotides unpaired in the 5′-phosphorylated ends and unphosphorylated 3′-ends [10]. SiRNAs are incorporated into an RNA-induced silencing complex (RISC), a protein-RNA complex that separates the strands of the RNA duplex and discards the passenger (sense) strand. The guide (anti-sense) strand then guides the RISC to anneal and cleave the target mRNA or block its translation [11].
miRNAs are endogenous non-coding RNAs involved in the post-transcriptional regulation of gene expression [12]. They are produced by a similar mechanism as siRNAs from longer precursor molecules (pre-miRNA), which are transported to the cytoplasm, and are also substrates for Dicer [13]. There, RNAse III Dicer generates dsRNA containing approximately 22 nucleotides (i.e., the mature miRNA). The miRISC usually hybridizes to partially complementary binding sites on the 3-untranslated regions of the target mRNAs [14]or combines with targeted mRNA and promotes its cleavage [15].
In addition to siRNA and miRNA, shRNA can also be cloned into an expression vector and express siRNA. This makes it possible to structure an RNAi carrier to silence intracellular gene expression in mammals. shRNAi can use RNA polymerase III-dependent promoters (small nuclear RNA U6 or RNaseP) to realize RNAi. The transformation of shRNA can cause long-time gene silence in mammals. Ohno et al. developed a 30-nucleotide, single-strand RNA termed guide hairpin RNA (ghRNA) that has a similar physiological function similar to miRNA and siRNA and causes no innate cytokine response in vitro or in vivo [16].
siRNA, miRNA and shRNA are all RNA molecules that rely on the Dicer enzyme; they can mediate RNAi and lead to the cleavage of mRNA. miRNA is single-stranded RNA, whereas siRNA and shRNA are double-stranded RNAs. The fundamental difference between siRNA and miRNA is that miRNA is endogenous (i.e., miRNA is an inherent component of the organism), whereas siRNA is artificially synthesized and transfected into the human body, where it operates within the RNAi pathway. miRNA primarily acts on the 3′-untranslated region of the target gene, while siRNA can act on any part of mRNA [17]. miRNA is produced asymmetrically, whereas siRNA is symmetrically derived from the two side arms of the front body of double-chain RNA. shRNA can be cloned into carriers that then express siRNA.
Conclusions and perspectives
RNAi is an economic, fast, and efficient method of cancer therapy. Many studies have shown that siRNA has a significant therapeutic effect on cultured tumor cells; however, few in vivo studies have been reported because siRNA is easily degraded in vivo, the transfection efficiency and targeting are low. Nanoparticles have been successfully demonstrated as efficient carriers for the delivery of RNAi molecules due to their unique characteristics. The addition of active targeting molecules to nanoparticles can enhance the tumor-targeting efficacy or the transfection efficiency to tumor cells. However, nanoparticle carriers still possess disadvantages that limit their application, including immunogenicity and toxicity. Furthermore, the detailed mechanism of RNAi is not completely clear, and the identification of RNAi molecules' targets and the signaling pathways involved in the regulation of RNAi molecule expression in tumor formation remains a challenge. Although RNAi molecules are effective in silencing oncogenes, it is critical to identify the RNAi regulatory network rather than just a few isolated targets. Thus, more studies on the delivery of RNAi molecules by nanoparticles in cancer therapy are needed to establish a new method of treating cancer.
Abbreviations
AuNPs:

Gold nanoparticles
DOX:

Doxorubicin
dsRNA:

Double-strainded RNA
EGFR:

Epidermal growth factor receptor
EPR:

Enhanced permeability and retention
ghRNA:

Guide hairpin RNA
HK:

Histidine-lysine
miRNA:

microRNA
mRNA:

Messenger RNA
MSNs:

Mesoporous silica nanoparticles
PAMAM:

PEGylated polyamidoamine
PEG:

Polyethylene glycol
PEI:

Polyethylenimine
PLGA:

Poly lactic-co-glycolic acid
PLL:

Poly-L-lysine
pre-miRNA:

microRNA precursors
RGD:

Arginylglycylaspartic acid
RISC:

RNA-induced silencing complex
RNAi:

RNA interference
shRNA:

Short hairpin RNA
siRNAs:

Small interfering RNAs
SLNs:

Solid lipid nanoparticles
VEGF:

Endothelial growth factor
Declarations
Acknowledgements
This research was supported by the National Natural Science Foundation of China (No. 81372916, No.81572976), the Science and Technology Department of Jiangsu Province (No. BK20141142), Jiangsu Provincial Medical Talent Foundation, the College Students Innovation Program of Xuzhou Medical University (No.2016103130046Y), and the Science and Technology Project of Xuzhou City (KC15SH010).
Availability of data and materials
The datasets used and/or analysed during the current study are available from the corresponding author on reasonable request.
Authors' contributions
YX and MH collected the information and wrote the article. WWG and QH designed the tables and imagines. ZLZ and GJ helped to revise the article. All authors read and approved the final manuscript.
Ethics approval and consent to participate
Not applicable.
Consent for publication
Not applicable.
Competing interests
The authors declare that they have no competing interest.
Publisher's note
Springer Nature remains neutral with regard to jurisdictional claims in published maps and institutional affiliations.
Open AccessThis article is distributed under the terms of the Creative Commons Attribution 4.0 International License (http://creativecommons.org/licenses/by/4.0/), which permits unrestricted use, distribution, and reproduction in any medium, provided you give appropriate credit to the original author(s) and the source, provide a link to the Creative Commons license, and indicate if changes were made. The Creative Commons Public Domain Dedication waiver (http://creativecommons.org/publicdomain/zero/1.0/) applies to the data made available in this article, unless otherwise stated.
Authors' Affiliations
(1)
Hospital of Xuzhou Medical University, Xuzhou, People's Republic of China
(2)
Department of Dermatology, Affiliated Hospital of Xuzhou Medical University, Xuzhou, China