6-Formylindolo (3,2-b)carbazole (FICZ) enhances retinoic acid (RA)-induced differentiation of HL-60 myeloblastic leukemia cells
Molecular Cancer
2013
12:39
Received: 7 December 2012
Accepted: 7 May 2013
Published: 9 May 2013
Abstract
Background
The aryl hydrocarbon receptor (AhR) ligand 6-Formylindolo(3,2-b)carbazole (FICZ) has received increasing attention since its identification as an endogenous AhR ligand and a photoproduct of tryptophan. FICZ and its metabolites have been detected in human fluids. We recently reported that AhR promotes retinoic acid (RA)-induced granulocytic differentiation of HL-60 myeloblastic leukemia cells by restricting the nuclear abundance of the stem cell associated transcription factor Oct4. The standard clinical management of acute promyelocytic leukemia (APL) is differentiation induction therapy using RA. But RA is not effective for other myeloid leukemias, making the mechanism of RA-induced differentiation observed in a non-APL myeloid leukemia of interest. To our knowledge, this is the first study regarding the influence of FICZ on RA-induced differentiation in any type of leukemic blasts.
Methods
Using flow cytometry and Western blotting assays, we determined the effects of FICZ on RA-induced differentiation of HL-60 human leukemia cells. All experiments were performed in triplicate. The groups RA and FICZ + RA were compared using the Paired-Samples T-Test. Western blot figures present the typical blots.
Results
We demonstrate that FICZ enhances RA-induced differentiation, assessed by the expression of the membrane differentiation marker CD11b; cell cycle arrest; and the functional differentiation marker, inducible-oxidative metabolism. FICZ causes changes in signaling events that are known to drive differentiation, and notably augments the RA-induced sustained activation of the RAF/MEK/ERK axis of the mitogen-activated protein kinase (MAPK) cascade. FICZ also augments expression of the known MAPK signaling regulatory molecules c-Cbl, VAV1, pY458 p85 PI3K, Src-family kinases (SFKs), and IRF-1, a transcription factor associated with this putative signalsome that promotes RA-induced differentiation. Moreover, FICZ in combination with RA also increases expression of AhR and even more so of both Cyp1A2 and p47phox, which are known to be transcriptionally regulated by AhR. pY1021 PDGFRβ, a marker associated with retinoic acid syndrome was also increased.
Conclusions
Our data suggest that FICZ modulates intracellular signaling pathways and enhances RA-induced differentiation.
Keywords
Retinoic acid (RA)
6-Formylindolo(3,2-b)carbazole (FICZ)
Differentiation
Neutrophil
HL-60
Background
Retinoic acid (RA) induces leukemic cell differentiation in a process that depends on AhR [1]. AhR overexpression drives differentiation [1]. This motivates interest in the effects of an endogenous AhR ligand on this process. AhR is a ligand activated receptor. There are two intensely studied AhR functions, both being ligand dependent. AhR is a basic helix-loop-helix/Per-Arnt-Sim (bHLH-PAS) transcription factor [2], and also an adaptor in the cullin 4B ubiquitin ligase complex [3]. It has been found to be expressed in all tissues analyzed. It is present in the cytosol and in the nucleus. Its transcriptional activity is the most studied, especially its regulation of detoxification enzymes such as cytochrome P450 [4]. The RAR/RXR and AhR pathways are known to crosstalk. For example, they compete for the silencing mediator of retinoid and thyroid receptors (SMRT) protein [5]. Consistent with various molecular indications of crosstalk, the two pathways can give rise to similar pathologies. For example, teratogenic effects such as cleft palate and hydronephrosis can be induced by retinoids [6] and also by an AhR agonist, 2,3,7,8-tetrachlorodibenzo-p-dioxin (TCDD) [7]. They can also contribute to common developmental processes. For example, in fish, RA and its receptors are required both for AhR transcription and embryonic development of blood vessels and bones [8]. AhR can thus regulate RA effects, as well as vice versa, but the mechanisms are not well understood.
Recently, several papers reported that the AhR gene can act as a tumor suppressor in the absence of xenobiotics. AhR has been shown to have a role in propelling breast cancer [9] and liver cancer [10] cell differentiation. AhR knockout mice injected with the liver tumor initiator diethylnitrosamine (DEN) have increased liver tumor formation and growth, with increased cell proliferation, inflammatory cytokine expression and DNA damage compared to wild type mice treated with DEN or untreated mice [10]. Moreover, the AhR knockout mice have increased cecal carcinogenesis [11]. Certain AhR antagonists promote hematopoietic stem cell proliferation [12]. The full molecular mechanism of AhR-dependent tumor suppressing activity is far from being elucidated; however, some details are emerging. Historically, the most studied function of AhR is its transcriptional activity elicited by xenobiotics. Recently it has become apparent that xenobiotics and endogenous ligands have different transcriptional properties, leading to opposite outcomes. For example, it was proposed that transient AhR transcriptional activity, characteristic of endogenous ligands such as 6-Formylindolo(3,2-b)carbazole (FICZ), is essential for the role of AhR in stem/progenitor cell homeostasis, whereas prolonged transcriptional activation is induced by exogenous ligands, such as TCDD, a well known carcinogen [13]. The more recently emerging role of AhR in protein degradation via CUL4B/AhR-mediated ubiquitylation and consequently cancer suppression is also of potentially related significance [11]. While the mechanisms are not yet clear, it appears that depending on the model system and on the ligand used, AhR can drive transformation or differentiation.
We have previously shown that AhR propels RA-induced differentiation of human myeloblastic leukemia cells by downregulating the nuclear transcription factor, Oct4 [1]. Oct4 is a Yamanaka-Thomson factor controlling stem cells [14–16]. This process depends on MAPK signaling. This motivates interest in the effect of endogenous AhR ligands, such as FICZ, on the MAPK pathway and its associated signaling events known to drive RA-induced differentiation. Unlike transcription, the effects of FICZ on signaling are less explored and remain to be better described.
One well studied model of leukemic cell differentiation is HL-60. HL-60 is a human myeloblastic leukemia cell line that is lineage uncommitted and capable of granulocytic or monocytic differentiation in response to different agents. HL-60 is a NCI-60 line, a set of standard cell lines, used for example in drug testing. It has been extensively used as a model for pharmacologically induced differentiation. HL-60 cells undergo granulocytic differentiation with G0/G1 growth arrest when treated with RA. This process requires sustained activation of MAPK signaling along the RAF/MEK/ERK axis [17], and a cascade of signaling regulatory events involving Src-family kinases, c-Cbl, VAV1, PI3K, and IRF-1 [18–22]. During RA-induced differentiation, ectopic expression of interferon regulatory factor 1 (IRF-1) [21] and c-Cbl [19] have been shown to enhance ERK 1/2 activation and promote RA-induced differentiation and G0/G1-arrest. The VAV1 guanine nucleotide exchange factor implicated in myelopoiesis also was reported to promote RA-induced granulocytic differentiation [23].
The present study demonstrates that FICZ is able to augment RA-induced differentiation. FICZ increases the amount and activation of key components of the MAPK signaling cascade known to drive differentiation, and this signaling modulation is consistent with a ligand bound AhR dependence as demonstrated by using the classical pharmacological AhR agonist β-naphthoflavone (β-NF) and antagonist α-naphthoflavone (α-NF). These had positive and negative effects on the signaling events consistent with their AhR agonist vs. antagonist activity. The findings suggest a novel potential mechanism of collaboration between RA and FICZ during RA-induced differentiation of t(15;17) negative leukemic blasts.
Results and discussion
The capability to prevent and treat leukemia depends upon understanding the molecular underlying mechanisms of (a) pathogenesis, (b) induction of differentiation and apoptosis and (c) resistance to therapy. Multiple pathways are involved in each of these three aspects; however the aryl hydrocarbon receptor (AhR) is strikingly involved in all three of the above mentioned phenomena. We have shown that during RA-induced differentiation, AhR propels differentiation [1]. We now sought evidence on whether FICZ, an endogenous AhR ligand in humans, affects RA-induced leukemic cell differentiation.
Conclusions
Taken together our results show that FICZ enhances RA-induced differentiation as evidenced by CD11b membrane receptor expression, inducible respiratory burst, G0/G1 cell cycle arrest and growth curves. Upregulation of signaling molecules previously shown to drive RA-induced differentiation was enhanced by addition of FICZ. Specifically, FICZ augments RAF/MEK/ERK axis MAPK signaling, Src-family kinase activation and the RA-dependent upregulation of VAV1, c-Cbl, pY458 p85PI3K, and IRF-1 expression. Interestingly, in the case of PDGFR which differentially regulates different aspects of RA-induced differentiation [35], PDGFRβ phosphorylation at Tyr 1021, a response associated with mimicking retinoic acid syndrome in this model [31], was also enhanced by the RA plus FICZ combination treatment compared to RA treatment alone.
AhR is involved in both promoting and inhibiting proliferation. AhR has been implicated with historically well-known pro-proliferative functions. For example, benzene, an AhR agonist, is known to induce both leukemia and multiple myeloma [
36
]. But AhR has also been shown to have a role in propelling breast cancer [
9
] and liver cancer [
10
] cell differentiation. The present results suggest that RA may set a context for AhR to act in an anti-proliferation pro-differentiation capacity. Here we provide evidence for a novel way of using an endogenous AhR ligand to enhance RA-induced differentiation associated with the unanticipated modulation of components of the MAPK and Src-family kinase signaling machine/signalsome thought to drive RA-induced differentiation (summarized in Figure
6
).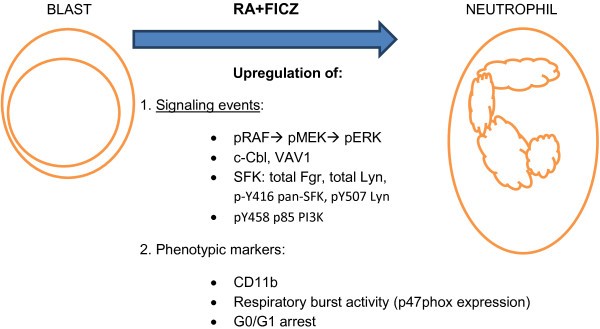 The present results suggest cooperative crosstalk between the RA and FICZ elicited pathways in driving differentiation. How this occurs molecularly is a matter of conjecture that will require further experimental elucidation. There are numerous pathways that RA and FICZ are able to elicit. The most studied are RAR/RXR and AhR transcriptional regulation pathways. There are several ways those pathways are known to crosstalk. (1) For example, they compete for transcriptional co-activators/repressors, such as SMRT protein [5, 37]. However, in our case, the amount of SMRT that co-immunoprecipitates with AhR does not vary with different treatments (data not shown), suggesting that this is not the mechanism involved in this case. (2) RAR and AhR can also use the same coactivators, specifically SRC-1, steroid coactivator-1 [38, 39]. (3) Retinoids are reported to be AhR ligands that can drive AhR/ARNT to xenobiotic response elements (XRE) and consequently regulate transcription [5]. (4) RAR and AhR pathways can also crosstalk by regulating the same transcription factor, notably the pro-proliferation transcription factor AP-1. RAR can physically bind either c-jun or c-fos resulting in a mutual inhibition of DNA-binding activity for both RAR and AP-1 [40]. AhR is also reported to inhibit AP-1 DNA binding activity [41]. (5) RAR and AhR regulation of transcription can depend on common transcription factors such as the COUP orphan receptors which are regulators of both AhR [42] and of RAR directed transcriptional activity [43]. There are thus a variety of ways that RA and AhR governed pathways can converge at the level of transcription.
While crosstalk at the level of transcriptional regulation is arguably the most prominently studied, non-nuclear/cytoplasmic interactions at the level of signaling are also indicated. RA itself can regulate MAPK related signaling molecules such as PKC [44, 45] or c-RAF [46] as a lipid interacting molecule with a hydrophobic pocket [47, 48]. AhR can also regulate pathways incorporating MAPK signaling molecules [1, 49]. AhR has been found complexed with Src, a well-known MAPK signaling regulator [50]. And MAPK signaling has been shown to be a downstream effector for both RA and AhR, consistent with the possibility that RA and AhR integrate their cytoplasmic signaling through the MAPK axis [1, 17]. AhR is also known to have a ubiquitin E3 ligase activity that can affect expression levels of other molecules, notably ER which we have reported can act as a membrane receptor – in addition to its historical nuclear function as a ligand activated transcription factor - that originates MAPK signaling relevant to RA-induced differentiation [51]. There are thus a number of possibilities for the mechanism of non-nuclear as well as nuclear crosstalk already suggested in the literature. The present results motivate interest in deciphering their roles in RA-induced differentiation augmented by FICZ.
RA has clinically been notably successful in inducing remissions, albeit transient, in APL, but has not been effective in other myeloid leukemias. APL is defined by the presence of the PML-RARα fusion protein resulting from the t(15;17) translocation that cytogenetically characterizes the disease, which is a FAB M3. There is thus potential interest from the therapeutic point of view of bringing RA differentiation induction therapy to non-APL FAB M2 or 1 disease. In particular mechanistic aspects of how a FAB M2 derived cell that is capable of RA-induced differentiation undergoes granulocytic differentiation and G0 cell cycle arrest may provide insights into how to drive differentiation in a non-APL cell. Such is HL-60, the currently used model derived from a myeloblastic leukemia. Hence means of driving RA-induced differentiation here may contribute insights of therapeutic relevance.
Methods
Cell culture and treatments
HL-60 human myeloblastic leukemia cells derived from the original patient isolate, a generous gift of Dr. Robert Gallagher, were grown in RPMI 1640 (Invitrogen, Carlsbad, CA) supplemented with 5% fetal bovine serum (Hyclone, Logan, UT) and 1x antibiotic/antimycotic (Sigma, St. Louis, MO) in a 5% CO2 humidified atmosphere at 37°C. The cells were cultured in constant exponential growth as previously described [52]. The experimental cultures were initiated at a density of 0.1 × 106 cells/ml. Viability was monitored by 0.2% trypan blue (Invitrogen, Carlsbad, CA) exclusion and routinely exceeded 95%. All reagents were purchased from Sigma (St Louis, MO) unless otherwise stated.
For treatments, all-trans-retinoic acid (RA) (Sigma, St. Louis, MO) was added from a 5 mM stock solution in 100% ethanol to make a final concentration of 1 μM in culture. 6-Formylindolo(3,2-b)carbazole (FICZ) (Enzo Life Sciences, Exeter, United Kingdom), was added from a 100 μM DMSO stock to make a final concentration of 100 nM in culture. The concentration was chosen from an initial dose response experiment as the lower concentration yielding a phenotypic response when added with RA with no toxic effects. This corresponds to a frequently used concentration in the literature. α-naphthoflavone and β-naphthoflavone (both from Sigma, St. Louis, MO) were each used at a final concentration of 1 μM in culture. The stock solutions were 1 mM in DMSO. Similar to FICZ, there was no apparent toxicity of α-NF or β-NF at this dose discernible by proliferation rates, cell cycle distribution, or trypan blue exclusion.
CD38, CD11b quantification
Expression of cell surface differentiation markers was quantified by flow cytometry. 1 × 106 cells were collected from cultures and centrifuged at 1000 rpm for 5 min. Cell pellets were resuspended in 200 μl, 37°C, PBS containing 2.5 μl of allophycocyanin (APC) conjugated antibody for CD11b or CD38 (both from BD Biosciences, San Jose, CA). Following a 1 h incubation at 37°C cell surface expression levels were analyzed with a BD LSRII flow cytometer (BD Biosciences, San Jose, CA). APC is excited at 633 nm and emission collected with a 660/20 band pass filter. Undifferentiated control cells were used to determine the fluorescence intensity of cells negative for the respective surface antigen. The gate to determine percent increase of expression was set to exclude 95% of the control population.
Respiratory burst quantification
Respiratory burst (a functional differentiation marker for mature myelo-monocytic cells) was measured by flow cytometry. 1 × 106 cells were collected and centrifuged at 1000 rpm for 5 min. Cell pellets were resuspended in 500 μl 37°C PBS containing 5 μM 5-(and-6)-chloromethyl-2′,7′-dichlorodihydro–fluorescein diacetate acetyl ester (H2-DCF, Molecular Probes, Eugene, OR) and 0.2 μg/ml 12-o-tetradecanoylphorbol-13-acetate (TPA, Sigma, St. Louis, MO). H2-DCF and TPA stock solutions were made in DMSO (Sigma, St. Louis, MO) at concentrations of 0.2 mg/ml and 5 mM, respectively. A control group incubated in H2-DCF and DMSO only was included. Cells were incubated for 20 min at 37°C prior to analysis by flow cytometry. Oxidized DCF was excited by a 488 nm laser and emission collected with a 530/30 nm band pass filter. The shift in fluorescence intensity in response to TPA was used to determine the percent cells with the capability to generate inducible oxidative metabolites [36]. Gates to determine percent positive cells were set to exclude 95% of control cells not stimulated with TPA.
Cell cycle quantification
1 × 106 cells were collected by centrifugation and resuspended in 200 μl of cold propidium iodide (PI) hypotonic staining solution containing 50 μg/ml propidium iodine, 1 μl/ml Triton X-100, and 1 mg/ml sodium citrate (all from Sigma, St. Louis, MO). Cells were incubated at room temperature for 1h and their nuclei analyzed by flow cytometry (BD LSRII) using 488-nm excitation and emission collected with a 575/26 band-pass filter. Doublets were identified by a PI signal width versus area plot and excluded from the analysis [36].
Protein detection by Western blot
2 × 107 cells were lysed using 200 μL lysis buffer (Pierce, Rockford, IL) and lysates were cleared by centrifugation at 13,000 rpm for 30 min at 4°C. Equal amounts of protein lysates (25 μg) were resolved by SDS-PAGE gel electrophoresis, transferred to PVDF membranes and probed with antibodies. AhR (H211), c-Cbl (C-15) and p Y1021 PDGFRβ antibodies were from Santa Cruz Biotechnology (Santa Cruz, CA). IRF-1 and CD38 antibodies were from BD Biosciences (San Jose, CA). Antibodies to detect phospho-p44/42 MAPK (ERK1/2) (Thr202/Tyr204) (D13.14.4E), p44/42 MAPK (ERK1/2) (137F5), pS221 MEK1/2, MEK1/2, p-Y416 pan-SFK, Lyn, pY507 Lyn, p-PI3K p85(Y458)/p55 (Y199), Fgr, VAV1, p47phox, pS289/296/301 c-RAF (TD cRAF), RARα, and GAPDH, horseradish peroxidase anti-mouse and horseradish peroxidase anti-rabbit were from Cell Signaling (Danvers, MA, USA). pS621 c-RAF antibody was from Invitrogen (Carlsbad, CA). Cyp1A2 antibody was from Abcam (Cambridge, MA). ECL (GE Healthcare, Pittsburgh, PA) was used for detection.
Statistical analysis
Statistical analyses were performed using GraphPad (GraphPad software, San Diego, CA). Means of treatment groups of interest were compared using the Paired-Samples T Test. The data represents the means of three repeats ± S.E.M. A p-value of < 0.05 was considered significant.
Declarations
Acknowledgements
This work was supported in part by grants R01 CA033505, R01 CA152870 from NIH (A.Y.) and NIH/PS-OC (Shuler), NYSTEM NY Dept. Health (A.Y.), and Cornell Vertebrate Genomics (VERGE) (R.P.B.). The authors would like to thank Holly A Jensen for critical reading of the manuscript.
Authors' Affiliations
(1)
Department of Biomedical Sciences, Cornell University, Ithaca, USA
Copyright
© Bunaciu and Yen; licensee BioMed Central Ltd. 2013
This article is published under license to BioMed Central Ltd. This is an Open Access article distributed under the terms of the Creative Commons Attribution License (http://creativecommons.org/licenses/by/2.0), which permits unrestricted use, distribution, and reproduction in any medium, provided the original work is properly cited.