Genetic alteration and gene expression modulation during cancer progression
Received: 04 February 2004
Accepted: 22 March 2004
Published: 22 March 2004
Abstract
Cancer progresses through a series of histopathological stages. Progression is thought to be driven by the accumulation of genetic alterations and consequently gene expression pattern changes. The identification of genes and pathways involved will not only enhance our understanding of the biology of this process, it will also provide new targets for early diagnosis and facilitate treatment design. Genomic approaches have proven to be effective in detecting chromosomal alterations and identifying genes disrupted in cancer. Gene expression profiling has led to the subclassification of tumors. In this article, we will describe the current technologies used in cancer gene discovery, the model systems used to validate the significance of the genes and pathways, and some of the genes and pathways implicated in the progression of preneoplastic and early stage cancer.
Keywords
cancer progression
tumorigenesis
genomics
expression profiles
proteomics
high throughput technology
Using genomic approaches to understand cancer progression
The accumulation of genetic alterations is thought to drive the progression of normal cells through hyperplastic and dysplastic stages to invasive cancer and, finally, metastatic disease. Since the initial efforts to link histopathological changes to the mutation of specific genes in colorectal cancer [1], progression models have been developed for many tumor types, including lung, breast, head and neck, and prostate [2–5]. Mutational and gene expression analysis of known tumor suppressors and oncogenes in the context of early tumorigenesis has provided insight into the role of these genes in cancer progression [6, 7]. Gene discovery has been greatly facilitated by molecular cytogenetic technologies identifying chromosomal regions associated with various stages and outcomes. Furthermore, high throughput, genome-wide approaches and the complete sequencing of the human genome have accelerated the large-scale discovery of cancer-related genes and pathways [8].
While genetic alterations in tumors are common, changes found in premalignant stages are more likely to represent causal events initiating and promoting cancer development. These events may be masked by the complex pattern of genetic alterations often associated with genetic instability in later stages of disease. For this reason all stages of progression have to be considered in order to fully understand how malignant tissues develop. To date, genomic and proteomic efforts have been primarily directed at the study of tumors. The relatively limited literature on genetic studies of earlier stage cancers is attributable to challenges associated with accessing premalignant specimens and the fact that genome-wide analysis would require quantities of material far exceeding the size of the minute specimens obtained. Recent advances in cell isolation techniques and miniaturization of genomic technologies have enabled comprehensive molecular profiling of selected cell types and high resolution mapping of gene disruption associated with specific disease phenotypes. This review article describes the current genomic technologies used for analysis of cancer, the model systems used to corroborate the significance of candidate cancer genes and pathways, and the genetic progression models for common types of cancer.
Tissue heterogeneity
Tumors and precancerous lesions are heterogeneous cell populations harboring normal stromal and inflammatory cells. The presence of these cells could mask the detection of genetic and gene expression alterations in the cancer cells. The development of laser-assisted microdissection techniques addresses this problem by enabling selective isolation of cell populations, for example normal epithelium and hyperplastic cells [
9
–
11
] (Fig.
1
).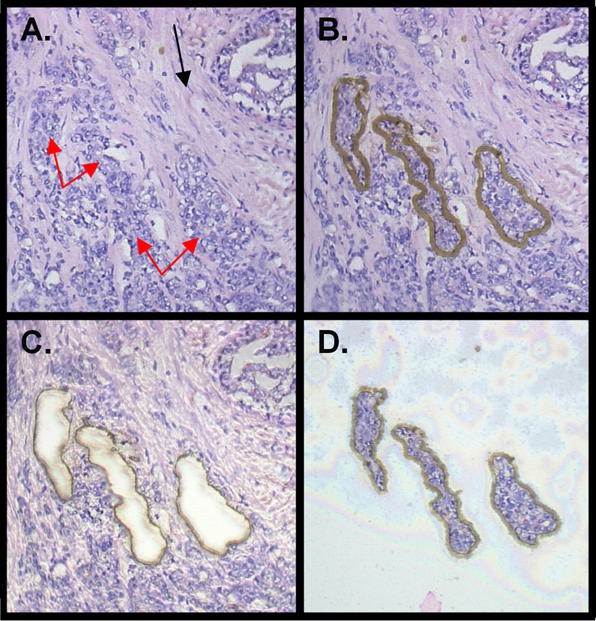 Three commonly used microdissection techniques are laser capture microdissection (LCM), laser microbeam microdissection (LMM), and laser pressure catapult (LPC) [11]. LCM involves the capture of cells by adhering them to a thermoplastic membrane activated by a near-infrared low power laser [10]. The relatively low intensity of the laser does not damage DNA, RNA, or proteins in the captured cells, while the remaining tissue section is left intact on the glass slide [11]. LMM uses a focused laser beam to cut out target cells and to photoablate unwanted adjacent tissue [12]. LMM is often used in conjunction with LPC, a technique that involves the build up of laser-generated high-photon density under a given specimen, causing the selected cells of interest to catapult up along the path of the beam and become available for collection [13].
Identification of genetic alterations
Current methods for genome-wide detection of genetic alterations fall into three main categories: (1) molecular cytogenetic evaluation of chromosomal aberrations and re-arrangements, (2) DNA polymorphism analysis for detecting loss of heterozygosity (LOH) or allelic imbalance, and (3) comparative genomic hybridization (CGH) approaches for identifying segmental copy number changes.
Expression profiling
Ultimately, the genome-wide search for oncogenes and tumor suppressors will require the integration of both genomic and expression analysis approaches. Integration of genetic and gene expression data will validate the candidate genes in regions of DNA alteration as well as highlight the downstream effects.
Gene silencing and overexpression
Methylation
Epigenetic changes may alter gene expression. In general, they are heritable and do not arise due to alterations of DNA sequence [152]. Methylation is the best characterized epigenetic change, typically occurring at CpG dinucleotides within the mammalian genome [153]. CpG dinucleotides are commonly found in promoter regions, in "CpG islands" which are long portions of DNA with high GC content. With the exception of the X chromosome, CpG residues in promoter regions are typically unmethylated [154, 155]. Methylation occurs by the attachment of a methyl group to C5 of the cytosine residue after DNA replication has occurred, resulting in the loss of gene expression. The relative amount of methylation can vary, a decrease termed hypomethylation and an increase known as hypermethylation.
Methylated DNA can be distinguished from unmethylated DNA by virtue of resistance to 1) methylation sensitive restriction enzyme digestion and 2) bisulfite treatment. In the first case, isoschizimers such as Hpa II and Msp I (which recognize CCGG) and Xma I and Sma I (which recognize CCCGGG) are often used to detect methylation, since cleavage by Hpa II and Xma I are impaired by internal cytosine methylation of the recognition sequence. This distinguishing feature is the basis of global methylation detection methods such as restriction landmark genomic scanning (RLGS) of CpG island methylation and methylation target arrays [154, 156–159]. In methylation target arrays a multitude of CpG islands are spotted onto an array and hybridized with probes generated by linker-mediated PCR-amplification of sample DNA pre-digested with a methylation-specific enzyme [160–162]. Methyl-CpG binding proteins can be used to identify the unique distribution of CpG islands by using chromatin immunoprecipitation [163]. Methylated DNA bound to these proteins serves to identify novel targets of epigenetic inactivation in human cancer. Localization of these targets can be achieved by hybridization to CpG island microarrays or through CGH. Bisulfite treatment of DNA causes selective deamination of cytosine to uracil [164]. However, in contrast to cytosine, 5-methyl-cytosine does not react with bisulfite, hence oligonucleotide primers can be tailored to recognize altered or unaltered sequence in order to distinguish unmethylated and methylated targets in a methylation-specific PCR assay.
With respect to the progression of cancer, the genetic changes associated with disease development are often accompanied by significant changes in methylation state [152]. The idea that epigenetic changes can be a mechanism for altering gene expression and driving tumorigenesis has been supported by recent work, examples including work on 14-3-3σ and CCND2 in breast cancer, p16INK4A and RASSF1A in lung cancer, and HPP1 and SFRP1 in colorectal cancer [165–170].
Deducing function of novel genes
Cell models
Cell culture models are often used to deduce gene function through the introduction of a foreign gene or by disruption of endogenous gene function, thereby creating a new phenotype or altering cell behaviour.
A new approach for disrupting gene function is RNA interference (RNAi). This method targets specific genes by way of post-transcriptional gene silencing. The natural function of RNAi is thought to be protection of the genome against invasion by mobile genetic elements such as transposons and viruses, which produce aberrant RNA or dsRNA in the host cell when they become active [171]. Efforts to develop an RNAi microarray will ultimately allow for knockdown analysis of gene function to be undertaken on a genome-wide scale [172, 173].
Animal models
Animal models serve two broad functions in terms of identifying and characterizing genes involved in cancer and cancer progression. First, sequence homology between known animal genes and previously unidentified human genes allows for speculation as to the gene's function in humans. This is possible because there are an increasing number of whole genome sequences available for a variety of animals (e.g. Fugu, Drosophila, mouse, chimpanzee) [174–177]. Second, animals serve as functional models for cancer, allowing researchers to assess the effects of gene disruption, treatment regimes, and disease progression. Mammalian models are expected to more closely mimic the intricacies of human conditions [178]. The expansive body of literature pertaining to murine malignancy and the completion of the mouse genome sequence makes the mouse the leading model for cancer gene discovery [179, 180].
Initial efforts to examine cancer genetics in the mouse involved incorporation of embryonic stem (ES) cells containing mutated forms of a gene of interest into a developing mouse [181, 182]. Conditional mutants allow spatial and temporal control over the expression of the introduced genotypic alteration, an example being the Cre-lox system [182, 183]. Briefly, this system involves the generation of parallel lines of mice, one having been manipulated to have the gene of interest flanked by P1 bacteriophage loxP sites and the other having the Cre recombinase expressed under the control of a tissue-specific promoter. When these lines are crossed, the gene book-ended by loxP sites is excised in that tissue where Cre is expressed, thereby disrupting expression of the gene of interest and allowing researchers to assess its role in tumor development in that tissue. There are numerous variations on this technique currently in use and the Cre-lox system has been widely applied in cancer progression research [184, 185].
Current cancer progression models
The use of genome-wide analysis has resulted in the discovery of genes involved in cancer progression. This section summarizes the cumulative information pertaining to the genetic alterations and gene expression changes associated with the progressional stages in four major cancer types.
Conclusion
Advances in technology have provided the means for a global look at an increased resolution. Using a global approach, identification of genetic alterations and gene expression changes at the early and late stages of cancer progression is possible. Through the integration of analysis at the level of the genome, transcriptome, and proteome, key pathways and functions can be defined. This will give a better understanding of the critical steps driving disease progression.
Knowledge of causal events driving progression will allow for a mechanistic basis for subclassification of disease and provide novel targets for early diagnosis and the creation of more specific treatment regimens [260].
Declarations
Acknowledgements
We wish to acknowledge J. R. Vielkind, J. Fee, J. Squire, S. Lam, and K. Lonergan for providing pictures. We would also like to thank L. J. Henderson, J. J. Davies, B. P. Coe, and other members of the Lam Lab for useful discussion and critical evaluation of this manuscript. This work was supported by funds from the Canadian Institute of Health Research and National Cancer Institute of Canada. C. G. is supported by a scholarship from the Natural Sciences and Engineering Research Council of Canada.
Authors' Affiliations
(1)
Cancer Genetics and Developmental Biology, British Columbia Cancer Research Centre, Vancouver, Canada
Copyright
© Garnis et al; licensee BioMed Central Ltd. 2004
This article is published under license to BioMed Central Ltd. This is an Open Access article: verbatim copying and redistribution of this article are permitted in all media for any purpose, provided this notice is preserved along with the article's original URL.