The LIM and SH3 domain protein family: structural proteins or signal transducers or both?
Received: 04 February 2008
Accepted: 17 April 2008
Published: 17 April 2008
Abstract
LIM and SH3 Protein 1 (LASP-1) was initially identified from a cDNA library of metastatic axillary lymph nodes (MLN) more than a decade ago. It was found to be overexpressed in human breast and ovarian cancer and became the first member of a newly defined LIM-protein subfamily of the nebulin group characterized by the combined presence of LIM and SH3 domains. LASP2, a novel LASP1-related gene was first identified and characterized in silico. Subsequently it proved to be a splice variant of the Nebulin gene and therefore was also termed LIM/nebulette. LASP-1 and -2 are highly conserved in their LIM, nebulin-like and SH3 domains but differ significantly at their linker regions. Both proteins are ubiquitously expressed and involved in cytoskeletal architecture, especially in the organization of focal adhesions. Here we present the first systematic review to summarize all relevant data concerning their domain organization, expression profiles, regulating factors and function. We compile evidence that both, LASP-1 and LASP-2, are important during early embryo- and fetogenesis and are highly expressed in the central nervous system of the adult. However, only LASP-1 seems to participate significantly in neuronal differentiation and plays an important functional role in migration and proliferation of certain cancer cells while the role of LASP-2 is more structural. The increased expression of LASP-1 in breast tumours correlates with high rates of nodal-metastasis and refers to a possible relevance as a prognostic marker.
Keywords
Focal AdhesionFluorescence Recovery After PhotobleachingActin Stress FibreFocal ContactNebulin
Domain organization and functional structure of human LASP-1
The LASP1 gene was initially identified together with three other genes from a cDNA library of metastatic axillary lymph nodes (MLN) from human breast cancer and therefore called MLN50. All four genes were mapped to chromosomal region 17q11-q21.3, a region known to contain the c-erbB-2 and the BRCA1 oncogene and to be altered in 20–30% of all breast cancers [1, 2]. Northern blot analysis revealed that the approximately 4.0 kb long mRNA of MLN50 is ubiquitously expressed at basal levels in normal tissue and overexpressed in 8% of all tested human breast cancer tissues (5 of 61). Sequence analysis showed that MLN50 encoded a putative protein of 261 residues containing a LIM motif at its amino terminus and a src homology 3 (SH3) domain at its C-terminal part. This domain organization defined a new LIM protein subfamily characterized by the combined presence of LIM and SH3 domains [1]. MLN50 was termed accordingly: L IM a nd S H3 P rotein 1 – in short LASP-1.
The LIM domain is an arrangement of eight cysteine and histidine residues (C-X2-C-X16/23-H-X2-C-X2-C-X2-C-X16/21-C-X2/3-C/D/H), is found in a number of vertebrate and invertebrate proteins and known to mediate protein-protein interactions as a modular binding interface [1, 3–5]. Although no binding partner for the LIM-domain of LASP-1 has been identified so far, the zinc-finger module in the LIM-domain of LASP-1 is a morphologically and perhaps functionally independent folding-unit of this protein harbouring the possibility of direct binding to DNA [6].
The N-terminal LIM domain is followed by two nebulin-like repeats called R1 and R2 each 35 residues long enabling the protein to bind to F-actin. The actin-binding domains of LASP-1 mediate a direct interaction between LASP-1 and actin at cell membrane extensions [7–12]. The binding of LASP-1 to actin stress fibres is mediated through its interaction with palladin that binds to the SH3 domain of LASP-1. siRNA knock-down of palladin leads to loss of LASP-1 at actin stress fibres and redirection to focal contacts without changing actin filaments. Thus palladin is necessary to recruit LASP-1 to actin stress fibres but not to focal contacts [13].
Via its nebulin-like actin-binding repeats LASP-1 has an additional interaction with kelch related protein 1 (Krp1), a focal adhesion protein involved in pseudopodial elongation and cell migration [14]. The binding between LASP-1 and Krp1 occurs in co-localization to the membrane-bound integrin CD44 and to the adaptor protein Ezrin – both of which mediate the cellular contact to the extracellular matrix and intracellular signal transduction in benign and malign cells [14–16].
The exact cellular function of LASP-1 is not known yet, but the protein has previously been reported to localize within multiple sites of dynamic actin assembly such as focal contacts, focal adhesions, lamellipodia, membrane ruffles, and pseudopodia [1, 8, 17–19], suggesting that it plays an essential role in actin cytoskeleton organisation at leading edges of migrating cells.
The actin-binding-motifs are followed by a linker-region with several characterized specific phosphorylation residues at serine/threonine and tyrosine that regulate function and localization of the protein. In fact, human LASP-1 is phosphorylated by cAMP- and cGMP-dependent protein kinases (PKA and PKG) at serine 146 [9]. In rabbit parietal cells, elevation of intracellular cAMP by forskolin induced a partial translocation of LASP-1 to the apically directed F-actin rich intracellular canaliculus, which is the site of active HCl secretion [17, 18, 20]. Lack of gastrin stimulation led to decreased LASP-1 phosphorylation and subsequent lack of HCl secretion without changing total amount of LASP-1 protein [21]. In PTK2 cells, transfected with LASP-1 mutant S146D, the pseudo-phosphorylation resulted in a translocation of the protein from the membrane to the cytosol, followed by reduced cell migration [9].
In contrast to human LASP-1, murine LASP-1 is phosphorylated at threonine 156 by PKA and PKG. Nevertheless, exposure of human and murine mesangial cells to forskolin induced a translocation of both, human and murine LASP-1, from the focal contacts to the cell interior without affecting F-actin structure and a comparison of various murine and human tissues revealed a similar prominent LASP-1 expression (Figure
1
) [
22
]. Altogether, the existing data suggest no functional differences between human and murine LASP-1 [
10
].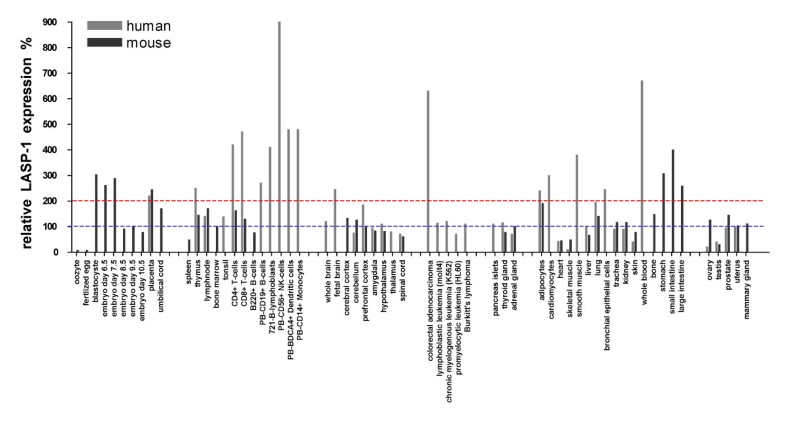 Additionally, human LASP-1 is phosphorylated at tyrosine 171 by Abelson tyrosine kinase [19]. Abelson tyrosine kinase is strongly involved in carcinogenesis of hematopoetic tumours, such as B-cell lymphomas [23]. Phosphorylation at tyrosine 171 is also associated with loss of LASP-1 from focal adhesions and furthermore with the initiation of cell death, but without changes in the dynamics of migratory processes [19].
The C-terminal SH3 motif is a small domain of 60 amino acids, first identified as a conserved sequence in the non-catalytic amino-terminal part of the src protein tyrosine kinase. SH3 domain proteins are usually located close to the plasma membrane, suggesting that the SH3 domain may be implicated in localizing the protein to this cell compartment [24].
In fact, LASP-1 primarily localizes to focal contacts, but confocal microscopy and Western blot analysis of cytosolic and nuclear preparations of various breast cancer cell lines also confirmed its nuclear localization [25]. Thus, LASP-1 is not exclusively a cytosolic protein, but is also detectable within the nucleus.
At focal adhesions the C-terminal SH3 domain of LASP-1 is involved in protein-protein interactions through binding to proline-rich sequences, specifically with palladin, lipoma preferred partner (LPP), Prointerleukin-16 (Pro-IL-16), vasodilator stimulated phosphoprotein (VASP) and zyxin [10, 26, 27, 13]. Recent data have shown that after photobleaching of cells and subsequent destruction of cytoskeletal networks, the recovery of LASP-1 and LASP-2 occurred from the anterograde direction while actin recovered inwards from the bundle tips, consistent with the retrograde flow by treadmilling. These results suggest that LASP-1 and -2 participate in the stabilisation of actin-bundles but not in their initiation [11].
Invasion assays with a ΔSH3 deletion mutant of LASP-1 invariably led to the conclusion that especially its SH3 domain is necessary for pseudopodial formation, extension and invasion [14, 28].
In summary, these multilateral protein-protein interactions mediated by the LIM and SH3 domains can be regarded as scaffolds for the formation of protein complexes of higher order and imply that LASP-1 is an important structural protein of the cytoskeleton (Figure
2
and Table
1
).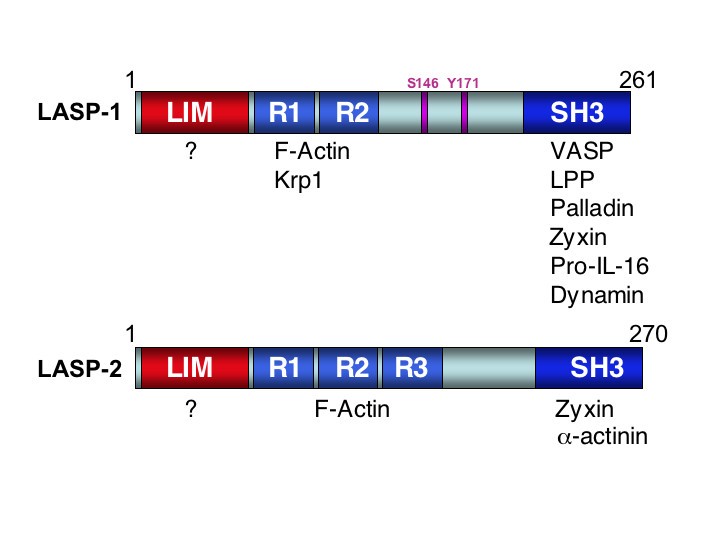 Table 1
Summary of putative and potential functions of LASP-1 and LASP-2
| protein | localization | putative and potential function | reference(s) |
| --- | --- | --- | --- |
| LASP-1 | focal contacts | signal transducer for IGF-1 | [49] |
| | | zyxin recruiting protein | [38, 39] |
| | | modulator of migration and pseudopodial elongation | [19, 25, 38, 39, 46, 47] |
| | | interaction partner for cytoskeletal organisation | [7, 8, 10, 11, 13, 14, 26, 27] |
| | | stabilisation of actin filament bundles | [11] |
| | | modulator of active HCl secretion in gastric parietal cells | [17, 18, 20, 21, 70] |
| | nucleus | modulator of proliferation in concert with other proteins | [25, 38, 39] |
| | | cell-cycle-control | [26, 38, 39] |
| | | (transcription factor) | [6, 25] |
| | postsynaptic/CNS | axonal growth and differentiation/structural protein/autism linked gene | [40, 42] |
| | Z-discs/A-bands | structural protein (possibly function in myofilament stabilization and assembly) | [12] |
| LASP-2 | focal contacts | interaction partner for cytoskeletal organisation | [27, 30] |
| | | stabilisation of actin filament bundles | [11] |
| | Z-discs | structural protein/myofilament stabilization and assembly | [12, 37] |
| | CNS | unclear/structural protein | [30] |
Domain organization and functional structure of human LASP-2
A novel LASP1-related gene, LASP2, was identified and characterized by using bioinformatics. The nucleotide sequence of human LASP2 cDNA was determined in silico and the protein (270 aa) showed 97.4% and 63.7% total-amino-acid identity with murine LASP-2 and human LASP-1, respectively [29]. Apparent molecular weights of LASP-1 and LASP-2 are 38 kDa and accordingly 34 kDa. LASP2 was found to be a splice variant of the Nebulin gene and was therefore also termed LIM-nebulette. LASP2 has a chimeric gene locus, which might be generated through homologous recombination between the ancestral LASP2-tem7l-cacnb2 locus on chromosome 10q12 and the ancestral nebl-arl8 locus on chromosome 2q23 displaying a classical example for gene fusion during evolution as one of the mechanisms to generate alternative splice variants [29]. In contrast to sarcomeric nebulette, LASP-2 (LIM-nebulette) is also expressed in non-muscle cells. It displays a modular structure with an N-terminal LIM domain, three nebulin-like repeats and a C-terminal SH3 domain and shows high similarity to LASP-1 (Figure 2) [27, 29]. However, the linker domains differ significantly between LASP-2 and LASP-1 while all other domains are highly conserved in chicken, mouse, and human [30].
Like LASP-1, LASP-2 is also predominantly located at focal contacts via its nebulin like repeats mediating binding to F-actin and targeting the protein to focal adhesions [12]. Co-precipitation experiments and a yeast two-hybrid screen revealed the specific interaction with zyxin, in which the SH3 domain of LASP-2 is both necessary and sufficient for zyxin binding [27]. LASP-2 shows a subcellular distribution at focal adhesions similar to LASP-1. Thus, both proteins may play an important role in the organization of focal adhesions in cooperation with zyxin [27] which is a key player for correct assembly and disassembly of focal adhesions [31].
The exact cellular function of LASP-2 has not been fully elucidated yet, but the structural differences of LASP-2 in comparison to LASP-1 imply that its function and binding partners might be distinct from those of LASP-1 (Figure 2 and Table 1).
Conclusion
To date, an ensemble of more than 50 different structural proteins have been identified that orchestrate the rate and organization of actin polymerization and focal adhesion turnover in protrusion. Moreover, there is a growing number of proteins, that have a dual function in serving as a structural and signalling protein [69]. There are several lines of evidence for LASP-1 being such a dual protein. On the one hand it binds to F-actin and is involved in actin-bundle stabilization [7–9, 11], but then shuttles to the nucleus and interacts with LPP [10] and zyxin [27] implying a function in modulating their signalling pathways.
The high degree of structural and amino acid identity between LASP-1 and LASP-2 would suggest that both proteins are functionally redundant, particularly because both proteins are strongly expressed during early embryo- and fetogenesis. However, after expansive study of the literature we conclude that, despite their similarities, LASP-1 and LASP-2 have distinct functions. Although both proteins are expressed in high levels in the CNS, only LASP-1 seems to be significantly involved in neuronal differentiation upon growth factor stimulation and appears to be of importance in epithelial cancer development regarding tumour cell migration and proliferation.
Further studies will be necessary to define the exact physiological functions and to delineate more the differences in function between these highly homologous proteins.
Declarations
Acknowledgements
In particular, we thank Barbara Lechner, Ulrike Kämmerer and Veit Buchholz for their helpful commentary and critical reading of the manuscript. EB is funded by Deutsche Krebshilfe (Grant no. 107706).
Authors' Affiliations
(1)
Department of Pediatrics, Klinikum rechts der Isar, Technische Universität München, Pediatric Oncology Center, Munich, Germany
(2)
Institute for Clinical Biochemistry and Pathobiochemistry, University of Wuerzburg, Wuerzburg, Germany
Copyright
© Grunewald and Butt; licensee BioMed Central Ltd. 2008
This article is published under license to BioMed Central Ltd. This is an Open Access article distributed under the terms of the Creative Commons Attribution License (http://creativecommons.org/licenses/by/2.0), which permits unrestricted use, distribution, and reproduction in any medium, provided the original work is properly cited.