Regulation of epithelial-mesenchymal transition through epigenetic and post-translational modifications
Molecular Cancer
2016
15:18
Received: 21 August 2015
Accepted: 13 February 2016
Published: 24 February 2016
Abstract
The epithelial to mesenchymal transition (EMT) is a biological process in which a non-motile epithelial cell changes to a mesenchymal phenotype with invasive capacities. This phenomenon has been well documented in multiple biological processes including embryogenesis, fibrosis, tumor progression and metastasis. The hallmark of EMT is the loss of epithelial surface markers, most notably E-cadherin, and the acquisition of mesenchymal markers including vimentin and N-cadherin. The downregulation of E-cadherin during EMT can be mediated by its transcriptional repression through the binding of EMT transcription factors (EMT-TFs) such as SNAIL, SLUG and TWIST to E-boxes present in the E-cadherin promoter. Additionally, EMT-TFs can also cooperate with several enzymes to repress the expression of E-cadherin and regulate EMT at the epigenetic and post- translational level. In this review, we will focus on epigenetic and post- translational modifications that are important in EMT. In addition, we will provide an overview of the various therapeutic approaches currently being investigated to undermine EMT and hence, the metastatic progression of cancer as well.
Keywords
CancerMetastasisEpigeneticMethylationTherapy
Background
Epithelial-mesenchymal transition (EMT) is a biological process in which non-motile, polarized epithelial cells undergo a series of biochemical alterations, becoming motile non-polarized mesenchymal cells with invasive capacity, resistance to apoptosis and altered biosynthesis of extracellular matrix (ECM) components. Epithelial and mesenchymal cells differ in their morphology and tissue organization. In a typical epithelium, cells are organized either as a single layer or in multi-layered sheets. In the latter case, structure is maintained through cell-cell interactions including tight junctions, gap junctions, cadherin based adherent junctions, desmosomes and ECM interactions [1, 2]. These junctions and interactions impede the movement of individual cells within the epithelial monolayer [3, 4]. Mesenchymal cells rarely establish tight junctions with surrounding cells and are embedded inside the extracellular matrix [5].
Cytoskeletal changes and cell signaling pathways are altered as a cell undergoes EMT. Processes known to contribute to EMT include the activation of transcription factors (TFs) such as SNAIL, SLUG and TWIST, altered expression of specific cell-surface proteins, reorganization and expression of cytoskeletal proteins, production of ECM-degrading enzymes, and changes in the expression of specific microRNAs [6, 7]. EMT is initiated following the dissolution of tight junctions resulting in the loss of apical-basal cell polarity [8, 9]. Other types of cell junctions are disassembled as well, such as gap and adherent junctions, leading to the loss of basement membrane integrity. The cytoskeleton also undergoes characteristic reorganization such as increased allocation of actin into stress fiber formation and the replacement of cytokeratin intermediate filaments by vimentin. These alterations enable the transition into a spindle-shaped cell morphology from a cuboidal/columnar precursor, correspond with an increased ability to invade surround tissue [10–12]. A cell is considered to have undergone EMT following the loss of epithelial marker expression in tandem with the development of mesenchymal marker expression. Key epithelial markers lost include E-cadherin (CHD1), Mucin-1, Cytokeratins (such as CK19, CK18, CK8), Occludin and Desmoplakin. Oppositely, markers gained during the process include N-cadherin, Vimentin, Smooth Muscle Actin (αSMA), Fibronectin, and Vitronectin, which together comprise the key mesenchymal markers [6, 13–16]. In addition numerous proteins not located on the cell surface also undergo key changes in localization. β-catenin, a component of the cadherin complex is one such example. During EMT, β-catenin dissociates from the cadherin complex and is translocated into the nucleus where it behaves as a transcription factor, regulating the expression of several genes in key pathways such as Wnt signaling. Importantly, the changes observed in cells to revert back to a epithelial-like phenotype upon arrival at a suitable location to colonize, a process prudently entitled mesenchymal to epithelial transition (MET) [5].
EMT has been classified into three categories: type I, type II and type III [17, 18]. Type I occurs during embryogenesis where cells need to migrate to adjacent tissues in order to form new organs and tissues [5]. Type II is associated with the wound healing, whereby fibroblasts repair or rebuild tissues [6]. Unlike types I and II which perform necessary physiologic functions, type III is a pathophysiologic adaptation of the process, and is closely associated with progression of neoplasia occurring in cells containing certain epigenetic and genetic changes [4, 19]. It is currently theorized that exploitation of the normal EMT signaling pathways provides the molecular genetic basis for how neoplastic (but differentiated) cells can shed their epithelial characteristics and acquire migratory properties. Having undergone such a change, the cells are subsequently able to invade tissues surrounding the primary tumor, extravasate into lymphatics or blood vessels, travel to distant sites through the circulation, and ultimately colonize a metastatic niche [18, 20]. It is important to highlight that oncogenic EMT is a transient process that may function in a paracrine fashion and is followed by MET once the tumor cells reach the metastatic site [21].
The EMT program is activated by multiple signaling pathways as well as several epigenetic and post-translational modifications such as methylation, acetylation, phosphorylation, glycosylation, hydroxylation and SUMOylation. Epigenetic modifications including modification of histone protein tails, and DNA promoter regions, play a key role in regulating gene expression by defining whether chromatin at a given genomic locus will be transcriptionally active or inactive [22]. Post translational modifications are covalent modifications that occur after transcript has been translated into protein [23]. Improving our understanding of how these modifications function in the regulation of EMT is of crucial importance, and likely instance where novel therapeutics might be developed to better treat diseases such as cancer [24]. Since the EMT program is regulated dually by epigenetic and post translational modifications, we will focus closely on these two mechanisms as they pertain to EMT in this review. In addition, we will provide a current overview of the various therapeutic approaches currently being investigated to undermine EMT.
E-cadherin as a key epithelial marker
The CDH1 gene is located on chromosome 16q22.1 and codes for the subtype of cadherin protein expressed by epithelial cells (E-cadherin). Functionally, E-cadherin behaves as a tumor suppressor gene and plays diverse roles in regulating cell polarity, differentiation, migration and stem cell-like properties. In the context of cell polarity, E-cadherin binds to adjacent cells creating an intercellular complex that forms epithelial barriers. The extracellular portion of E-cadherin binds to cadherins on an adjacent cell creating a bridge between the cytoskeletons of contiguous cells. The intracellular domain of E-cadherin interacts with β-catenin, which itself is linked actin filaments within the cells via a linker protein called α-catenin [25–27].
Down-regulation or inactivation of CDH1 has been frequently observed during tumor cell progression, and several mechanisms have been proposed [28]. These include germline mutations [29, 30], promoter hypermethylation [31, 32] and upregulation of E-cadherin transcriptional repressors [10], alternatively known as EMT transcription factors (EMT-TFs). Transcription factors such as SNAIL, SLUG, ZEB1, and ZEB2/SIP1 are considered direct repressors of E-cadherin as they bind to E-boxes present on the CDH1 promoter [10, 33, 34]. Indirect repressors include bHLH proteins (TWIST1 and TWIST2), homeobox proteins (GSC and SIX1), the bHLH factor E2.2 and the forkhead-box protein FOXC2 [2, 10]. Additionally, while the TWIST proteins are commonly recognized as an indirect repressors of CDH1, they can also bind directly on E-boxes 2 and 3 present on the CDH1 promoter to repress its expression [35].
Epigenetic modifications during EMT
Epigenetic modifications allow for regulation of gene activity and expression without altering the DNA sequence. Such changes include methylation of cytosine residues in CpG dinucleotides in the DNA; and histone modifications at N-terminal tails including acetylation, methylation, phosphorylation and ubiquitination [36, 37]. DNA methylation is a well-studied epigenetic event associated with transcriptional silencing resulting from disrupted binding affinity between gene promoters and their cognate TFs. Modification of histones on the other hand alters gene expression by reshaping the anatomy of the nearby chromatin resulting in alterations in the ability of transcriptional machinery to access genes within the region [36]. Below, we will discuss each of these epigenetic modifications in further detail.
DNA methylation
DNA methylation is one of the fundamental epigenetic modifications in mammals. It occurs at the 5-position of cytosine (5mC) in CpG dinucleotides and is catalyzed by DNA methyltransferases (DNMTs) [38, 39]. The DNMT family is composed of four members: DNMT1, DNMT3A, DNMT3B, and DNMT3L. DNMT1 maintains DNA methylation during DNA replication, while DNMT3a and DNMT3b regulate de novo DNA methylation primarily during embryonic development. The inactivation of CDH1 by hypermethylation is a common event in multiple human carcinomas including breast, bladder, lung, liver, gastric and prostate [32, 40–42]. Additionally, promoter hypermethylation of the CDH1 gene is positively associated with EMT in breast cancer cell lines, corresponding with the increased potential for invasion and metastasis observed in these cells [43].
In murine cells, oncogenic Ras has been shown to induce EMT in cooperation with certain serum factors [44]. Dumont and colleagues [45] worked with a model of immortalized Human Mammary Epithelial cells (HMEC) with repressed p16INK4A (vHMEC)-expressing oncogenic Ras (vHMEC-ras) and showed that these cells change morphology and became motile when cultured in serum-rich media. Moreover, they reported changes in the methylation status of several genes including CDH1 promoter as well as ESR1 (which codes for estrogen receptor) and TWIST in cells with a mesenchymal phenotype that were exposed to 10 % serum but not in cells with the epithelial phenotype.
Several transcriptional factors including ZEB1, SNAIL and TWIST regulate
CDH1
expression (Fig.
1
). ZEB1 is a transcription factor that plays important roles in embryogenesis and cell differentiation [
46
]. ZEB1 represses
CDH1
transcription by its binding to two E-box sequences in the promoter. ZEB1 can also regulate
CDH1
expression at the epigenetic level. Basal-like breast cancer (BLBC) is a breast cancer subtype enriched with expression of mesenchymal genes and reduced expression of epithelial genes including E-cadherin [
47
]. Downregulation of
CDH1
in BLBC is mediated by ZEB1, which recruits DNMT1 to the
CDH1
promoter to maintain the methylation status in the promoter [
38
]. These results suggest that ZEB1 acts as a transcriptional repressor and an epigenetic modulator to induce EMT in breast cancer. Although the hypermethylation of
CDH1
has been well-associated with EMT, McDonald and colleagues showed that the DNA methylation was unchanged during EMT in a model of mouse hepatocytes treated with TGF-β [
48
]. It is important to note that the mechanisms leading to EMT could be different in normal compared to cancer cells. In fact, Dumont and colleagues [
45
] suggested that TGF-β signaling and oncogenic stress induce EMT in human cells.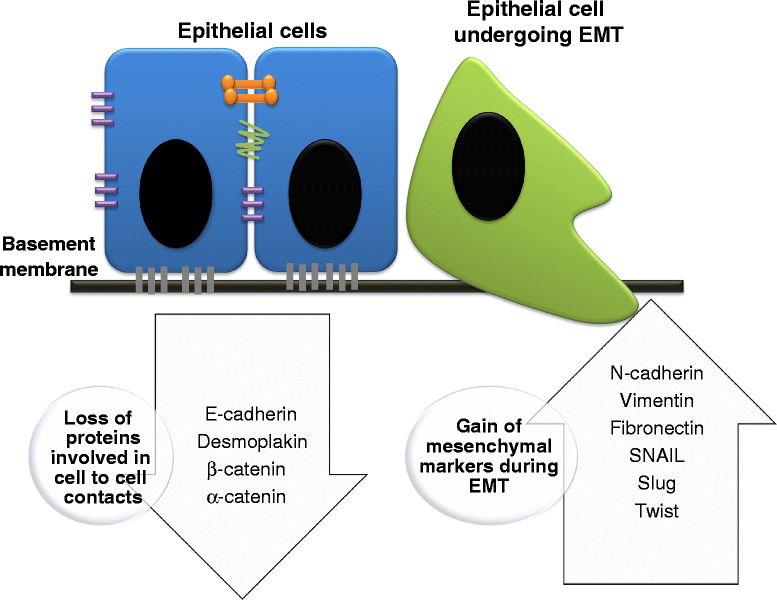 DNA methylation inhibitors such as 5-aza-2′-deoxycytidine (5-aza-CdR) have been found to function as anticancer agents in light of their ability to reactivate tumor suppressor gene expression [49]. However, Ateeq and colleagues [50] have hypothesized that such demethylating agents might also increase the risk of tumor metastasis by inadvertently activating genes involved in invasion and metastasis. They tested the DNA methylation in a set of genes involved in metastasis, angiogenesis and cell cycle regulation as well as in the tumor suppressor gene RASSF1A after treatment with 5-aza-CdR in noninvasive human breast cancer cells MCF7 and ZR-75-1. They found that although treatment with 5-aza-CdR increased the expression level of RASSF1A, it also increased the expression of genes involved in metastasis, such as uPA, SNCG, and CXCR4 [50, 51]. The mechanism responsible for the increase in the expression of those genes was attributed to demethylation at their regulatory regions. Such findings highlight the fundamental importance of DNA methylation in contribution to the activation of pro-metastatic genes, and consequently, EMT.
Histone modifications
Acetylation
Histone acetylation and deacetylation play important roles in the regulation of transcription [74]. Histone acetylation is catalyzed by Histone Acetyl Transferases (HATs), an event which is usually associated with transcriptionally active chromatin. As a result of acetylation, positively charged lysines are neutralized which increases accessibility to DNA. On the other hand, histone deacetylases (HDACs) catalyze the removal of the acetyl residues in the chromatin of inactive regions [31, 74, 75]. HATs and HDACs are usually part of multi-protein complexes composed of co-activators or co-repressors that are recruited to specific DNA sequences to determine the acetylation status [31]. Multiple HDACs have been identified in mammals and are grouped according to their homology to deacetylases in yeast. HDAC1 and HDAC2 are class I enzymes and have been found to be overexpressed in some cancers [76]. HDAC1 is highly expressed in hepatocellular carcinoma, breast, and liver, prostate, gastric and colon cancer; and HDAC2 is overexpressed in colorectal, cervical and gastric cancer [77, 78].
Histone deacetylation is at least one mechanism by which the aforementioned SNAIL represses E-cadherin expression. SNAIL directly interacts with E-cadherin promoter and recruits HDAC1, HDAC2 and the co-repressor Sin3A to the CDH1 promoter to silence its expression by deacetylation of histones H3 and H4. This effect was abolished by treatment with the HDAC inhibitor Trichostatin A (TSA) [31]. HDAC1 is also required for TGFβ1-induced EMT in hepatocytes and frequently overexpressed in hepatocellular carcinoma (HCC), suggesting a strong connection between HDAC1 and the invasive properties of HCC. HDAC1 has been shown to repress the epithelial genes such as CDH1 and ZO-1 [79]. In pancreatic cancer, downregulation of E-cadherin occurs through ZEB1, which recruits HDAC1 and HDAC2 to the CDH1 promoter to silence its expression [80]. In contrast, in ZEB1 knockdown cells, HDACs cannot be recruited, and as a consequence, E-cadherin expression is induced in such cases, implicating a significant role of HDAC in EMT.
Also, E-cadherin expression is regulated by SMAR1 (Scaffold/Matrix attachment region-binding protein) which forms a complex with HDAC1 and binds to the SLUG promoter. This results in the repression of the transcription of SLUG, and thus restores E-cadherin expression [81]. As described above, TWIST is considered an indirect repressor of E-cadherin. The Mi2/nucleosome remodeling and deacetylase (Mi2/NuRD) complex contains multiple proteins that have activities similar to histone deacetylase and chromatin-remodeling ATPase. TWIST can interact with proteins in the Mi 2/NuRD/MTA2 complex and recruit this complex to the CDH1 promoter that results in the repression of E-cadherin expression [82].
Another family of proteins that regulate acetylation is the sirtuins. Sirtuins are class III histone deacetylases that use nicotinamide adenine dinucleotide (NAD+) to mediate the deacetylation of histone and non-histone substrates. Thus, sirtuin activity is regulated by the intercellular [NAD+]/[NADH] ratio [74, 83]. The sirtuin family of proteins is composed of seven members (SIRT1-7). SIRT1, 2, 3 and 5 target proteins in the nucleus, cytoplasm and mitochondria for acetylation, while SIRT 4 and 6 regulate ADP ribosylation [84]. SIRT1 deacetylates histone H4 lysine 16 (H4K16) as well as histone H3 lysine 9 (H3K9) and histone H3 at lysine 14 (H3K14). Some reports indicate that SIRT1 may provide genetic stability and suppress tumor formation [85]. In contrast, other studies indicate that SIRT1 levels are high in cancer samples and this is associated with poor prognosis and metastasis [86–88]. Thus the exact role of SIRT1 in cancer is very controversial. An example of how SIRT1 acts as a negative regulator of EMT is in oral squamous cell carcinoma (OSCC). The expression of SIRT1 in OSCC decreases TGF-β-mediated cell migration and metastasis. This occurs due to high levels of SIRT1 expression and leads to the deacetylation of SMAD4, a downstream target of TGF-β which suppresses the expression of MMP7. Downregulation of SIRT1 leads to SMAD4 hyperacetylation and MMP7 hyperactivation that results in the degradation of E-cadherin, the release of β-catenin from cell junctions and translocation to the nucleus to promote metastasis in OSCC cells [89]. On the other hand, in prostate cancer, SIRT1 induces EMT [90]. The mechanism is through ZEB1, which recruits SIRT1 to the CDH1 promoter to deacetylate histone H3. As a consequence, the RNA polymerase binding and CDH1 transcription are reduced. These results suggest that SIRT1 may be a good therapeutic target for prostate cancer among others [91].
Interplay between HDAC and HMT to regulate EMT
Hypoxia is a microenvironmental condition known to promote tumor progression through the stabilization of Hypoxia Inducible Factor-1 (HIF-1). HIF-1α activates genes involved in cellular processes such as angiogenesis, invasion and EMT [24, 58]. Under hypoxic condition, different chromatin modifiers regulate EMT [92]. WDR5 is a WD40 repeat protein and a HMT that is essential for histone H3 lysine 4 (H3K4) methylation [92, 93]. HIF-1α activates the expression of HDAC3 that deacetylates H3K4 on both mesenchymal genes (Vimentin and N-cadherin) and epithelial genes (E-cadherin and Plakoglobin). To modulate EMT, HDAC3 additionally recruits the WDR5/HMT complex to mesenchymal promoters and increases the methylation levels of H3K4m2 to promote gene activation and EMT. The knockdown of WDR5 abolishes the activation of mesenchymal genes during hypoxia [92]. These results suggest that hypoxia-induced EMT is regulated by interplay between histone deacetylases (HDAC3) and histone methyltransferases complexes.
HDACs mediate epigenetic mechanisms with important roles in cell cycle regulation, cell proliferation and differentiation [94]. The activity of HDACs has also been associated with the development and progression of fibrotic disorders [95], as well as cancer, and thus it is important to explore potential applications of HDAC inhibitors to inhibit EMT. However, the role of certain HDACs is still controversial, which hinders the development of a viable therapeutic option [81]. However, therapeutic use of HDAC inhibitors such as SAHA (suberoylanilide hydroxamid acid), valproic acid (VPA) and trichostatin A (TSA) has been tested in several models of cancer showing promising results [96]. For example, in triple negative breast cancer, Panobinostat an inhibitor of HDAC class I, II and IV, inhibits proliferation as well as increases the expression of E-cadherin [97]. In summary, complete understanding of histone acetylation in EMT will lead to more effective cancer treatments.
Post-translational modifications during EMT
Post- translational modifications (PTMs) are covalent modifications that occur after RNA is translated into protein [
23
]. These covalent modifications include the addition of a modifying chemical group or the addition of another small protein to one or more residues of the target protein [
98
]. PTM can either occur on a single residue within the protein or on multiple residues undergoing the same or different modification [
99
]. In this review we will focus on hydroxylation, phosphorylation, SUMOylation and glycosylation (Table
2
).
Table 2
Post - Translational Events in EMT.
Post- translational event

Modified protein

Hydoxylation

HIF1A

Phosphorylation

SNAIL

Par6

SUMOylation

FoxM1

TFAP2C

SIP1

Glycosylation

SNAIL
Conclusion
Approximately 90 % of cancer mortalities occur in patients with tumors derived from epithelial tissues, and the primary cause of death in such cases results from dissemination of tumor cells to distant organs [139]. As such, understanding the cellular mechanisms contributing to metastasis is paramount in the effort to improve outcomes. EMT is a process in which tumor cells within the primary tumor lose their cell junctions and their epithelial morphology changes to fibroblastoid morphology. These changes allow the cells to invade the surrounding tissue of the primary tumor, intravasate into the bloodstream and lymphatic vessels as circulating tumor cells (CTC), and extravasate to distant sites where they may colonize distant organs as epithelial metastasis. Although EMT is a process that occurs under normal conditions such as wound healing and embryogenesis, the misappropriation of these pathways during tumor progression is an unpredictable and disastrous event with the simultaneous activation of different molecular cascades.
Many pharmacological approaches, including chemical inhibitors and monoclonal antibodies that target several proteins that regulate cancer progression have been devised and show promising results for the treatment of a variety of cancers. However, very little research has been done to target post translational modifications of proteins in cancers, and thus we believe that identifying inhibitors for post-translational modifications represents an underexplored area which may hold significant potential, and thus should be a high priority in the development of future cancer treatments. Furthermore, the identification of these post-transcriptional and post-translational modifications is important given that these changes could be identified in the primary tumor before metastasis occurs. Such knowledge would allow clinicians to better predict which patients have genotypes more likely to follow an aggressive clinical course prone to development of metastases. These patients could then be treated with different approaches from the onset of disease to reduce the risk of metastasis, and allow for better prognoses and ultimately, enhance survival.
Declarations
Acknowledgments
We would like to thank our lab colleague, Steven Eastlack for critical reading of the manuscript. We apologize to several investigators whose outstanding work could not be cited.
Open AccessThis article is distributed under the terms of the Creative Commons Attribution 4.0 International License (http://creativecommons.org/licenses/by/4.0/), which permits unrestricted use, distribution, and reproduction in any medium, provided you give appropriate credit to the original author(s) and the source, provide a link to the Creative Commons license, and indicate if changes were made. The Creative Commons Public Domain Dedication waiver (http://creativecommons.org/publicdomain/zero/1.0/) applies to the data made available in this article, unless otherwise stated.
Authors' Affiliations
(1)
Department of Biochemistry and Molecular Biology, LSUHSC School of Medicine, New Orleans, USA
(2)
Pontificia Universidad Javeriana, Bogota, Colombia
Copyright
© Serrano-Gomez et al. 2016