Wnt-signalling pathways and microRNAs network in carcinogenesis: experimental and bioinformatics approaches
Emenike K. Onyido

1,

Eloise Sweeney

1 and

Abdolrahman Shams Nateri

1

Email author
Molecular Cancer
2016
15:56
Received: 15 June 2016
Accepted: 26 August 2016
Published: 2 September 2016
Abstract
Over the past few years, microRNAs (miRNAs) have not only emerged as integral regulators of gene expression at the post-transcriptional level but also respond to signalling molecules to affect cell function(s). miRNAs crosstalk with a variety of the key cellular signalling networks such as Wnt, transforming growth factor-β and Notch, control stem cell activity in maintaining tissue homeostasis, while if dysregulated contributes to the initiation and progression of cancer. Herein, we overview the molecular mechanism(s) underlying the crosstalk between Wnt-signalling components (canonical and non-canonical) and miRNAs, as well as changes in the miRNA/Wnt-signalling components observed in the different forms of cancer. Furthermore, the fundamental understanding of miRNA-mediated regulation of Wnt-signalling pathway and vice versa has been significantly improved by high-throughput genomics and bioinformatics technologies. Whilst, these approaches have identified a number of specific miRNA(s) that function as oncogenes or tumour suppressors, additional analyses will be necessary to fully unravel the links among conserved cellular signalling pathways and miRNAs and their potential associated components in cancer, thereby creating therapeutic avenues against tumours. Hence, we also discuss the current challenges associated with Wnt-signalling/miRNAs complex and the analysis using the biomedical experimental and bioinformatics approaches.
Keywords
CancerCancer stem cellmiRNAWnt-signallingNext generation sequencingsRNA-Seq and ChIP-Seq
Background
The Wnt pathway is a highly regulated signalling pathway that controls numerous stages of animal development and tissue homeostasis. The Wnt proteins comprise a highly conserved and diverse family of genes found in humans, mice, Xenopus, Zebrafish and Drosophila [1] The pathway is closely regulated at both transcriptional-level regulations to post-translational modification; thus aberrant Wnt activity often results in developmental disorders and diseases including but not limited to cancer [2–4]. For example, during metastatic processes, epithelial cancer cells require certain characteristics such as elevated expression of mesenchymal markers as well as other alterations in their microenvironment to enable invasion of adjacent tissues and progression to metastatic high-grade tumours. Inappropriate Wnt signals coupled with a loss of E-cadherin promotes an increase in cytoplasmic and nuclear β-catenin levels where it interacts with the epithelial-mesenchymal transition (EMT) regulators, such as E-cadherin repressors: Snail, twists and Zebs [5, 6]. MicroRNAs (miRNAs) are composed of ~22 nucleotide sequences in length and belongs to the class of non-coding endogenous small RNAs that are integral post-transcriptional regulators of the gene expression via direct interaction with the 3'un-translated region (UTR) of the target messenger RNAs [7]. Recent advances in biomedical research have allowed experimental and bioinformatics approaches to identify short non-coding RNAs such as microRNAs (miRNAs) as regulators of components of the Wnt-signalling pathways and vice versa. Thus, both miRNAs and Wnt-signalling pathways form a network involved in the regulation of key biological processes.
Conclusions
Although the application of bioinformatics in the elucidation of the miRNAs-mediated regulation of Wnt-signalling is extremely beneficial (Fig.
5
), particularly in the area of cancer research, the significant challenges that remain still signify the usefulness of experimental approaches for the analysis and validation of bioinformatics data. The misconception that a dichotomy exists between bioinformatics and experimental approaches in cancer research would certainly slow down the rate of progress in establishing the roles miRNA plays in the physiology and pathology of the human system. While bioinformatics strategies may be seen as improvements to experimental approaches such as the so-called 'wet lab experiments', we cannot deny the fact that experimental approaches are still relevant in modern medicine, especially in the area of experimental validation. As already noted in this review, the NGS system still possesses significant challenges; hence in order to circumvent the bottleneck of data storage as well as complex data analysis, the continual development of methodologies/algorithms for data analysis and integration is necessary. Given the ever increasing passion for the identification of proteomic and genomic biomarkers to enhance cancer detection at the early stage, utilization of both bioinformatics and experimental strategies for miRNA target identification, functional target validation and their specificity for particular tissues must be employed. Further investigations of the miRNA/Wnt-signalling network, in addition to the crosstalk between miRNAs and other signalling networks implicated in cancer development must also be performed in order to boost productive application to improve human health.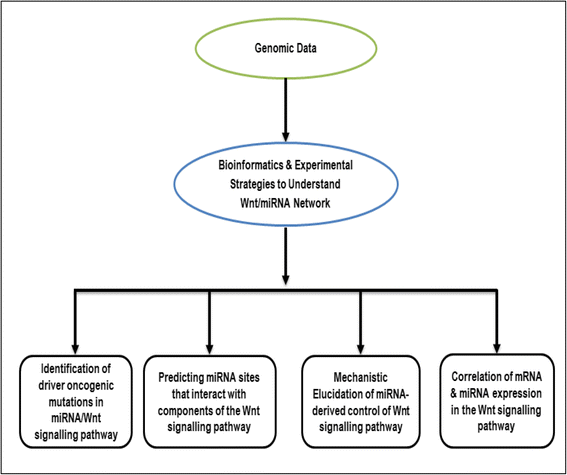 Abbreviations
APC:

Adenomatous polyposis coli
CAF:

Cancer associated fibroblasts
CaMK:

Calcium/calmodulin-dependent kinase
ChIP-Seq:

Chromatin IP Sequencing
CK1:

Casein kinase1
CLIP-Seq:

Crosslinking and immunoprecipitation sequencing
CRC:

Colorectal cancer
CRISPR:

Clustered regularly interspaced short palindromic repeats
CRISPR:

Clustered regularly interspaced short palindromic repeats
CSC:

Cancer stem cell
EMT:

Epithelial-mesenchymal transition
ESC:

Embryonic stem cells
GSK-3β:

Glycogen synthase kinase 3β
HCC:

Hepatocellular carcinoma
iPSC:

Induced pluripotent stem cells
MACE:

Massive Analysis of cDNA Ends
miRNAs:

microRNAs
NFAT:

Nuclear factor of activated T-cells
NGS:

Next generation sequencing
NSCLC:

Non -small cell lung cancer
PKC:

Protein kinase C
PLAU:

Plasminogen activator urokinase
sRNA-Seq:

Small RNA-sequencing
UTR:

Un-translated region
β-TRCP:

β-transducin repeat-containing protein.
Declarations
Acknowledgments
We would like to thank Roya Babaei-Jadidi, Andrew Benest and Cancer Genetic and Stem Cell group for their input and reading the manuscript. We also thank the fantastic fundraising efforts of Alison Sims and her family in memory of Daz Sims to support the work in our laboratory.
Funding
This study was supported by the Medical Research Council (MRC) grant G0700763, and the University of Nottingham.
Availability of data and materials
This publication will be freely available online through the University of Nottingham open access policy made for BioMed Central journals such as Molecular Cancer.
Authors' contributions
ASN designed the outline of the paper. EKO and ES created all the figures. EKO, ES and ASN wrote the manuscript. All authors have read and approved the final version of this manuscript.
Competing interests
The authors declare that they have no competing interests.
Consent for publication
Not applicable.
Ethics approval and consent to participate
Not applicable.
Open AccessThis article is distributed under the terms of the Creative Commons Attribution 4.0 International License (http://creativecommons.org/licenses/by/4.0/), which permits unrestricted use, distribution, and reproduction in any medium, provided you give appropriate credit to the original author(s) and the source, provide a link to the Creative Commons license, and indicate if changes were made. The Creative Commons Public Domain Dedication waiver (http://creativecommons.org/publicdomain/zero/1.0/) applies to the data made available in this article, unless otherwise stated.
Authors' Affiliations
(1)
Cancer Genetics & Stem Cell Group, Cancer Biology Unit, Division of Cancer & Stem Cells, School of Medicine, University of Nottingham, Nottingham, UK