Kinome profiling of myxoid liposarcoma reveals NF-kappaB-pathway kinase activity and Casein Kinase II inhibition as a potential treatment option
Molecular Cancer
2010
9:257
Received: 4 May 2010
Accepted: 23 September 2010
Published: 23 September 2010
Abstract
Background
Myxoid liposarcoma is a relatively common malignant soft tissue tumor, characterized by a (12;16) translocation resulting in a FUS-DDIT3 fusion gene playing a pivotal role in its tumorigenesis. Treatment options in patients with inoperable or metastatic myxoid liposarcoma are relatively poor though being developed and new hope is growing.
Results
Using kinome profiling and subsequent pathway analysis in two cell lines and four primary cultures of myxoid liposarcomas, all of which demonstrated a FUS-DDIT3 fusion gene including one new fusion type, we aimed at identifying new molecular targets for systemic treatment. Protein phosphorylation by activated kinases was verified by Western Blot and cell viability was measured before and after treatment of the myxoid liposarcoma cells with kinase inhibitors. We found kinases associated with the atypical nuclear factor-kappaB and Src pathways to be the most active in myxoid liposarcoma. Inhibition of Src by the small molecule tyrosine kinase inhibitor dasatinib showed only a mild effect on cell viability of myxoid liposarcoma cells. In contrast, inhibition of the nuclear factor-kappaB pathway, which is regulated by the FUS-DDIT3 fusion product, in myxoid liposarcoma cells using casein kinase 2 inhibitor 4,5,6,7-tetrabromobenzotriazole (TBB) showed a significant decrease in cell viability, decreased phosphorylation of nuclear factor-kappaB pathway proteins, and caspase 3 mediated apoptosis. Combination of dasatinib and TBB showed an enhanced effect.
Conclusion
Kinases associated with activation of the atypical nuclear factor-kappaB and the Src pathways are the most active in myxoid liposarcoma in vitro and inhibition of nuclear factor-kappaB pathway activation by inhibiting casein kinase 2 using TBB, of which the effect is enhanced by Src inhibition using dasatinib, offers new potential therapeutic strategies for myxoid liposarcoma patients with advanced disease.
Keywords
Dasatinib
Casein Kinase
Trabectedin
Myxoid Liposarcoma
Fusion Type
Background
Myxoid liposarcoma accounts for 40% of all liposarcomas and occurs most commonly in the extremities [1]. In about 95% of cases, myxoid liposarcoma is cytogenetically characterized by t(12;16)(q13;p11), creating a chimerical FUS/DDIT3 gene which has been thought to play a pivotal role in its tumourigenesis [2–4]. The cornerstone of curative treatment for myxoid liposarcoma is surgery with an overall 10 years survival of 80%. Prognosis is mainly determined by the percentage of round cell component of the tumor. Myxoid liposarcoma with more than 5% round cell component are defined as high-grade and prone to metastasis[5]. Treatment options for patients with inoperable or metastatic disease are relatively poor, though trials with new drugs reveal good perspectives for the future [6, 7]. Therefore, clinical trials to test and validate new treatment options for liposarcoma subtypes (such as myxoid liposarcoma) are necessary[6]. Nowadays, (neo) adjuvant chemotherapy of liposarcoma patients is limited with only ifosfamide and anthracyclins showing 20-40% response rates in untreated patients[8]. Trabectedin (Yondelis, ET 743) is a novel chemotherapeutic agent derived from the marine tunicate Ecteinascidia turbinate. By binding to the DNA minor groove, ET-743 forms covalent adducts with the N2-position of guanine through its carbinolamine moiety. As a result, the minor groove bends toward the major groove. The cytotoxic activity of ET-743 is largely based on its interaction with nucleoside excision repair machinery, as well as through the induction of double strand breaks[9–11]. Phase I and II studies showed promising results in myxoid liposarcoma patients with advanced disease though recent studies reported an increasing number of side effects[12, 13]. During the last years, tumor specific targeted therapy has shown to be effective in many cancers, including sarcomas. Especially kinase inhibitors are an emerging class of small molecule inhibitors that target unique kinase conformational forms and binding sites[14]. Notable advantages are higher specificity and generally more manageable and reversible side effects [15]. This necessitates the study of separate soft tissue tumour entities[7]. In the present study, we explored the activated pathways in myxoid liposarcoma cells using kinome profiling to find new treatment possibilities. Kinases phosphorylate tyrosine, threonine or serine residues on proteins, thereby serving as a switch to (in) activate pathways involved in cell cycle, cell survival and differentiation. Moreover, kinases are promising targets for anti-cancer therapy as they do not require new protein synthesis, therefore act rapidly and are also promising in slow-cycling tumors [16, 17].
Data on activated pathways in myxoid liposarcoma are sparse[18, 19]. By using a kinase substrate specific protein array chip combining 1024 different kinase substrates, we identified kinases associated with Src and NF-kappaB pathways to be active in myxoid liposarcoma. NF-kappaB is an inducible cellular transcription factor that regulates a variety of cellular genes, including those involved in immune regulation, inflammation, cell survival and cell proliferation. Hereby, active NF-kappaB plays a pivotal role in tumorigenesis and increased expression of the phosphorylated NF-kappaB protein is found in many tumors[20, 21]. We showed that in myxoid liposarcoma cells, inhibition of kinases associated with the NF-kappaB pathway (by TBB) resulted in decreased viability and that this effect was enhanced by Src-inhibitor dasatinib. These results show that targeting NF-kappaB pathway might be a potential treatment option in myxoid liposarcoma patients with advanced disease.
Discussion
Treatment options for myxoid liposarcoma patients with advanced disease are poor. Recently, the chemotherapeutic drug Trabectedin showed promising results in phase I and II trials in advanced disease though adverse effects have also been reported[13, 25]. Small molecule targeting, especially with kinase inhibitors, has shown to be effective and more specific in many tumors with less severe side effects than conventional chemotherapeutic agents. To identify new potential treatment options for myxoid liposarcoma patients with advanced disease, we explored the kinome of myxoid liposarcoma cells in vitro and performed subsequent pathway analysis.
We previously established the reliability of kinome profiling using Pepchip in untreated versus imatinib treated GIST882 cell line which correctly identified the pathways known to be involved in GIST[16]. Moreover, we previously demonstrated the reliability of our analysis which is based on averaging results of a number of samples to get an impression of the most activated kinases in a series of tumors[16]. By additionally performing the Pepchip experiments in the myxoid liposarcomas cell lines after serum starvation as well as by excluding cell cycle related kinases from the analysis we determined that the detected kinases in the present analysis are indeed tumor specific and not related to the high proliferation rate of the myxoid liposarcoma cell lines. Moreover, by comparing with previously analyzed series of colorectal cancer and chondrosarcoma, as well as by comparing with mesenchymal stem cells we could confirm that the list of kinases was specific for myxoid liposarcomas.
We could demonstrate activation of the peroxisome proliferator-activated receptor gamma pathway, which could be expected since it has been shown to play a pivotal role in adipocytic differentiation and is regulated by the FUS-DDIT3 fusion product[
26
–
28
](Figure
5
). The DDIT3 gene encodes a DNA-damage inducible member of the C/EBP family of transcription factors and inhibits adipocytic conversion of preadipocytes[
29
,
30
]. Transfection of primary mesenchymal progenitor and human fibrosarcoma cells with the FUS/DDIT3 fusion protein induces a myxoid liposarcoma phenotype[
31
,
32
]. Treatment of myxoid liposarcoma cells in
vitro
and
in vivo
with peroxisome proliferator-activated receptors gamma agonists induced terminal differentiation[
33
], although phase II studies with the peroxisome proliferator-activated receptors gamma agonist Rosiglitasone did not show the antitumor effect in advanced myxoid liposarcoma patients[
34
]. Until today, nine different types of FUS/DDIT3 fusion genes have been described, involving predominantly the central and C-terminal parts of the FUS-gene and nearly always the whole DDIT3 gene[
22
]. We describe here for the first time a new fusion type (Figure
1
) including the RNA binding domain of the FUS gene, which is not found in the other fusion types except for type 8. Whether this new rare fusion gene will be translated to a protein or will have any promoting effect on tumor development is not clear and is hard to study due to the rarity of these variants. We found no differences between the type of FUS/DDIT3 fusion gene and kinases activated. Till now, the molecular variability of fusion types has not shown to have any effect on transforming capacities, adipogenesis nor prognosis in myxoid liposarcoma[
5
,
35
].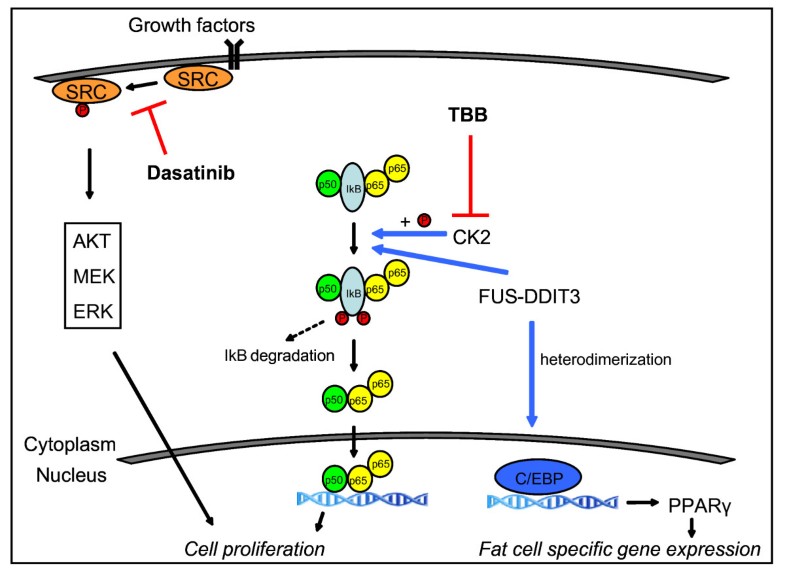 We showed that kinases associated with NF-kappaB pathway were highly active in myxoid liposarcoma. In the atypical (IKK independent) NF-kappaB pathway, phosphorylation of inhibitors of NF-kappaB (IkB), and subsequent activation of NF-kappaB (p65) is controlled by casein kinase 2 and tyrosine kinase-dependent pathways (figure 5)[36, 37]. We did not measure NF-kappaB pathway activation by analysis of downstream products or electrophoretic mobility shift assays. Göransson et al. has recently s hown that NF-kappaB is a major factor controlling IL8 transcription in FUS-DDIT3 expressing cells. This could be explained by direct binding of FUS/DDIT3 to the C/EBP-NF-kappaB composite site of the immediate promoter region of IL8. Moreover, FUS/DDIT3-GFP expressing cell lines showed upregulation of the NF-kappaB controlled genes LCN2 and MMP1 whereas DDIT3 had little effect. These findings were also quantitatively confirmed by RT-PCR[17]. Active (phosphorylated) p65 was present in cell lysates of myxoid liposarcoma cell cultures and cell lines. We did not explicitly show that the phosphorylated p65 protein was located in the nucleus/nuclear fraction. Phosphorylation of p65 could be counteracted by TBB, an inhibitor of the casein kinase 2 and resulted in decreased cell viability as shown in figure 3 and 4. This suggests that NF-kappaB signaling is active in myxoid liposarcoma and that its activation is, at least in part, regulated via the atypical pathway. This is an important finding which suggests that NF-kappaB pathway inhibition might be beneficial in myxoid liposarcoma patients with advanced disease.
The exact driving force behind NF-kappaB activation in myxoid liposarcoma is unclear. Gene expression studies revealed that p50 was significantly upregulated in FUS/DDIT3 transfected fibroblastic cell lines[38]. This suggests that NF-kappaB (p50) transcription in myxoid liposarcoma might be regulated by the FUS/DDIT3 fusion gene. After translocation to the nucleus, transcriptional activation of NF-kappaB requires multiple co-activating proteins[39]. The C-terminus of FUS co-activates p65 and plays a pivotal role in NF-kappaB mediated transcription though this C-terminus is lost in the FUS/DDIT3 fusion protein. Recent studies showed that the FUS/DDIT3 fusion protein facilitates NF-kappaB binding to its target genes, probably in an indirect manner[19, 39–41]. The FUS-DDIT3 fusion protein deregulates NF-kappaB controlled genes by interaction with nuclear factor of kappa light polypeptide gene enhancer in B-cells inhibitor zeta (NFKBIZ)[19]. This synergistic role between a fusion protein and activation of NF-kappaB signaling might also be important in other translocation based sarcomas and has already been shown in Bcr-Abl mediated leukemias[42].
In all myxoid liposarcoma samples we showed overexpression of casein kinase 2, which has been shown in many other neoplasms[43]. We showed inhibition of casein kinase 2 and subsequent decreased levels of active p65 to be associated with decreased viability and increase in caspase 3 protein expression in myxoid liposarcoma cells. Caspase 3 is released by cleavage of its inactive precursor procaspase 3, and mediates apoptosis[44, 45]. Decreased cell viability with increased levels of the effector caspase 3 therefore suggests caspase 3 mediated apoptosis. Recently, phase I trials have been started to test the effect of casein kinase 2 inhibitors in vivo which seems to be promising[46].
In addition to kinases associated with NF-kappaB, Fyn, Lck and Yes were most active as indicated by specific sequences on the chip. They are members of the Src family of kinases. Src plays an important role in embryonic development, cell growth and cell survival and activating mutations in Src have been reported in colorectal carcinoma[47, 48]. Src signaling can lead to downstream activation of ERK/MAPK and PI3K/AKT signaling. Activation of both pathways in myxoid liposarcoma is associated with more aggressive behavior[49]. The Src pathway can be inhibited by the small molecule tyrosine kinase inhibitor dasatinib limiting cell growth in various cancers in vitro, thereby having promising therapeutic potential[16, 50, 51]. Immunoblotting confirmed the expression of Src and phosphorylation of Src at Y419 in myxoid liposarcoma cell cultures and cell lines. Dasatinib treatment showed a reduction in phosphorylated (active) Src and a decrease in cell viability. However, this latter effect was only very mild with maximum decrease in viability of only 40% maximally, and no IC50 levels could be calculated. This might be explained by Src pathway activation occurring upstream, close to its receptor (figure 5) and that the effect of the inhibition of Src phosphorylation might be (partly) circumvented by crosstalk activation downstream. Our data suggest that the active Src pathway is not crucial for myxoid liposarcoma survival and that monotherapy with dasatinib is no suitable option for treatment, although the additional effect of dasatinib in vivo through inhibition of angiogenesis is not encountered here.
Combinations of different drugs (including dasatinib) have been shown to act synergistically in many tumors and combination drug therapy is commonly used in cancer treatment[50]. Recently, a synergistic effect of dasatinib when combined with other drugs (i.e. oxaliplatin) has been described in colorectal carcinoma[50]. Since we showed NF-kappaB and Src to be the two most active pathways we studied the effect of combination of dasatinib and TBB and we found a enhanced effect on cell viability of myxoid liposarcoma cells in vitro. To be more specific: L1357 cells show 80% viability at maximum dasatinib dose (5000 nM), whereas viability was only 5% at lower concentration of dasatinib (500 nM) at IC50 for TBB (figure 3). However, it was not possible to calculate if this enhancement was also a true synergistic effect as IC50 values for dasatinib could not be calculated (figure 3)[52]. IC50 values for TBB (but not for dasatinib) could be calculated for most primary cultures and cell lines, but not for L1187 and L1434. Though cell line 1765-92 responded well to TBB treatment, no enhancement could be observed upon addition of dasatinib, which might be related to a relative resistance of 1765-92 cells to dasatinib as also visible from figure 3A. Future experiments, for instance studying the changes at the kinome level upon dasatinib treatment may reveal (1) why dasatinib is not effective as a monotherapy but is effective in combination with TBB, and (2) what might be the exact underlying mechanism why 1765-92 myxoid liposarcoma cells showed resistance for dasatinib treatment and thereby the absence of enhancement in combination treatment as was observed for the other cell line and primary cultures.
Conclusion
In conclusion our results indicate that the NF-kappaB and Src pathway include the most active kinases in myxoid liposarcoma, and inhibition of casein kinase 2 and thereby interference with kinases associated with the NF-kappaB pathway decreases cell viability in vitro, the effect of which can be enhanced by inhibiting src- signalling using dasatinib.
Declarations
Acknowledgements
The authors are grateful to Prof. Dr. Pierre Aman (Lundberg Laboratory for Cancer Research (LLCR), Department of Pathology, Sahlgrenska Academy at University of Gothenburg, Gothenburg, Sweden) for providing myxoid liposarcoma cell lines 402-91 and 1765-92, Prof. Dr. J. Fletcher (Brigham and Women's Hospital, Boston, USA) for providing the GIST882 cell line, Prof. Dr. Bob van de Water and Ine Tijdens (both from the Division of Toxicology, Leiden Amsterdam Center for Drug Research (LACDR), Leiden University, Leiden, The Netherlands) for expert technical support with the read out of the Pepchips. We are grateful to Jolieke van Oosterwijk for help with the WST experiments and Dr. Christianne Reijnders for culturing the mesenchymal stem cells. Brandt Meylis is acknowledged for expert technical assistance. This work was supported by a grant from the Netherlands Organisation for Scientific Research [920-03-403].
Authors' Affiliations
(1)
Department of Pathology, Leiden University Medical Center, Leiden, The Netherlands
(2)
Department of Molecular Cell Biology, Leiden University Medical Center, Leiden, The Netherlands
Copyright
© Willems et al; licensee BioMed Central Ltd. 2010
This article is published under license to BioMed Central Ltd. This is an Open Access article distributed under the terms of the Creative Commons Attribution License (http://creativecommons.org/licenses/by/2.0), which permits unrestricted use, distribution, and reproduction in any medium, provided the original work is properly cited.