Rhabdomyosarcoma cells show an energy producing anabolic metabolic phenotype compared with primary myocytes
Received: 11 May 2008
Accepted: 21 October 2008
Published: 21 October 2008
Abstract
Background
The functional status of a cell is expressed in its metabolic activity. We have applied stable isotope tracing methods to determine the differences in metabolic pathways in proliferating Rhabdomysarcoma cells (Rh30) and human primary myocytes in culture. Uniformly 13C-labeled glucose was used as a source molecule to follow the incorporation of 13C into more than 40 marker metabolites using NMR and GC-MS. These include metabolites that report on the activity of glycolysis, Krebs' cycle, pentose phosphate pathway and pyrimidine biosynthesis.
Results
The Rh30 cells proliferated faster than the myocytes. Major differences in flux through glycolysis were evident from incorporation of label into secreted lactate, which accounts for a substantial fraction of the glucose carbon utilized by the cells. Krebs' cycle activity as determined by 13C isotopomer distributions in glutamate, aspartate, malate and pyrimidine rings was considerably higher in the cancer cells than in the primary myocytes. Large differences were also evident in de novo biosynthesis of riboses in the free nucleotide pools, as well as entry of glucose carbon into the pyrimidine rings in the free nucleotide pool. Specific labeling patterns in these metabolites show the increased importance of anaplerotic reactions in the cancer cells to maintain the high demand for anabolic and energy metabolism compared with the slower growing primary myocytes. Serum-stimulated Rh30 cells showed higher degrees of labeling than serum starved cells, but they retained their characteristic anabolic metabolism profile. The myocytes showed evidence of de novo synthesis of glycogen, which was absent in the Rh30 cells.
Conclusion
The specific 13C isotopomer patterns showed that the major difference between the transformed and the primary cells is the shift from energy and maintenance metabolism in the myocytes toward increased energy and anabolic metabolism for proliferation in the Rh30 cells. The data further show that the mitochondria remain functional in Krebs' cycle activity and respiratory electron transfer that enables continued accelerated glycolysis. This may be a common adaptive strategy in cancer cells.
Keywords
Pyrimidine BiosynthesisRh30 CellTOCSY SpectrumGlucose CarbonAnaplerotic Reaction
Background
Rhabdomyosarcomas are a serious childhood cancer that arise from a primitive muscle cell, the "rhabdomyoblast", and fail to differentiate into striated muscle cells. These tumors account for about 5–8% of all childhood cancers, with a peak incidence in the 1–5 age group. Overall, 50% of the children diagnosed with rhabdomyosarcoma survive 5 years. There are two main forms of the sarcoma, alveolar and the less severe embryonic form. Although there is considerable information about the origin and progression of these tumors [1–5], much less is known about the biochemical phenotype of these sarcomas and how it differs from the primary myocytes of the nearby tissue. Such information would be of great value not only for understanding the basic biochemistry of these transformed cells, but also for developing new therapeutics. Here we report a study of the biochemical phenotype of rhabdomyosarcoma cells of the embryonic variety, Rh30, in comparison with primary myocytes, using a 13C-isotopomer-based metabolomic approach.
Rapidly dividing cancer cells in culture show numerous differences from the differentiated primary cells of a comparable type [6–8]. In order to divide, the cell must traverse the cell cycle repeatedly, with a concomitant doubling of macromolecular content during the S and G2 phases. This requires considerable biosynthetic resources and an energy demand far in excess of the basal rate. Biosynthesis of proteins, nucleic acids, lipids and complex carbohydrates involves coupling to the hydrolysis of nucleoside triphosphates (e.g. ATP and GTP in protein biosynthesis, CTP and UTP in lipid and carbohydrate biosynthesis), as well as the incorporation of carbon and nitrogen from metabolic precursors. For cells in culture, many of these precursors are readily available in the medium, including essential amino acids, fatty acids and glucose. In contrast, the precursors of nucleotides, complex carbohydrates and phospholipids are absent from the medium, and so must be synthesized de novo.
There is a hierarchy of ATP-consuming reactions in cellular function [9]. As might be expected, maintenance of ion gradients across membranes for transport and various macromolecular repair processes involved in cell survival are the highest priority reactions and account for a large fraction of the ATP consumed in quiescent (G0/G1) cells [9–11]. Upregulating macromolecule biosynthesis in preparation for cell division requires additional ATP equivalents to be made. Many cancer cells have a tendency to increase glucose uptake [12] and glycolytic flux even under aerobic conditions, while secreting a large fraction of the glucose carbon as lactate [13, 14]. This implies a bypass to oxidative phosphorylation, such that glycolysis alone may account for a substantial fraction of the ATP production. This enhanced aerobic glycolysis is known as the Warburg effect [15–17]. A more efficient means for energy production under aerobic conditions is to increase the flux of acetylCoA derived from the oxidation of glucose, amino acids and fatty acids into the Krebs' cycle. Moreover, to sustain the Krebs cycle activity, it is necessary to upregulate anaplerotic reactions that replenish carbon diverted for biosynthesis.
Skeletal muscle uses both glycolysis and oxidative phosphorylation for providing energy for contraction. Under conditions of hard exercise, glycogen stores are rapidly depleted, and oxidative phosphorylation of fuels such as fatty acids cannot keep up with demand. The muscle resorts to a greatly increased rate of glycolysis (> 100 fold [18]) and the production of lactate. Lactate, and to some extent Ala, is exported from the myocytes into the blood, when they are transported the liver for resynthesis into glucose via gluconeogenesis (cf. Figure 1). These comprise the Cori and alanine cycles [19, 20]. Thus, myocytes have the capacity to make and secrete large amounts of lactate. The secretion of lactate via the monocarboxylate transporter is often accompanied by a proton symport [21, 22]. Moreover, most cells can actively export protons via various exchangers, such as the H+/Na+ antiporter [23], Many cancer cells pump prodigious quantities of H+ into the extracellular environment, which may offer survival advantages, particularly in the light of their accelerated glycolysis [24, 25].
However, it has been reported that many cancer cells upregulate the embryonic M2 form of pyruvate kinase (PK) which is defective in catalyzing pyruvate production [
26
], so alternative substrates must be oxidized to generate ATP [
27
–
29
]. One possibility is to oxidize glutamine/glutamate or serine ultimately to produce pyruvate, bypassing the defective PK step, and allowing lactate production to regenerate NAD
+
[
26
,
29
,
30
]. The relative importance of such reactions is likely to be cell dependent [
31
,
32
]. Fortunately, such alternative pathways are readily distinguishable using stable isotope tracer approaches in conjunction with NMR and mass spectrometric analysis, which we have been developing [
33
–
37
].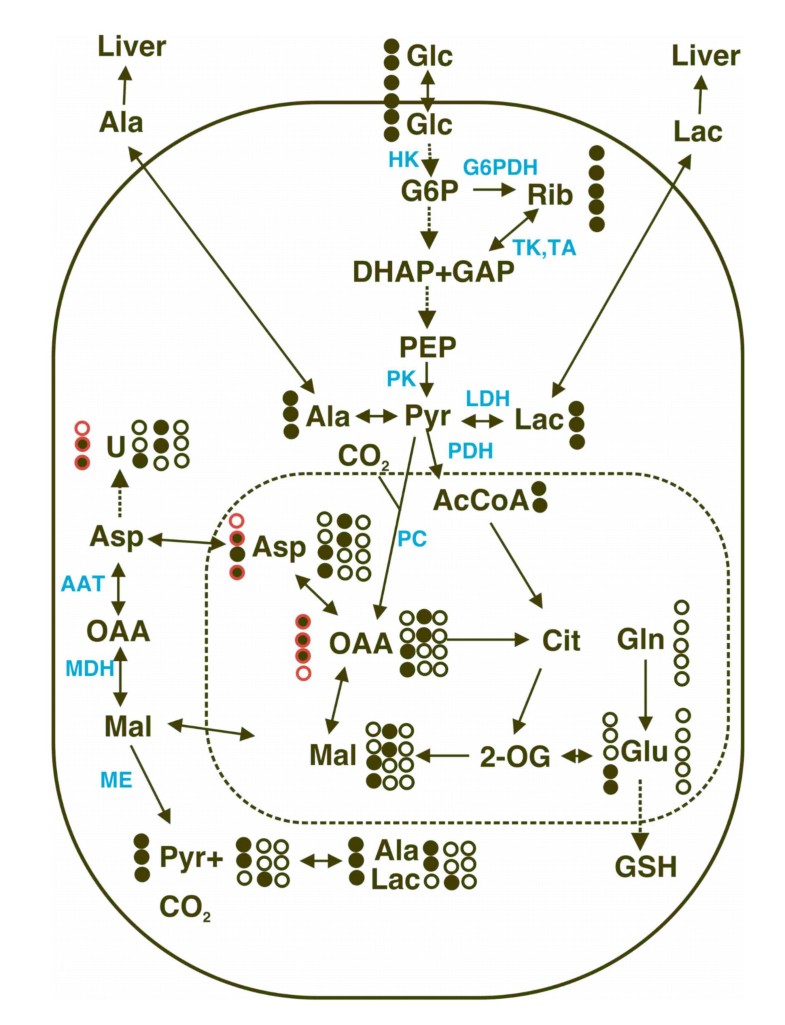 Thus questions arise as to the metabolic differences between a transformed cell and a primary (untransformed) cell. Here we have used 13C quantitative isotopomer analysis to follow the fate of individual carbon atoms derived from glucose, as outlined in Figure 1, in both rhabdomyosarcoma cells (Rh30) and primary myocytes, grown under the same conditions to probe their biochemical phenotypes. This approach enabled changes in turnover through individual pathways to be followed, which is not generally possible by concentration-based metabolite profiling alone. Furthermore, the use of 13C-edited 1H NMR techniques allowed identification of major phosphorylated sugars that are otherwise difficult to detect in crowded 1H NMR spectra. Clear differences between the myocytes and the Rh30 cells were evident, consistent with heightened energy and anabolic metabolism in Rh30 cells.
Conclusion
Using [U-13C]-glucose as tracer and isotopomer-based metabolomic analysis, we have demonstrated major distinctions in central energy and anabolic metabolism between the primary myocyte and transformed Rh30 cell lines. A major advantage of this approach is the ability to follow the fate of individual atoms simultaneously into many metabolites, and thereby to characterize the interrelationships among multiple biochemical pathways. Our data show that relative to the myocytes, glycolysis, Krebs' cycle, pentose phosphate pathway, and nucleotide biosynthesis (cf. Fig. 1) were coordinately enhanced in Rh30 cells, presumably to meet the demand of accelerated growth. The coordination between energy production (including the Warburg effect [15, 17, 52]) and generation of biosynthetic precursors in Rh30 cells may well be mediated via an activation of anaplerotic carboxylation and the malate/Asp shuttle which facilitates the transfer of NADH hydride from the cytoplasm to the mitochondrion for oxidative phosphorylation [7, 48], thereby sustaining accelerated glycolysis. The role of glutaminolysis as another anaplerotic input to the Krebs cycle is unclear but is likely to be less significant in accounting for the distinction between Rh30 cells and myocytes.
It is therefore evident that mitochondria of transformed Rh30 cells are active, both in citric acid cycling and respiratory electron transport. Since these processes are essential to cell proliferation, it is reasonable to postulate that they may be fundamental in the transformation of primary to malignant cells.
Methods
Materials
Cells
The human RMS cell line Rh30 (established at St. Jude Hospital), and human primary myocytes were cultured in pyruvate and glucose-free RPMI 1640 (Invitrogen, 11879-020), supplemented with 100 IU/ml penicillin, 10 μg/ml streptomycin, and 50 μg/ml neomycin (Life Technologies, Inc., Grand Island, NY) in the presence of 10% heat-inactivated FCS (Life Technologies) and 0.2% glucose. The medium thus contained 0.17 mM 12C alanine and 0.5 mM unlabeled lactate and 0.56 mM unlabeled glucose from the FCS. The cells were cultured in a humidified atmosphere at 5% CO2, 37°C at an initial cell density of 2.5 × 104 cells/flask (Corning) and the media were changed every 48 h. Prior to 13C labeling the cells were grown in 0.5% bovine serum albumin (BSA), without FCS to partially synchronize the culture. Control experiments were also run under otherwise identical conditions in which 0.5% BSA was used in place of FCS during the labeling phase. The dry weight of cells was measured for normalizing metabolite concentrations.
Isotopes
[U-13C]-glucose (99% 13C) was purchased from Cambridge Isotope Laboratories, MA and used without further purification. A stock solution (20%) was prepared in phosphate buffered saline and sterile filtered through a 0.2 μm filter. The appropriate quantity of the stock solution was added to glucose-free RPMI medium to a final concentration of 10.7 mM (excluding the 0.54 mM unlabeled glucose from the FCS).
Methods
Initial experiments were carried out with unlabeled glucose, followed by full metabolite profile experiments using [U-13C]-glucose. In one experiment, both the Rh30 and myocytes were cultured for 24 h in labeled glucose. In a second experiment to account for the differences in cell doubling rates, the Rh30 cells were cultured for 24 h, and the myocytes for 48 h in the labeled glucose. In this work, 13C atoms in various metabolites deriving exclusively from [U-13C]-glucose were monitored by NMR or mass spectrometry, which represented de novo metabolic transformations originating from glucose. Growth rates and viability were measured by direct cell counting on a hemocytometer using 0.4% Trypan Blue.
Metabolite extraction
After growth for 24 or 48 h the cells were harvested by trypsinization, scraping followed by low spin centrifugation at 4°C. The pellet was washed twice with ice-cold PBS to remove contaminating medium, pelleted again, flash frozen in lN
2
and lyophilized. The dry cell mass was recorded for normalizing metabolite concentrations before extractions twice with ice-cold 10% trichloroacetic acid (TCA), followed by lyophilization as previously described[
37
,
53
]. The dry mass of the cells was recorded for normalizing metabolite concentrations. The medium was similarly treated with TCA in the same way for measuring secreted metabolites (predominantly lactate and Ala), and to assay the glucose utilization during the experiment.
13
C-glucose was quantified at t = 0 and at harvest (t) by
1
H NMR using the well-resolved
13
C1 satellite signals of -α glucose centered at 5.22 ppm. This accounts for 36% of the total glucose. The
13
C and
12
C lactate and Ala concentrations were determined by integration of the methyl peak and its satellites and calibrated against the concentration of lactate determined independently by GC-MS. From this, the amount of glucose consumed, ΔGlc, and the fraction converted to lactate plus Ala, F, could be estimated, according to Eq. (
1
) and Eq. (
2
) [
35
]:
n is the number of moles of the compound in parentheses.
The factor of 2 accounted for the fact that one molecule of glucose gives rise to two molecules of lactate or Ala.
1-F then represents the glucose carbon that enters other metabolites and macromolecules in the cell mass or otherwise not accounted for. The fractions were not been corrected for the small (5%) contribution from unlabeled glucose present in the medium.
NMR
NMR spectra were recorded at either 14.1 T or 18.8 T on Varian Inova NMR spectrometers at 20°C using a 90° excitation pulse. One-dimensional NMR spectra were recorded with an acquisition time of 2 sec and a relaxation delay of 3 sec. Under these conditions, the protons were essentially full relaxed, as determined by independent measurements of the spin-lattice relaxation time, T1. For identifying metabolites in the extracts and determining the positional enrichment with 13C we used a suite of 2D experiments including TOCSY (or DQ COSY), HSQC, HCCH-TOCSY and HSQC-TOCSY as previously described [35–37, 53]. The latter two experiments make use of the isotope editing function. HCCH-TOCSY specifically selects for those molecules in which at least two adjacent carbon atoms are 13C whereas HSQC or HSQC-TOCSY detects protons directly attached to 13C. The TOCSY experiments were recorded with a spectral width of 6000 Hz in F2, 0.341 s acquisition time in t2 and 0.05 s in t1, 1.9 s interpulse delay, 50 ms mixing time, and an 8 kHz B1 field strength. The HSQC-TOCSY experiments were recorded with an acquisition time of 0.12 s in t2 and 12 ms in t1 using a 50 ms proton spin lock at a strength of 8 kHz. For the HCCH-TOCSY experiments, the acquisition times were 0.12 s in t2, 0.05 s in t1 using an 8 kHz 13C spin lock field centered in the aliphatic region of the spectrum for a duration of 12 ms.
Metabolites were assigned based on their 1H chemical shift, TOCSY connectivity patterns and correlation with 13C, using our in-house database as described previously [36, 54]. All metabolites except choline, sugars and the nucleotides were quantified from GC-MS data [55] whereas choline was quantified from the peak at 3.22 ppm in the 1-D NMR spectra, as described previously [56].
NMR analysis of 13C enrichment
13
C enrichment in lactate and Ala was determined from 1D
1
H NMR experiments, as the methyl resonances of these metabolites were well resolved. The peaks were integrated, and the areas of the protons attached to
12
C (central peak) and to
13
C (satellite peaks) were recorded. The
13
C content was then calculated as [
35
]:
For other metabolites, which were not resolved in 1D NMR experiments, we volume-integrated cross-peaks in TOCSY spectra after correcting the base-planes. The various isotopomer enrichments were calculated as for the 1D spectra, i.e. the peak volume of the particular 13C isotopomer divided by the total volume of the cross peak including the satellites. In the TOCSY experiments, the protons were partially saturated owing to the shorter recycle time (2 s) of these experiments. Thus, the actual peak volumes were corrected according to the differential T1 values of protons attached to 13C or 13C; as:
Where M(true) is the corrected area, M(obs) is the observed area, and t is the recycle time. As the relaxation during the spin lock has the opposite effect on peak intensities, this correction was small [35]. Effective T1 values were determined on standards recorded under the same solvent conditions.
GC-MS
Following NMR analysis, an aliquot (50–100 μl) of the NMR sample was re-equilibrated with H2O and lyophilized to remove any deuteration, then silylated with 25–50 μl 1:1 (v/v) acetonitrile:MTBSTFA (N-methyl-N-[tert-butyldimethylsilyl]trifluoroacetamide, (Regis Chemical, Morton Grove, IL) by 3 h of sonication followed by standing overnight [57, 58]. The solution was directly analyzed on a PolarisQ GC-ion trap MSn (ThermoFinnigan, Austin, TX) using a 0.5 μl injection volume. The column was 0.15 mm i.d. × 50 m fused silica open-tubular, coated with 0.2 μm BPX-5 (5% phenyl-methylsiloxane). The following conditions were employed for GC-MS. Injector at 280°C, column at 60°C for 2 min, followed by a 20°C/min ramp to 150°C, then 6°C/min to 300°C, splitless vent held for 1.5 min, He carrier gas velocity 30 cm/s at 60°C, transfer line = 280°C, electron energy = 70 eV, source heated to 190°C, automatic gain control target value = 50, maximum inject time = 25 ms, He damping gas = 0.3 ml/min, full scan acquisition from 140 to 650 m/z at a rate of five spectra/s which were averaged into one, and mass calibration preformed byperfluorotributylamine.
Metabolites were identified and quantified automatically using Xcalibur software (ThermoFinnigan), based on their GC retention times and mass fragmentation patterns matched against an in-house database and external standards. Identities were also verified by manual inspection. GC-MS quantification of total abundance of metabolites was accomplished by comparing the m/z 147 ion response for each metabolite in the samples with that for the corresponding standard of known concentration. The m/z 147 ion was chosen for quantification of labeled amino acids because this ion fragment did not contain 13C as it originated entirely from the silyl moiety. Conversely, for 13C isotopomers, the pseudo-molecular ion clusters of authentic standards were used to obtain the empirical ion ratios as the basis of the calculation for label abundance, as described in detail previously [37].
Declarations
Acknowledgements
This work was supported by the Brown Foundation, Kentucky Challenge for Excellence (to ANL), NIH Grant RR018733 from the National Center for Research Resources, National Cancer Institute Grants 1 R01CA101199-01 and 1R01CA118434-01A2 to TWMF, NIH R01 CA106281-01 to MZR, NSF EPSCoR grant EPS-0132295 for the 18.8 T NMR spectrometer, and EPSCoR grant EPS-0447479 to TWMF for the development of isotopomer-based metabolomic analysis.
Authors' Affiliations
(1)
Department of Chemistry, University of Louisville, USA
(2)
Center for Regulatory Environmental Analytical Metabolomics, University of Louisville, USA
(3)
Structural Biology Program, University of Louisville, USA
(4)
Stem Cell Biology Program, J.G. Brown Cancer Center, University of Louisville, Louisville, USA
Copyright
© Fan et al; licensee BioMed Central Ltd. 2008
This article is published under license to BioMed Central Ltd. This is an Open Access article distributed under the terms of the Creative Commons Attribution License (http://creativecommons.org/licenses/by/2.0), which permits unrestricted use, distribution, and reproduction in any medium, provided the original work is properly cited.