SAP domain-dependent Mkl1 signaling stimulates proliferation and cell migration by induction of a distinct gene set indicative of poor prognosis in breast cancer patients
Molecular Cancer
2014
13:22
Received: 28 June 2013
Accepted: 30 January 2014
Published: 5 February 2014
Abstract
Background
The main cause of death of breast cancer patients is not the primary tumor itself but the metastatic disease. Identifying breast cancer-specific signatures for metastasis and learning more about the nature of the genes involved in the metastatic process would 1) improve our understanding of the mechanisms of cancer progression and 2) reveal new therapeutic targets. Previous studies showed that the transcriptional regulator megakaryoblastic leukemia-1 (Mkl1) induces tenascin-C expression in normal and transformed mammary epithelial cells. Tenascin-C is known to be expressed in metastatic niches, is highly induced in cancer stroma and promotes breast cancer metastasis to the lung.
Methods
Using HC11 mammary epithelial cells overexpressing different Mkl1 constructs, we devised a subtractive transcript profiling screen to identify the mechanism by which Mkl1 induces a gene set co-regulated with tenascin-C. We performed computational analysis of the Mkl1 target genes and used cell biological experiments to confirm the effect of these gene products on cell behavior. To analyze whether this gene set is prognostic of accelerated cancer progression in human patients, we used the bioinformatics tool GOBO that allowed us to investigate a large breast tumor data set linked to patient data.
Results
We discovered a breast cancer-specific set of genes including tenascin-C, which is regulated by Mkl1 in a SAP domain-dependent, serum response factor-independent manner and is strongly implicated in cell proliferation, cell motility and cancer. Downregulation of this set of transcripts by overexpression of Mkl1 lacking the SAP domain inhibited cell growth and cell migration. Many of these genes are direct Mkl1 targets since their promoter-reporter constructs were induced by Mkl1 in a SAP domain-dependent manner. Transcripts, most strongly reduced in the absence of the SAP domain were mechanoresponsive. Finally, expression of this gene set is associated with high-proliferative poor-outcome classes in human breast cancer and a strongly reduced survival rate for patients independent of tumor grade.
Conclusions
This study highlights a crucial role for the transcriptional regulator Mkl1 and its SAP domain during breast cancer progression. We identified a novel gene set that correlates with bad prognosis and thus may help in deciding the rigor of therapy.
Keywords
Myocardin-related transcription factor-A (MRTF-A)MetastasisCancer progressionPrognosisGene regulationMechanical strain
Background
Most breast cancer patients die from tumor metastases and not from the primary tumor itself. Thus, the identification of genes and signaling pathways influencing the metastatic process are of utmost importance. Once the mechanisms leading to metastasis are uncovered, they can in the future serve as a rational basis for prognosis and intervention. From the beginning of its discovery, tenascin-C has been strongly associated with tumorigenesis and cancer progression in many different types of tumors (reviewed in [1, 2]). Tenascin-C was not only enriched in breast cancer tissue [3, 4], but its high expression was part of a gene signature of breast cancers metastasizing to the lung [5]. There is strong evidence that tenascin-C contributes to the metastatic behavior of breast cancer cells [6] by providing a niche for their settlement in the lung [7, 8]. The source of tenascin-C can be the tumor cells themselves as well as the stromal cells of the cancer microenvironment. Downregulation of tenascin-C by miR-335 or shRNA in human cancer cells in a mouse xenograft model inhibits metastasis formation [7], and in tenascin-C-deficient mice, metastasis formation of tenascin-C positive cancer cells is also suppressed [9].
There are many signaling pathways inducing tenascin-C expression (reviewed in [10]). Among these, mechanical strain application in vivo as well as to cells in culture is a potent stimulus to induce tenascin-C expression in fibroblasts [11, 12]. We have recently shown that induction of tenascin-C by cyclic mechanical strain requires the action of Mkl1 [13]. Mkl1 is a member of the myocardin-related transcription factor family (MRTF) and a well-known transcriptional co-activator of serum response factor (SRF) [14–16]. SRF target genes, which are regulated upon recruitment of MRTF cofactors, encode proteins involved in actin cytoskeletal function that can either be structural (for example, actin) or related to actin dynamics (for example, talin 1) (reviewed in [17, 18]). However, Mkl1-mediated stretch-induced tenascin-C expression in fibroblasts did not require SRF, but instead depended on the potential DNA-binding SAP domain of Mkl1. This implies a novel mode of Mkl1 action as a bona fide transcription factor in mechanotransduction [13]. Interestingly, normal and transformed mouse mammary epithelial cells also appear to be highly sensitive to Mkl1 signaling, responding to Mkl1 overexpression with several fold induction of tenascin-C [13].
The present study was designed to find SAP-dependent Mkl1 target genes co-regulated with tenascin-C and to analyze whether such genes could be indicative of specific physiological states of cells that might be controlled by mechanotransduction. For our study, we made use of the HC11 mammary epithelial cell line. HC11 cells are capable of both self-renewal and differentiation and can be cultured for unlimited time in an undifferentiated state [19], the condition we used in our study. HC11 cells can reconstitute the ductal epithelium of a cleared mammary fat pad in vivo with ductal, alveolar and myoepithelial cells, illustrating their stem cell abilities [19, 20]. In addition, HC11 cells contain a mutated p53 gene that not only increases the replicative potential of stem cells but confers predisposition to mammary carcinoma [21]. Undifferentiated HC11 cells share transcriptome signatures with human breast cancer [22], supporting the relevance of this model for breast cancer-related studies. We therefore concluded our study by investigating whether the genes co-regulated with tenascin-C would also be implicated in breast cancer progression.
Discussion
Given the heterogeneity of mutations in tumor cells, it becomes increasingly clear that not only individual genes but pathways govern the course of tumorigenesis and cancer progression [62]. We have recently shown that induction of tenascin-C by cyclic mechanical strain required the action of the potential DNA-binding SAP domain of Mkl1 independently of an interaction of Mkl1 with SRF [13]. Now, we report a screen for genes co-regulated with tenascin-C by the same SAP-dependent and SRF-independent mechanism in mammary epithelial cells. This screen reveals a set of SAP domain-dependent Mkl1 target genes with a strong implication in cell proliferation, cell motility and cancer.
To date only a few studies have shown that Mkl1 is implicated in cancer-related processes (reviewed in [
63
]) and most of them have concentrated on the SRF/Mkl1 signaling for the induction of individual genes [
64
–
67
]. The first study reporting that depletion of Mkl1/2 proteins reduced motility, invasion and colonization of metastatic tumor cells in an experimental
in vivo
metastasis assay [
64
] was further supported by the discovery of the Mkl1-binding protein, suppressor of cancer cell invasion (SCAI), which inhibited SRF/Mkl1-mediated expression of β1 integrin [
68
]. Since then, several studies describing opposing biological effects for Mkl1 appeared. For instance, several antiproliferative SRF/Mkl1 target genes including mig6/errfi-1, a negative regulator of the EGFR-MAPK pathway, were identified [
65
], or the tumor suppressor gene Eplin-α was described as a direct target of the SRF/Mkl1 pathway [
66
]. Furthermore, expression of a constitutively active form of Mkl1 in oncogenic ras- or src-transformed rat intestinal epithelial cells injected into the spleen of nude mice significantly suppressed tumor formation and reduced liver metastases by rescuing the expression of the SRF/Mkl1 targets tropomyosin and caldesmon [
67
]. In line with these findings, we could show that high expression of SRF/Mkl1 target genes is associated with an improved clinical outcome in breast cancer patients. However, the opposite is the case for high expression of SAP-dependent Mkl1 target genes. These genes are associated with poor clinical outcome predominantly in less aggressive tumors such as LN-negative, ER-positive, Grade 1 and 2 tumors, which makes them valuable predictors of breast cancer progression. A scheme that depicts our model for Mkl1 action in breast cancer is presented in Figure
8
. In this model Mkl1 is transactivating SRF-target genes in less aggressive tumors, while in the course of cancer progression and metastatic behavior Mkl1 is activating a new group of genes in a SAP-dependent manner either by direct interaction with the promoters of these genes or by interaction with additional DNA-binding factors.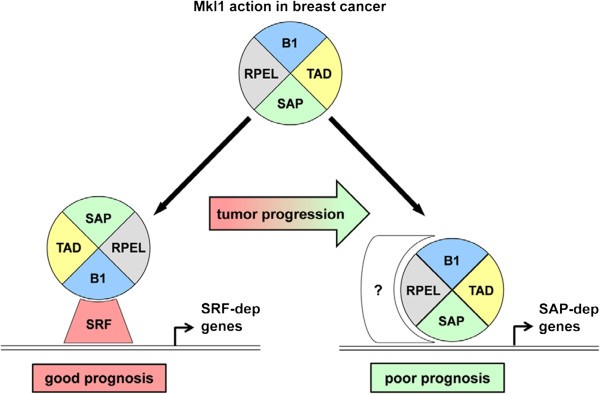 Interestingly, in parental HC11 cells many of the genes that we found in the SAP-dependent gene set that foster cell proliferation and migration and may cause poor survival of breast cancer patients are also induced by mechanical strain. A recent study has demonstrated that inhibition of cell spreading due to a lack of matrix stiffness is overcome by externally applied stretch, suggesting that similar mechanotransduction mechanisms sense stiffness and stretch [69]. Tumor stroma is typically stiffer than normal stroma. In breast cancer, diseased tissue can be 10 times stiffer than normal breast [70, 71]. It is known that abnormal ECM stiffness plays an important role in cancer progression [72, 73], but the mechanisms by which stiffness influences cancer progression are still under investigation. If we assume that we have discovered a general reaction of mammary epithelial cells to mechanical strain, we envisage that epithelial cells in a stiff, mechanically dynamic tumor environment may react by inducing a SAP-dependent Mkl1 gene set that in turn affects tumor progression. Furthermore, the products of these genes, many of which are involved in ECM turnover and function, for example Lox [58], Mmps [74], Adamts16 [31] or Wisp1 [44] might themselves manipulate the tumor microenvironment, thereby influencing tumor cell survival by a positive tumorigenic feedback loop.
Finding how to switch the mode of action of Mkl1 between SRF transactivation versus its SAP-dependent transcriptional activity is a subject of ongoing research in our lab that in future may help with the development of new therapeutic interventions for breast cancer. Post-translational modifications such as sumoylation are known to influence Mkl1 transcriptional activity [75] and phosphorylation has been shown to influence interaction of Mkl1 with nuclear actin resulting in transcriptional changes [76, 77]. Further characterization of these and other post-transcriptional changes of Mkl1 deserve special attention when trying to answer the above question.
Conclusions
In the current study, we discovered a breast cancer-specific set of genes that is highly interesting as a prognostic marker and therapeutic target for several reasons. (1) The expression of this gene set is regulated by Mkl1 and its SAP domain and is independent of SRF. (2) The SAP-dependent, SRF-independent Mkl1signaling is triggered by mechanical strain and may thus be activated in stiff tumors with a high stromal content and high interstitial tissue pressure. (3) This gene set is composed of interesting members some of which represent novel candidates for playing a functional role in cancer and others that have already been implicated in cancer-related functions, as for example tenascin-C, a metastatic niche component important for lung colonization [8], or Lox as a gene mediating collagen crosslinking responsible for fibrosis-enhanced metastasis [58]. (4) The SAP-dependent Mkl1 target genes are associated with a poor clinical outcome in breast cancer patients, not receiving adjuvant therapy or having a cancer classified as non-aggressive such as LN-negative, ER-positive, Grade 1 or 2 tumors. This makes these genes potential valuable prognostic markers in selecting patients who may benefit from an immediate and/or more aggressive therapy.
Methods
Cell culture
Full length Mkl1 (FL-Mkl1) and the two Mkl1 mutants, mutB1-Mkl1 comprising alanine substitutions of four amino acids (underlined) in the B1 domain of Mkl1 (KKAKELKPKVKKLKYHQYIPPDQKQD) [78] and ∆SAP-Mkl1 with a deletion of the SAP domain [15], were constructed based on transcript variant 1 (GenBank accession number NM_153049) as previously described [13]. All Mkl1 variants were expressed as C-terminal RFP-tagged fusions. An empty vector expressing RFP alone was previously described [13].
HC11 mammary epithelial cells, kindly provided by Dr. N. Hynes (Basel, Switzerland), were grown in RPMI-1640 medium supplemented with 10% FCS, 5 μg/ml insulin (Sigma, Buchs, Switzerland) and 10 ng/ml epidermal growth factor (EGF; Invitrogen, Zug, Switzerland). In most of the experiments, the HC11 cells were starved in 0.03% FCS/RPMI without EGF. To obtain HC11 cells stably expressing FL-Mkl1-RFP (HC11-FL), mutB1-Mkl1-RFP (HC11-mutB1), ∆SAP-Mkl1-RFP (HC11-∆SAP) or RFP alone (HC11-empty vector), cells were transfected using FuGENE® 6 (Roche, Basel, Switzerland) and selected with Geneticin (1 mg/ml; Roche) for 14 days before fluorescence-activated cell sorting (FACS) of RFP-positive cells on a Vantage SE (Becton Dickinson, Basel, Switzerland). Cell viability of the four HC11 cell strains was assessed by the CellTiter-Blue viability assay (Promega, Duebendorf, Switzerland).
Cell proliferation assay
Proliferation rates of the HC11 cell strains were determined using BrdU incorporation assay (Roche). After 24 h of starvation, cells were plated in triplicate on Black 96-well microtiter plates (PerkinElmer, Schwerzenbach, Switzerland) at 5 × 103 cells/well in 3% FCS/RPMI and allowed to proliferate for 0, 24, 48, 72 and 96 h before labeling with BrdU for 2 h. BrdU incorporation into newly synthesized DNA was determined according to the manufacturer's protocol using a Luminometer Mithras LB940 (Berthold Technologies, Regensdorf, Switzerland). Experimental values were normalized to the values of HC11-∆SAP cells at the time point 0. Data represent means ± SD from three independent experiments.
Cell migration assay
Cell migration was assayed using transwell polycarbonate membrane inserts (6.5 mm; Corning, Amsterdam, The Netherlands) with 8 μm pores as described [79]. After 24 h of starvation, 5 × 104 cells were plated in the top insert chamber with 100 μl serum-free RPMI. The lower chamber was filled with 600 μl 10% FCS/RPMI. Cells were allowed to migrate across the filter for 22 h at 37°C before fixation and crystal violet-staining. Images of duplicate inserts were acquired on a Nikon Eclipse E600 using 10× magnification and a color CCD camera. Migration was quantified by measuring the area covered by migrated cells using the Fiji distribution of ImageJ [80]. Data represent means ± SD from three independent experiments.
Mechanical stimulation of cells
2 × 105 HC11 cells/well were seeded in BioFlex® 6-well culture plates (Flexcell International, Hillsborough, NC, USA) coated with either growth factor reduced-Matrigel (BD Biosciences, Basel, Switzerland) or fibronectin [11]. Cultures were starved for 24 h before applying either equibiaxial cyclic strain (15%, 0.3 Hz) or static strain (20%) at 37°C for 1 h using Flexcell FX-4000 (Flexcell International). Cells cultured under the same conditions and not exposed to strain were used as a resting control. After mechanical stimulation, cells were lysed and total RNA was isolated using the RNeasy Mini Kit (Qiagen, Basel, Switzerland).
Transcript profiling and bioinformatics analysis
HC11 cell strains stably expressing Mkl1 variants were starved for 48 h before total RNA was extracted, converted into labeled cDNA and hybridized to Affymetrix GeneChip Mouse Gene 1.0 ST arrays. RMA-normalized expression values were calculated with the Affy package from Bioconductor 2.4 [81], and differentially expressed genes were identified using moderated t-statistics calculated with the empirical Bayes method as implemented in the Bioconductor limma package [82]. To be considered as differentially expressed between HC11-FL and HC11-mutB1 or HC11-∆SAP cells, genes had to pass the filters: adjusted P-value ≤ 0.01 (with Benjamin-Hochberg false discovery correction), a minimum absolute linear fold change difference of 2.0 and a minimum average expression value of 4.0 (log2). Microarray data files are available from the Gene Expression Omnibus (GEO; http://www.ncbi.nlm.nih.gov/geo/), accession number GSE44907. Using the above parameters, gene lists of the two contrasts (mutB1/FL and ∆SAP/FL) were compared resulting in the formation of three gene groups: SRF-dependent/SAP-independent, SRF-dependent/SAP-dependent and SRF-independent/SAP-dependent. The three gene sets were analyzed using the bioinformatics softwares: 1) IPA (Ingenuity® Systems; http://www.ingenuity.com); and 2) GOBO (http://co.bmc.lu.se/gobo) [59]. In order to use the latter tool, Affymetrix GeneChip Mouse Gene 1.0 ST IDs were mapped to Affymetrix Human Genome U133A IDs using Biomart for Ensembl build 66. The module "Gene Set Analysis Tumors" was used to investigate the expression pattern and to perform survival and functional correlation analyses for the SRF-dependent/SAP-independent and SRF-independent/SAP-dependent gene sets across 1881 breast cancers characterized by Affymetrix Human Genome U133A arrays.
RNA analyses by qRT-PCR
Total RNA was isolated from HC11 cell strains after 24 h of incubation either in 0.03 or 3% FCS/RPMI. RNA was reverse transcribed and relative tenascin-C and c-fos mRNA levels were detected as described [12, 13]. Relative mRNA levels for the genes listed in Table 1, normalized to Gapdh, were measured using Platinum® SYBR® Green qPCR SuperMix-UDG with ROX (Invitrogen) and the primers listed in Additional file 4: Table S4. Real-time PCR was performed in a StepOnePlus Real-Time PCR System (Applied Biosystems, Rotkreuz, Switzerland) using a standard cycling profile. All samples were run in duplicate. Data were analyzed by the ∆Ct method [83] and presented as fold changes in mRNA expression levels between HC11-FL and HC11-∆SAP cells. RNA from stretched cells was analyzed by qRT-PCR using the efficiency ∆∆Ct method [84] that included a further normalization to the resting control. Data represent means ± SD from three independent experiments.
Protein analyses by immunoblotting and zymography
After 24 h of starvation, whole-cell extracts from the three HC11 strains were prepared in RIPA buffer and immunoblotting was performed as described [12, 13]. The following primary antibodies were used: mAb65F13 anti-Mkl1 [12], MTn12 anti-Tnc [85], anti-Wisp1/CCN4 (clone 214203, R&D Systems), anti-Nox4 (NB110-58851, Novus Biologicals), anti-Vcl (clone hVIN-1, Sigma) and anti-Gapdh (ab9485, Abcam).
After reaching 90% confluency, HC11 strains were starved for 48 h before conditioned medium was collected, concentrated and analyzed by zymography as described [86].
Promoter-reporter assays
The tenascin-C promoter used in this study was described as TNC 247 bp [13]. Promoters of Acta2 [87] and all SRF-independent/SAP-dependent genes described in Table 1 were PCR-amplified from genomic DNA and corresponded to the sequences listed in Additional file 4: Table S5. Each promoter contained ≥ 500 bp 5′ of the TSS and was cloned into the pSEAP2-Basic (Clontech, Saint-Germain-en-Laye, France). For some promoters also 200 bp proximal promoter sequences were cloned as described above. All clones were verified by DNA sequencing.
HC11 cells in 6-well plates were cotransfected with 1 μg of the SEAP reporter vectors, 1 μg of pcDNA3 vectors encoding Mkl1 variants [13], and 200 ng of the secreted luciferase MetLuc vector (Clontech) used to normalize for transfection efficiency. Cells were cultured in 0.03% FCS/RPMI for 24 h before enzymatic activity measurements were performed as described [13]. Experimental values represent averages of three independent experiments, each performed in duplicate.
Statistical analysis
Numerical results were expressed as means ± SD. Statistical analysis was completed using GraphPad InStat Software, version 3.05. The two-tailed Student's t test was used to evaluate differences between two groups. Multiple comparisons were performed using one-way analysis of variance (ANOVA). Values of P less than 0.05 were considered statistically significant. Statistics for bioinformatics analyses is given in figure legends.
Declarations
Acknowledgements
We thank Hubertus Kohler for FACS service, Stephane Thiry for microarray hybridization, and Matthias Chiquet and Richard P. Tucker for critical reading of the manuscript. This work was supported by grants from the Cancer League of Basel, the Swiss Cancer League and the Swiss National Science Foundation 3100A0-120235 and 31003A_135584 to R.C.E.
Authors' Affiliations
(1)
Friedrich Miescher Institute for Biomedical Research, Basel, Switzerland
(2)
Faculty of Science, University of Basel, Basel, Switzerland
Copyright
© Gurbuz et al.; licensee BioMed Central Ltd. 2014
This article is published under license to BioMed Central Ltd. This is an open access article distributed under the terms of the Creative Commons Attribution License (http://creativecommons.org/licenses/by/2.0), which permits unrestricted use, distribution, and reproduction in any medium, provided the original work is properly cited.