Cyclin K and cyclin D1b are oncogenic in myeloma cells
Molecular Cancer
2010
9:103
Received: 4 September 2009
Accepted: 10 May 2010
Published: 10 May 2010
Abstract
Background
Aberrant expression of cyclin D1 is a common feature in multiple myeloma (MM) and always associated with mantle cell lymphoma (MCL). CCND1 gene is alternatively spliced to produce two cyclin D1 mRNA isoforms which are translated in two proteins: cyclin D1a and cyclin D1b. Both isoforms are present in MM cell lines and primary cells but their relative role in the tumorigenic process is still elusive.
Results
To test the tumorigenic potential of cyclin D1b in vivo, we generated cell clones derived from the non-CCND1 expressing MM LP-1 cell line, synthesizing either cyclin D1b or cyclin K, a structural homolog and viral oncogenic form of cyclin D1a. Immunocompromised mice injected s.c. with LP-1K or LP-1D1b cells develop tumors at the site of injection. Genome-wide analysis of LP-1-derived cells indicated that several cellular processes were altered by cyclin D1b and/or cyclin K expression such as cell metabolism, signal transduction, regulation of transcription and translation. Importantly, cyclin K and cyclin D1b have no major action on cell cycle or apoptosis regulatory genes. Moreover, they impact differently cell functions. Cyclin K-expressing cells have lost their migration properties and display enhanced clonogenic capacities. Cyclin D1b promotes tumorigenesis through the stimulation of angiogenesis.
Conclusions
Our study indicates that cyclin D1b participates into MM pathogenesis via previously unrevealed actions.
Keywords
Vascular Endothelial Growth FactorMultiple MyelomaFold ChangeMyeloma CellMantle Cell Lymphoma
Background
Cyclin D1 is a key actor for the development and progression of various cancers including hematological malignancies. The human CCND1 gene generates two mRNA species by alternative splicing [1]. The two corresponding proteins cyclin D1a and D1b differ only in the last 55 amino acids of the carboxy-terminus. Both isoforms possess the N-terminal domain, necessary for retinoblastoma protein (pRb) binding, the cyclin box, required for cyclin-dependent kinase (CDK) binding and activation and the central region, implicated in transcriptional regulation. The PEST sequence which controls protein turn-over and the threonine 286 (Thr286), the site of phosphorylation by glycogen synthase kinase-3β which promotes the nuclear export of cyclin D1 and its degradation through the proteasome pathway [2, 3], are present only in cyclin D1a. The oncogenic potential of cyclin D1 seems restricted to the isoform b as shown in vitro [4–6]. In transgenic mouse models, inhibition of cyclin D1 proteolysis is the causative factor for mammary carcinomas and B-cell lymphomas [7, 8]. The mechanisms of cyclin D1b-mediated tumorigenesis are not fully understood and could depend on the cellular context and in particular on the concomitant expression of cyclin D1a.
Cyclin K is encoded by Kaposi sarcoma-associated herpes virus (KSHV), a human tumor virus associated with the development of Kaposi sarcoma and lymphoid malignancies in immunocompromised individuals, reviewed in [9]. Cyclin K and cyclin D1 share sequence colinearity and identity. The tumorigenic properties of cyclin K have been demonstrated in transgenic animals in which the lymphocyte compartment has been targeted [10]. In a similar transgenic model, cyclin D1a alone fails to induce leukemogenesis [11, 12].
Mantle cell lymphoma (MCL) and multiple myeloma (MM) are two hematological malignancies for which cyclin D1 expression has been recognized as an oncogenic event [13, 14]. Although cyclin D1a and D1b mRNAs are present in all MCL and MM samples tested, cyclin D1a protein is expressed predominantly [15, 16]. However, a role of cyclin D1b in the leukemogenic process cannot be ruled out. In order to study the oncogenic potential of cyclins D1b and K in the context of mature B cells, we generated several cell clones derived from LP-1 MM cell line, expressing either cyclin D1b, Myc or cyclin K oncogenes. LP-1 cell line was chosen because this MM cell line does not express any cyclin D1 isoform. We report here that cyclin D1b- and cyclin K-expressing LP-1 cells are tumorigenic in vivo in xenograft models. Genome-wide analysis allowed us to describe several mechanisms for cyclin D1b- and K-mediated oncogenesis.
Methods
Generation of LP-1-derived clones
LP-1 MM cell line which does not express cyclin D1 was chosen for the generation of stable transfected clones. GRANTA-519 MCL cell line has the t(11;14)(q13;q32) and expresses high level of cyclin D1a. LP-1 and GRANTA-519 cells were maintained in RPMI 1640 containing 10% fetal calf serum (FCS), L-glutamine and antibiotics (Lonza Verviers SPRL, Verviers, Belgium). pcDNA3-flagged cyclin K [17] (a generous gift of O. Coqueret), pcDNA3-c-Myc (a generous gift of D. Cappellen) and pcDNA3-cyclin D1b [18] encode for the full-length proteins, respectively. LP-1 cells were transfected by electroporation, selected with 500 μg/ml G418, cloned by limiting dilution in 96-well plates. Single clones were individually tested for exogenous protein expression. After three months in culture without loss of transgene expression, G418 was first reduced and finally removed.
Cell cycle analysis by flow cytometry
Exponentially growing LP-1-derived cells were plated at a density of 5 × 105 cells/ml, harvested 24 h later, fixed in ice-cold EtOH 80% in PBS. Cells were treated with 100 μg/ml RNase A and 20 μg/ml propidium iodide (PI) for 30 min at 37°C. Cells were analyzed with an Epics XL flow cytometer and data with the Expo™ 32 software (Beckman Coulter, Villepinte, France).
Matrigel invasion assay
LP-1-derived cells were suspended in FCS-free RPMI 1640 medium and 2 × 104 cells were placed in the upper chamber of transwell inserts coated with Matrigel (BD BioCoat Matrigel Invasion Chamber, BD Biosciences, Le Pont de Claix, France). In the lower compartment, we added RPMI 1640 medium plus 1% FCS. Plates were incubated for 4 h at 37°C to allow migration of cells. After incubation, inserts were carefully removed, washed, fixed and colored to allow cell counting. Results are expressed as the number of cells that invaded the Matrigel. Statistical analysis between two groups was done with the Student's t test.
Clonogenicity assay
The ability of individual cell to grow in semi-solid support was assayed using MethoCult® (StemCell Technologies, Grenoble, France) according to the manufacturer' instructions. Cells were prepared at a density of 3 × 103 cells/ml in Iscove's MDM plus 2% FCS; then added to the same volume (3 ml) of methyl cellulose containing phytohemagglutin-leucocyte conditioned medium (PHA-LCM) as source of growth factor. Cells were dispensed in triplicate in Petri dishes, incubated in humidified atmosphere at 37°C for 10 days. Colonies containing more than 50 cells were counted using inverted microscope and gridded scoring dish.
Immunoblotting
Methods for protein extraction, SDS-PAGE and immunoblotting were described previously [18].
In vivo engraftment experiments
Female, six week-old
nude
mice (NMRI, Janvier, Le Genest Saint-Isle, France), were inoculated
s.c
. with 2.5 × 10
6
(1
st
set) or 4 × 10
6
(2
nd
set) cells of the various clones in Matrigel (BD Biosciences, v/v). Mice were regularly monitored for the development of palpable tumors. Tumor volumes based on caliper measurements were calculated by the ellipsoidal formula [1/2 (length
2
× width)]. The first set of animals (five mice per clone) was sacrificed at eight weeks (see Figure
1b
). The second series of animals (ten animals per clone) was sacrificed depending on the tumor sizes (see Figure
2a
). Tumors were then either fixed in Finefix (Microm Microtech., Francheville, France) or frozen for further analyses. In a third series of experiment, the LP-1D1b clone (5 × 10
6
cells) was inoculated in Matrigel into the lower flank of
nude
mice. The day after, 10 μM of either scrambled siRNA (5'-aat tct ccg aac gtg cac gt-3') or siRNA targeting
VEGF
(5'-aag gag acc ctg atg aga tc-3') were mixed with AteloGene™ (Koken, Cosmo Bio Co., Tokyo, Japan) according to manufacturer's instructions. The mixture (150 μl) was
s.c
. injected wrapping up the cells at the injection site. Chemical tyrosine kinase (TK) inhibitors targeting VEGFR2/3 (SAR 131675.13, (SAR)) and all FGFR (SSR 128129E.13, (SSR)), a gift of F. Bono, were dissolved in 5% glucose in physiological serum. SAR and SSR were
i.v
. injected biweekly at 40 mg/kg each, starting at day 1 following inoculation of cells. Each group contained 5 mice. At day 11, volume of tumors was measured as before and the growth of tumors monitored thereafter. The tumor evolution was calculated as the ratio between the volume of tumors at each time point and the volume of the tumors of non treated mice at day 11. Statistical analysis for tumor evolution in each group was done with the Student's
t
test. During the experiments, mice had free access to food and water and all the experiments were performed at the Common Service of Animal Experimentation (UFR de Pharmacie, Châtenay-Malabry), in accordance to the declaration of Helsinki on animal welfare and with the approval of the ethics committee of the University of Paris 11/CNRS (responsible person V. Dommergue-Dupont).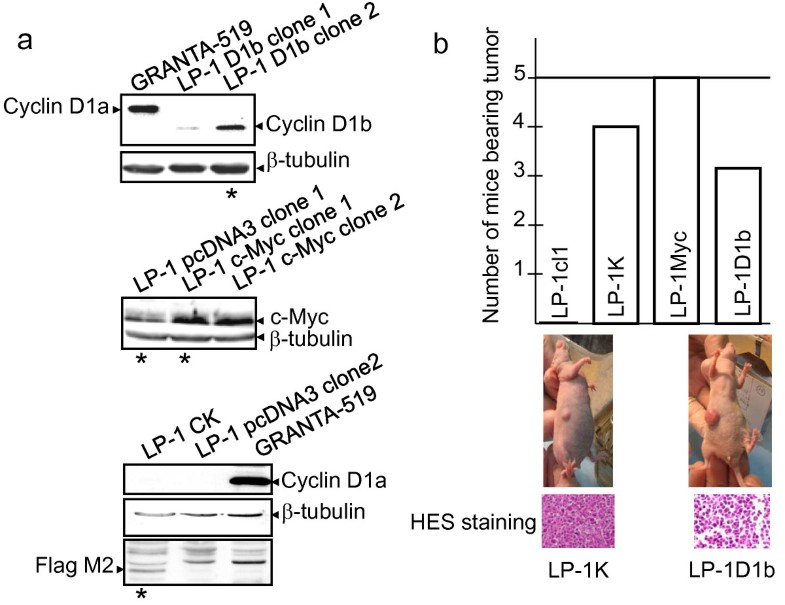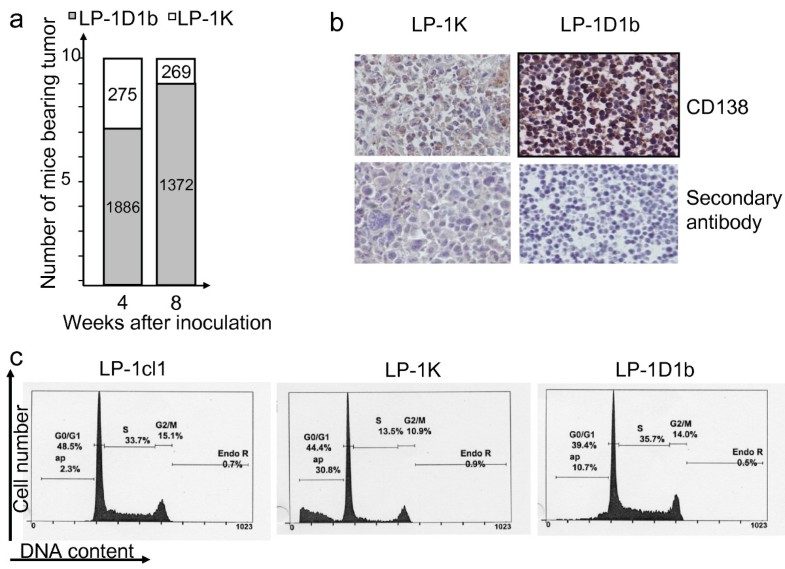 Immunohistochemistry of tumor sections
Finefix-fixed paraffin embedded 4 μm-sections were deparaffinized in toluene twice for 5 min and rehydrated by using graded EtOH concentrations. After antigen retrieval in citrate buffer pH 6.2 (5 min, 85°C), immunohistochemical labeling with anti-CD138 or anti-CD34 antibodies (Abs) was performed with the Vector Vectastain Elite kit (Vector Laboratories, Burlingame, CA, USA) and 3',3' Diaminobenzidine (DAB) as chromogen. Sections were counterstained with hemalun.
Microarray hybridization, gene expression data and statistical analyses
For each cell line (LP-1cl1, LP-1K and LP-1D1b), total RNA was extracted from four independent cultures with Trizol reagent (Invitrogen, Cergy Pontoise, France) according to the manufacturer' instructions and used for expression analysis on a 25K human oligonucleotide microarray covering most of the known human transcripts. The 50 mers 5'-amino modified oligonucleotides from the RNG/MRC oligonucleotide collection [19] (information available at http://www.microarray.fr:8080/merge/index) were diluted to a final concentration of 50 mM in 50% dimethyl sulfoxide, 100 mM potassium phosphate (pH 8.0) and printed onto hydrogel-coated slides (Nexterion H slides, Schott, Jena, Germany) using a microGrid II arrayer (Genomic Solutions, Cambridge, UK). Total RNAs (200 ng) were amplified by linear PCR and labelled with Cy3 using Bioprime Array CGH Genomic Labelling System Kit (Invitrogen). Total RNA from one culture of LP-1cl1 cells was similarly amplified, labelled with Cy5 and used as a reference probe for hybridization. Each Cy3-labelled probe was co-hybridized with the Cy5 reference probe on microarrays in a G2545A oven (Agilent, Massy, France) at 60°C for 18 h. Microarrays were washed (10 min in 6× SSC, 0.005% Triton-X100; 5 min in 0.1× SSC, 0.0025% Triton-X100) and scanned with a G2565B scanner (Agilent). Raw data were extracted from scanned microarray images (.tif) using Feature Extraction Software v9.5 (Agilent) and normalized using the Quantile method adapted to bicolour microarrays. All the protocols used can be obtained by contacting the microarray and sequencing platform of the IGBMC (web site: http://www-microarrays.u-strasbg.fr/). In order to select genes that are differentially expressed among the three biological groups (LP-1cl1, LP-1K and LP-1D1b), we performed an analysis of variance using Cy5/Cy3 log2 ratios. To limit the error due to multiple tests, we used permutation of samples for controlling the false discovery rate [20]. Genes with a p-value less than 0.01 were considered to be significant. Moreover, we filtered out genes with a fold change (FC). The FC between LP-1K and LP-1cl1 was calculated as the median value of the 4 replicates ratios in the LP-1K samples over the median value of the 4 replicates ratios in the LP-1cl1 samples. Three FC were calculated: LP-1K vs. LP-1cl1, LP-1D1b vs. LP-1cl1 and LP-1K vs. LP-1D1b and a threshold equal to 2 was used for selecting three lists of significant genes. To design Venn diagram, we used the VENNY software http://bioinfogp.cnb.csic.es/tools/venny/ and individual gene expression profiles were generated with the TigrMev 4_03 software http://www.tm4.org/mev.html. To determine functional relationships between genes, we used DAVID Bioinformatics Resources http://david.niaid.nih.gov.
Real-time quantitative RT-PCR
To validate the microarray data, we used RNAs previously used for microarray hybridization. Primers for 36B4, CSN2, FGFR3, FHIT, HSP90B1, TUBB2B, TFRC, CD48, LTB, FN1, BCL2, CDK6, GAPDH and UCHL1 genes were designed with the LightCycler® Probe Design software (Roche Diagnostics, Meylan, France). Their sequences are reported in the Additional File 1, Table S1. Q-PCR was carried out in a LightCycler® system (Roche Diagnostics) using the LightCycler® FastStart DNA master SYBR Green I kit (Roche Diagnostics) according to the manufacturer's instructions. Cycles were as follows: a 10 min initial cycle at 95°C, followed by 45 cycles of 10 sec of denaturation at 95°C, 5 sec of annealing at 58°C, and 10 sec of extension at 72°C. The specificity of the fluorescence was verified by the melting curve analysis after each reaction. The relative abundance of each target was normalized to 36B4 expression and the quantification of each mRNA compared to 36B4 was done using the comparative threshold method (Ct).
Tumor engraftment onto chick chorio-allantoic membrane
Fertilized chicken eggs (EARL Morizeau, Dangers, France) were handled as described previously [21]. On embryonic day 10, a plastic ring was placed on chick chorio-allantoic membrane (CAM) and 107 LP-1K or LP-1D1b cells in 30 μl Matrigel (BD Biosciences) were deposited after gentle laceration of the surface. Digital pictures were taken under a stereomicroscope (Nikon SMZ1500) at day 2, 4, 6 of tumor development. Twenty eggs were used for each condition.
Discussion
Cyclin D1 is overexpressed in a broad range of solid malignancies, expressed in lymphoid tumors such as MM and MCL and not in their normal counterparts. However, in vivo studies failed to reveal a strong oncogenic potential of the conventional cyclin D1, referred to cyclin D1a [11, 12]. By contrast, the cyclin D1 isoform b and the mutant cyclin D1 T286A are capable to transform cells in vitro [4–6] and to induce tumors in vivo [7, 8]. These two forms of cyclin D1 share a strict nuclear localization suggesting that nuclear functions of cyclin D1 are necessary and/or sufficient for tumor formation. Mutations of the CCND1 gene disrupting the phosphorylation at Thr286 and thereby leading to nuclear accumulation of cyclin D1 have been described in endometrial and esophageal carcinomas further reinforcing this notion [25, 26]. However, the molecular mechanisms of cyclin D1b-driven tumorigenesis are not fully elucidated. In cultured cells, cyclin D1b is not capable to activate its catalytic partner CDK4 and in turn, does not regulate positively the cell cycle [5, 18], retains a strong transcriptional co-repressor activity, displays reduced binding to p27Kip1 and does not control cell migration [23]. Here we show that, in the context of MM cells, cyclin D1b confers a full malignant phenotype and allows cells engraftment in immune-compromised mice. The genome-wide analysis of LP-1D1b cells extends our understanding of the biological properties of cyclin D1b. Moreover, we have identified genes regulated by cyclin K, a viral oncogenic homolog of cyclin D1a and confirm the fundamental differences between the two cyclin D1 isoforms.
Declarations
Acknowledgements
We thank Anne Barbaras for excellent help with cell culture, Dr J. Cahu for careful reading of the manuscript, Dr D. Cappellen (Friedrich Miescher Institute, Basel, Switzerland) for the gift of c-Myc construct, Dr O. Coqueret, (INSERM U564, CLCC Paul Papin, Angers, France) for the gift of cyclin K construct, Dr F. Bono (Sanofi Aventis, Toulouse, France) for the gift of chemical inhibitors. This work was supported by grants from the Ligue contre le Cancer - Comité du Calvados and Comité de la Manche (to BS). GT received a scholarship form Ligue contre le Cancer - Comité du Calvados and from the Société Française d'Hématologie.
Authors' Affiliations
(1)
Pharmacologie Moléculaire des Anticancéreux, CNRS UMR, Châtenay-Malabry, France
(2)
Biologie Moléculaire et Cellulaire de la Signalisation, Université de Caen, Caen, France
(3)
Institut de Chimie des Substances Naturelles, Gif-sur-Yvette, France
(4)
Plateforme Biopuces et Séquençage, Institut de Génétique et de Biologie Moléculaire et Cellulaire, Strasbourg, France
Copyright
© Marsaud et al; licensee BioMed Central Ltd. 2010
This article is published under license to BioMed Central Ltd. This is an Open Access article distributed under the terms of the Creative Commons Attribution License (http://creativecommons.org/licenses/by/2.0), which permits unrestricted use, distribution, and reproduction in any medium, provided the original work is properly cited.